If you have read our latest blog post, "An Interesting Twist to This Adventurous Plot," then the cat is already out of the bag…. we are no longer cycling. If this is the first time you are hearing the news… then make sure to read this post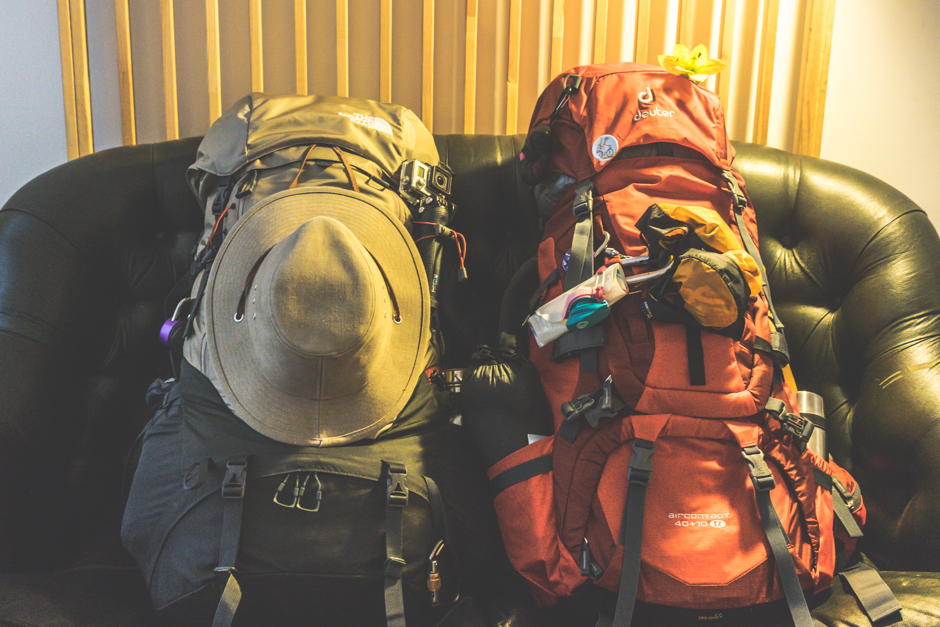 Madrid would be our home for change, a time for us to crawl as caterpillars into our little cocoons and emerge as butterflies… free to explore the world without attachment.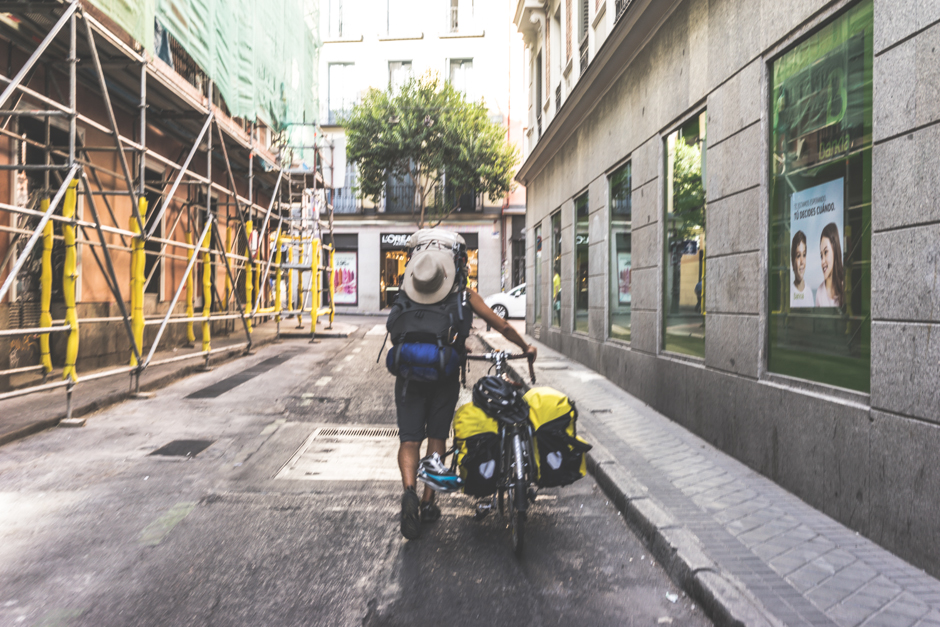 As cyclists,we slowly rode from town to town, eating the local cuisine, learning from our surrounding cultures, and growing the courage to follow our hearts, but ultimately, we needed more. We needed more freedom to do as we pleased while traveling. We needed to fly.
Tuesday, August 26th, 2014
Waking up that morning in Burgos we had no idea the changes that would be in store for us.
Ahead lied two very different paths… we'd either take the four-hour train to Madrid (if they would let us on with bicycles), or we'd ride for four days in the blistering heat.
After being rejected by the train companies numerous times, because of our bicycles, the MD (Media Distancia) train finally allowed us passage! My knee was happy. My boyfriend was happy. And I, was surely happy!
We spent the next four hours looking out the window at what could only be described as empty. We couldn't be more thankful to have avoided this large section of dry, hot desert from Burgos to Madrid.
Upon arrival in Madrid, we still had not found a place to stay. One of the difficulties of cycle touring was that it was hard to plan ahead. We had sent out numerous Couchsurfing requests, but we were so up in the air with our plans (due to the train situation) that we couldn't give our hosts enough notice. With no accessible campsites near town, we headed toward the city center, hopped on our phones, and quickly found a reasonably priced place on Airbnb.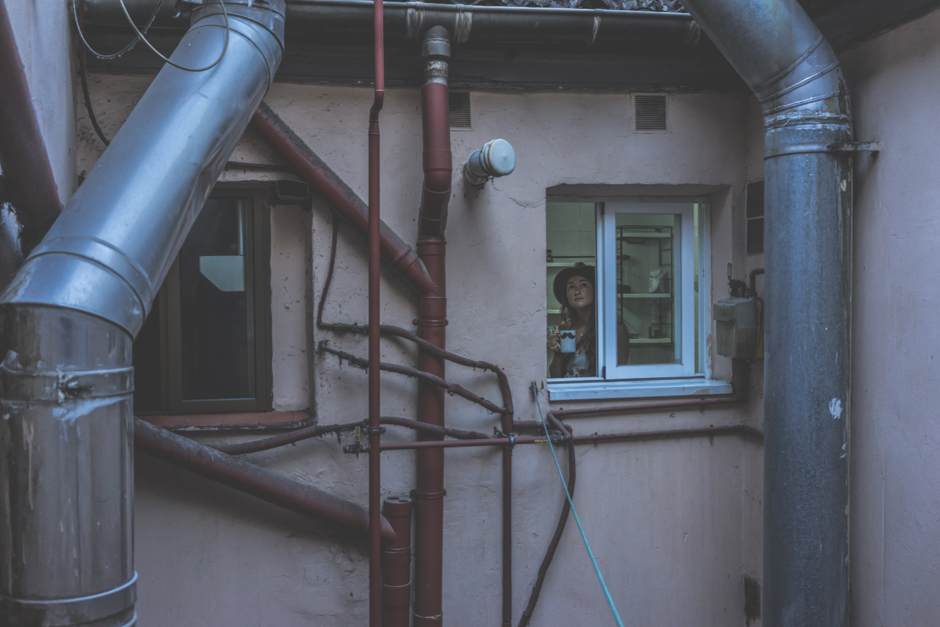 That night we met up with my old friend from YMCA Camp Surf, Jamie, and his friend Gabbi. Jamie and I had been campers together when we were both back in high school… over 10 years ago! Thinking back to the week spent in Bilbao with another camp friend, it is amazing to see the many connections developed by my numerous summers at camp.
Over a couple glasses of tinto de verano and some traditional Spanish tapas, we told stories from the road and our current frustrations with cycle touring. The idea of selling our bikes had come up many times while we were cycling against strong headwinds and up mountains, but that night, this small dream started to take on a more realistic tone.
Wednesday, August 27th, 2014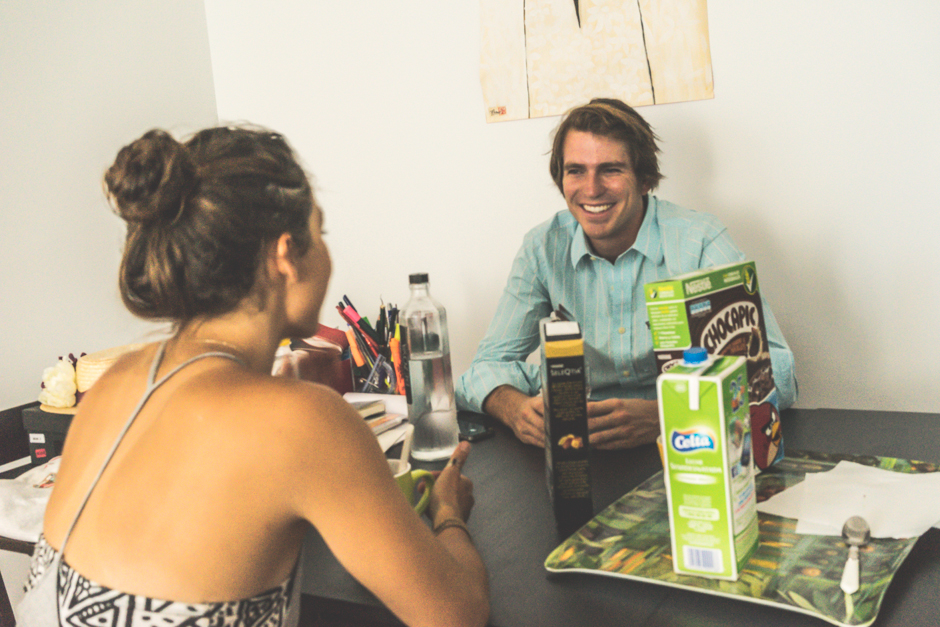 In the morning, after leaving our bags at Jamie's house in Salamanca, Kevin and I set off together on our last cycle. Transition was upon us. The decision had been made.
Our first stop: Cash Converters, the local pawn shop in Madrid. Kevin easily sold his bike for 300 Euros, and I was offered 450 Euros. While the money would have been nice, I had a strong sentimental attachment to my bike…to the 2,000km spent breaking in my Brooks saddle. I couldn't do it. With a few tears and a bit of doubt in my heart, we walked out of the shop…with one bike.
The rest of the afternoon was spent acquiring new backpacks. Our lives were changing so quickly. It had taken us months of planning to begin our cycling adventure… and only an afternoon to become backpackers.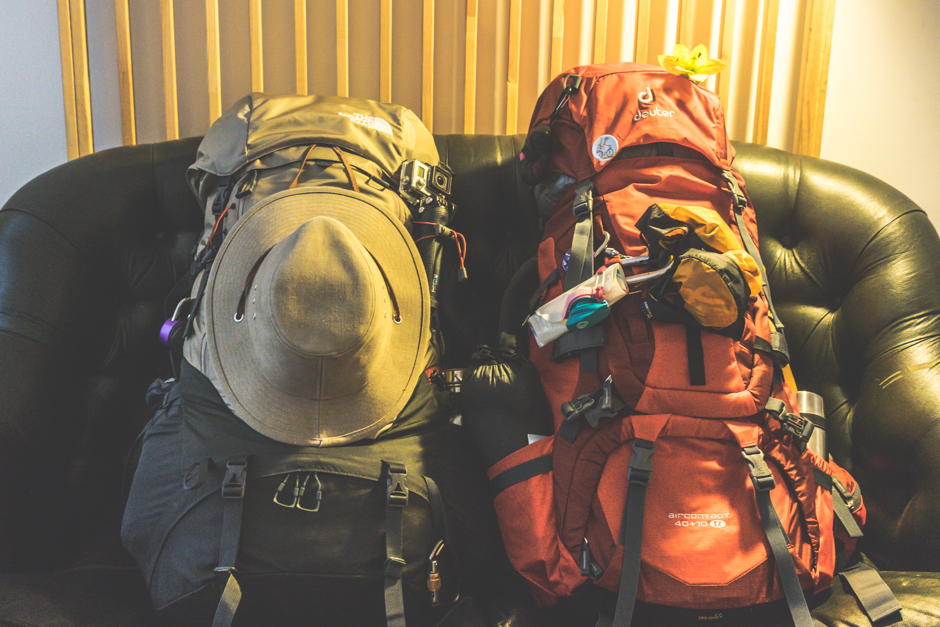 Thursday, August 28th, 2014
Thursday morning, we headed to the post office to send home another 16 kilograms of gear, including my bike saddle.
"Why such an attachment to a bike seat?" you might ask. Well, have you ever had to break in a new pair of leather shoes? Have you ever had to break in a new pair of leather shoes… with your butt? I haven't either, but this is the best way to explain the pain that I had endured to make my saddle oh so comfortable. A comfort that I will enjoy when I return home from this trip.
With our shinny new backpacks packed and a seat-less bicycle, we headed to our new Madrid home. Our friends from Los Angeles had put us in contact with a fellow colleague in Madrid, Fabienne. Fabienne was unable to host us this week, but luckily her co-worker had left a wonderful apartment behind in Lavapies. Here, the streets are always alive and full of people, and the delicious smell of ethnic food always lingered in the evening air.
For lunch, Fabienne and her boyfriend, Jan, kindly treated us to the most delicious Thai food that Madrid had to offer, sharing stories of their travels to Southeast Asia. Afterwards, hoping that I might make my bike more "sell-able", Jan walked us to the local bike shop, Fixi Dixie, so I could buy a replacement saddle. He also encouraged us to try to sell the bike at El Rastro market, the giant open-air flea market that is held every Sunday in Madrid. We were certainly up for this challenge.
Friday, August 29th, 2014
We had spent our first two days in Madrid organizing our lives, so we were eager to explore the streets.
First stop, Plaza Mayor. This giant plaza was filled with cafes, ready to come alive at night, feeding tapas and paella to the masses of tourists.
Just next door, a gastronomer's mecca, Mercado de San Miguel. On of my favorite places in Madrid. This newly renovated market is one of Madrid's oldest, where food lover's can taste tapas from the large selection of vendors, including fried fish, jamon serrano, decadent pastries, and even frozen yogurt (my personal favorite).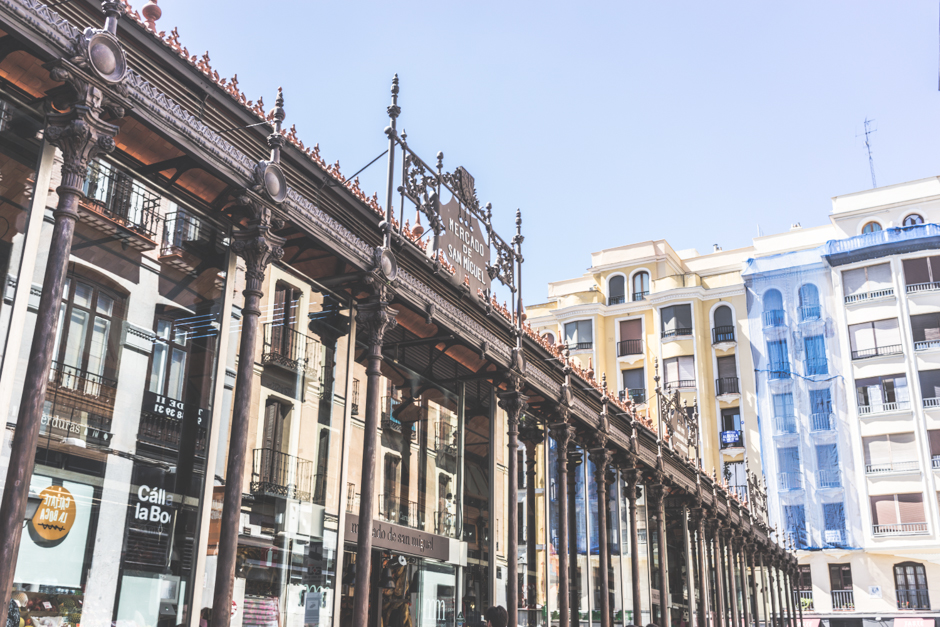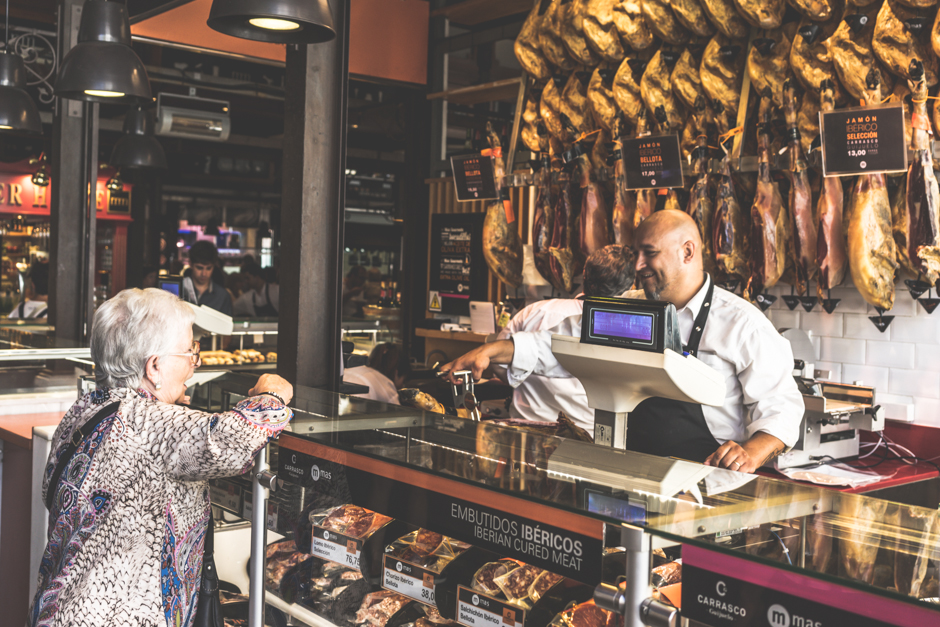 No trip to Madrid is complete without a visit to the Palacio Real and the Plaza de Oriente. If you time it correctly, you can take advantage of the palace's free admission hours. In fact, most of the museums or points of interest in the city offer free admission during certain hours of the day/week, a perk that we would take advantage of later in our stay.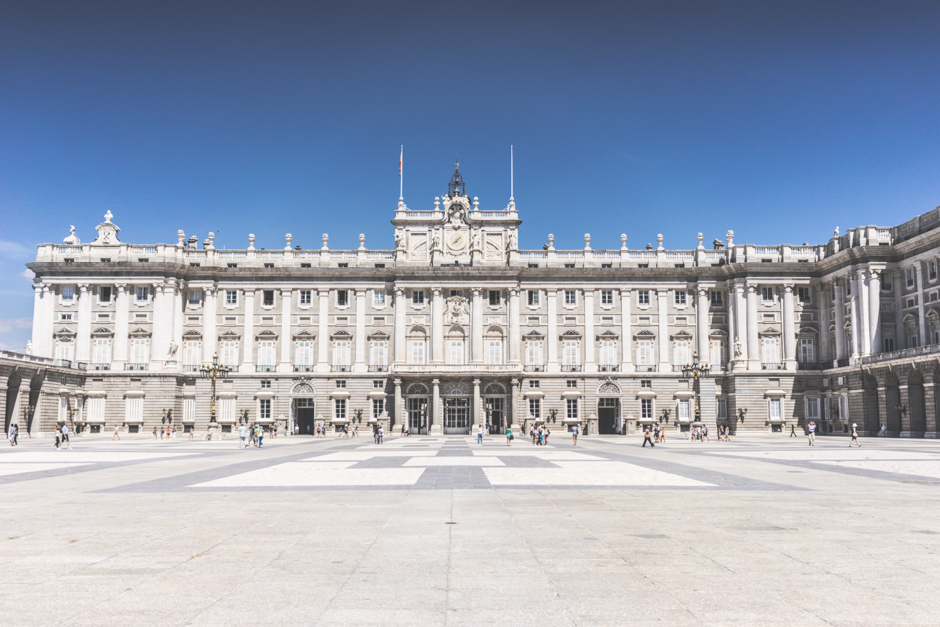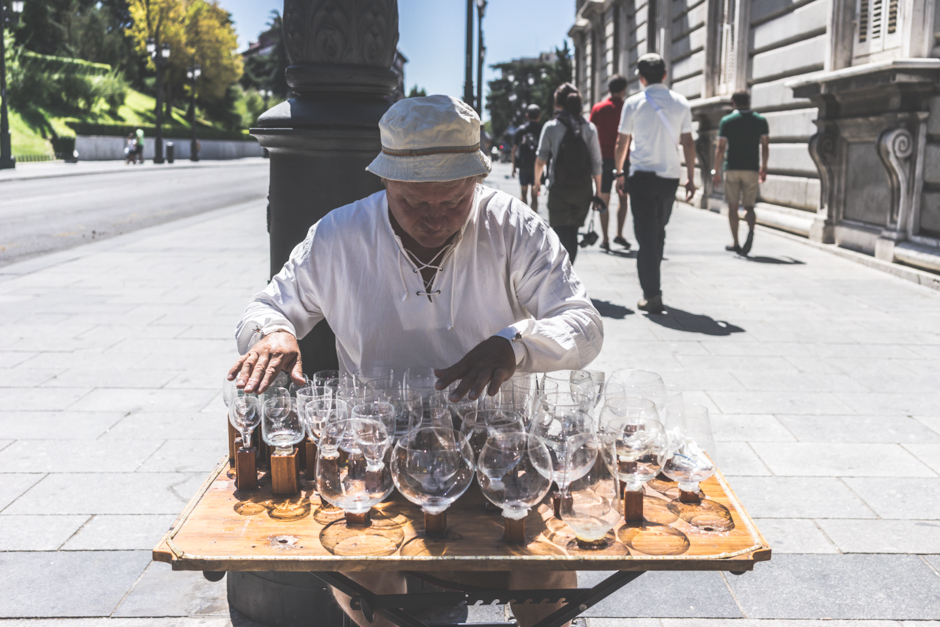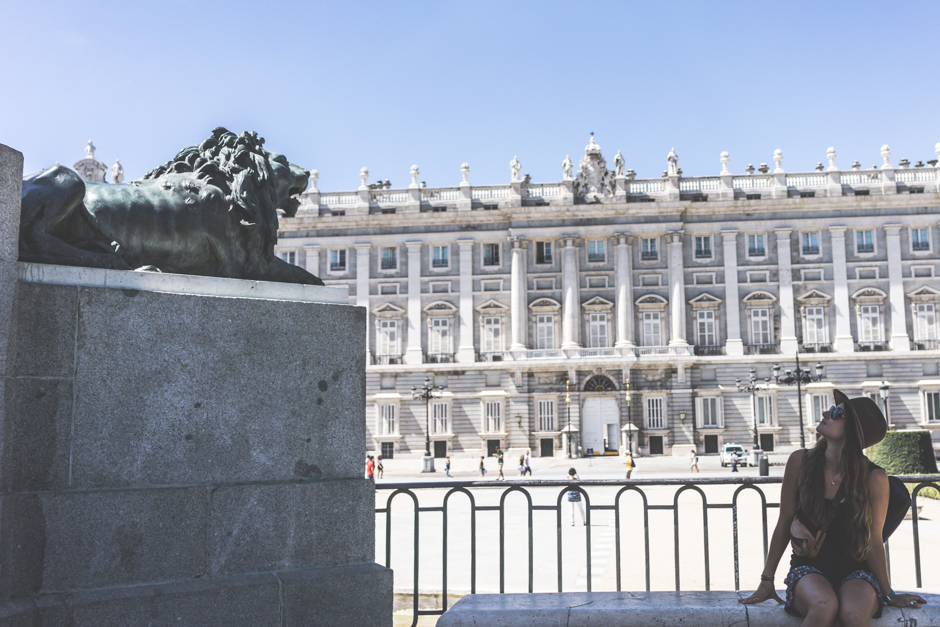 We then ventured on to the Temple of Debod, an old Egyptian temple (built in the second century), which was donated to Spain in 1968 in order to save its historical legacy from destruction. I never imagined seeing Egyptian ruins in the middle of this giant Spanish city. From here, we had an excellent view of Casa de Campo, one of the world's largest urban parks (covering over 6.8 square miles of land).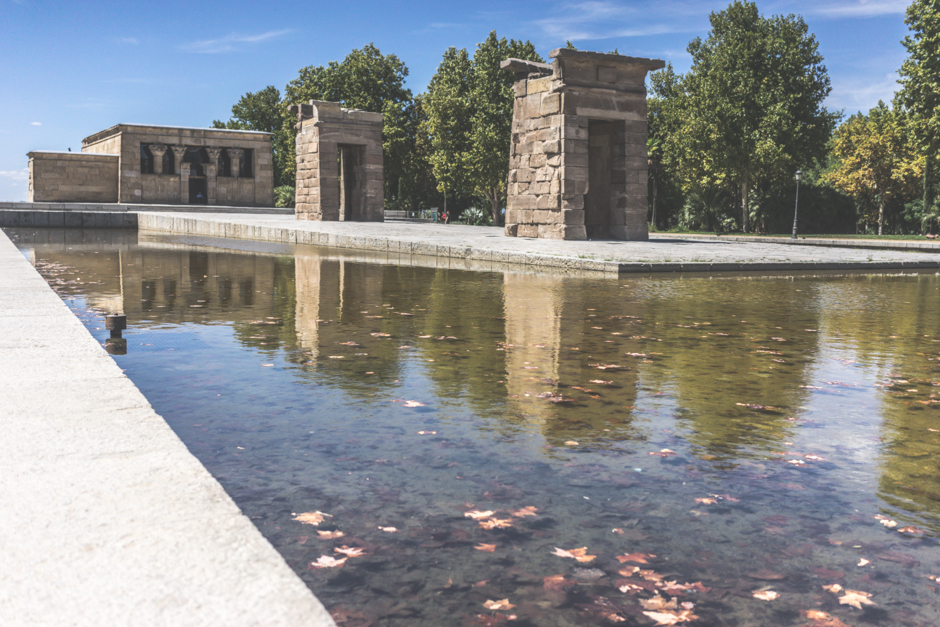 Later in the afternoon, the Prado Museum would open its doors for free. We slowly headed in that direction, passing through Plaza de España and walking along Gran Via.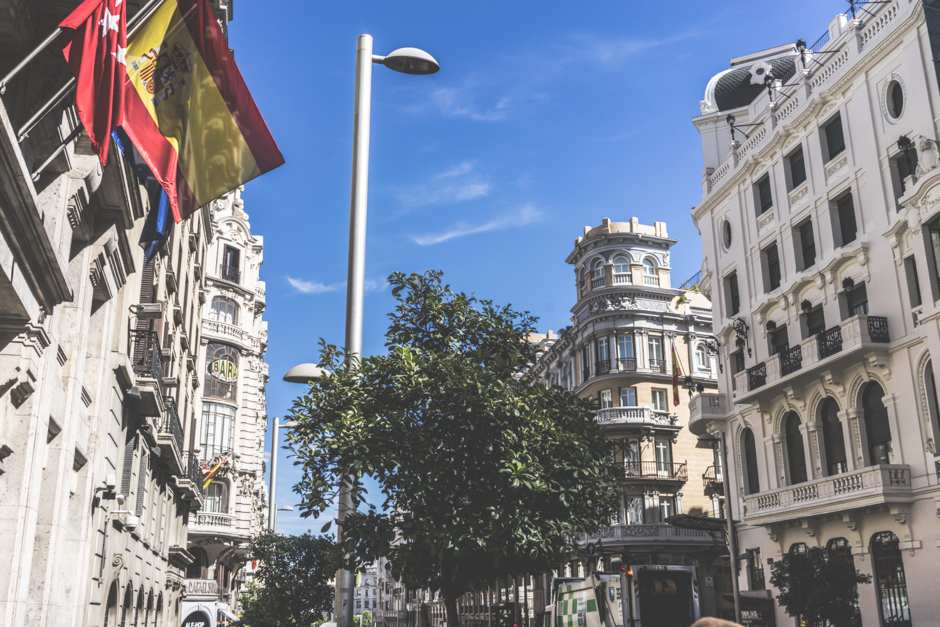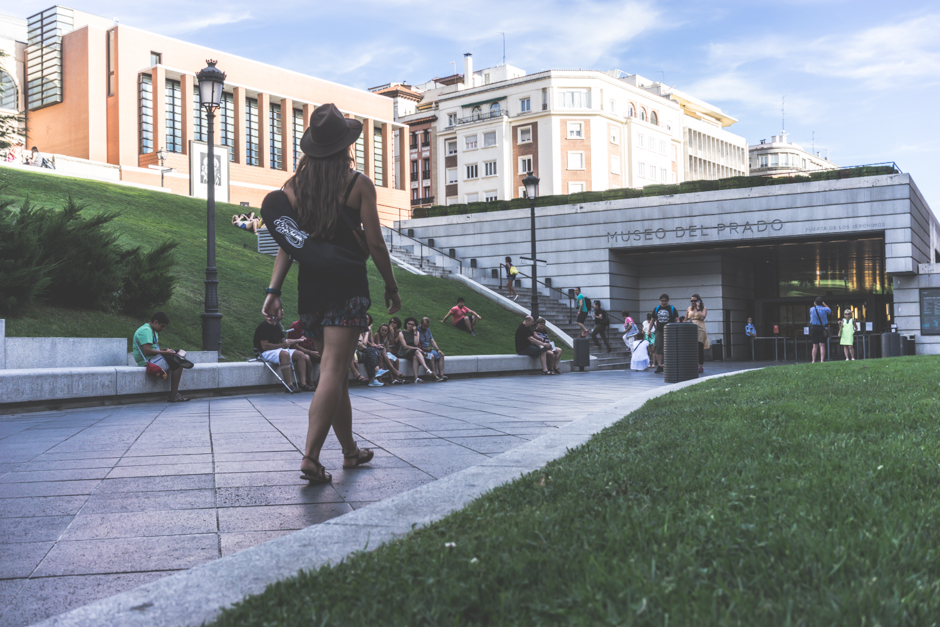 We wandered the halls of the famous Prado for about an hour before hunger took its toll on us and we were headed home. We snacked, took a siesta, then got ready to meet our friends Estela and Daniel (from Bilbao) who had moved to Madrid that same day.
Earlier that day, Kevin's grandpa had donated some money for us to enjoy tapas in Madrid, so we planned to meet our friends at one of the most well-known free tapas bars, El Tigre… spending the gracious donation on eating and drinking. Although the quantity of food here was abundant, the quality was quite poor. We don't recommend it. One thing we've come to learn on this trip is to not visit foreign locations that have been blogged about on websites based back home. Chances are, these locations are flooded with tourists, stripping them of any local charm or flavor. El Tigre, for example, was nothing more than an American hot spot.
Full of greasy food, we headed out for a couple of beers then early to bed (by Madrid's standards)… at 3am.
Saturday, August 30th, 2014
Saturday morning we slept in late, then worked for the entire day to catch up on blogging. At night, Kevin and I walked the city, stopping at the Museo de Jamon for super cheap cañas (small beers) and a free ham sandwich tapa. We also took a quick look at the oldest functioning restaurant in the world, Botin, which (according to Guinness Book of World Records) opened its doors in 1725.
Sunday, August 31st, 2014
Sunday. The day to sell my bike for a bargain at El Rastro.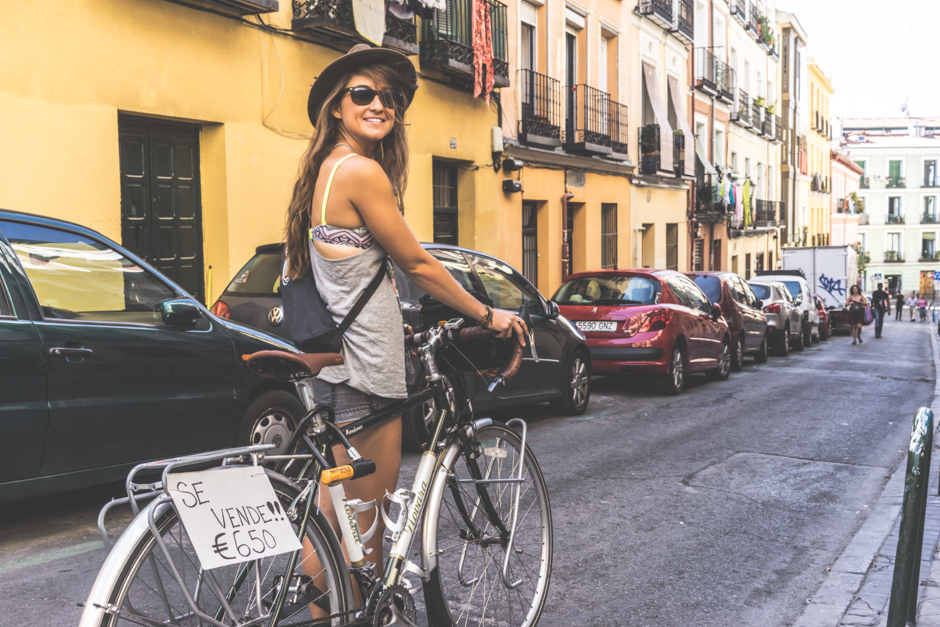 Using an old cereal box, I made a couple of "for sale" signs for my bike and we were headed out the door. I struggled with the idea of letting go of my bike for a price that didn't match its value, but I knew it would be very expensive to send home.
El Rastro was huge! Full of merchants selling new and vintage items to locals and tourists alike. I awkwardly paraded my bike through the busy market, getting stopped by a couple of half interested buyers. One even asked me if I had the "papers" for the bike to make sure I hadn't stolen it… fair enough.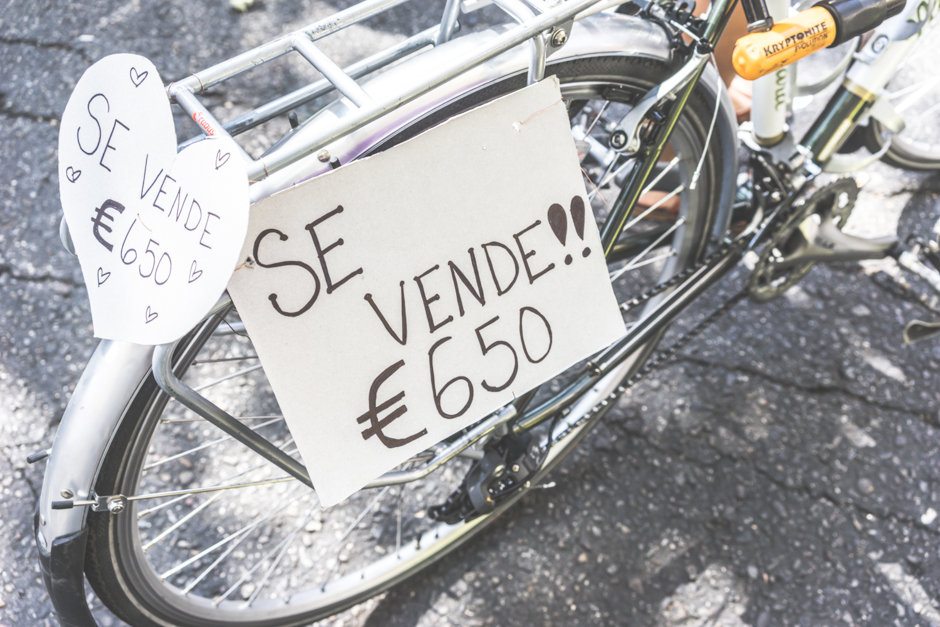 After a man warned us that the police could ticket us for more than the price of the bicycle for "illegal selling," we were on our way. No luck. I still had a bike and it was Sunday. All of the pawn shops were closed. Better luck tomorrow.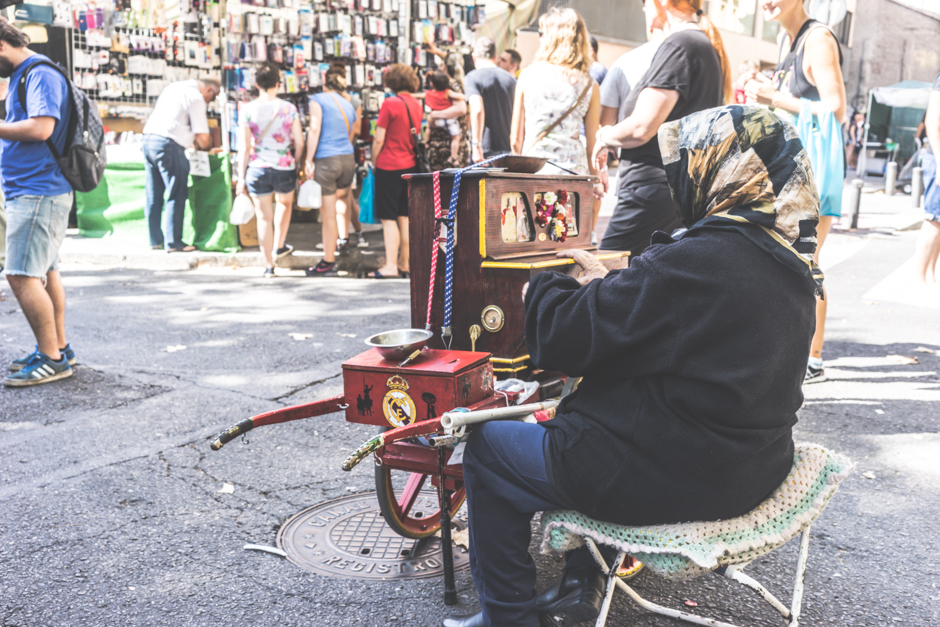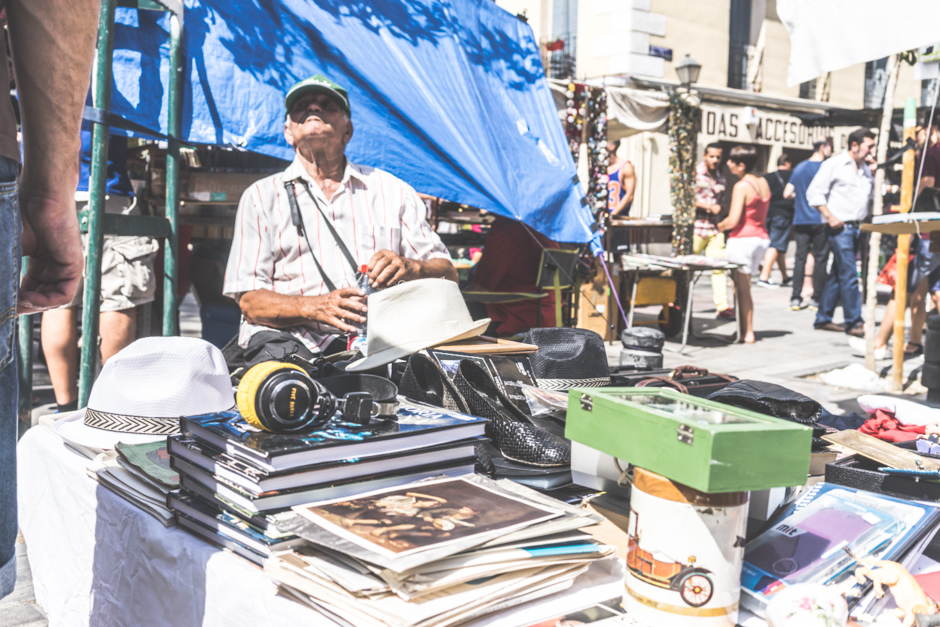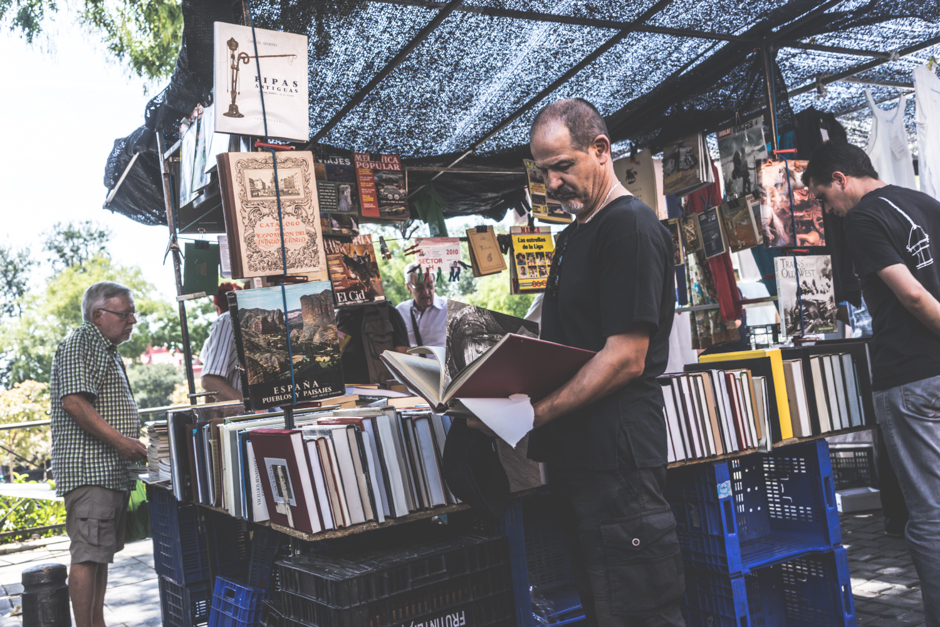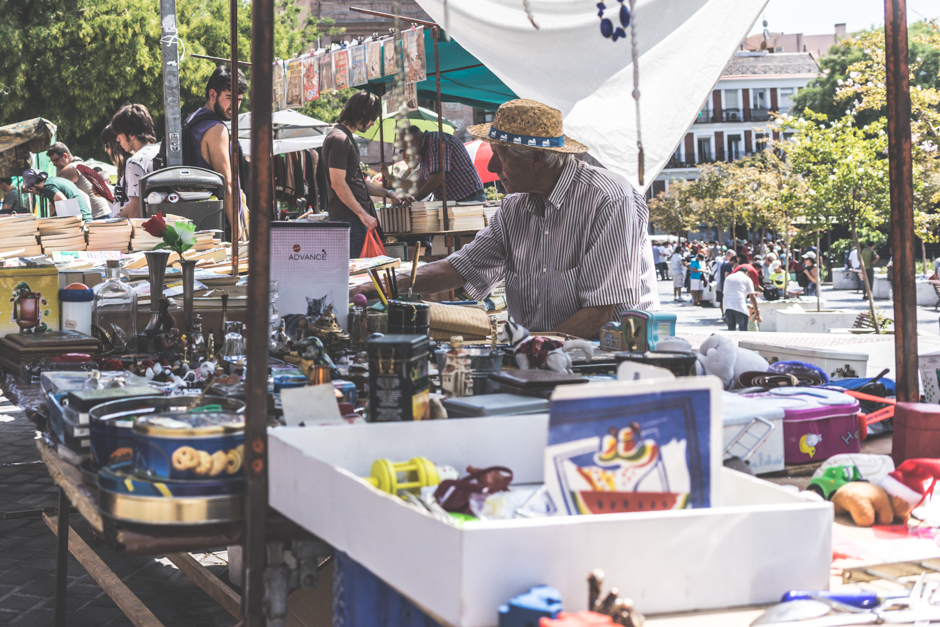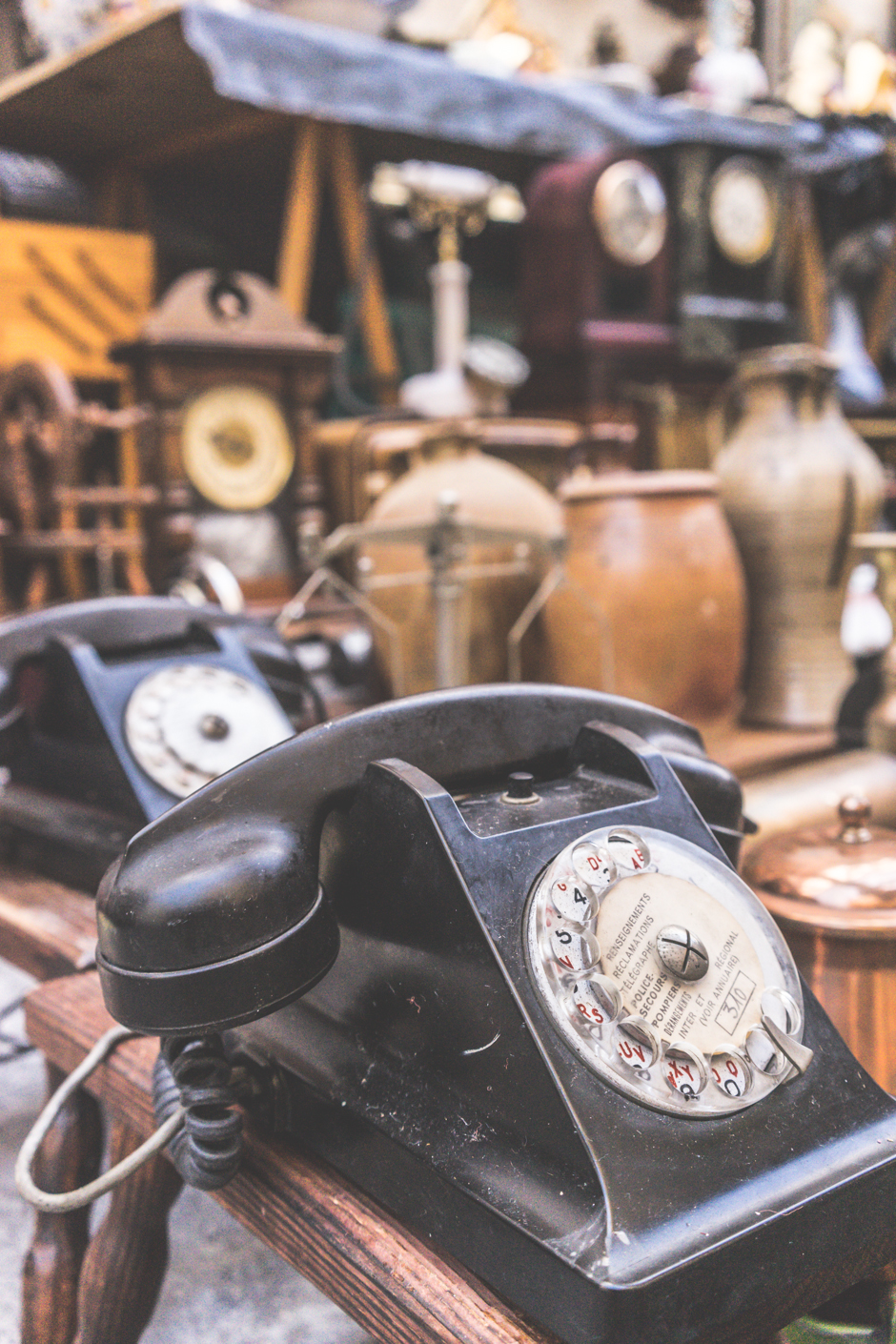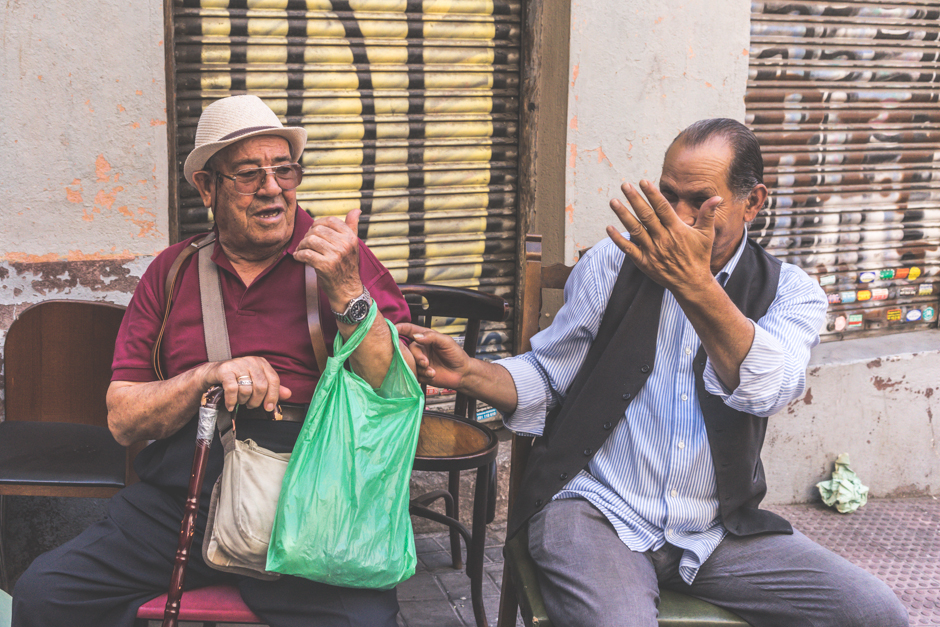 After the market, I paid a visit (once again) to the local pawn shop. With no luck at achieving a reasonable offer, I ultimately decided that the bike was worth more to me back in California. Now, I just needed to figure out how to send it home.
With the post offices closed, we decided to make the most out of the day.
We headed to the Sofia Reina Museum, which would later become my favorite museum in Europe (thus far). I had loved the weird and out of the box thinking from Yoko Ono in the Guggenheim Bilbao, and the Reina Sofia offered this same divergent thinking. Picasso and Salvador Dali forced our imaginations into places only imaginable while slightly inebriated and a large Richard Hamilton exhibit took us through a journey of innovative Pop Art.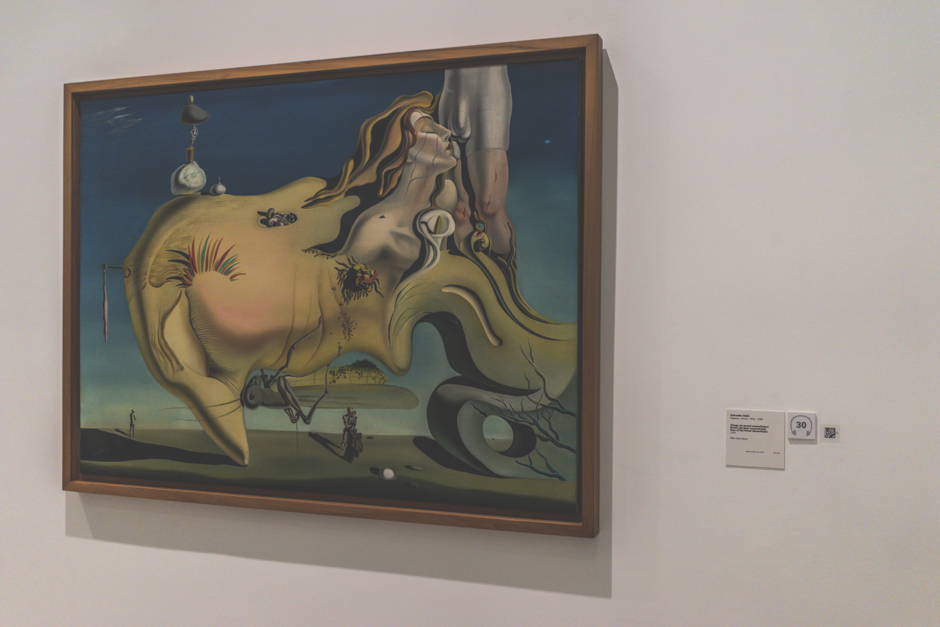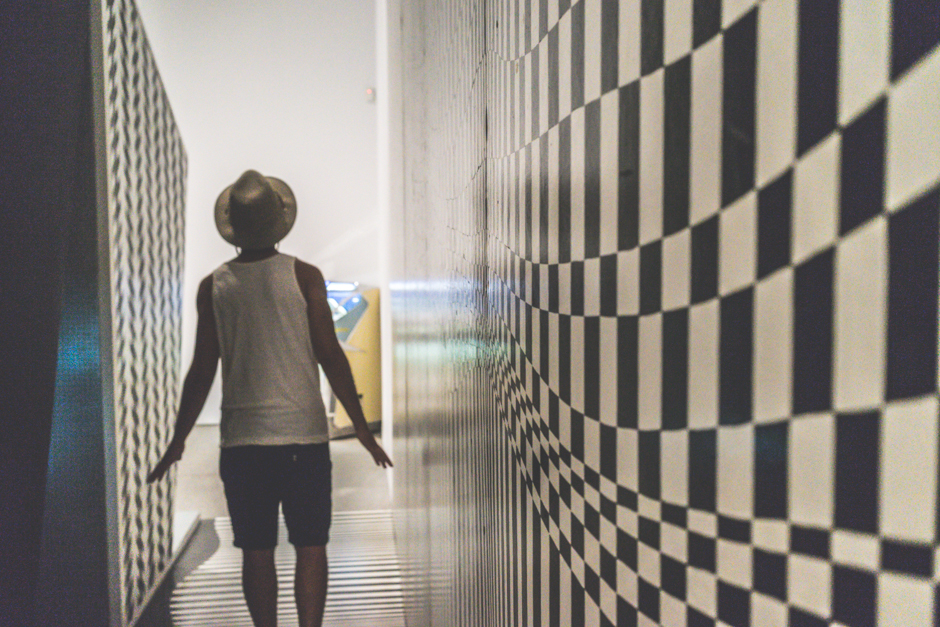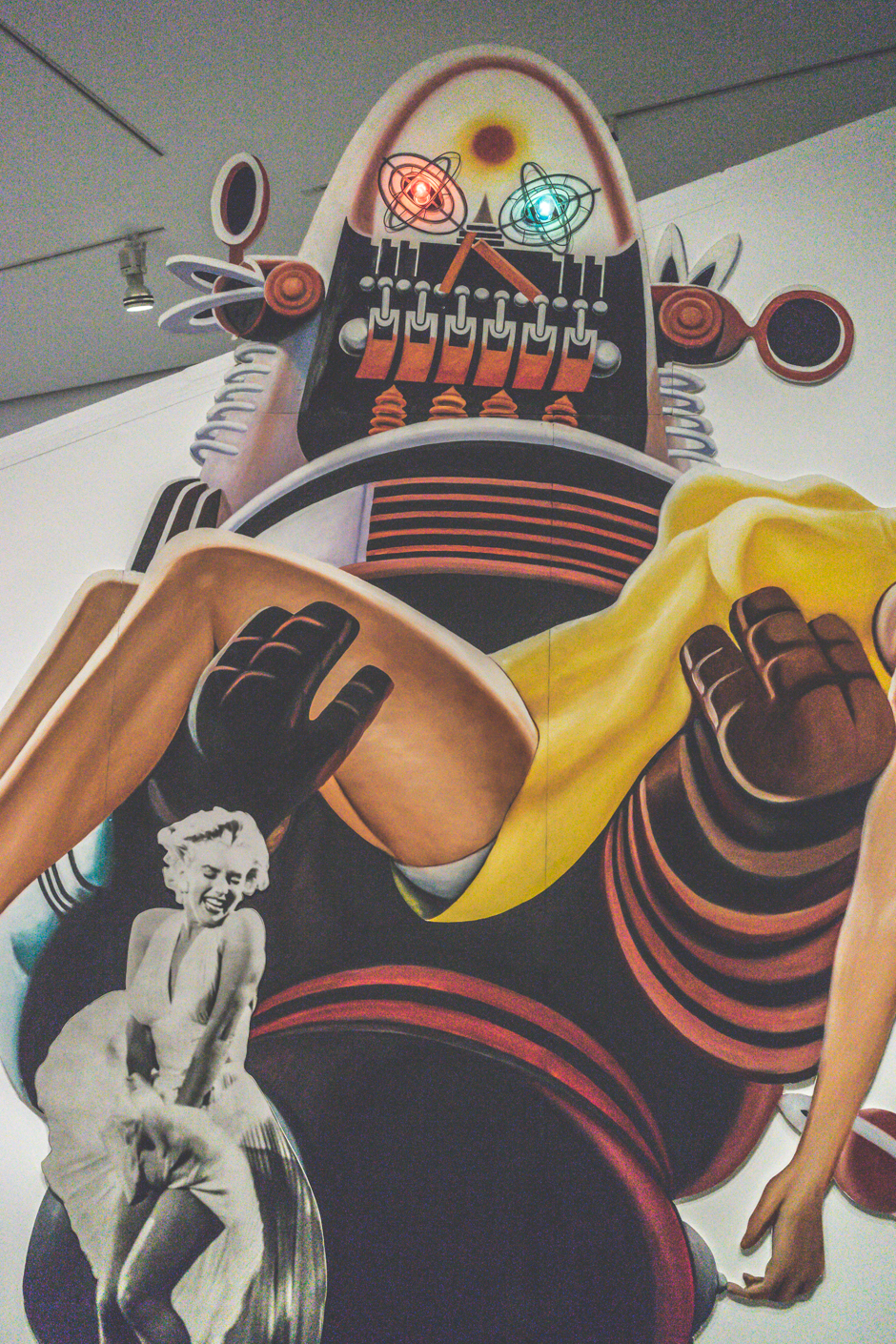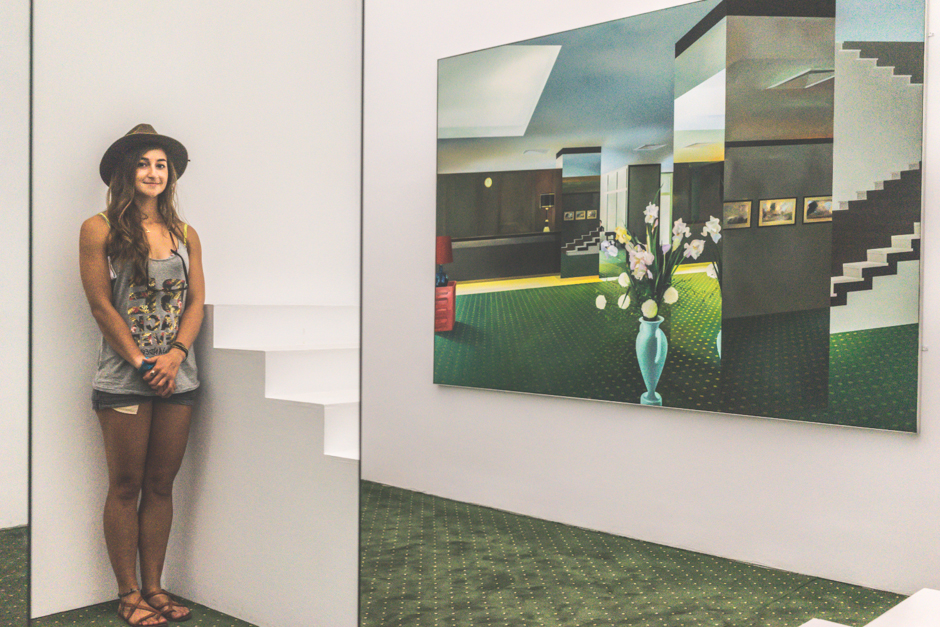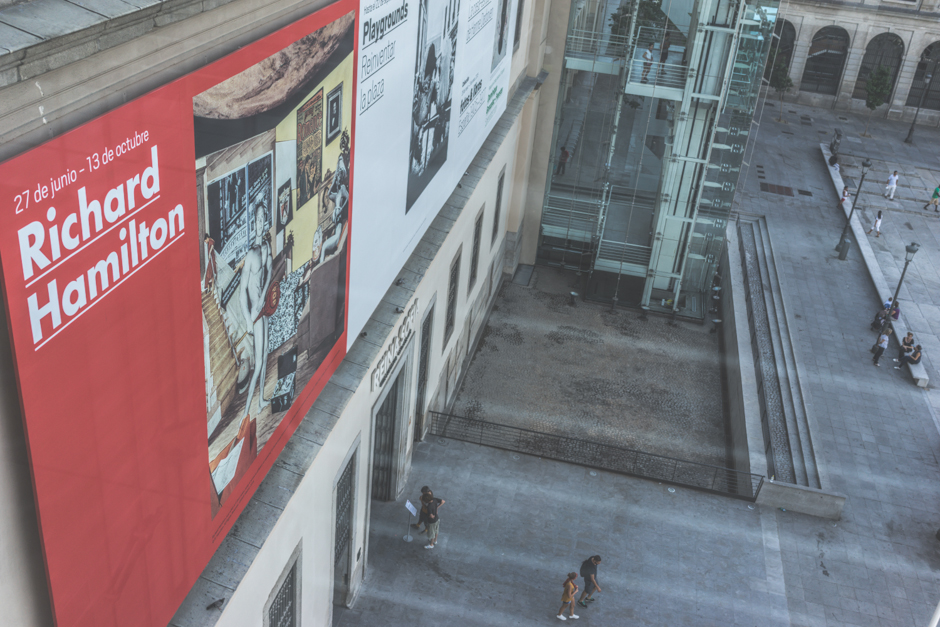 After the museum, we paid a quick visit to Buen Retiro Park, enjoying a short stroll along its peaceful paths.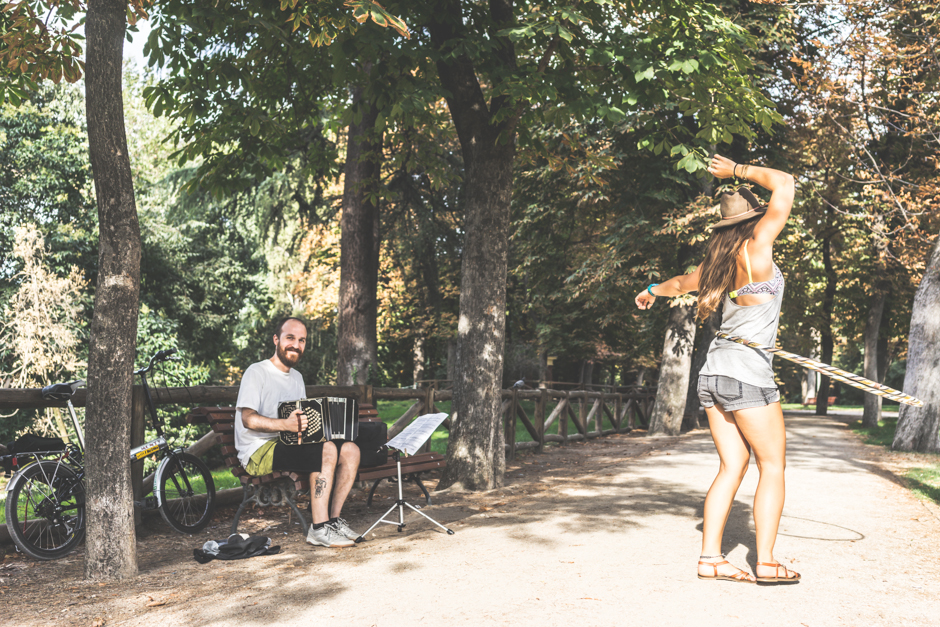 That evening, we met up with Fabienne on her rooftop terrace for a drink and a beautiful sunset view of the city before heading to Estela and Daniel's new place in Atocha. With a glass (or two) of homemade sangria and a couple of snacks, we played card games into the early morning.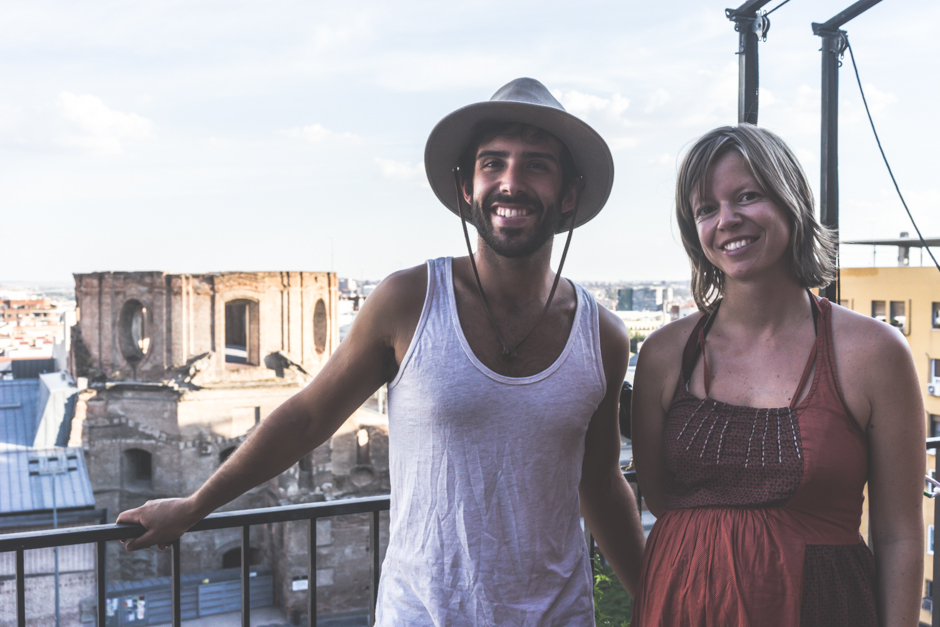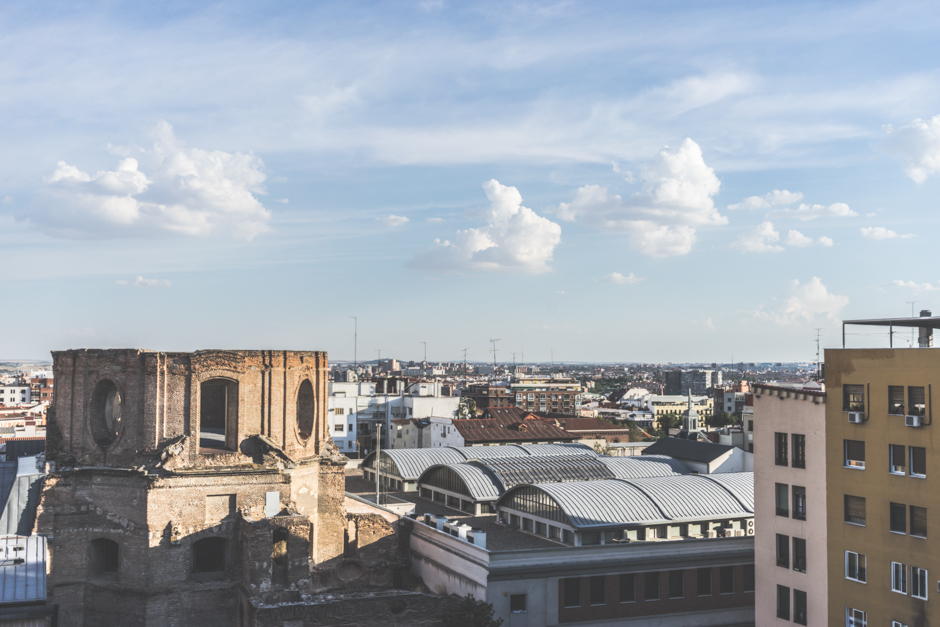 Monday, September 1st, 2014
With all of the logistics of becoming backpackers, we hadn't given the city our full attention. This would be our last day to explore.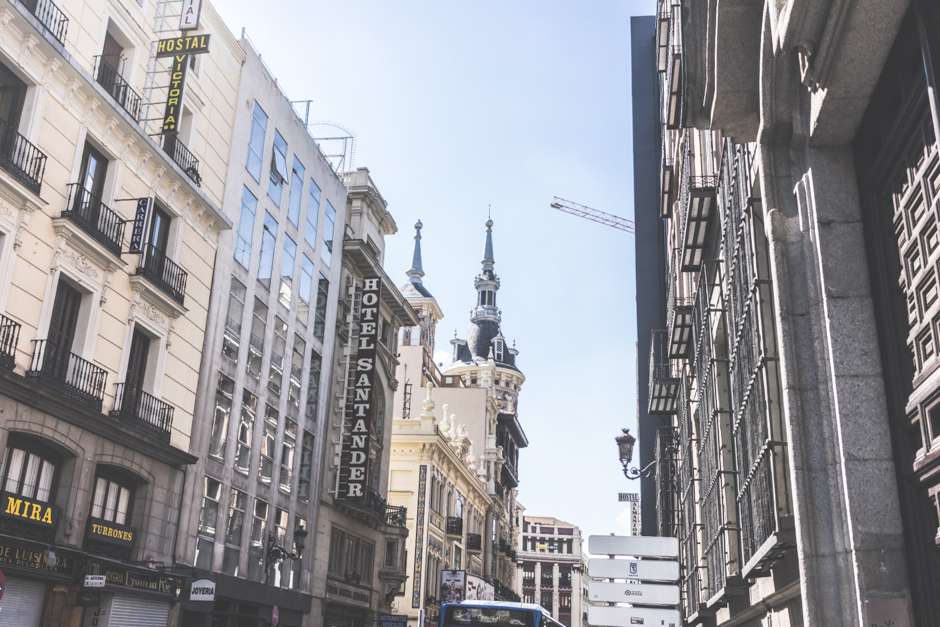 Embarking on our own walking tour of the city, we first visited Puerta Del Sol, the starting point of all of Spain's radial road networks.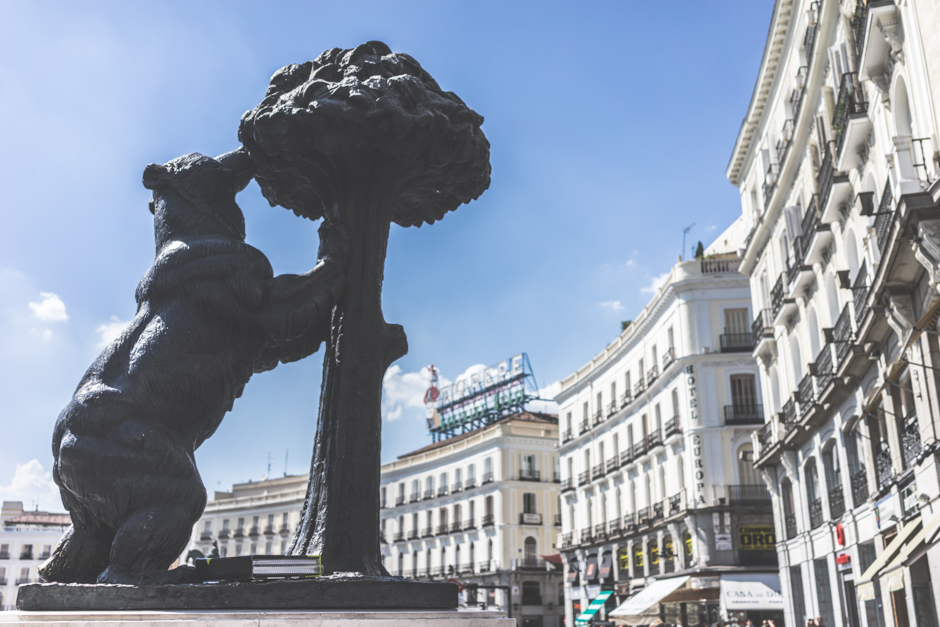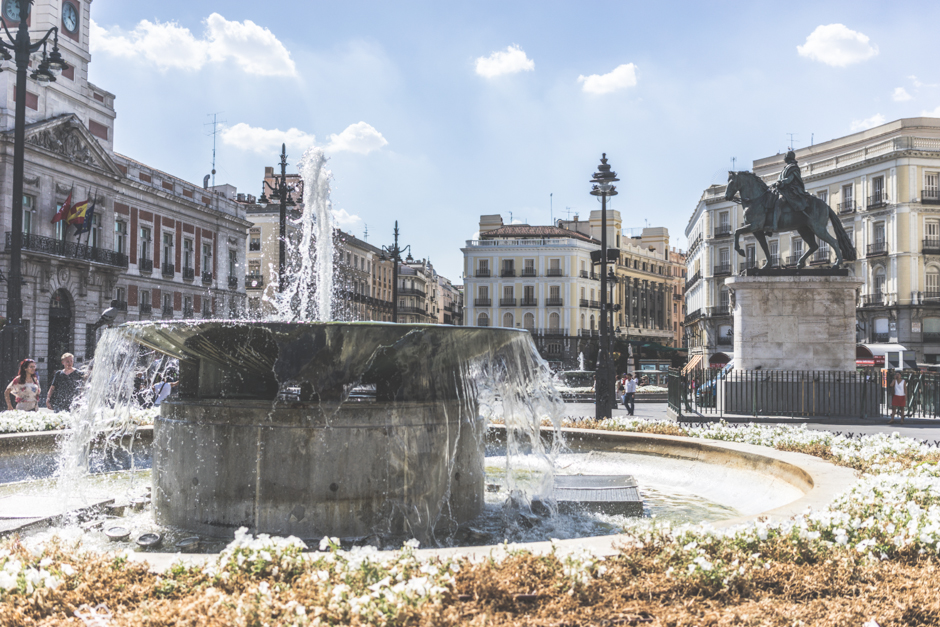 From there, we made our way to Chueca, Madrid's "Gay" neighborhood. This ended up being our favorite neighborhood in the city (reminiscent of New York City's Greenwich Village), followed closely by the trendy Malasaña and the ethnically diverse Lavapies.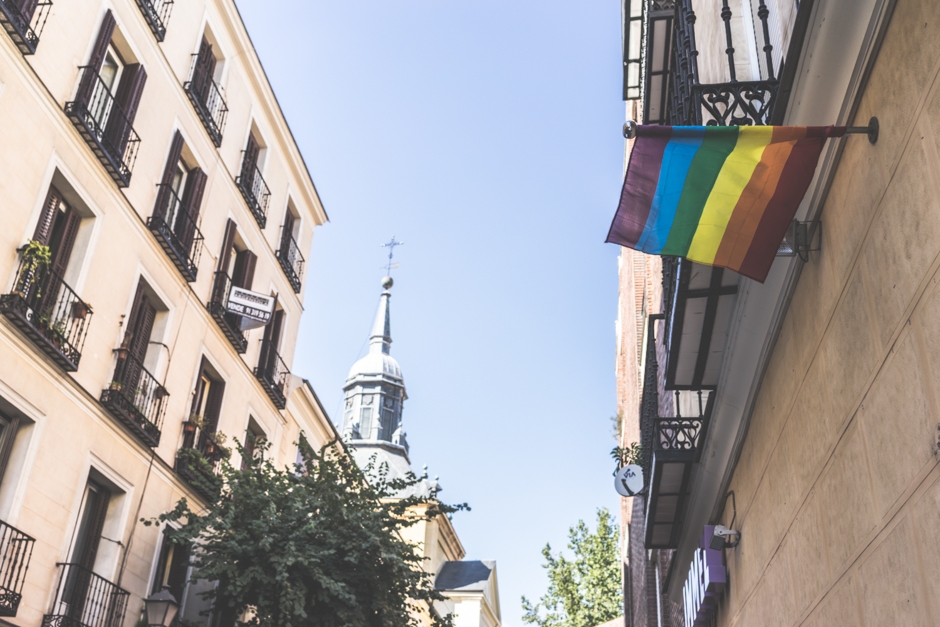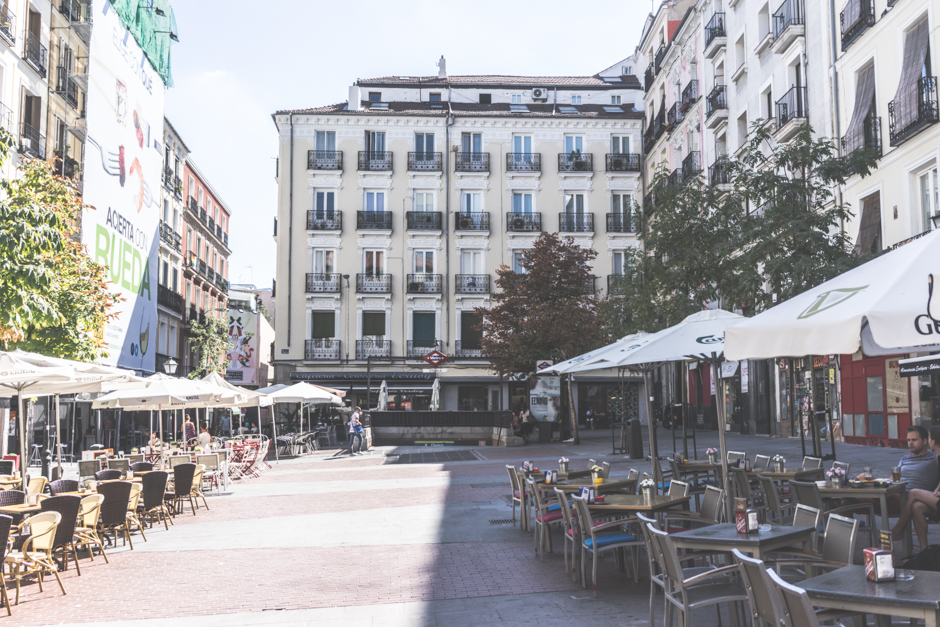 After Chueca, we made our way along Gran Via, back to Buen Retiro Park for a visit to the Palais de Cristal.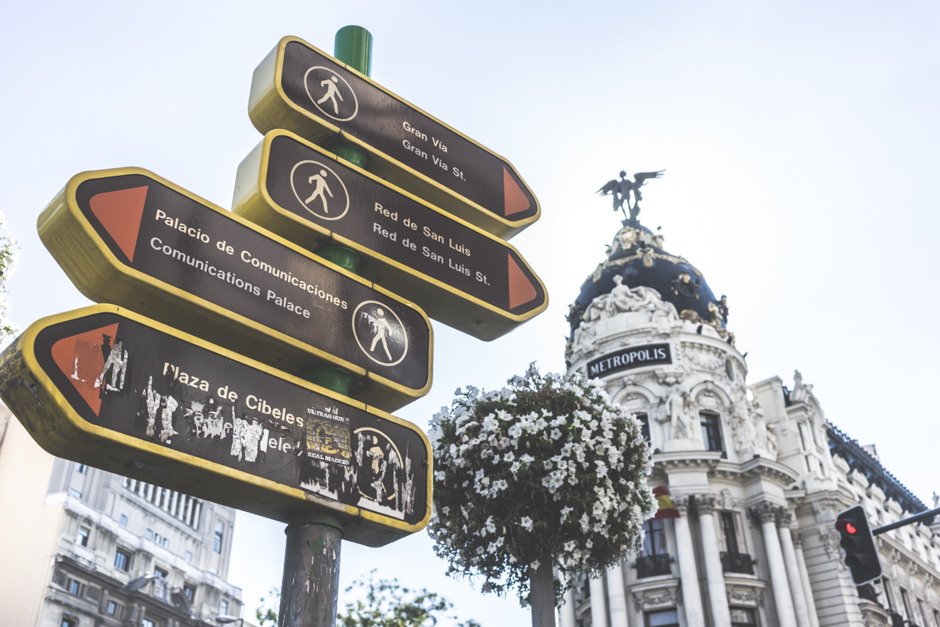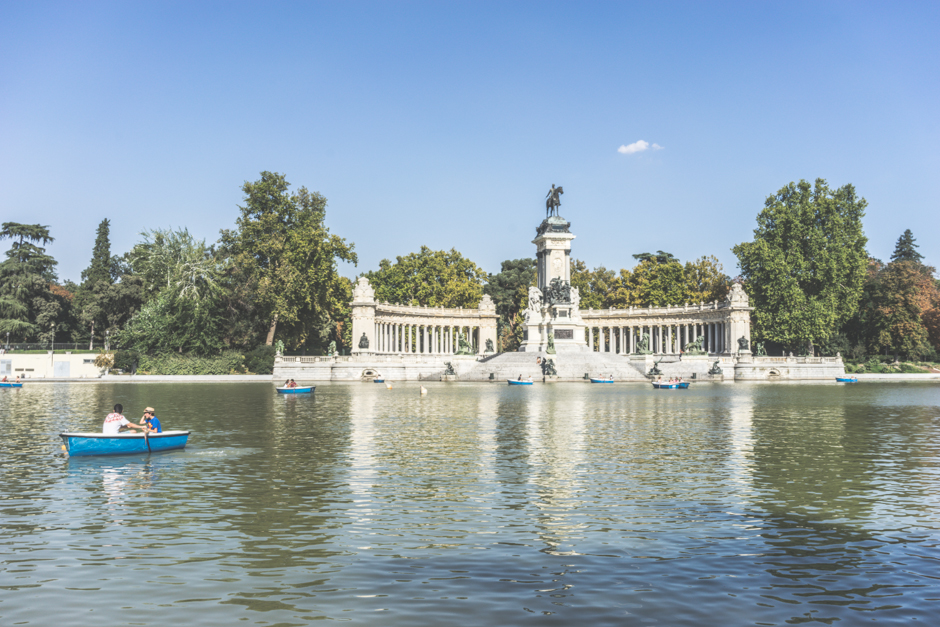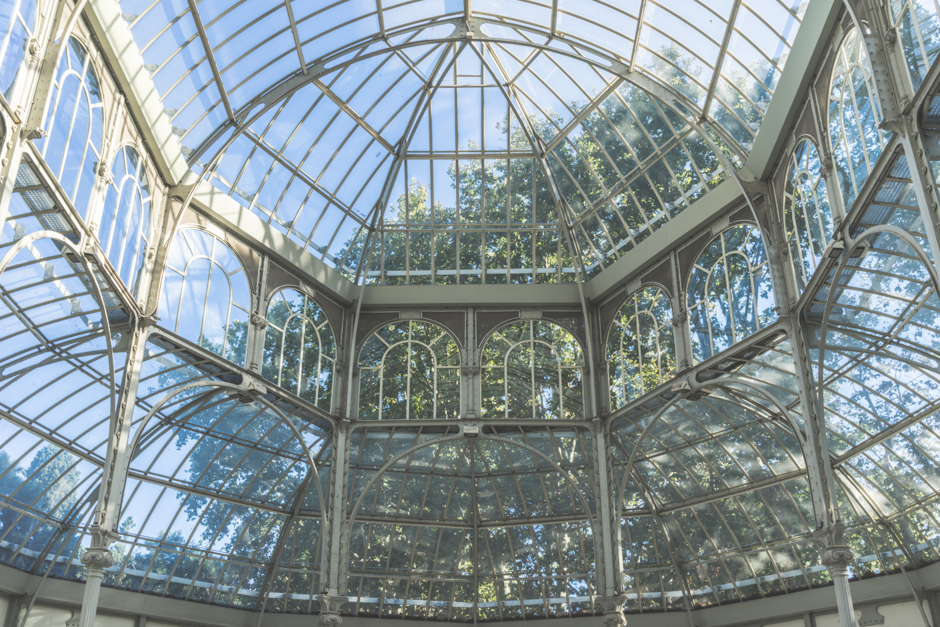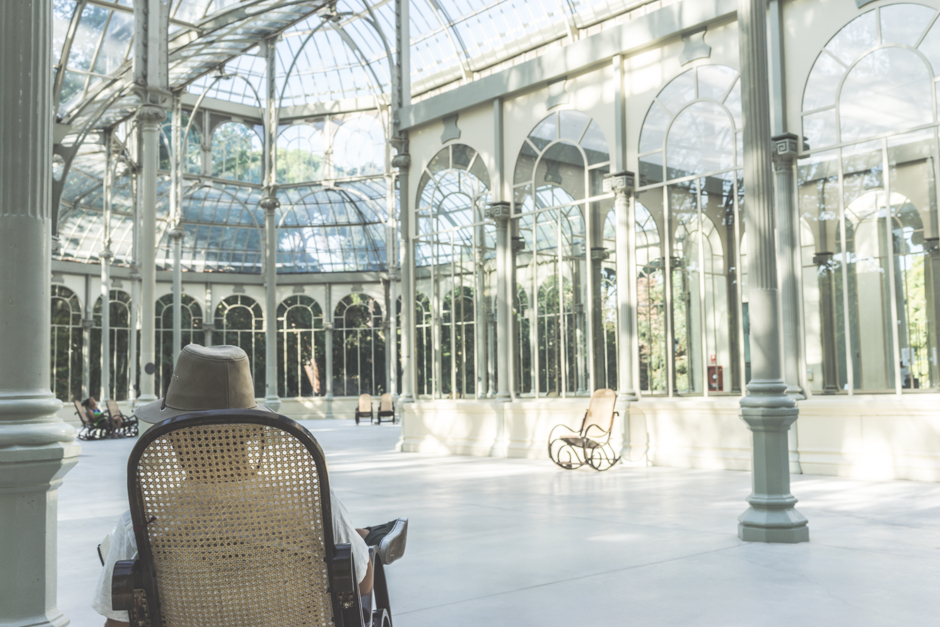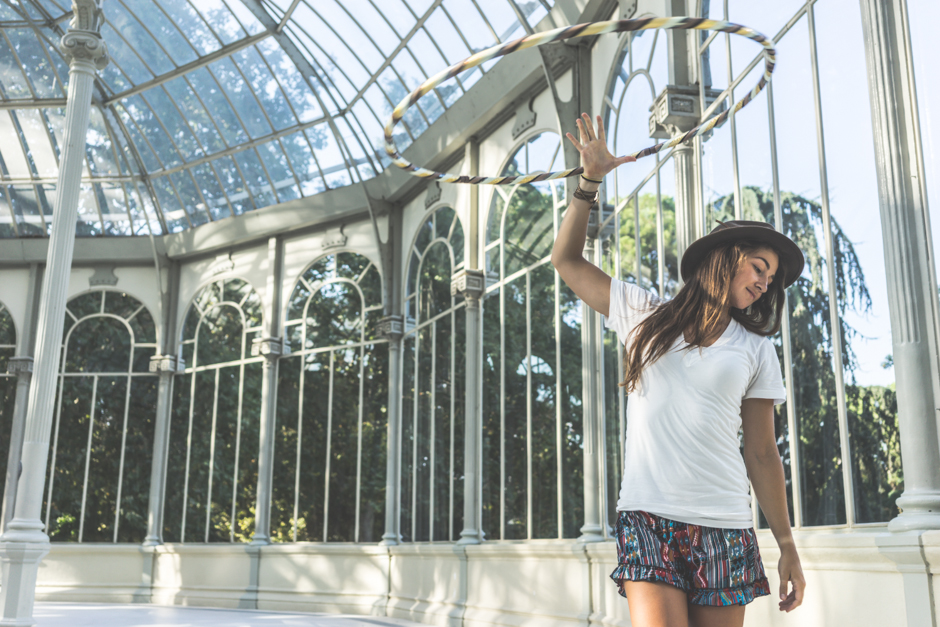 Following the park, we laid to rest this pleasant day. A state of peace in the midst of our chaotic transformation.
Tuesday, September 2nd, 2014
The next morning was a blur of bike shop visits and frustration. We were told by the post office that they could only ship 1 meter long boxes to the USA. This posed a challenged, as my bike box was quite a bit larger.
With a little creativity… and a lot of tape, we finally split the bike into two 1-meter long boxes.
Only one thing stood in our way. Summer.
All the post offices closed early… everyday… during summer months. All postal business had to be done before 2pm.
We called just about every post office in a 5km radius, finding the last one open a couple kilometers away. After an awkward metro ride and a couple hundred dollars, my bike was finally in the mail by 5:30pm.
Mission: Accomplished.
For our last night in Madrid we needed to end it with a bang… we cooked our famous "So-Cal Bacon Guacamole Burgers" for our hosts Estela and Daniel, along with some homemade french fries! Yummy!
Madrid was our city for transformation. A metamorphosis of sorts. This lively international hub provided all the tools we needed to make a smooth transition from cycling to backpacking. While this was a very time consuming and costly change of events, the moment we were free from the bikes, we felt like the world was truly ours to explore.
Our trusty steeds will be truly missed, but off we go on a new adventure.