As the sun set over Turkey, we slid-closed our window seat's shade, dozing off to a complimentary film on our 12-hour flight to New Zealand.
The time flew faster than we could fly and, eventually, we arrived to a beautiful Auckland morning, sun shining and a warm temperature far superior to the frigid nights of Eastern Europe.
It was summer now in the Southern Hemisphere, and we were set to start a whole new chapter in our journey.
For the next two months, our goal was to experience New Zealand from the most northern point, to the most southern cliff. All, of course, in a camper van.
Our time in New Zealand started in Auckland, a strategic launchpad for acquiring a van, as the high supply of campers made for quite the buyer's market.
As we began our hunt, accomodation was provided by our dear friend Brit, who allowed us a room at a holistic village in Northern Auckland, in exchange for a few hours of work each day.
Between short shifts in the kitchen, garden, and with the hospitality crew, we were on foot and online… searching for the perfect van.
Our first find was a beauty named "Babs," for whom we waited a week. She was fully loaded- kitchen, dining table, bed, an operating engine, and a charming shimmer of personality.
Unfortunately, Babs sold exactly one hour before we had the chance to make an offer. We were crushed.
The second week, the pressure was on. We had to find a van quick or else we'd spend our entire trip to New Zealand in Auckland.
After a couple days, we settled on an ugly little Honda Stepwagon who we appropriately named "Budgie."
Budgie would be our man, and tomorrow we'd be off.
Unexpectedly, as we stood in line at the post office to register the new vehicle in our name, Emily found another "perfect" van online. A 1993 Mazda Bongo with the works.
"We have to get it," we agreed. And we did just that.
At first, we were hesitant, this would be an enormous risk in terms of both finances and time. But we had to, we had to follow our hearts and make the decision that we knew would be right for us.
So there we were, a week and a half into our time in New Zealand, finding ourselves with two camper vans and a nearly empty bank account.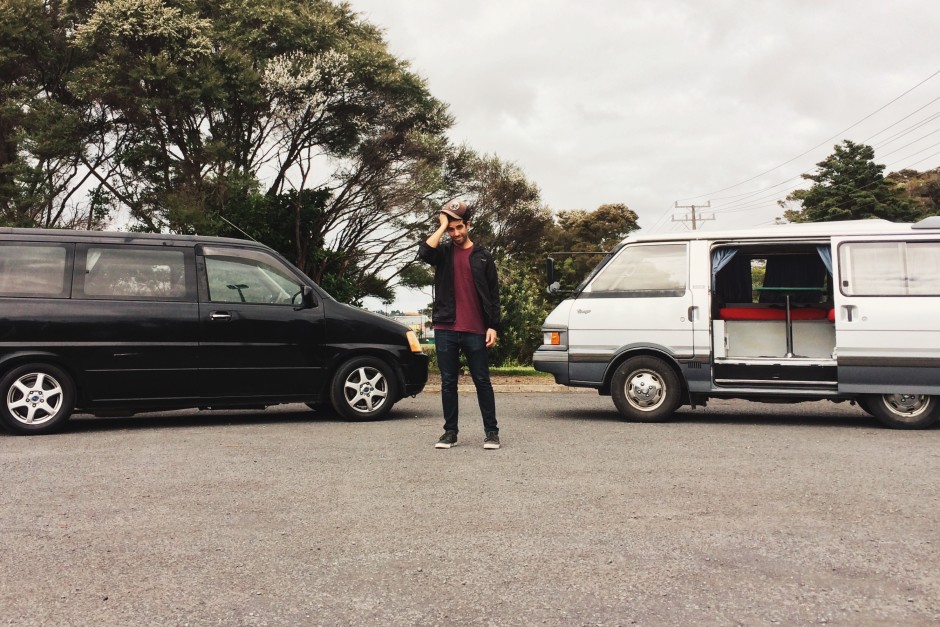 We had to sell Budgie. Fast.
As Emily took over my shifts at the village, I spent the next three days making trips into the city, showing the car to fellow travelers, trying to break even on the sale.
On the third day Budgie was gone, sold at a break-even to two young French lads who would be spending 6 months in New Zealand.
Our departure was imminent. Finally. In two day's time we'd be on the road.
The first leg of our journey was a trip north to Cape Reinga, with our wonderful host Brit and a stunningly handsome, man-bun wielding German-Brazilian named Niels.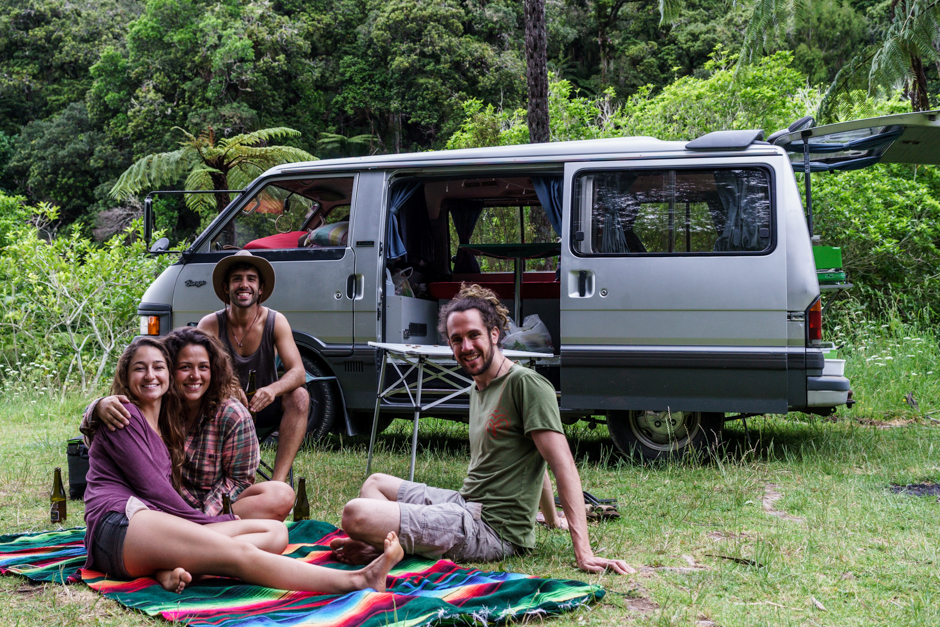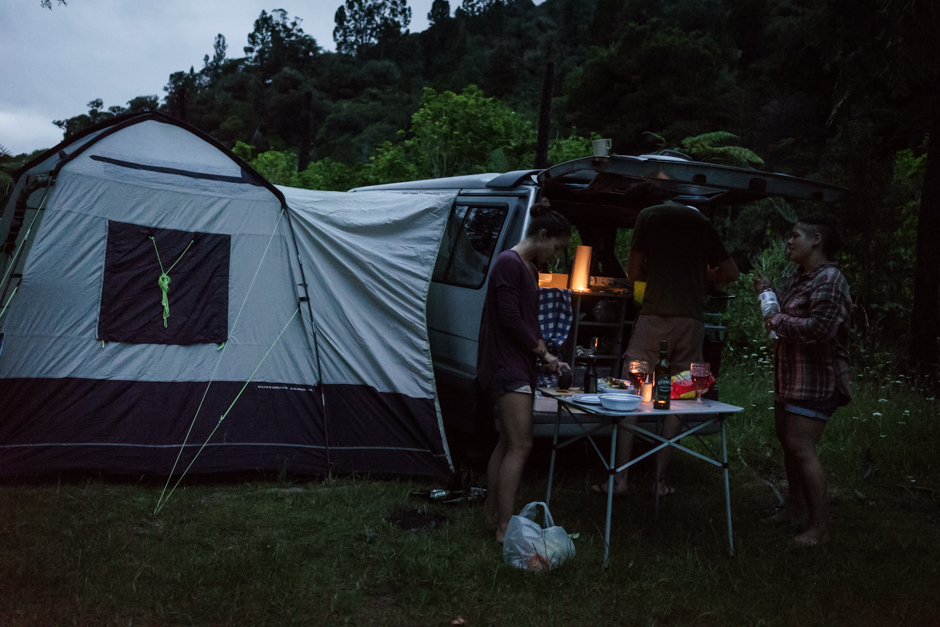 From Auckland we made our way to the Puketi Forest, camping for a night before reaching the most northern point of New Zealand, Cape Reinga.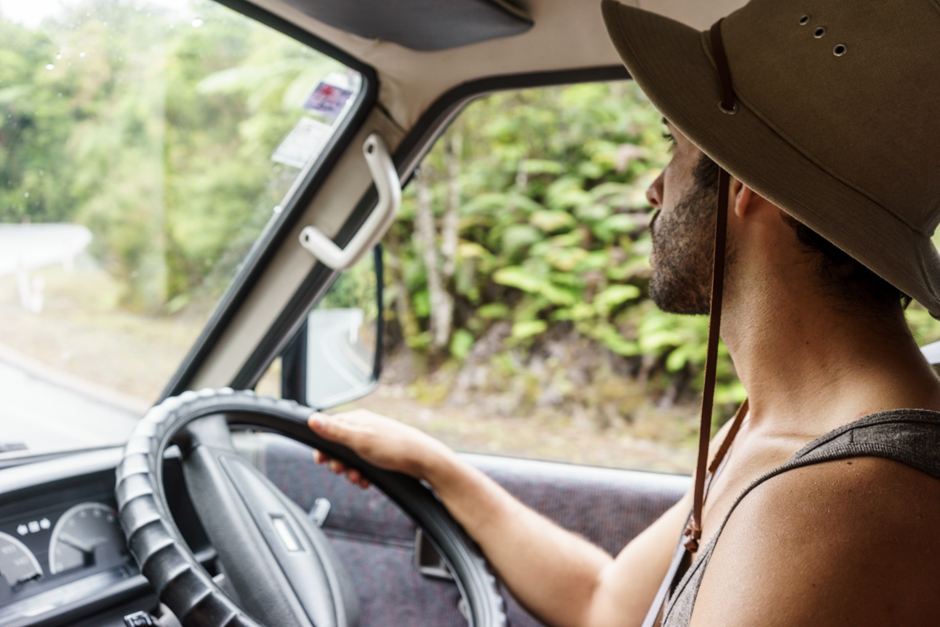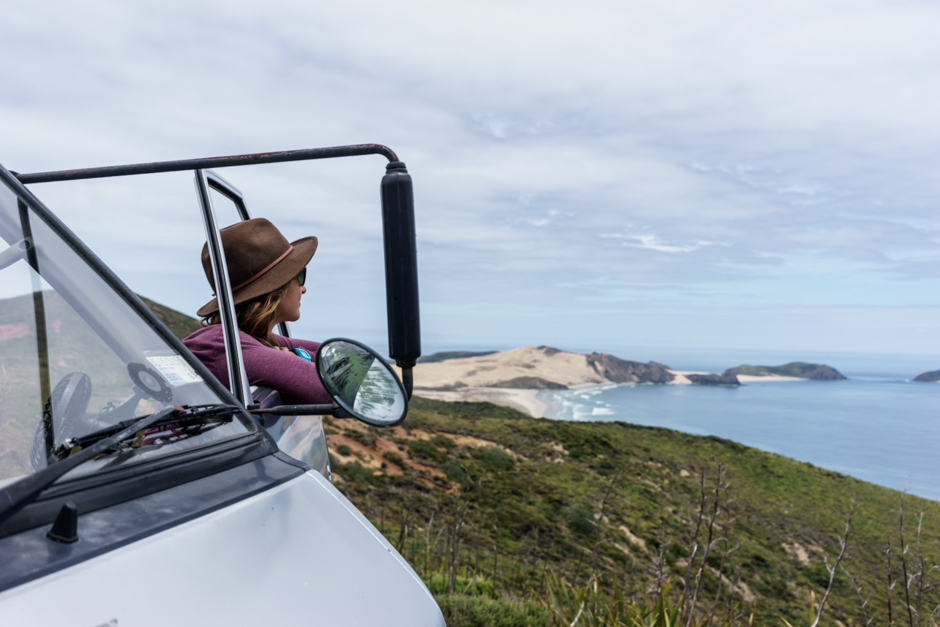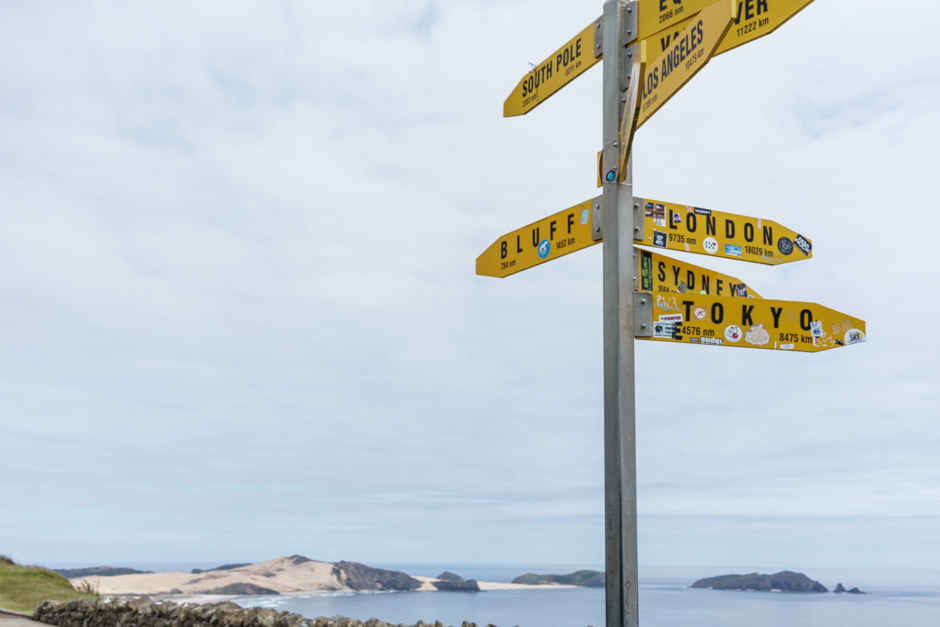 Cape Reinga is known to be a very spiritually important landmark for the Maori people. Legend has it that here, at the most northern point of the land, is where spirits of the deceased take their first steps into the underworld.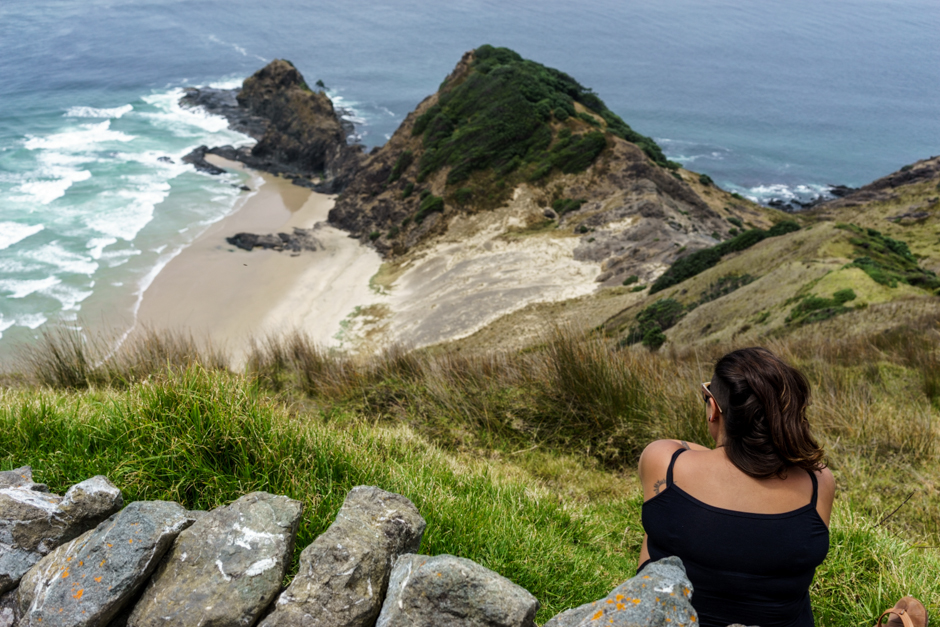 On this second night, after our visit to Cape Reinga, we made our way to Spirits Bay, a secluded beach on the northern coast of the north island. The entire bay, we had to ourselves. It was magical, a deserted beach paradise for four.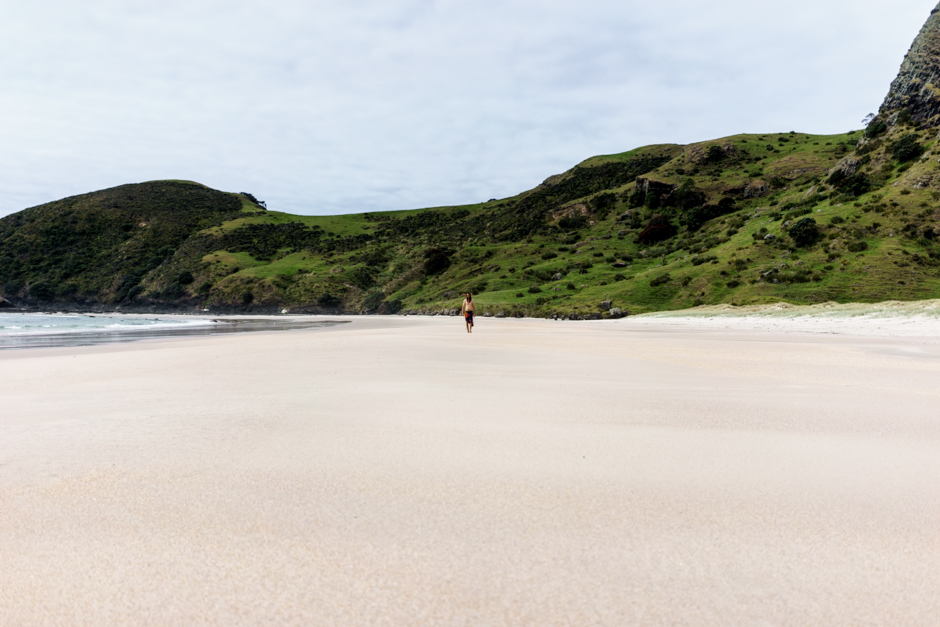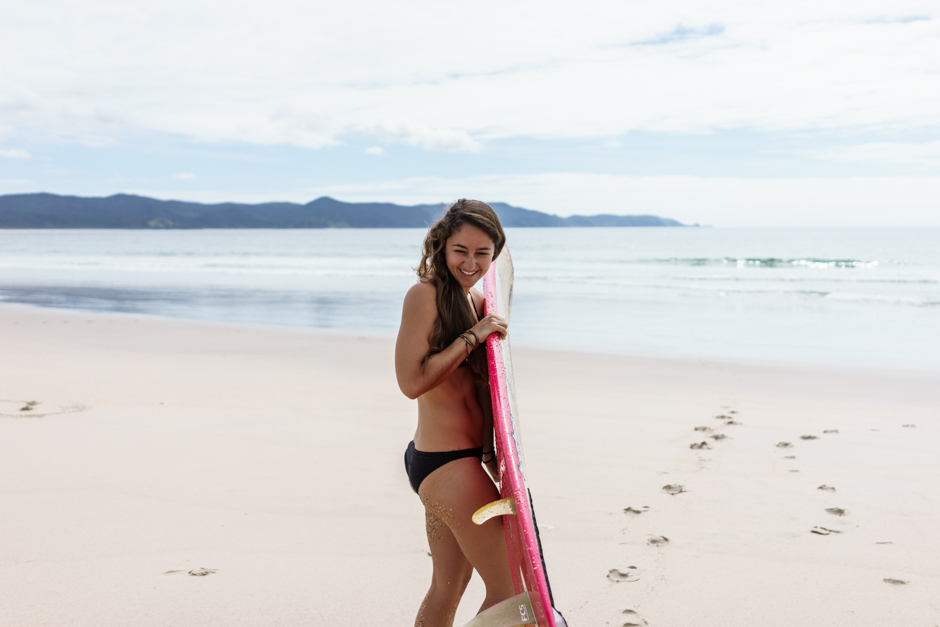 We settled in, cooked dinner, and walked the beach as the sun set, staying out past sun-fall to greet the evening's stars.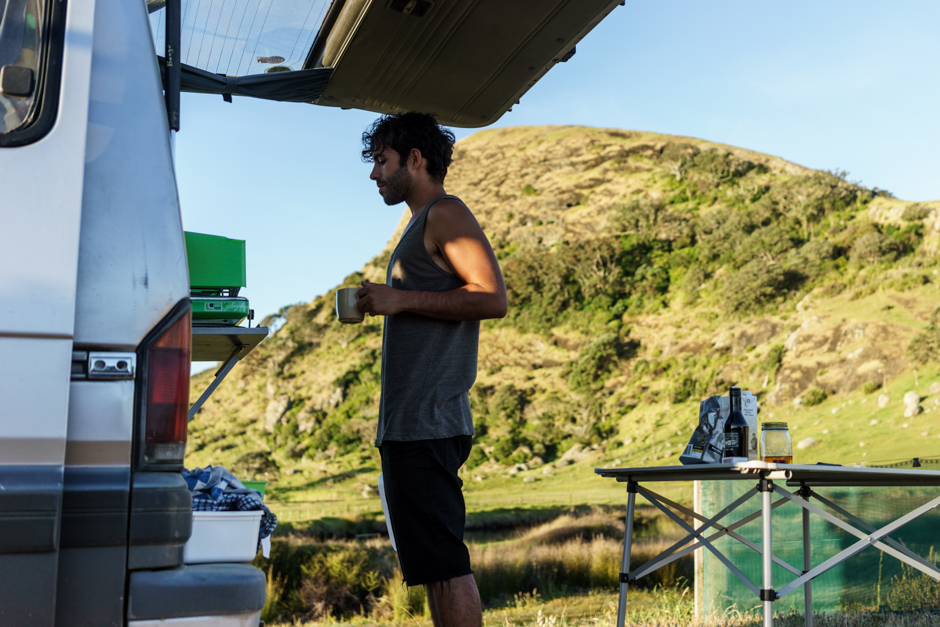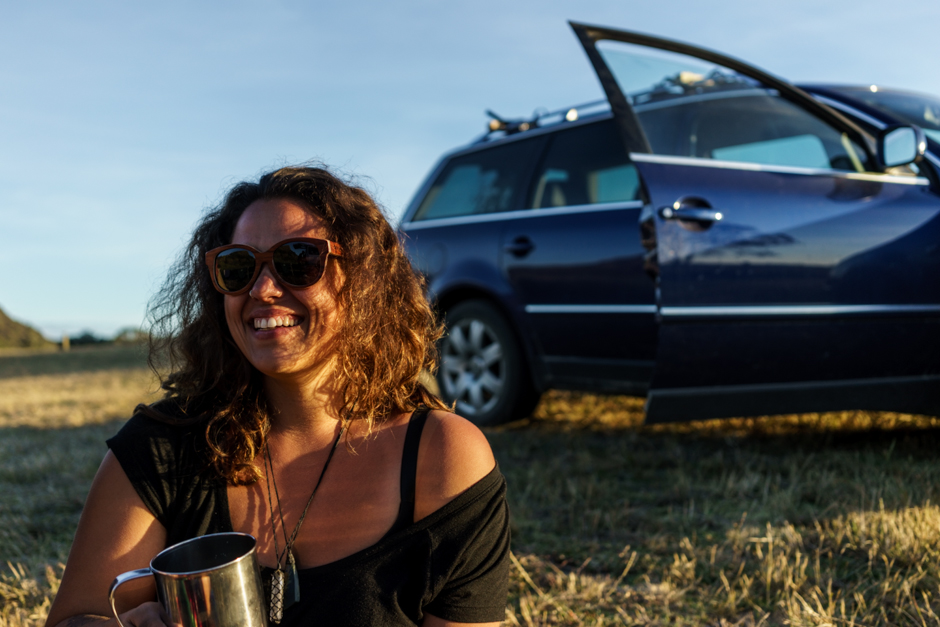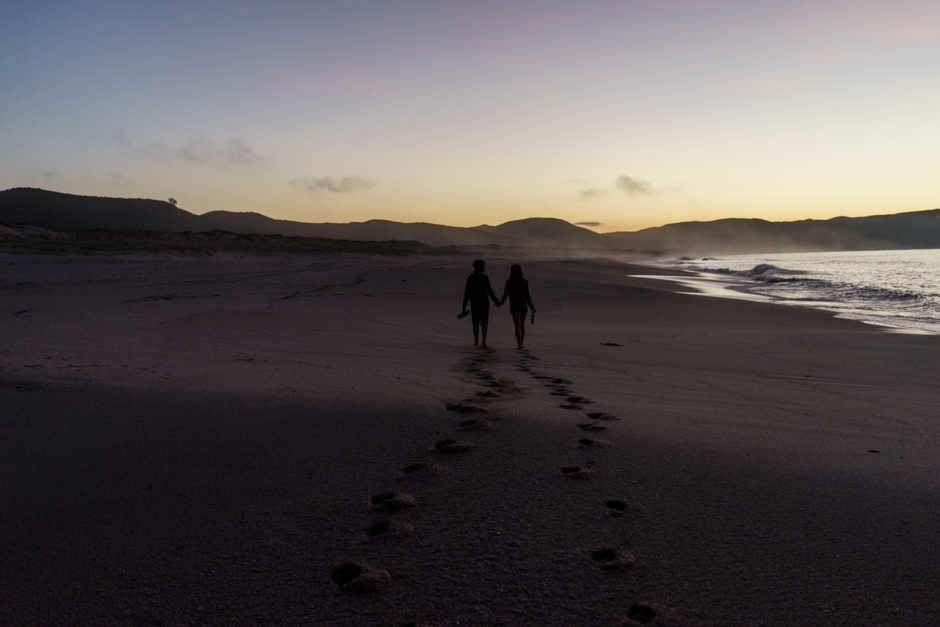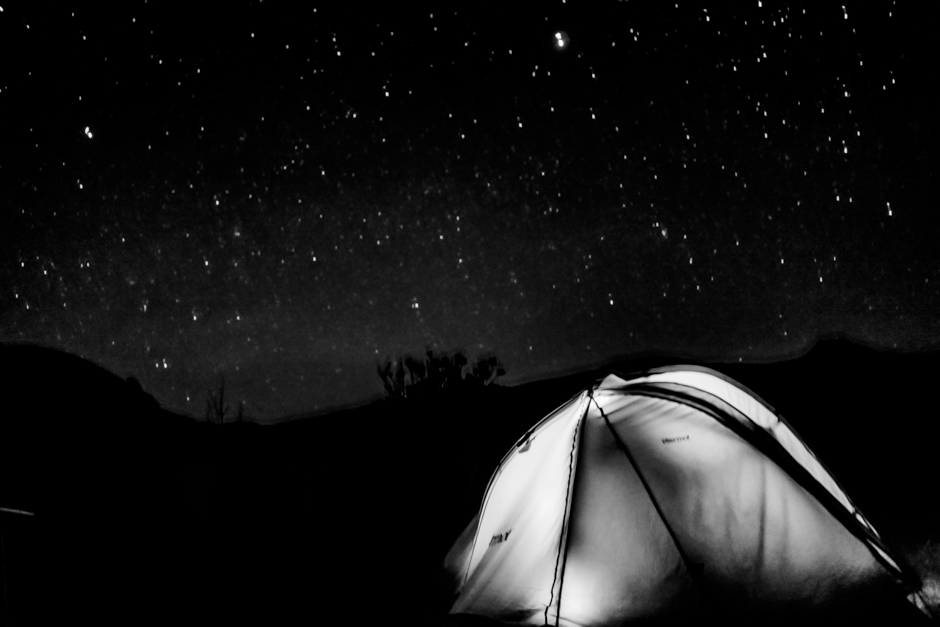 On the third day we made our way back south, driving Bongo onto the sand at 90-mile Beach, paying a visit to Tane Mahuta (the country's largest Kaori tree), and making a quick stop at Hokianga Harbor, the birthplace of Maori culture in New Zealand.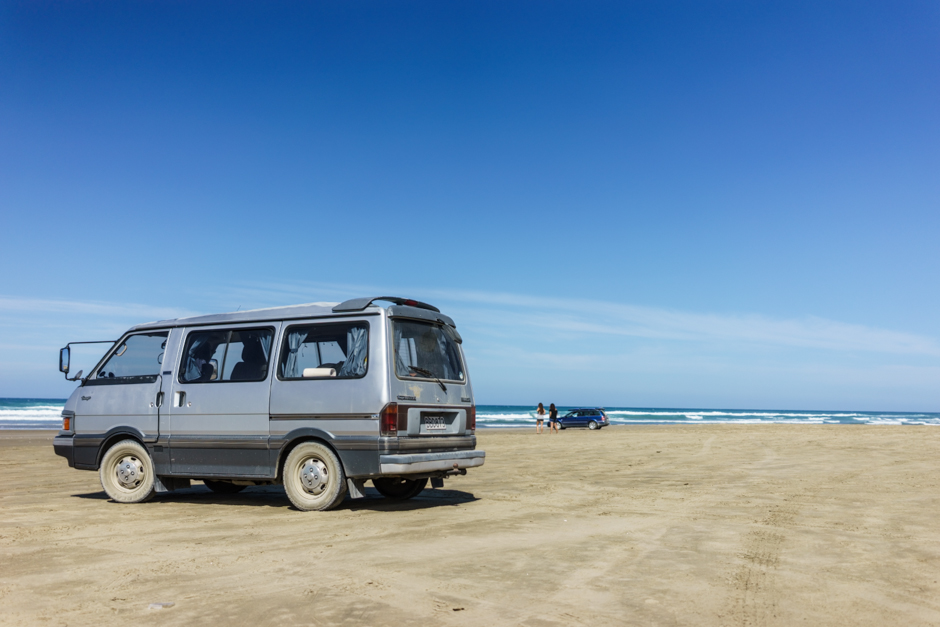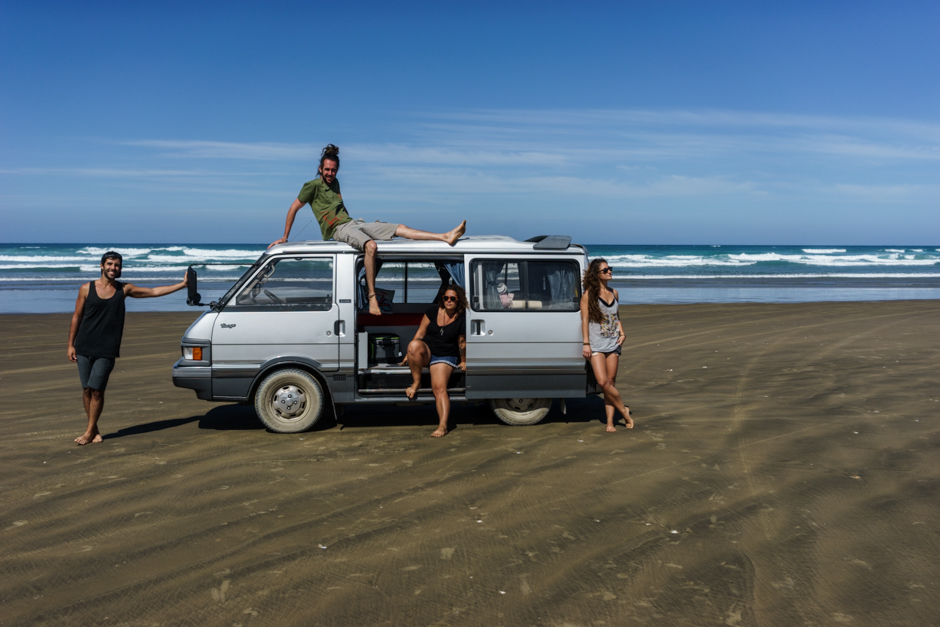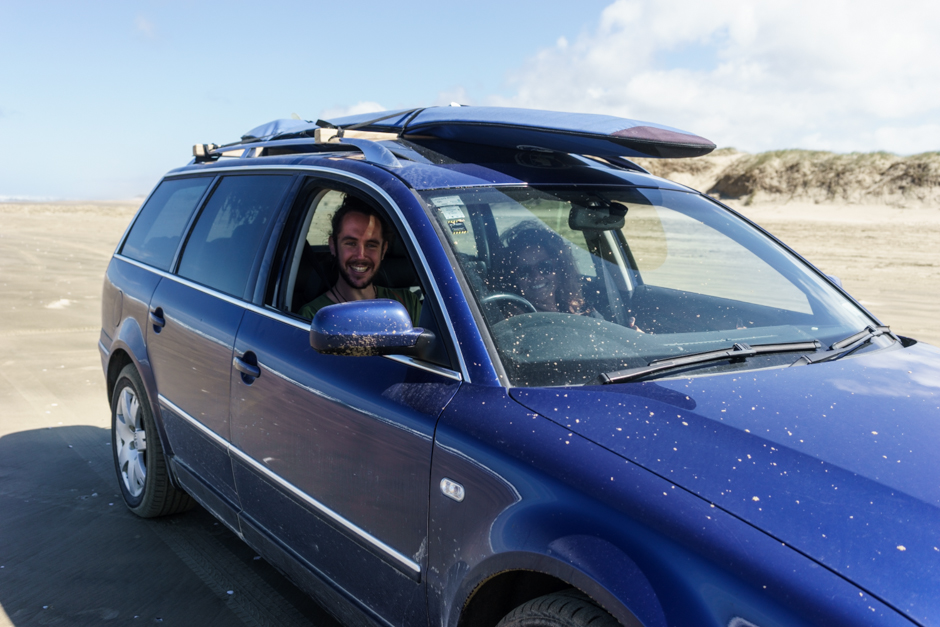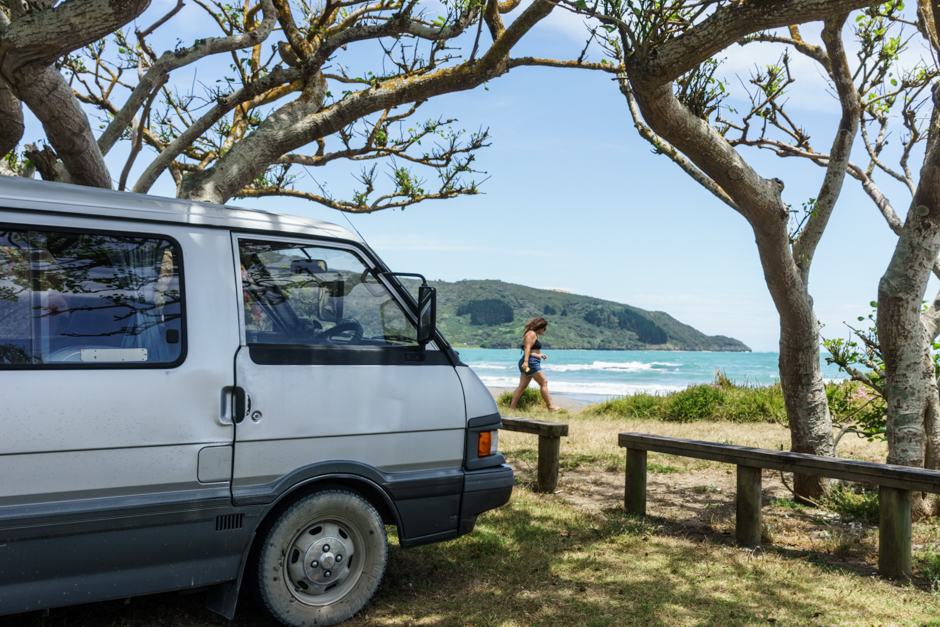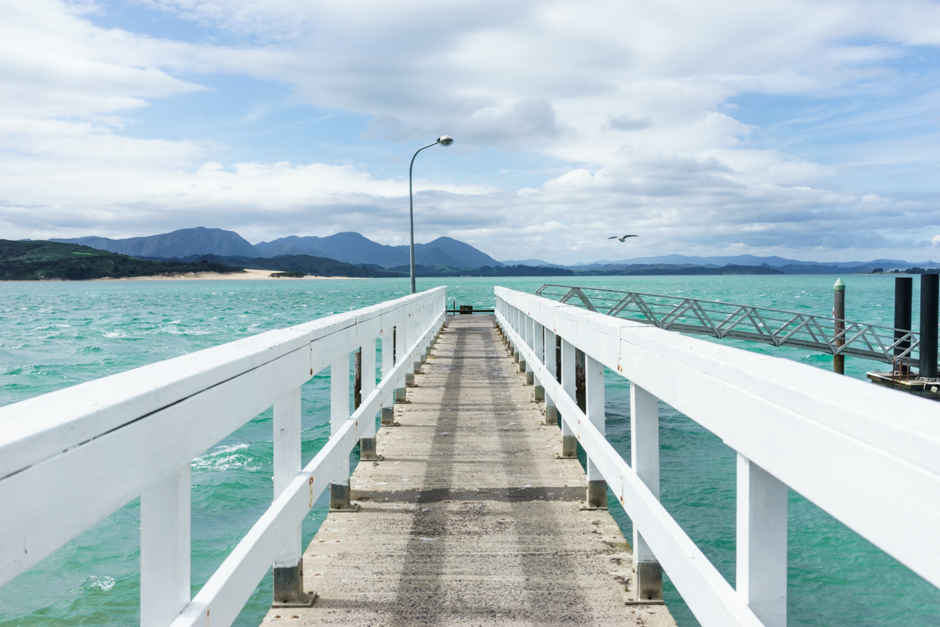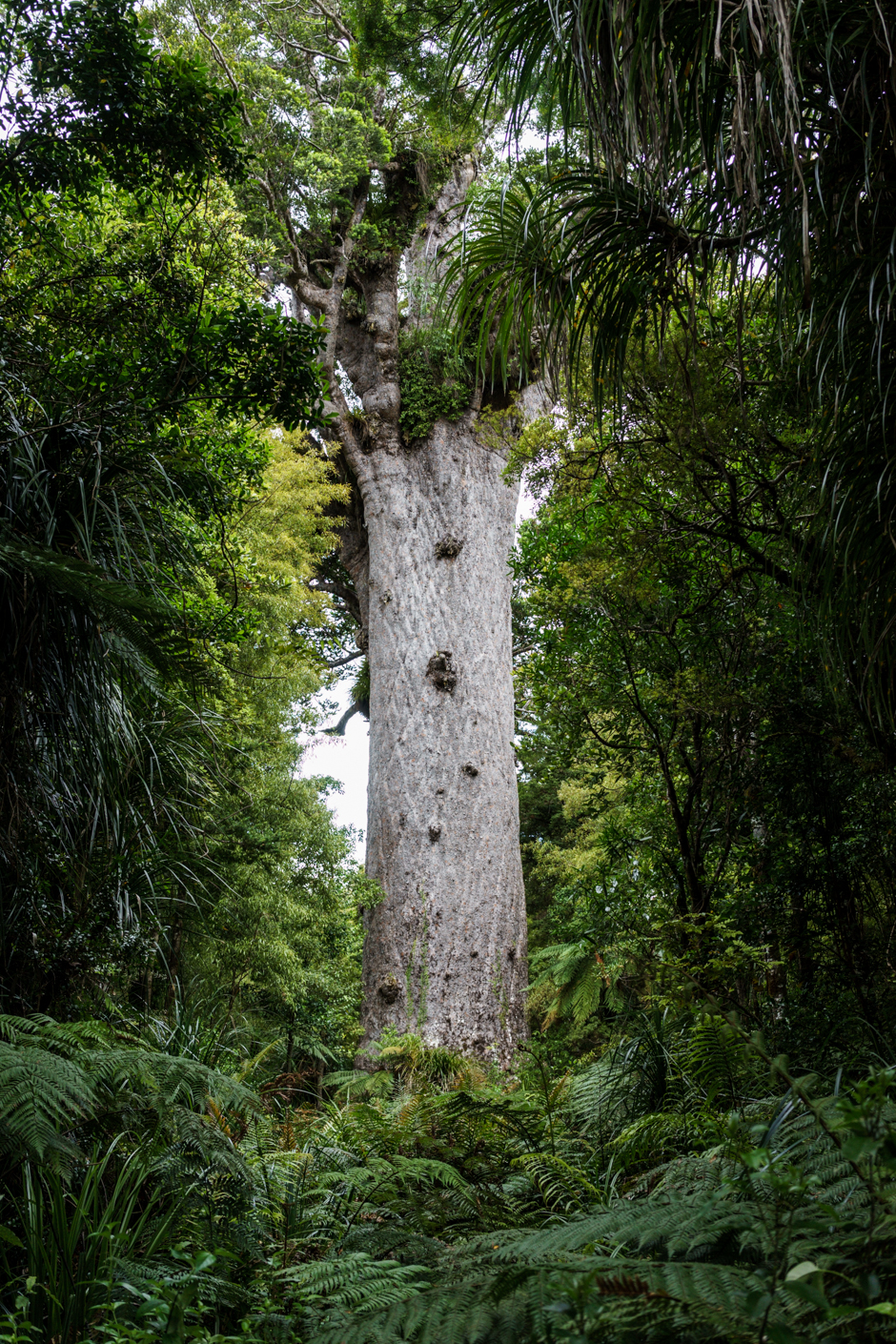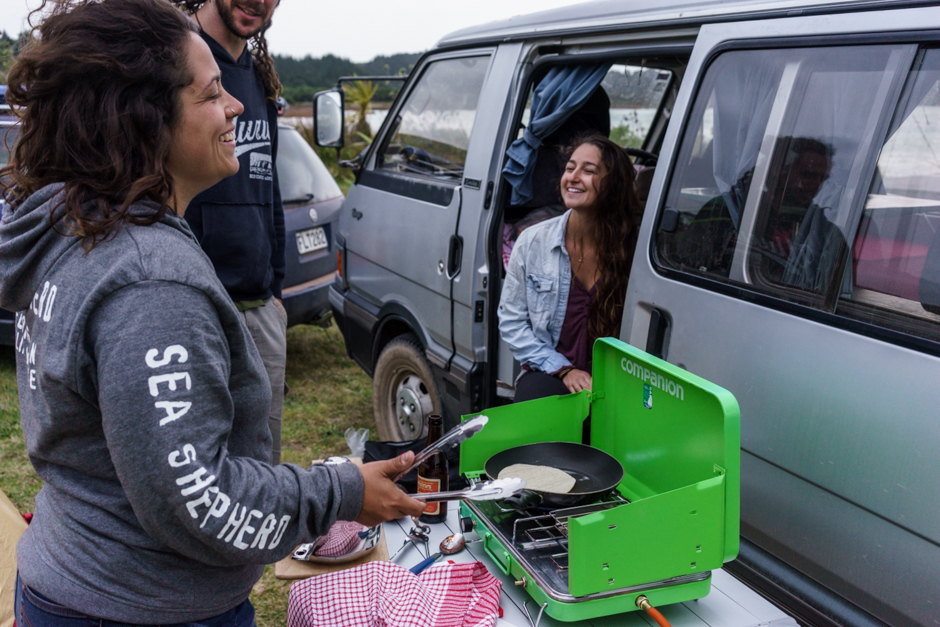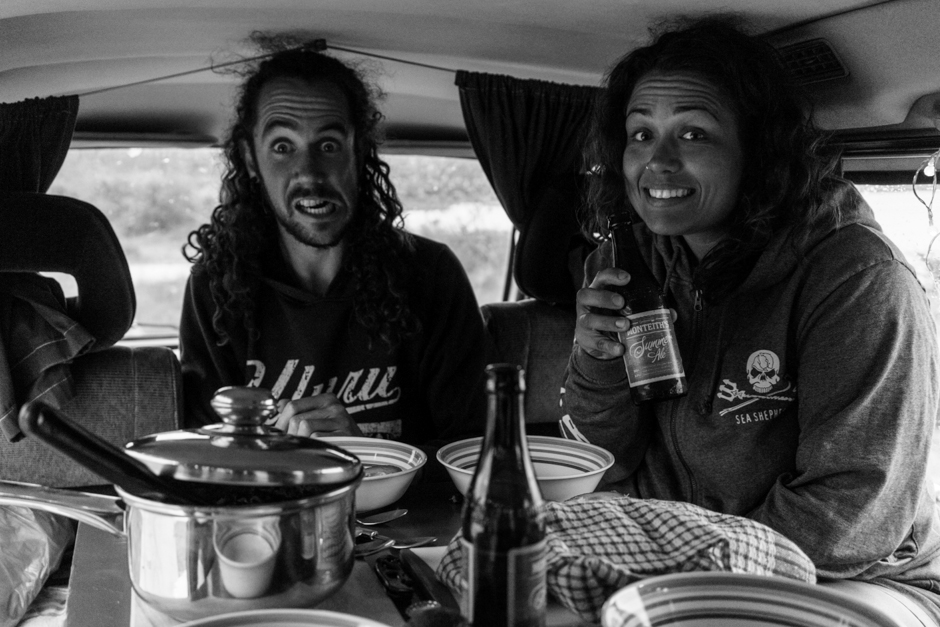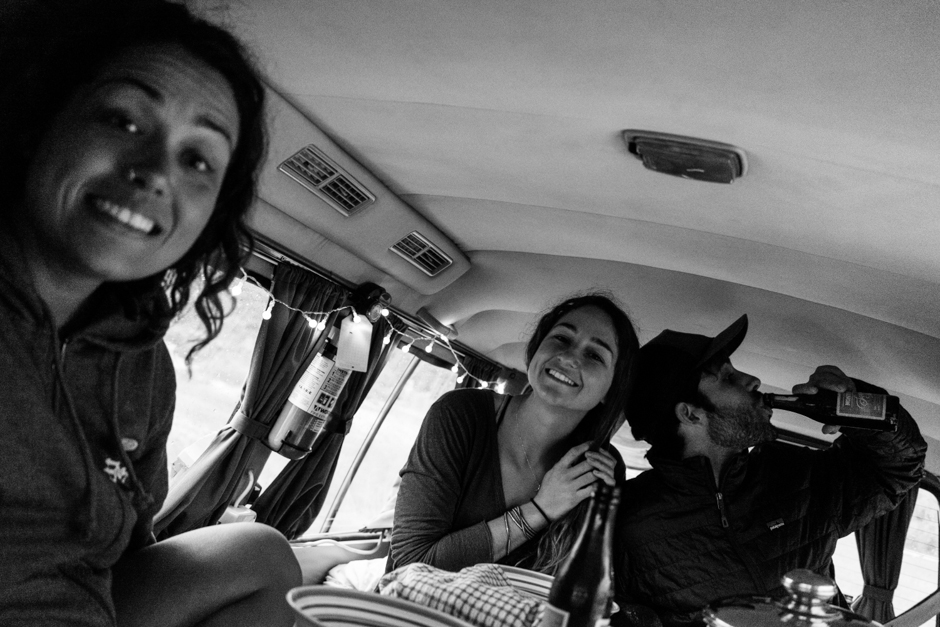 On the fourth day we were back in Auckland, saying goodbye to our dear friends before heading on our grand adventure down south.
And south we went.
The next two and a half weeks were a blur of awe-inspiring landscapes, exciting natural features, unbelievably located (and free) campsites, and some of the most beautiful roads this world will ever see.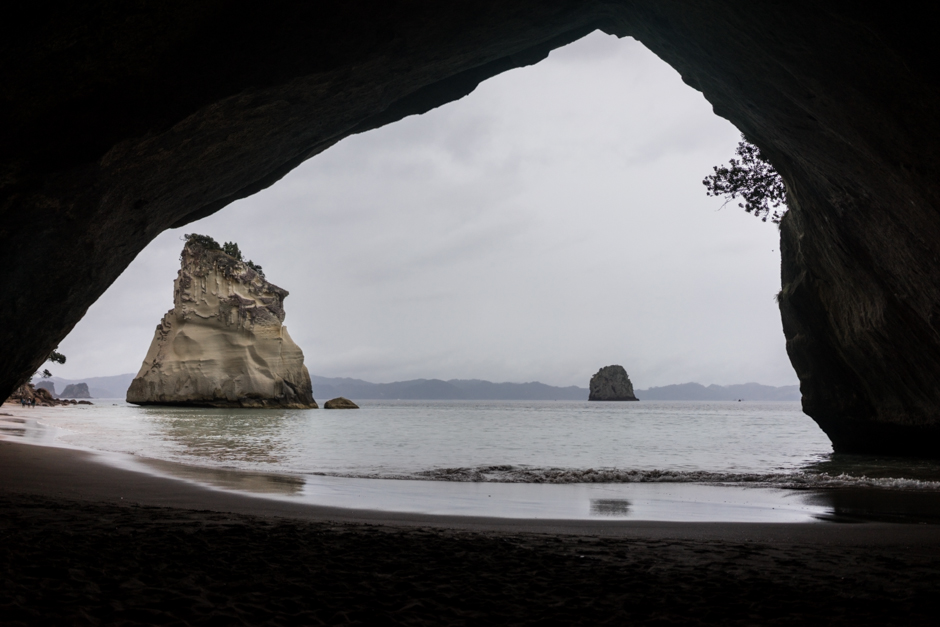 From the hot springs of Hot Water Beach on the Coromandel Peninsula and Cathedral Cove, to the mud pools of Rotorua and the beautiful sight of Lake Taupo. New Zealand was shaping up to be a solid mix of Jurrasic Park wilderness and dramatic, sweeping, Lord of the Rings scenery.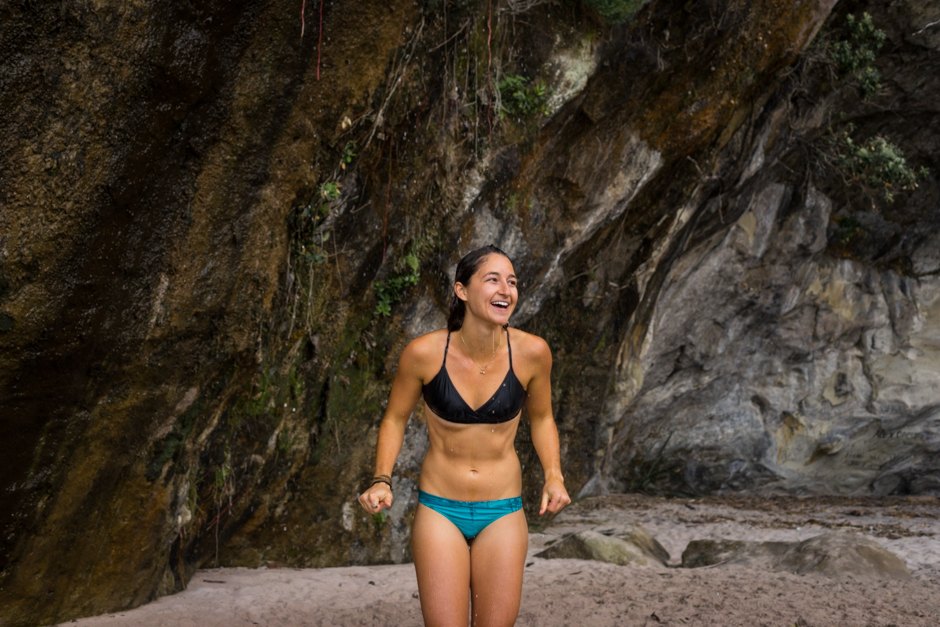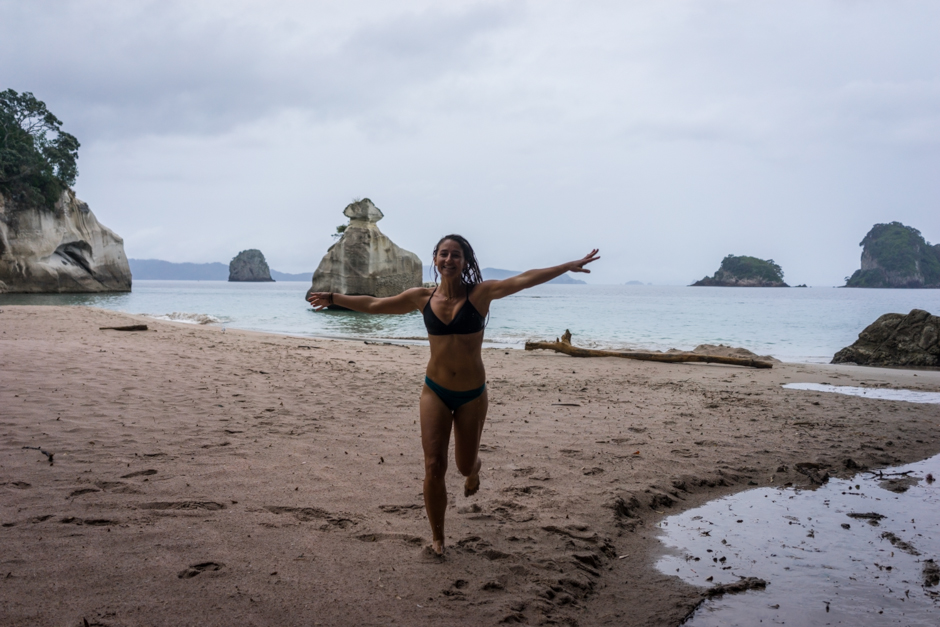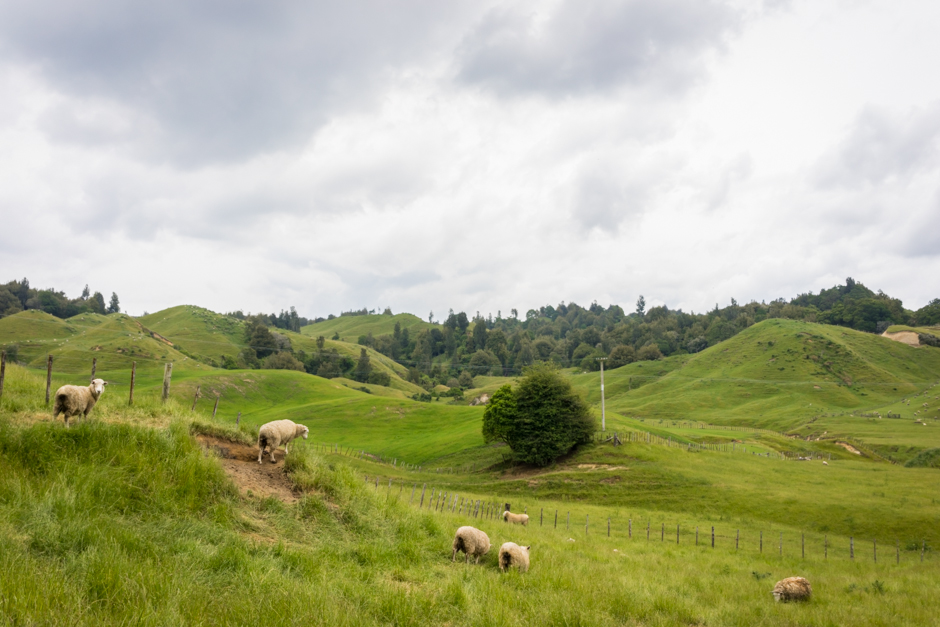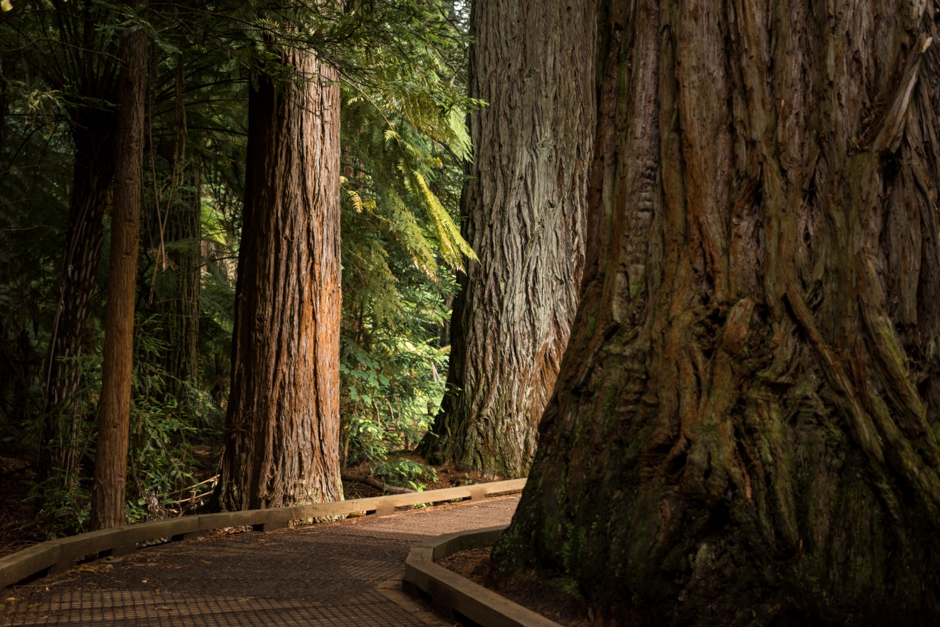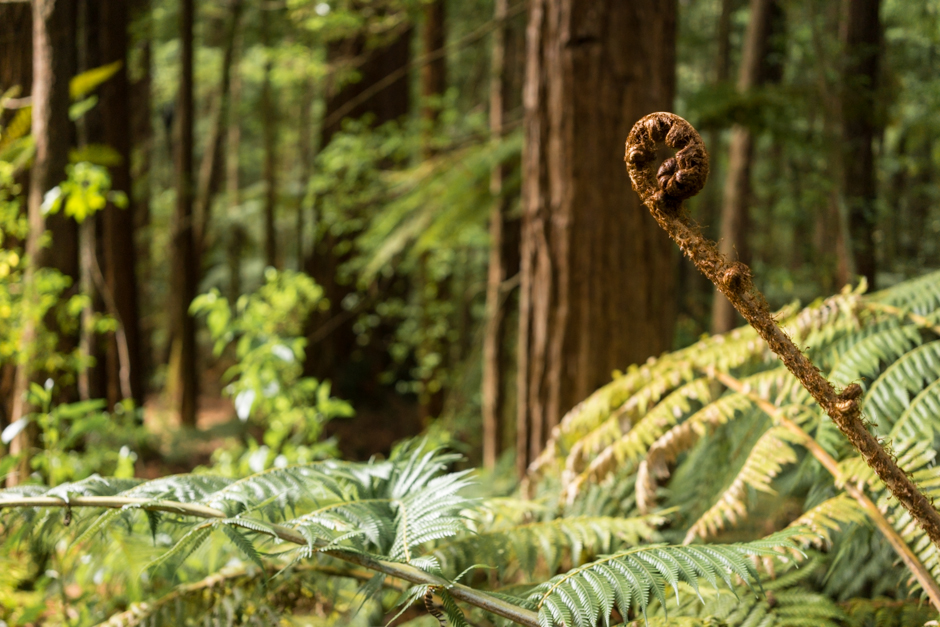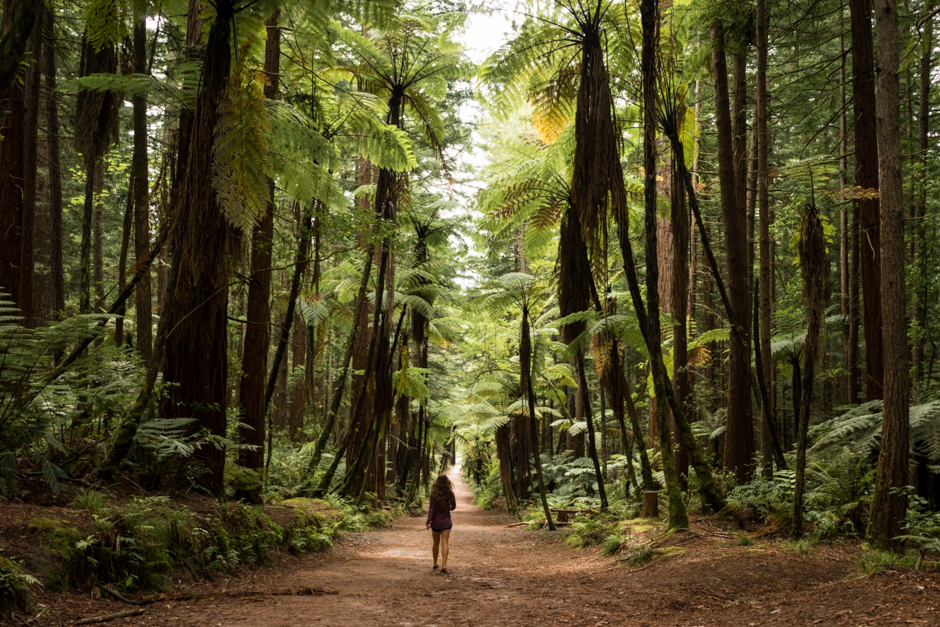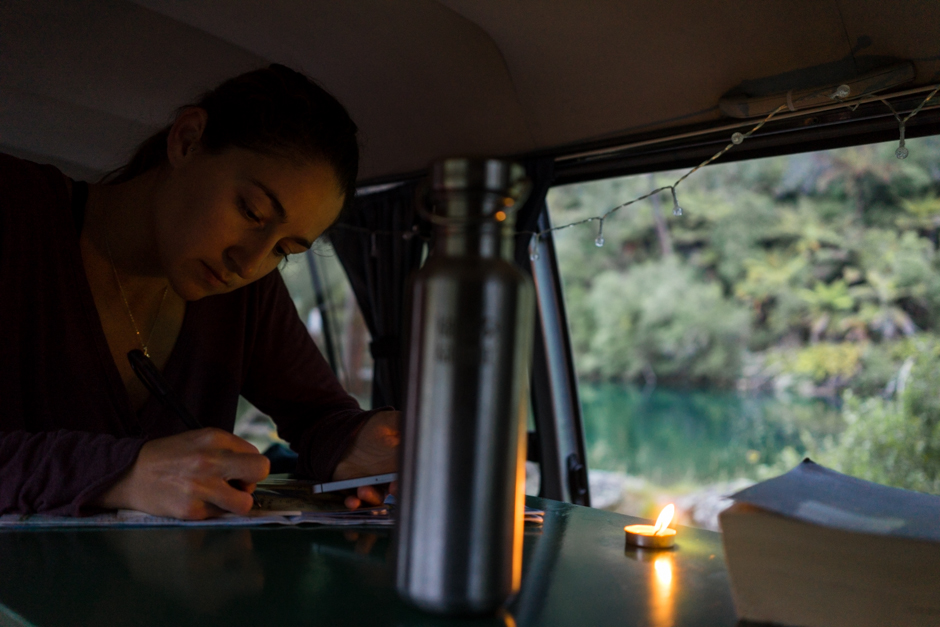 We visited Te Puke, the world capital of Kiwi Fruit, the Aratiatia Rapids, and Huka Falls.
Every place we'd go, natural beauty was abundant.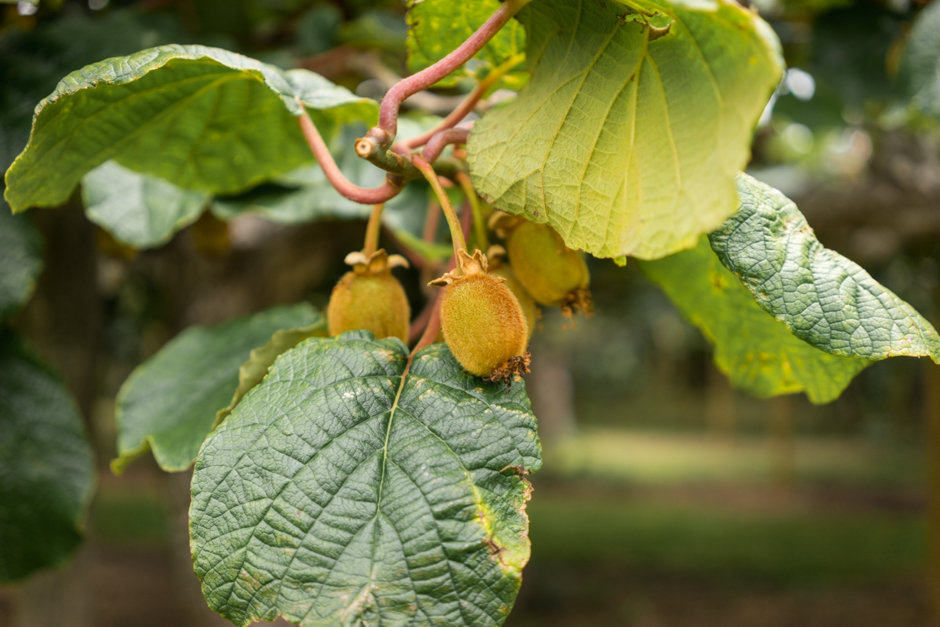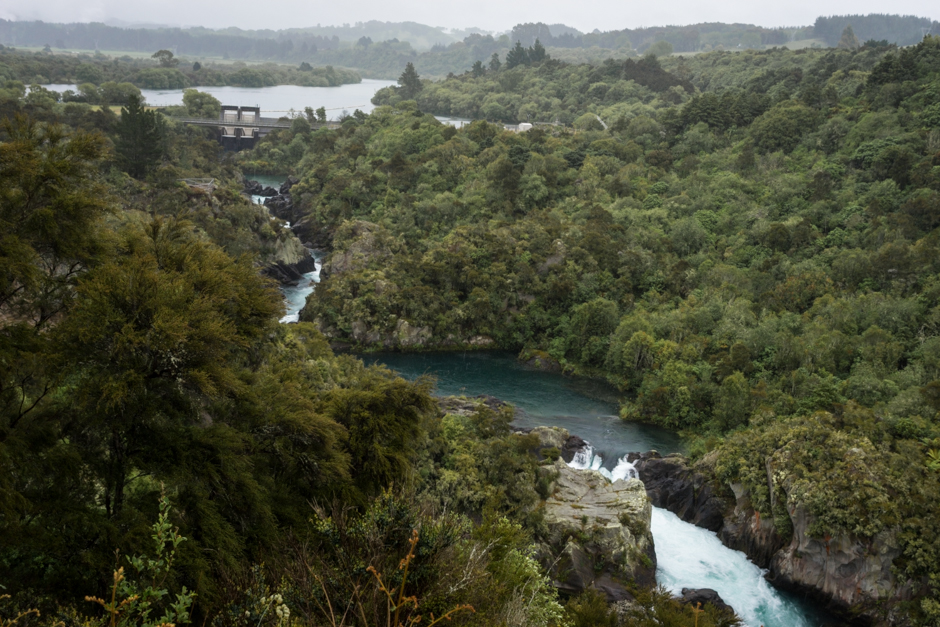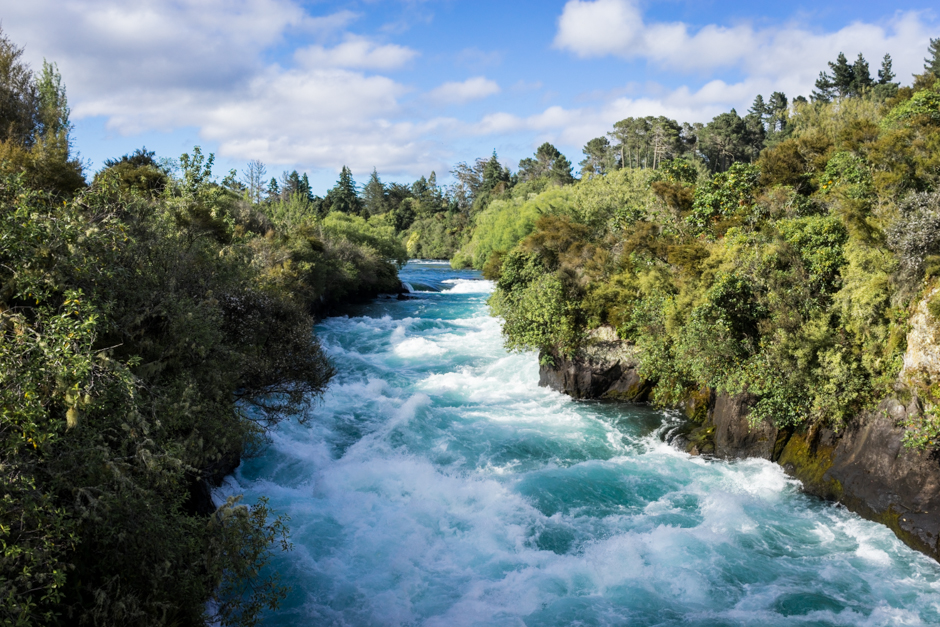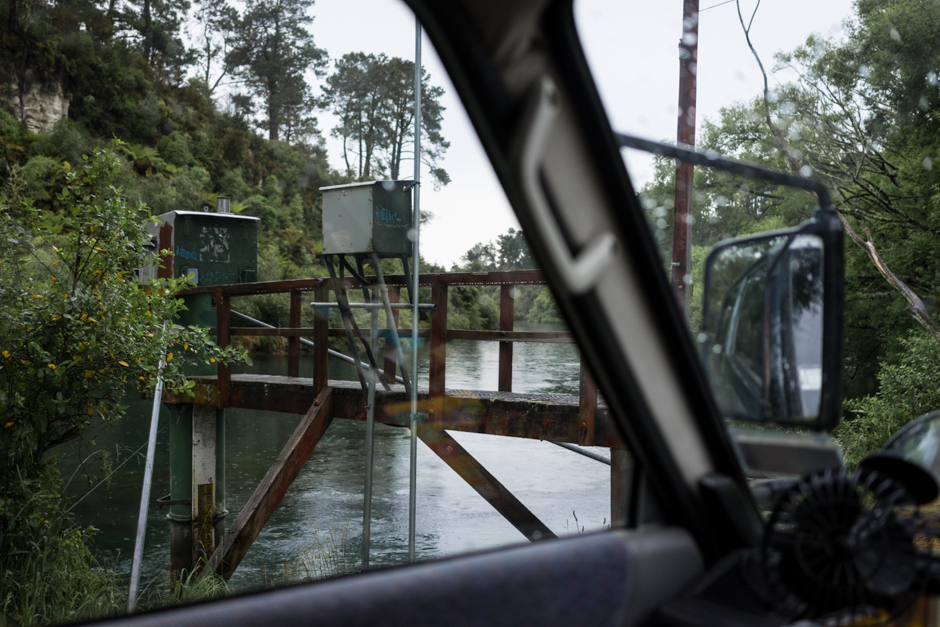 Before reaching the San Francisco-esque city of Wellington, we also hiked the volcanically charged Tongariro Alpine Crossing at Tongariro National Park, one of the most epic treks either of us had ever completed.
For any Lord of The Rings fans out there, this is the infamous land of Mordor.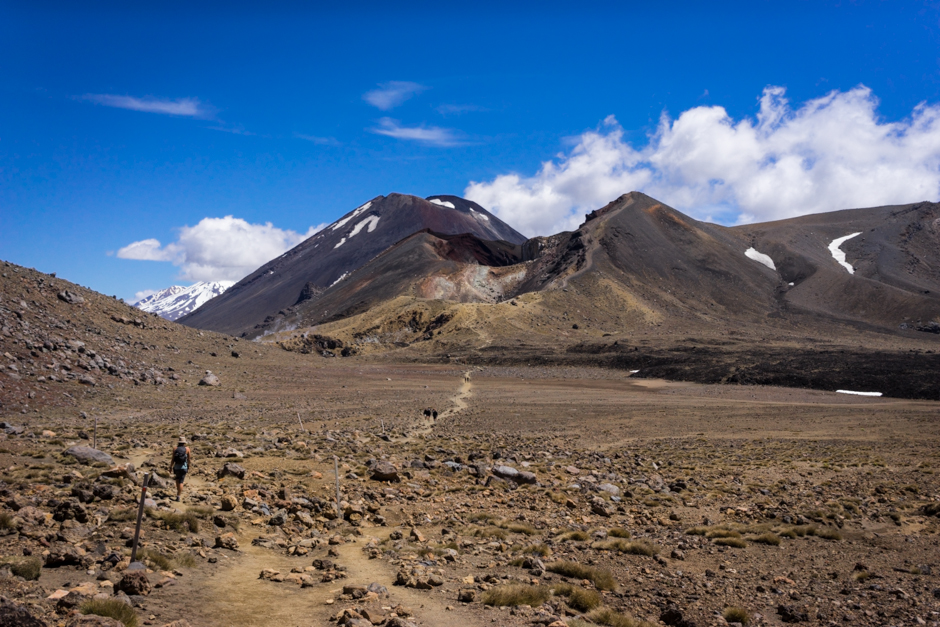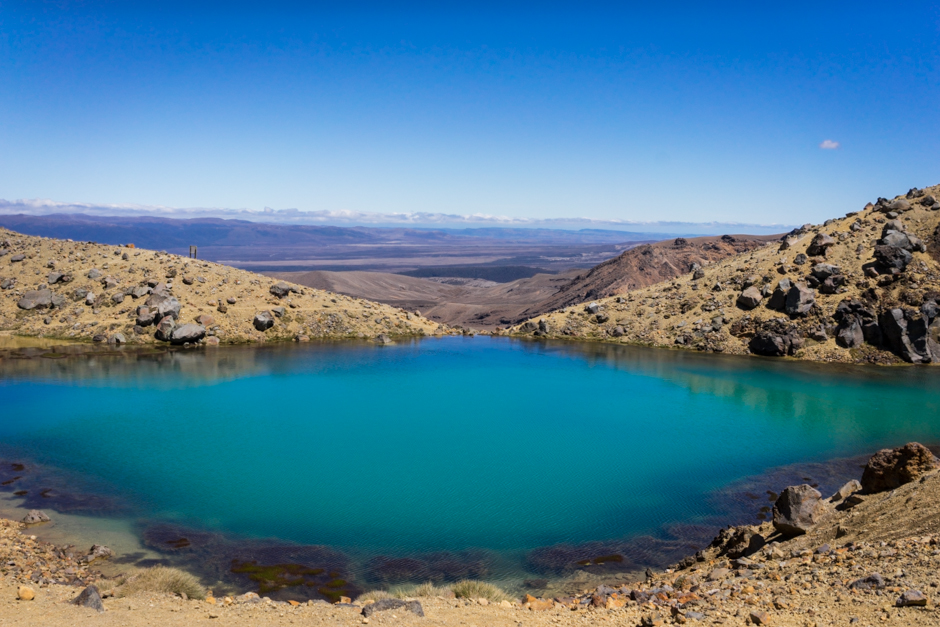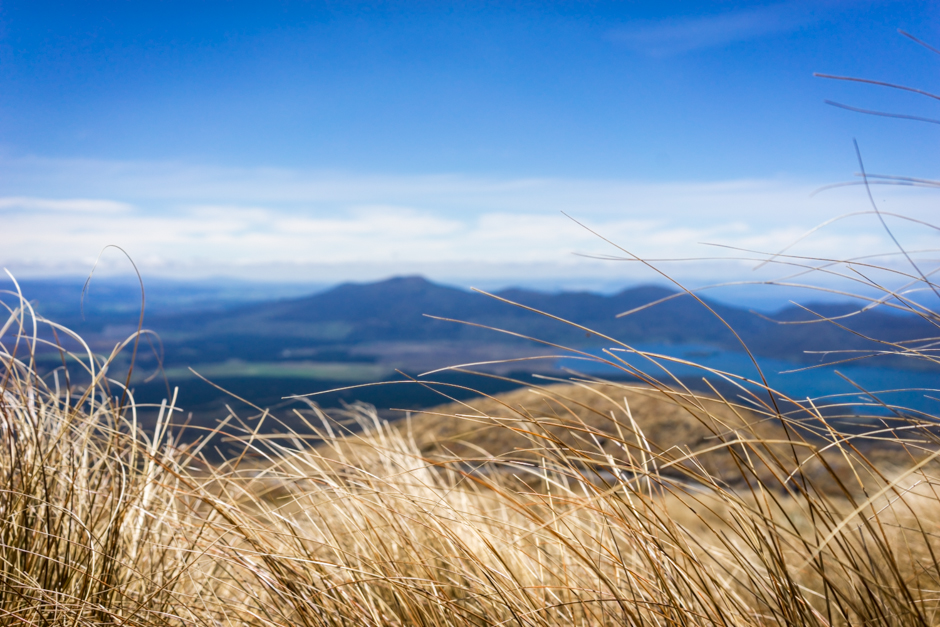 Once in Wellington, it was back to urban life during the days, with beachside living at night.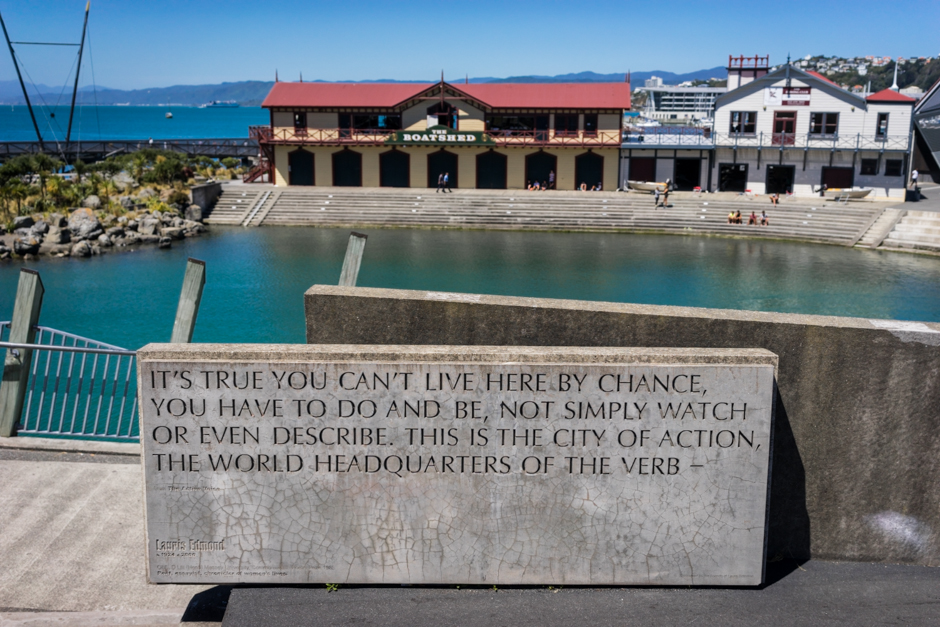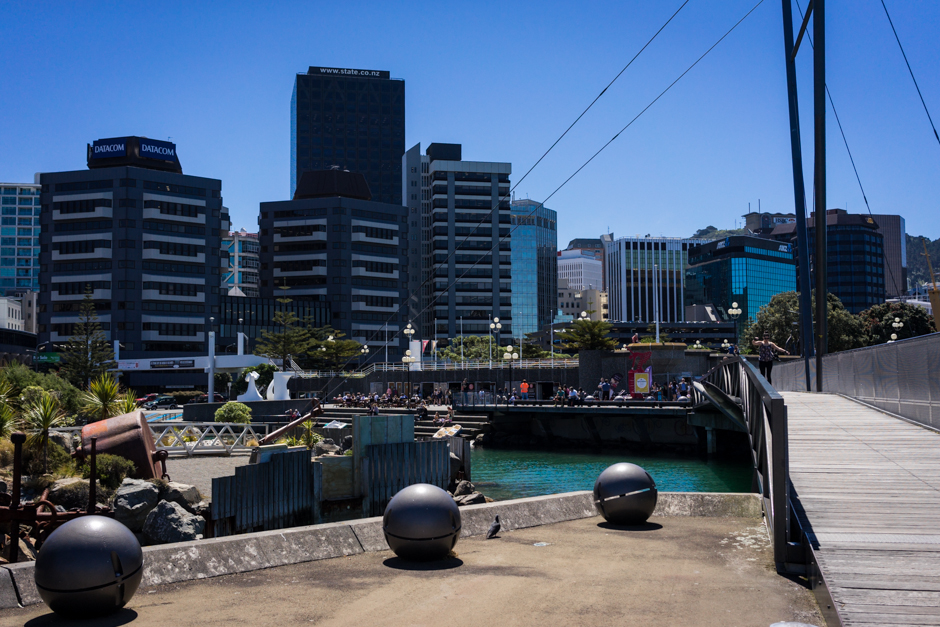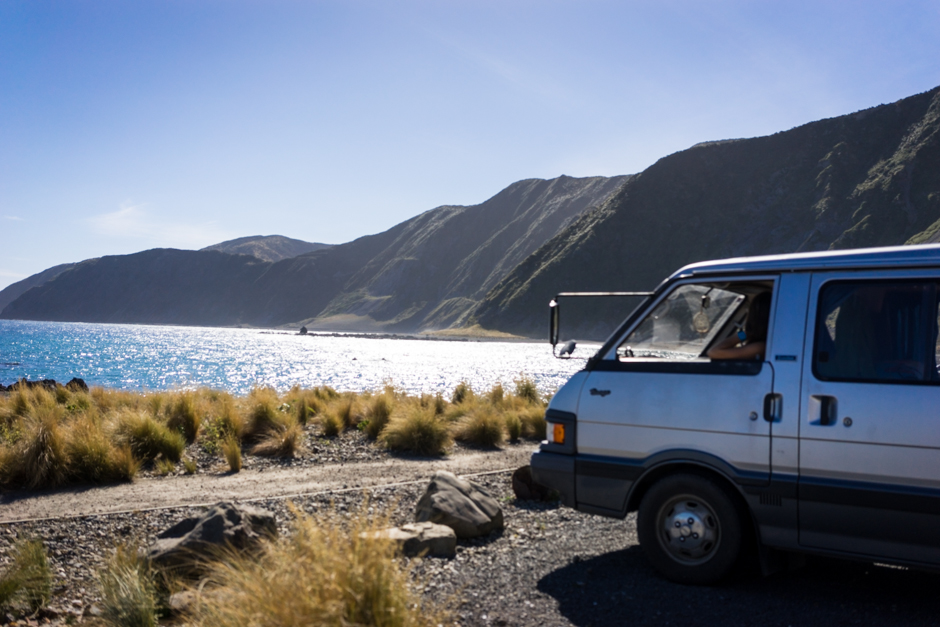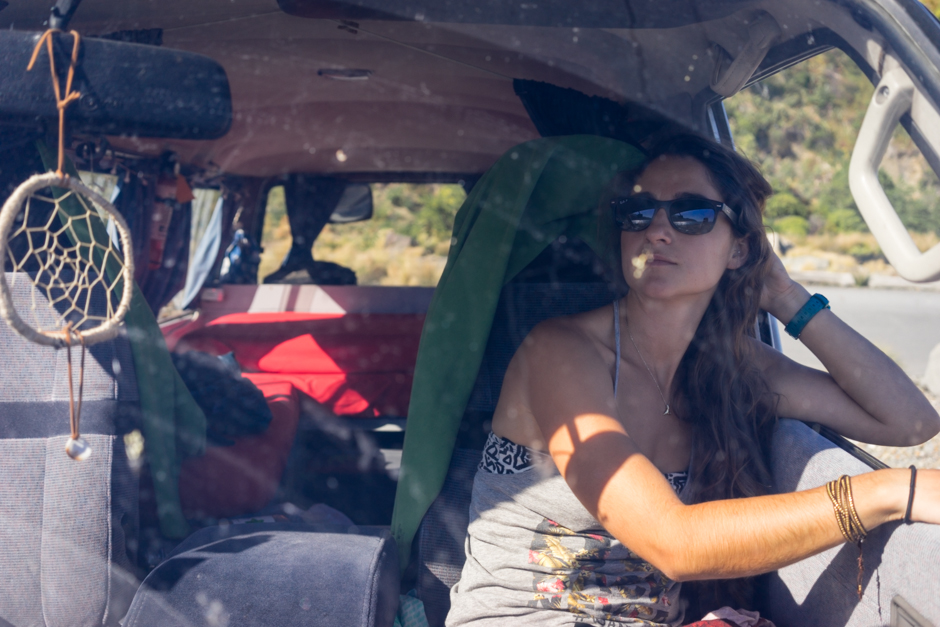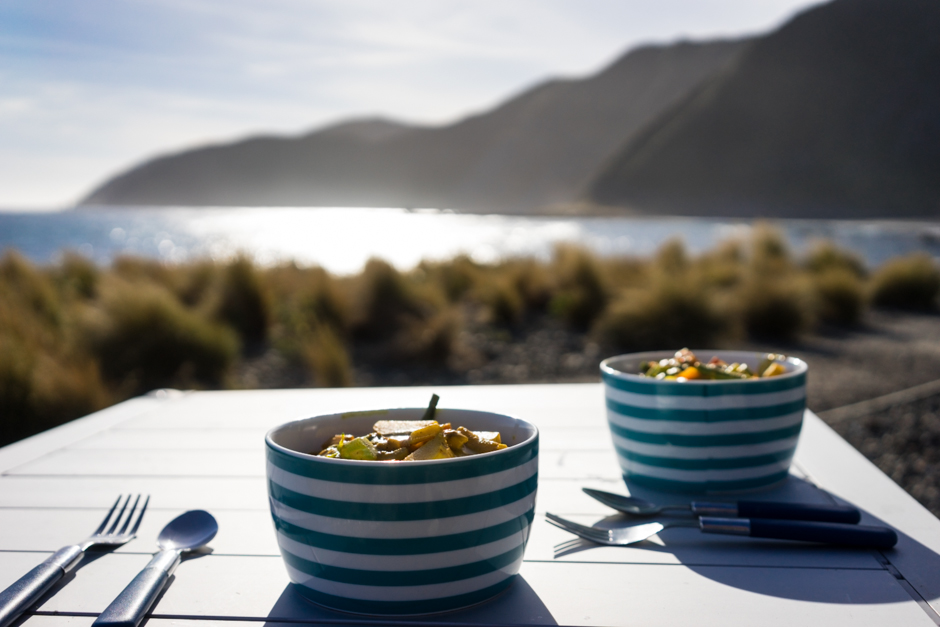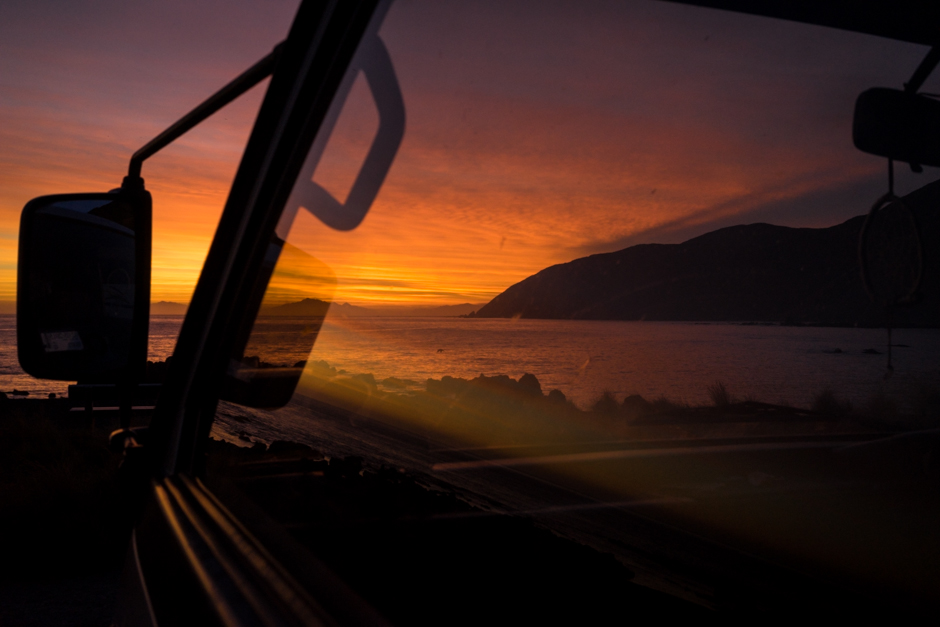 Honorable mention goes to the Te Papa Museum, New Zealand's national history & art museum, and one of the best curated, best constructed museums either of us have ever set foot in.
Kudos, Wellington.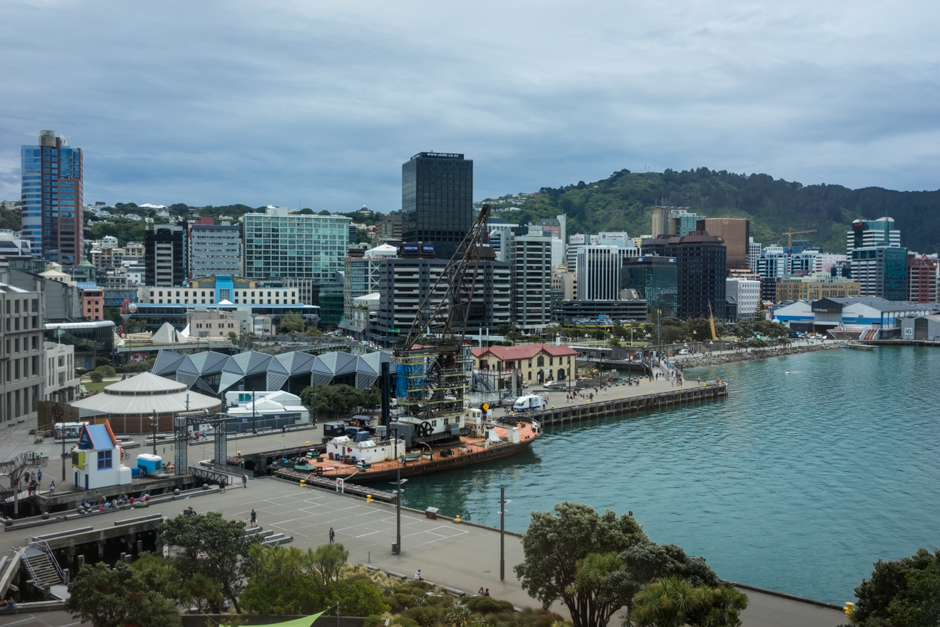 After a couple days at the southern tip of the north island, it was onto a ferry for us, across the Cook Strait to Picton, to the South Island, toward Nelson we headed.
Supposedly, they say, Nelson is a pretty cool town with a village vibe and a slew of quality microbreweries.
For me, it was the site of an unexpected corneal ulcer in my right eye, a place where I spent three days in and out of an optomologist's office.
I couldn't see much of Nelson, but Emily claims it to be a pretty neat place.
From there, Emily took the wheel as I took time to heal.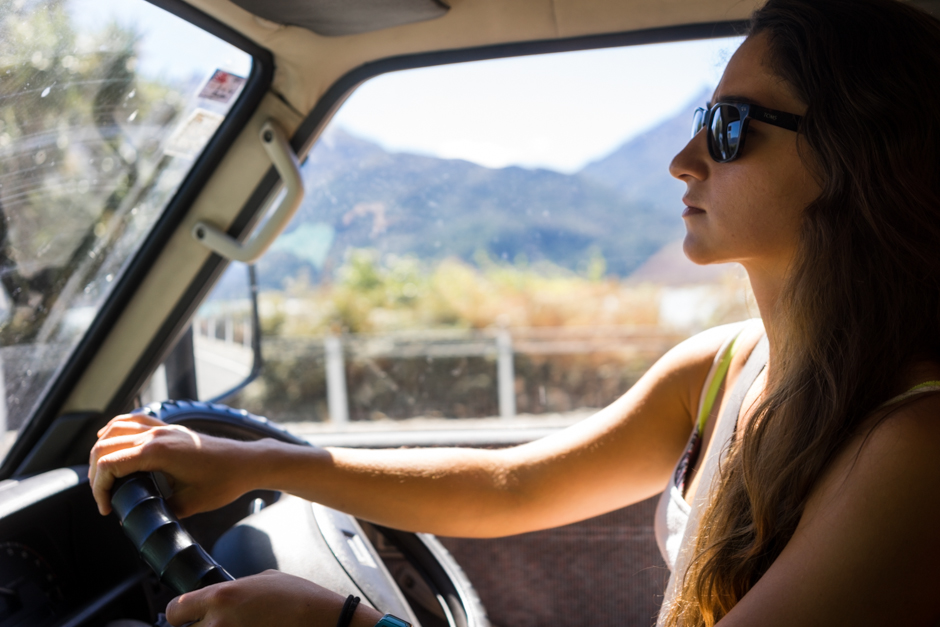 Cataracts shades? Check.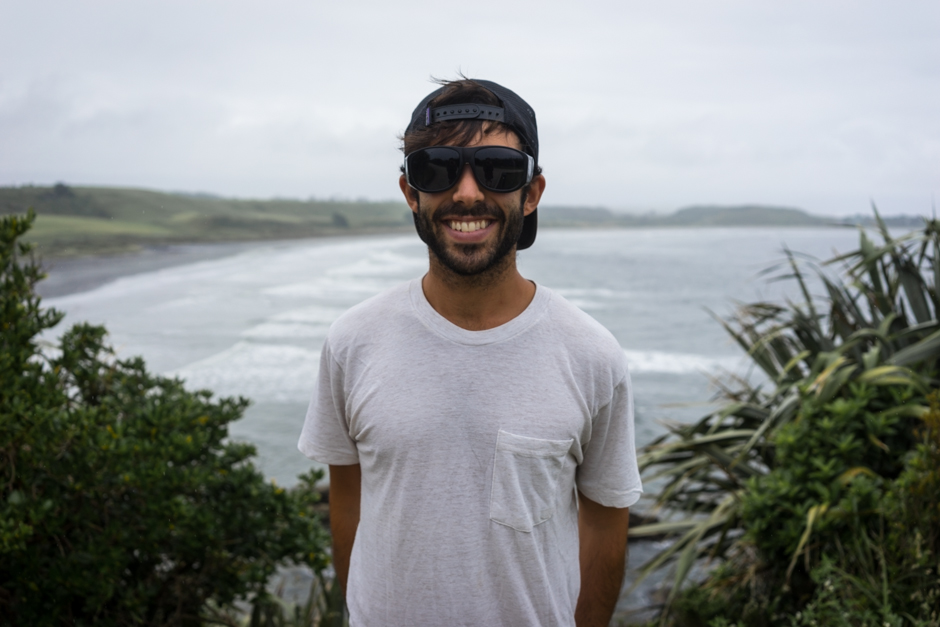 Down the western coast of the South Island we toured- Westport, the Punakaiki Pancake Rocks, Greymouth, Franz Josef Glacier, Fox Glacier, and Haast- all before turning back inland toward Lake Wanaka, Arrowtown, and Queenstown.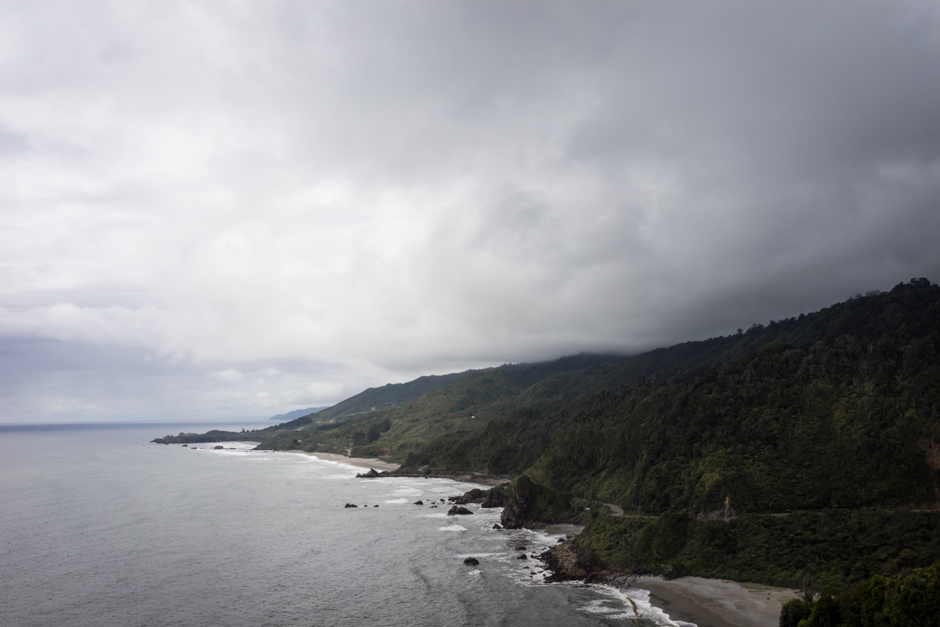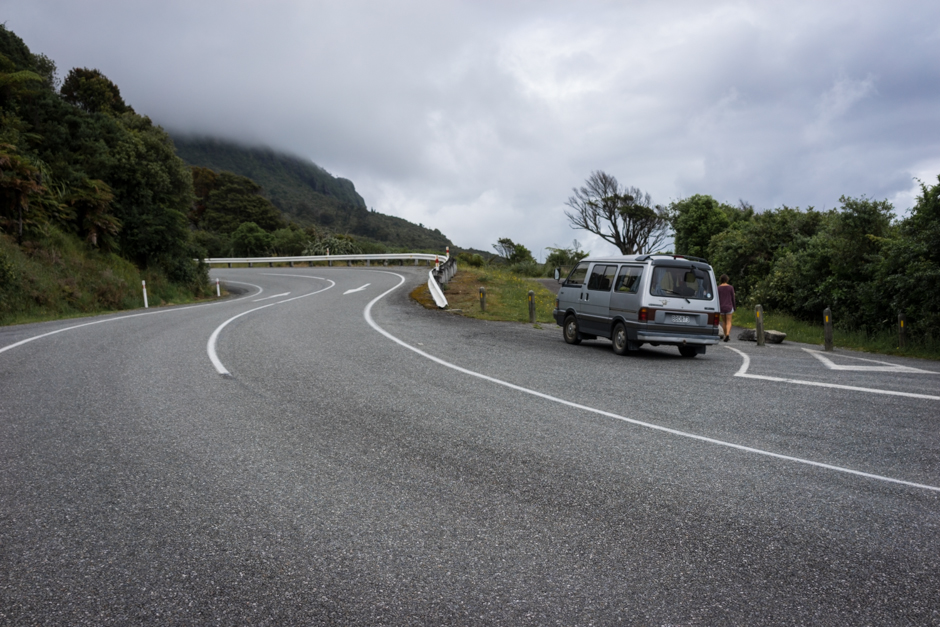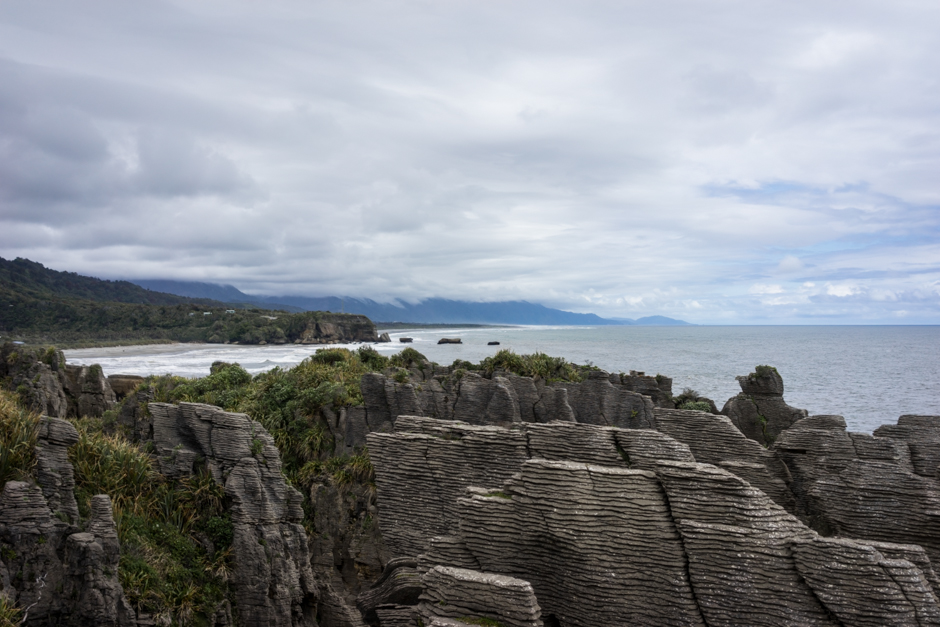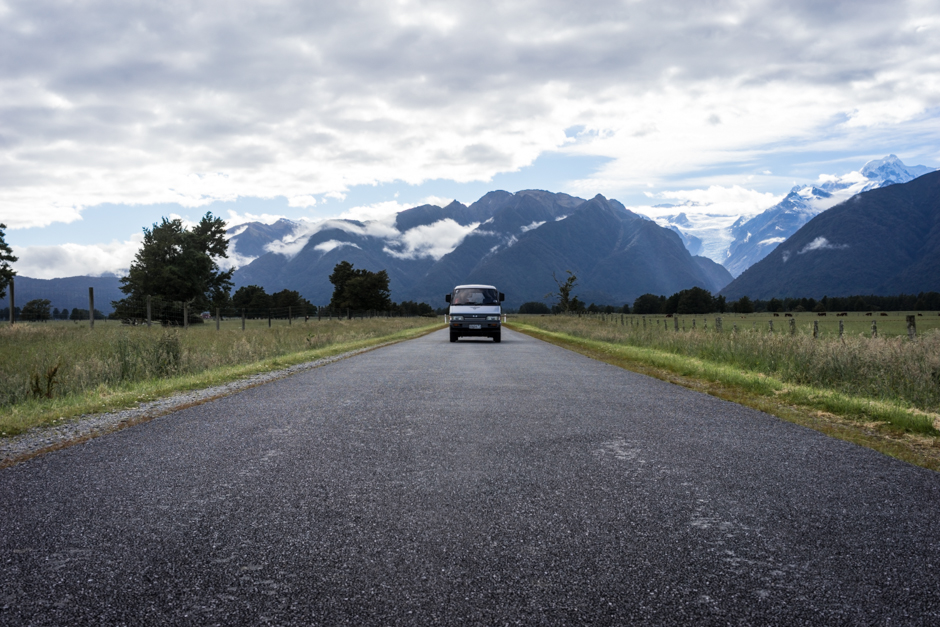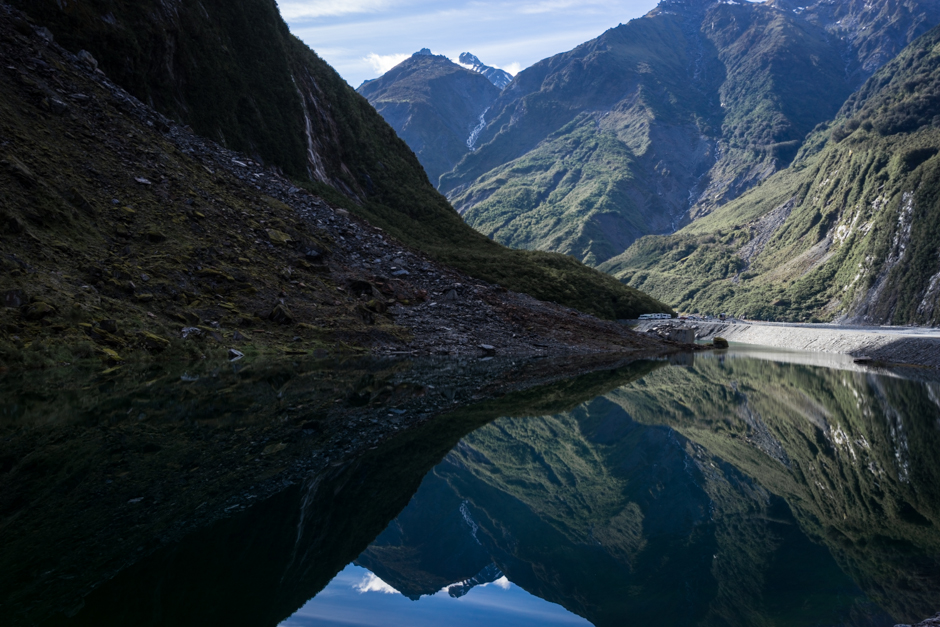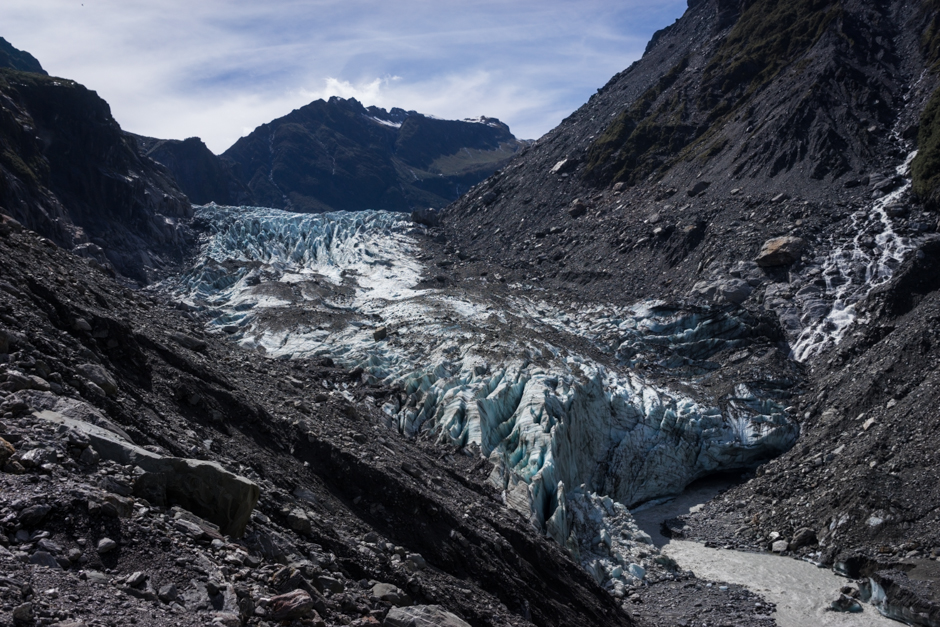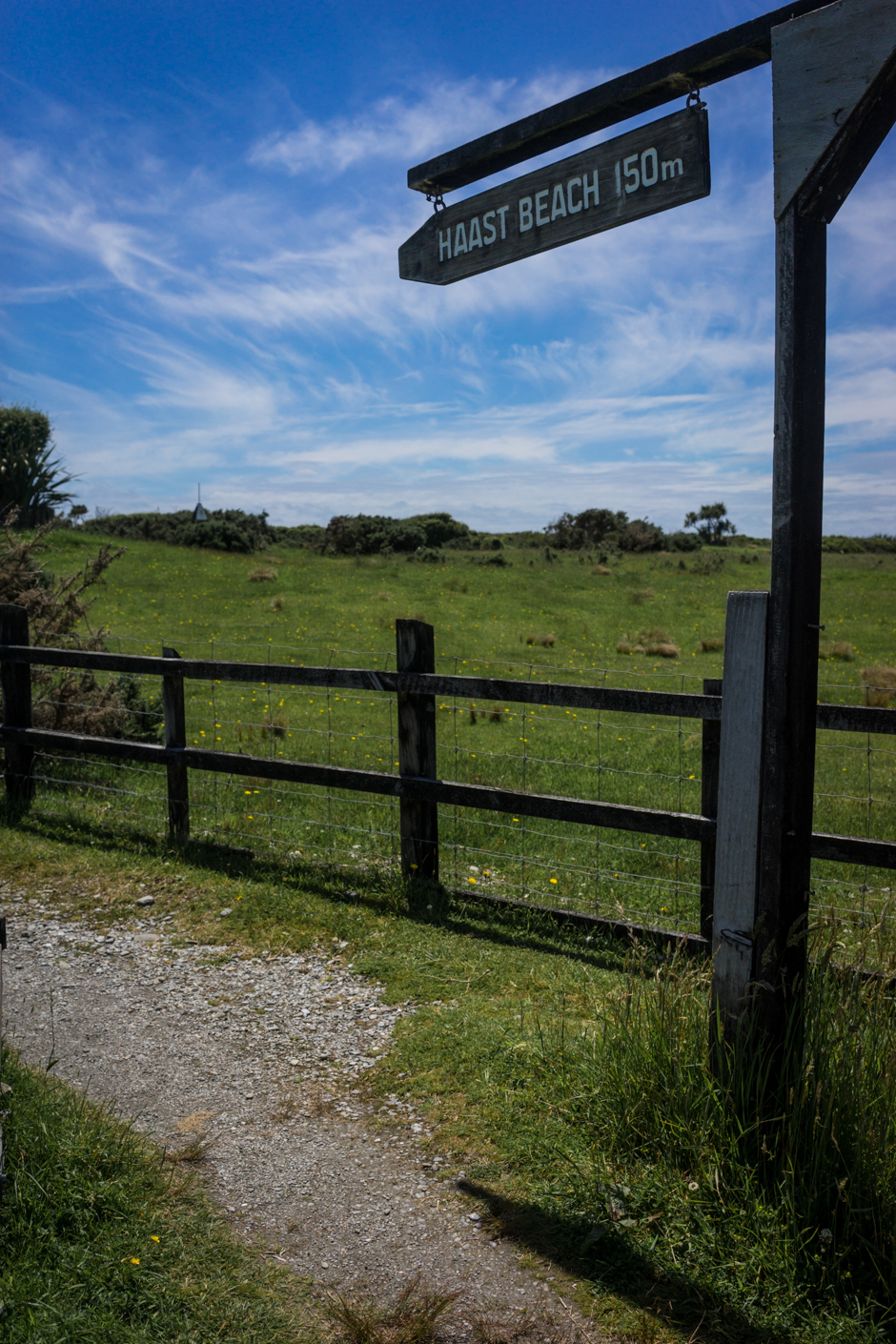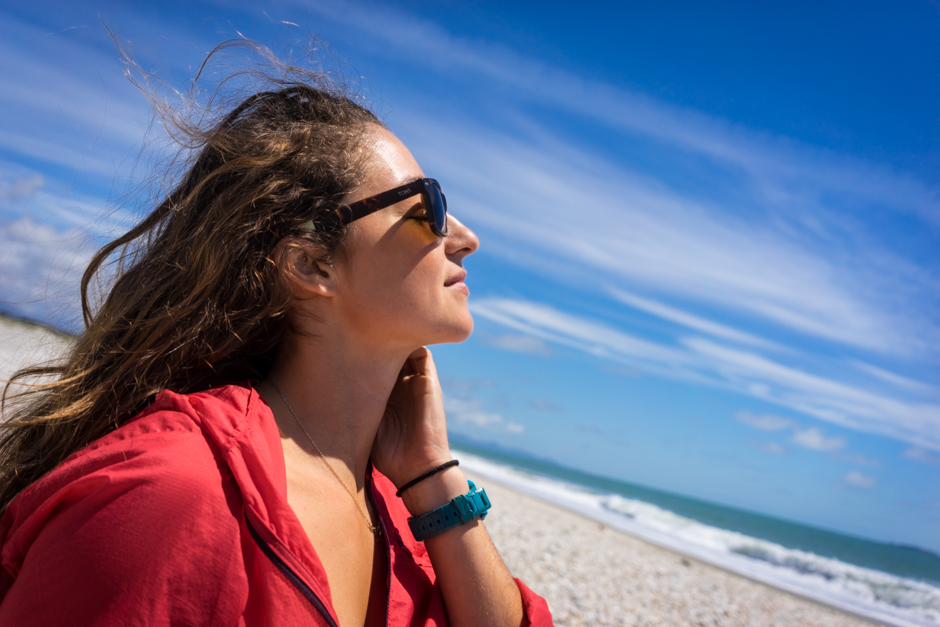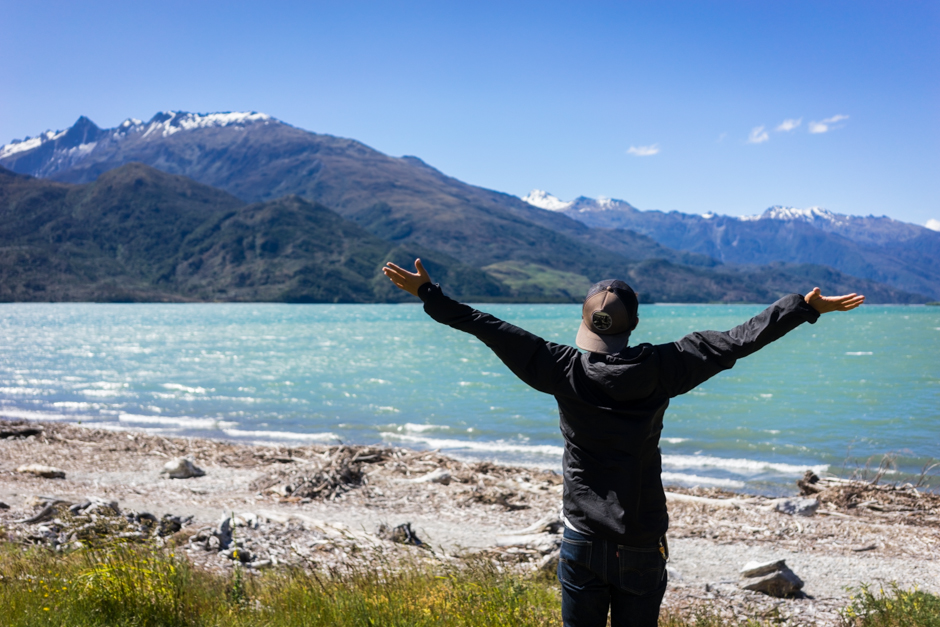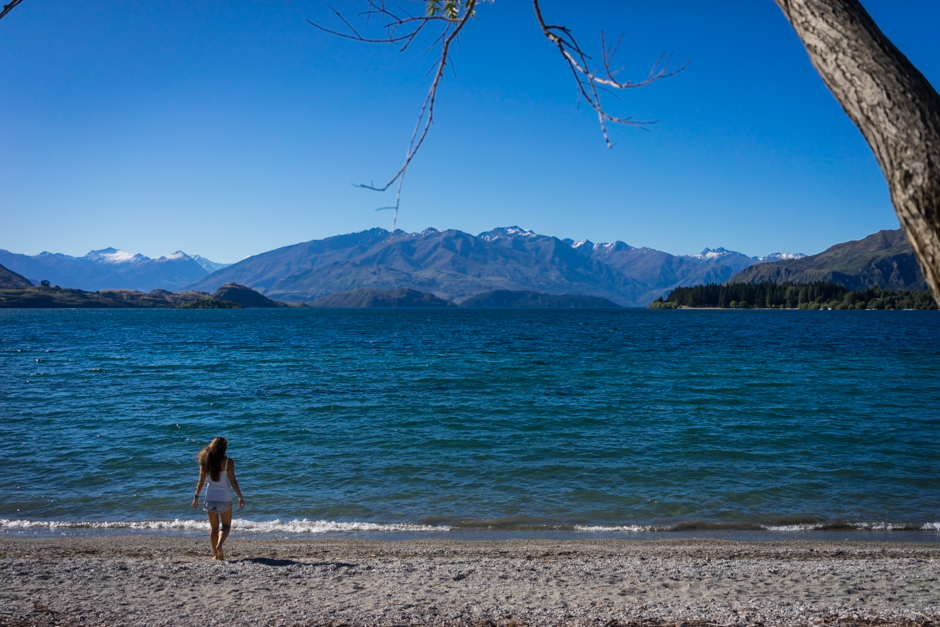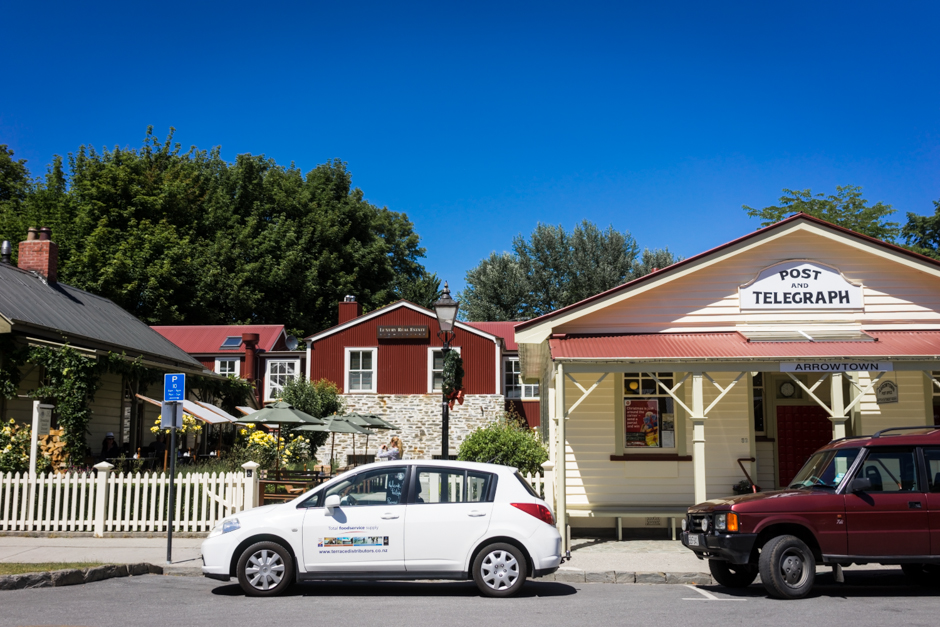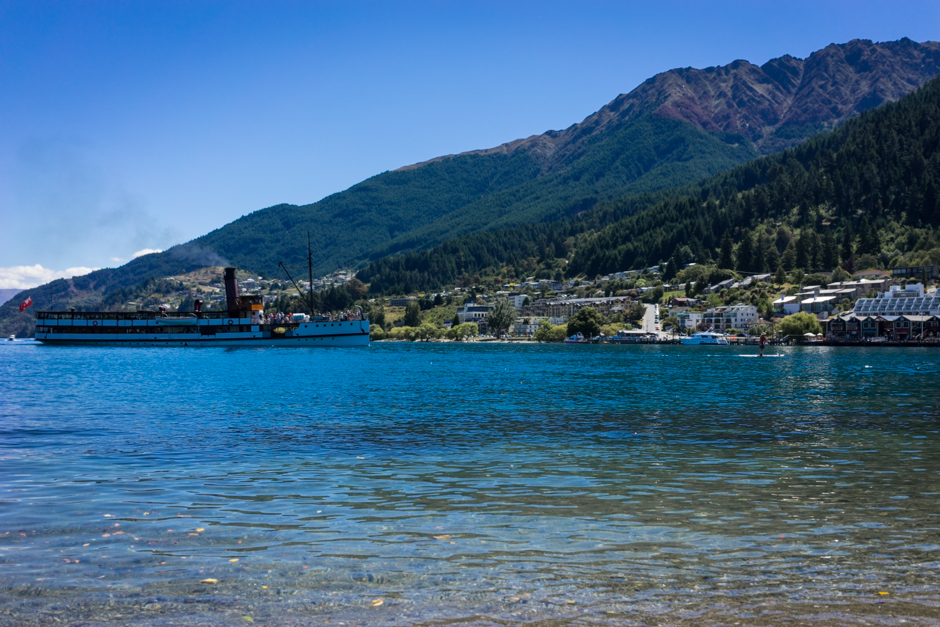 Spending the holidays in Queenstown, the adventure sport capital of the world, we spent our days at the lakeside beach, devouring massive pizzas from Fat Badgers, catching up with some old friends, and bathing in the river by our camp site.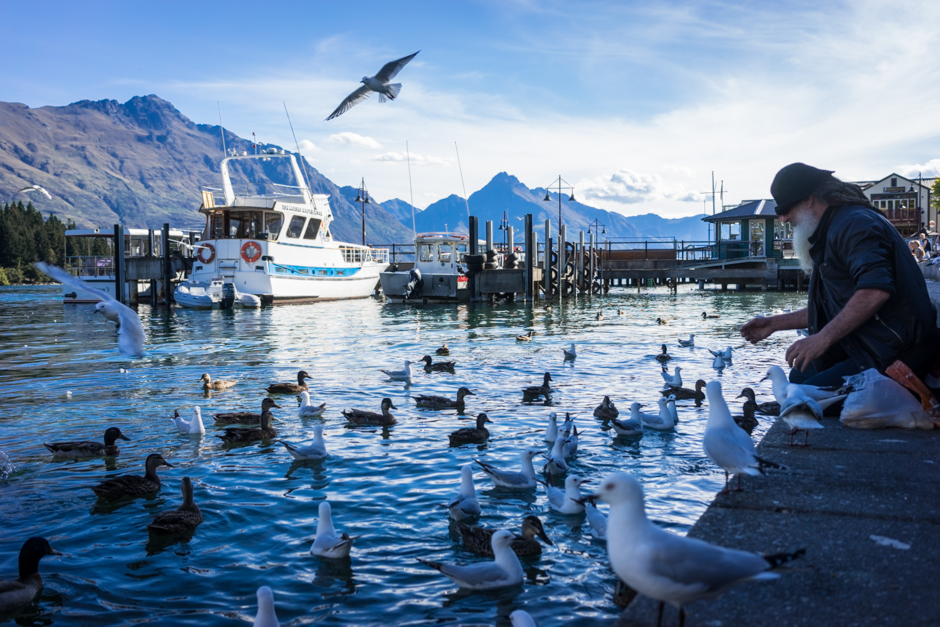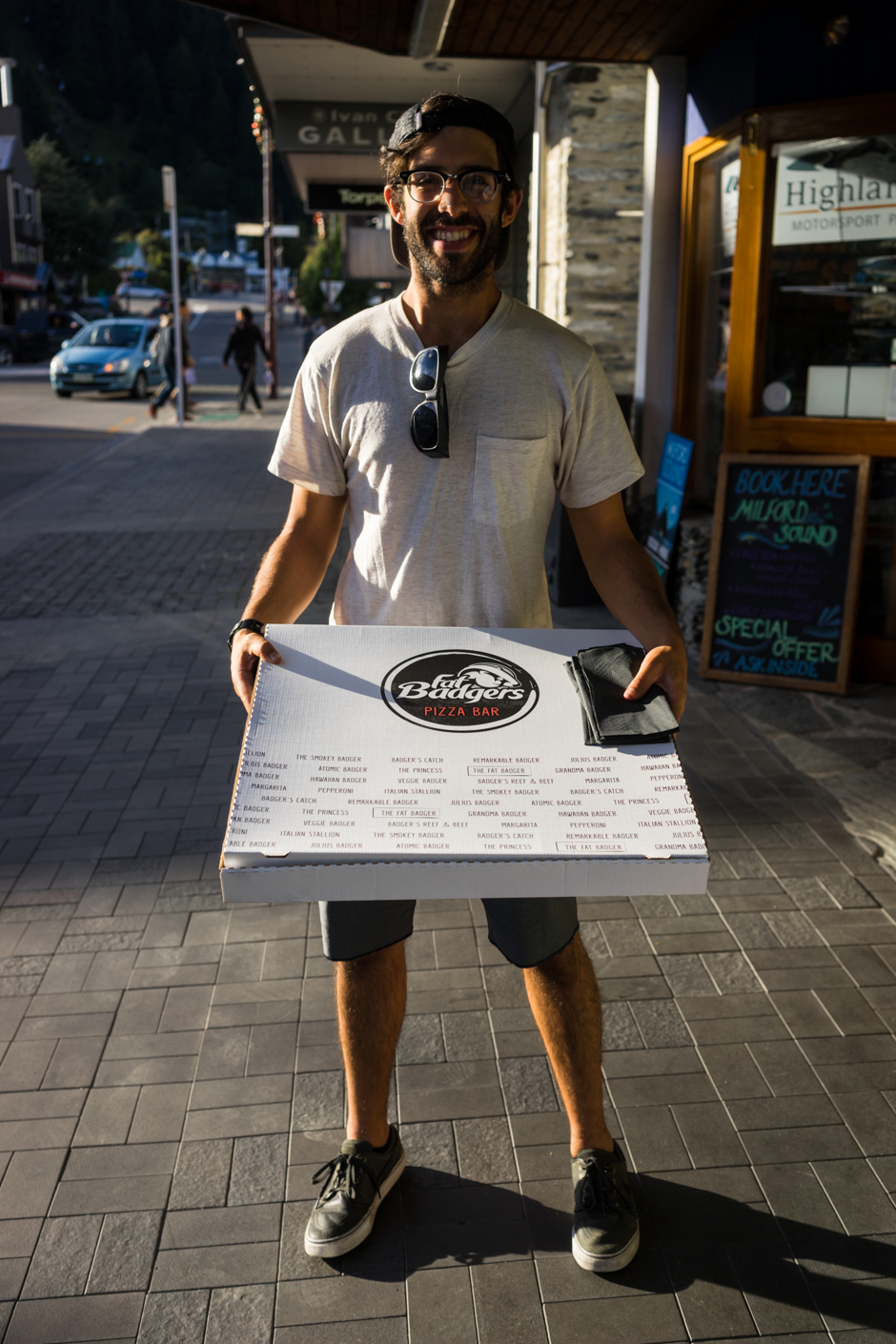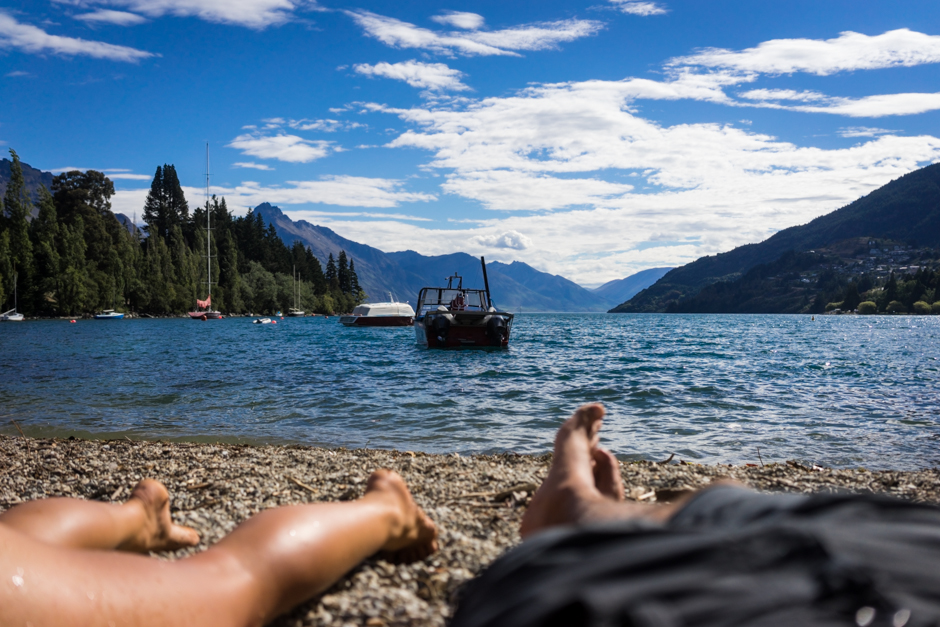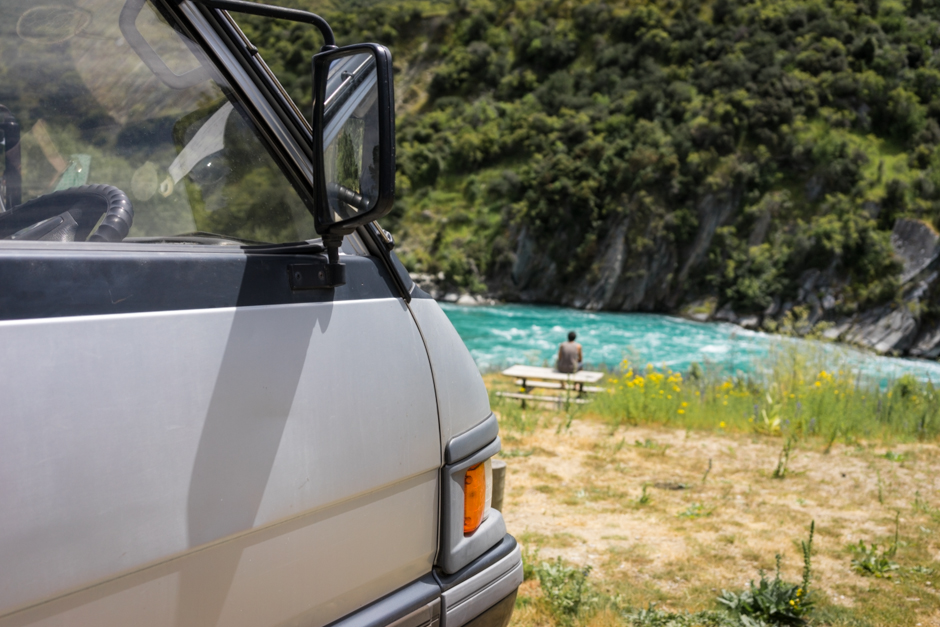 After experiencing the first real bit of homesickness on our trip, induced by thoughts of friends and family during the holidays, we made our way further south to what some may call the most magnificent creation on Earth, Milford Sound. Lush rainforest, cascading waterfalls, and, for lack of a better word, an epic fjord of towering peaks sweeping straight down into the sea. It was a sight that no photos could do justice. Rain and all.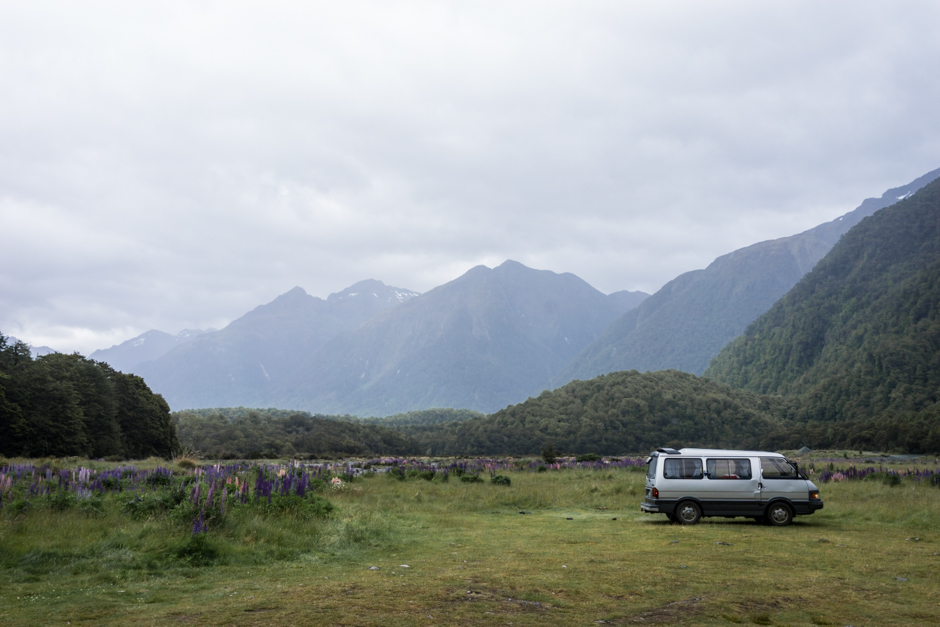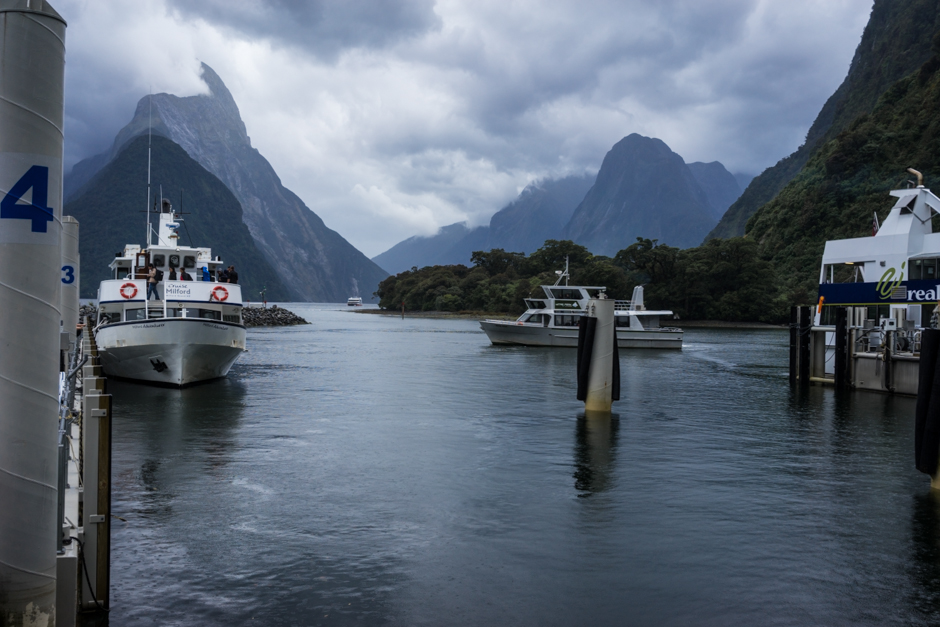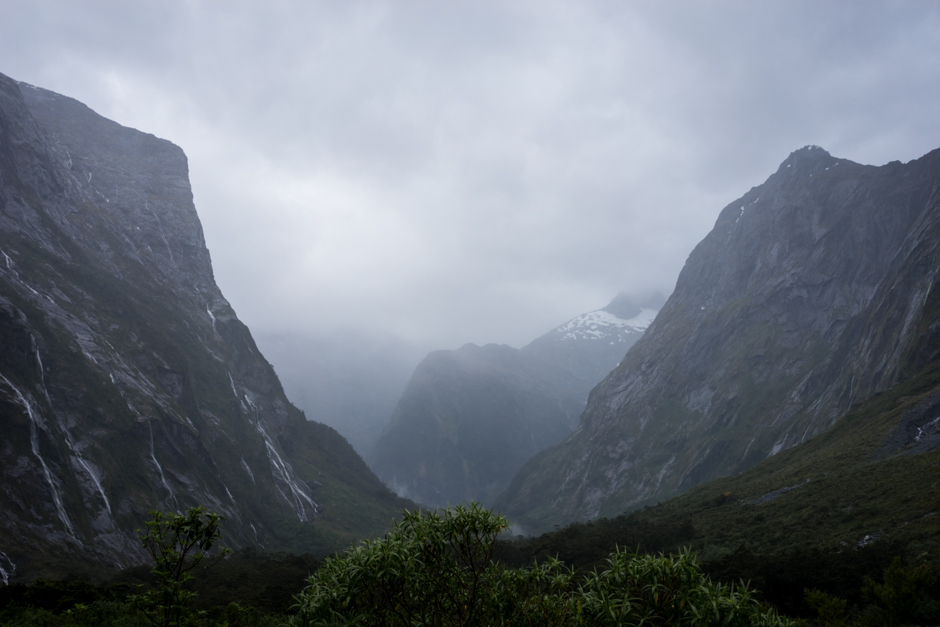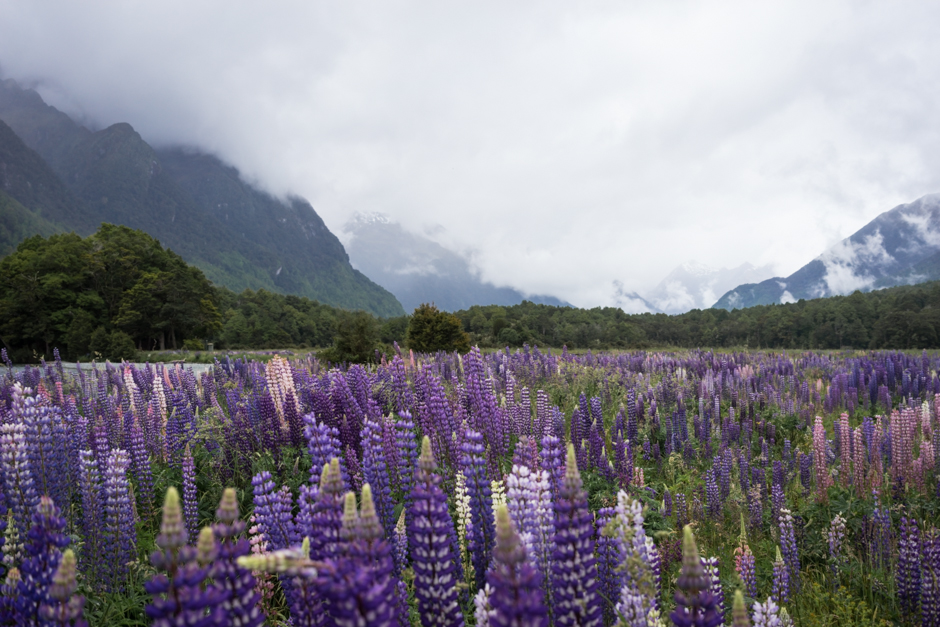 After Fiordland National Park we drove south through Te Anau, Clifden, and the old fishing town of Invercargill before finding our way to the most southern edge of New Zealand, Slope Point.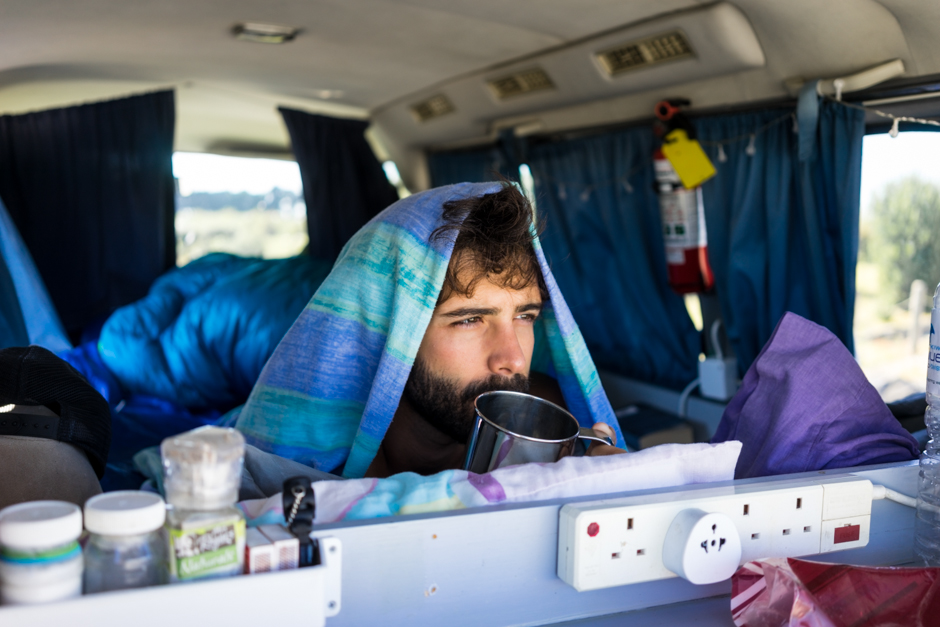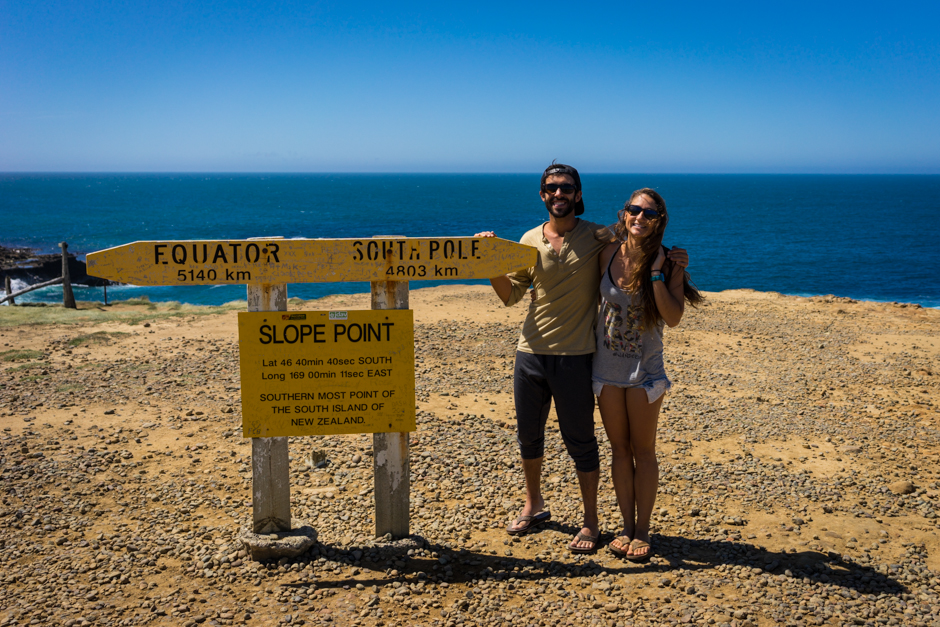 Down here, in the Catlins, we came across Hector Dolphins at Porpoise Bay and Yellow-Eyed penguins at the Jurrasic Petrified Forest in Curio Bay. The genuine smiles on our faces could be found only on puppy-snuggling toddlers.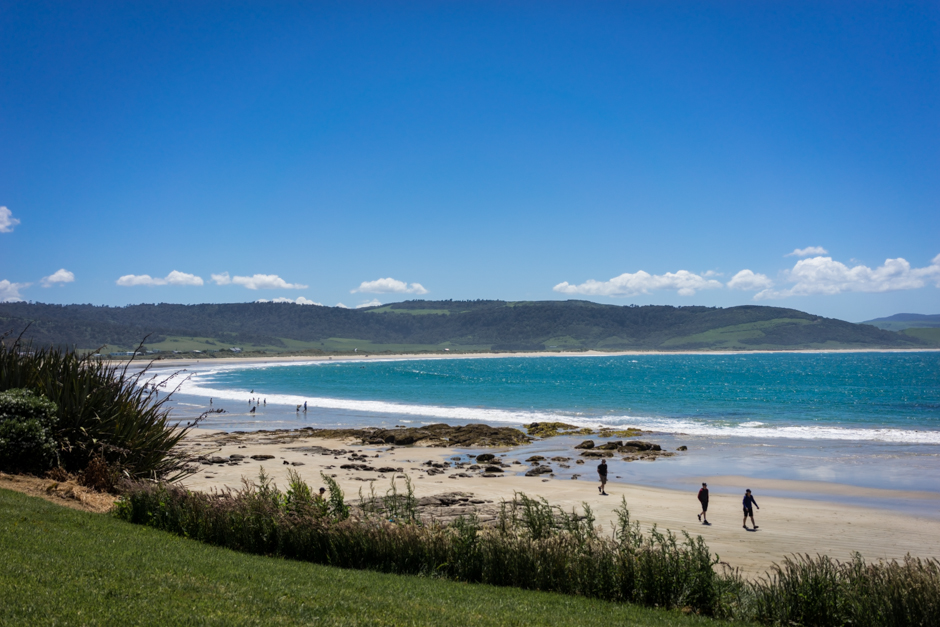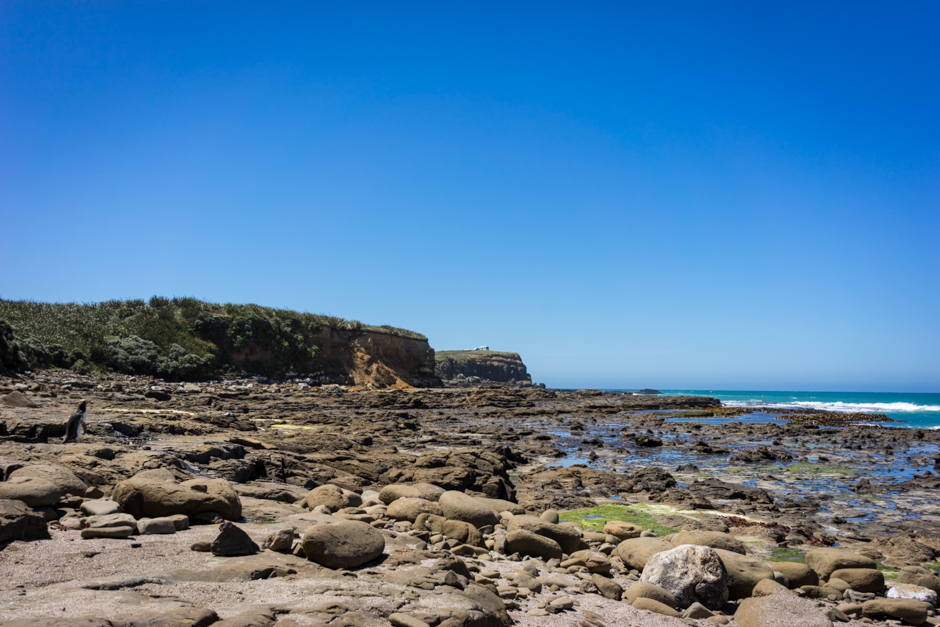 The Catlins led us north to Dunedin for New Years, back into the welcoming arms of our beloved Brit, who had just moved south from Auckland in the time that it took us to explore both islands.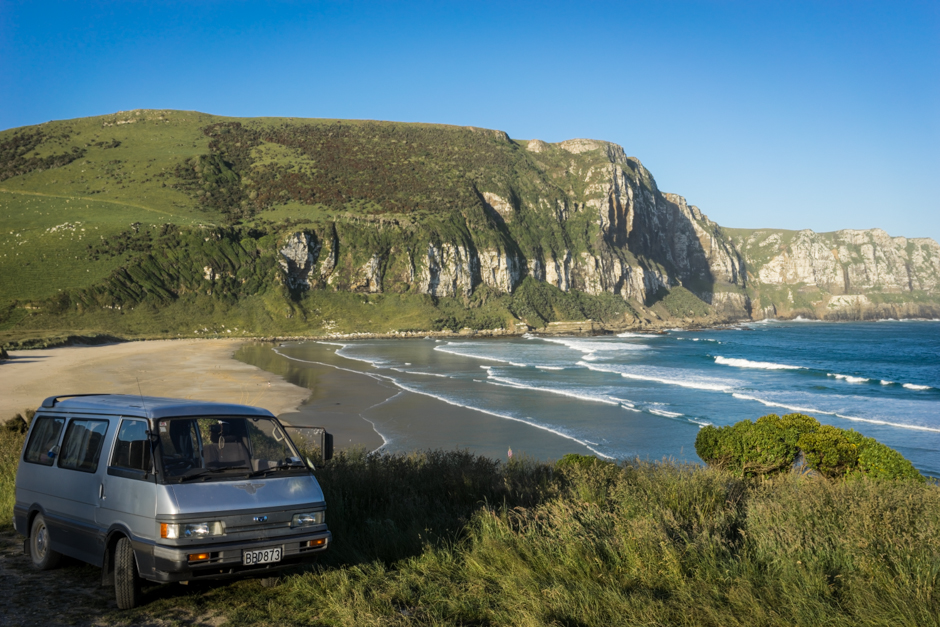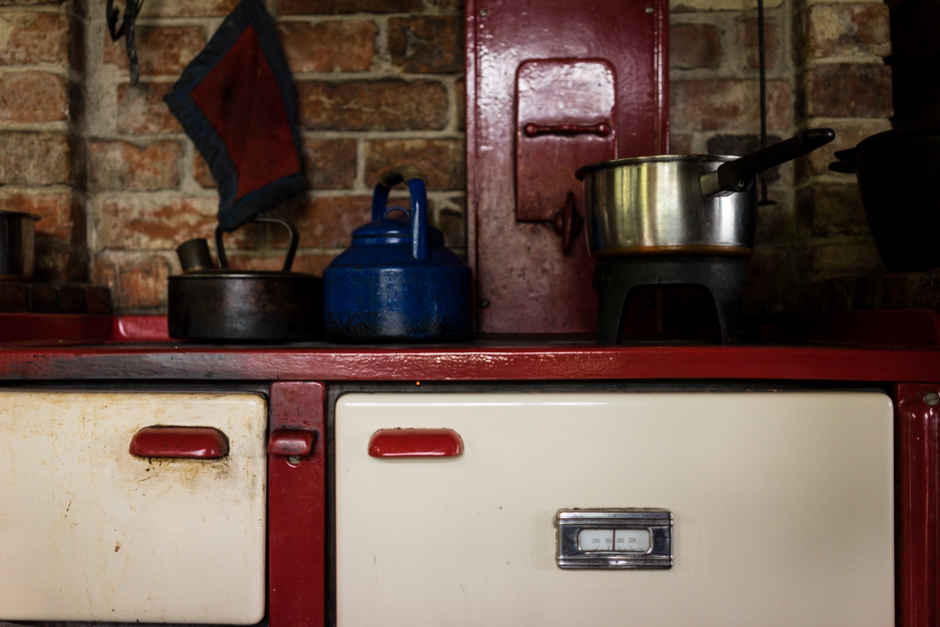 Here, Brit had a room for us in rural Dunedin, at her home, with her husband's family.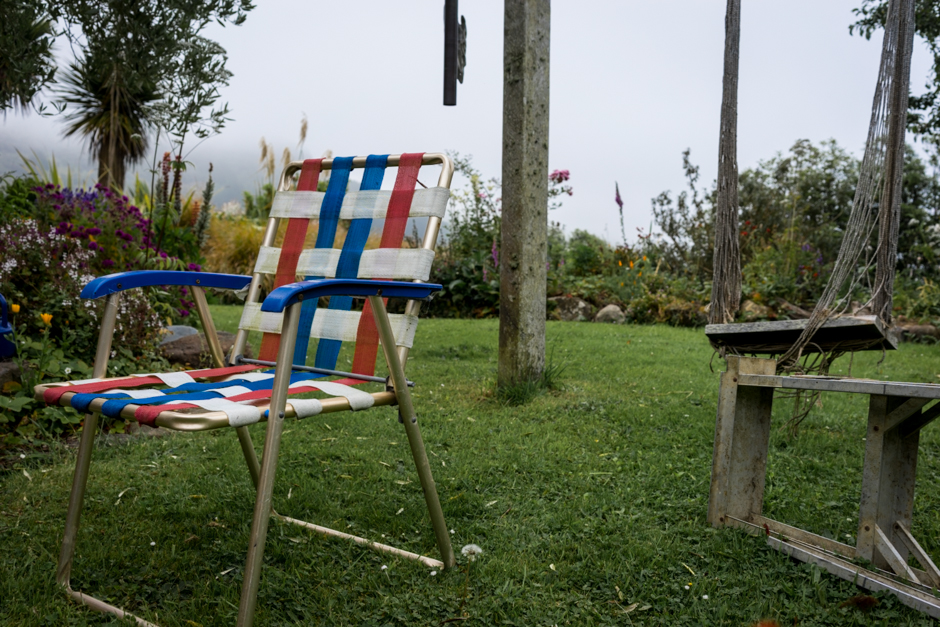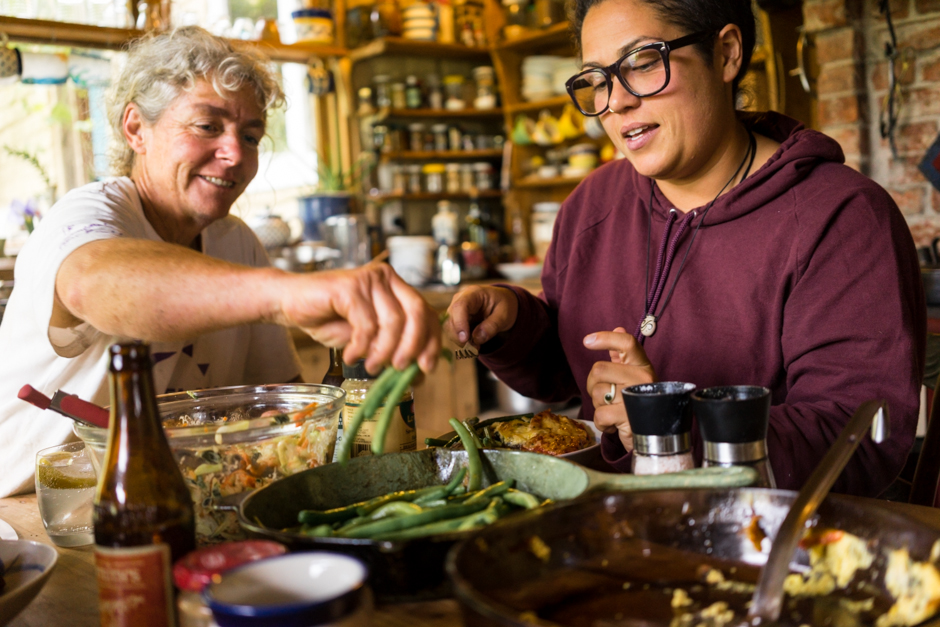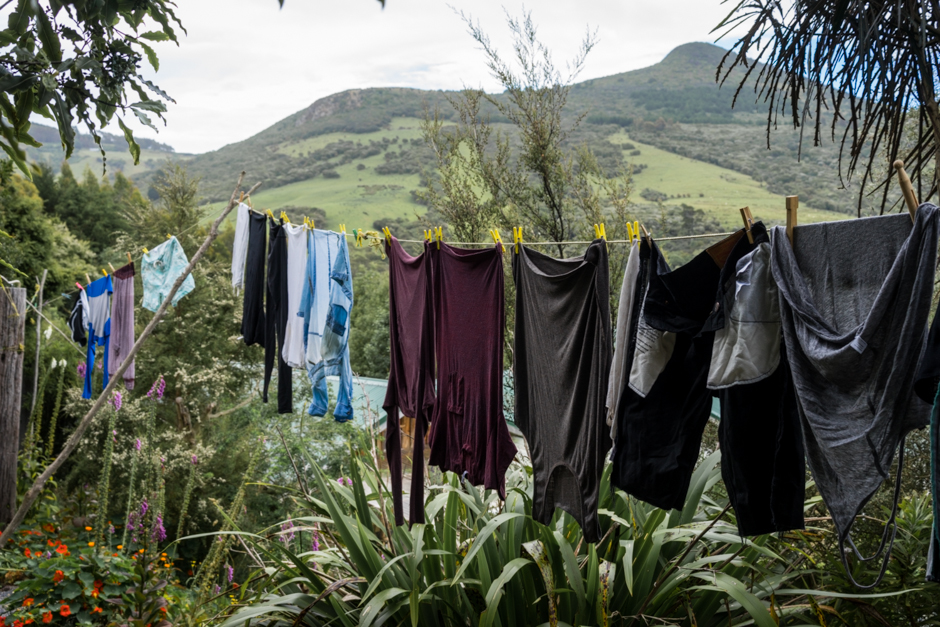 We spent our last two weeks here as we hustled to sell Bongo before our impending flight. In appreciation of our host's hospitality, we helped re-plaster the home with poo-enriched clay, honed our axe skills with a bit of firewood chopping, and went with the family to pick apricots at a nearby farm.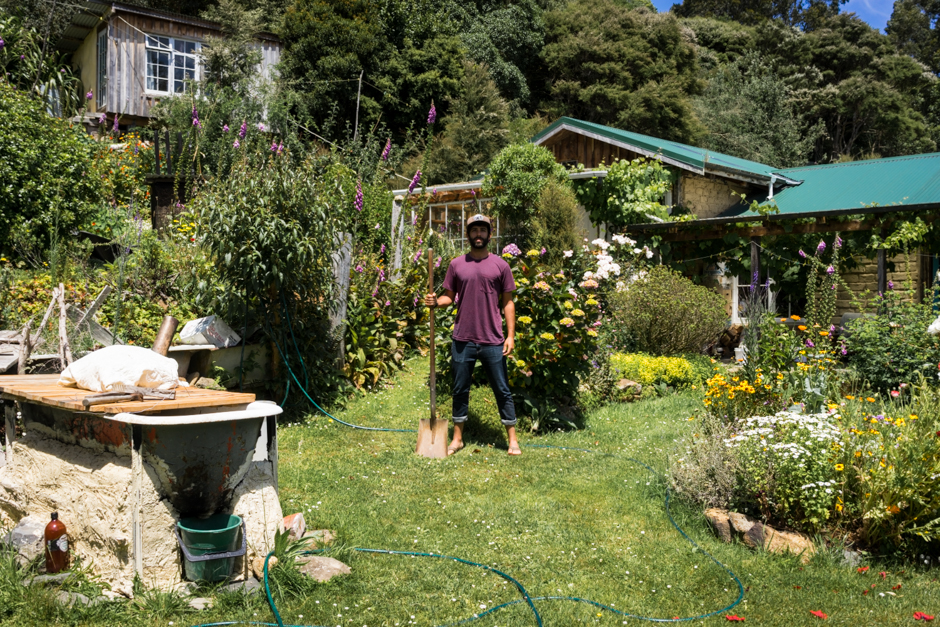 Every day we'd gather as a family in the kitchen for breakfast, always some delicious concoction produced by Brit. Every day we'd gather back in the kitchen for dinner, enjoying the creative genius of Brit's organic cooking. We'd tell jokes and listen to stories of Al & Danielle's life. Life slowed down here in Dunedin, a welcomed change of pace for the time being.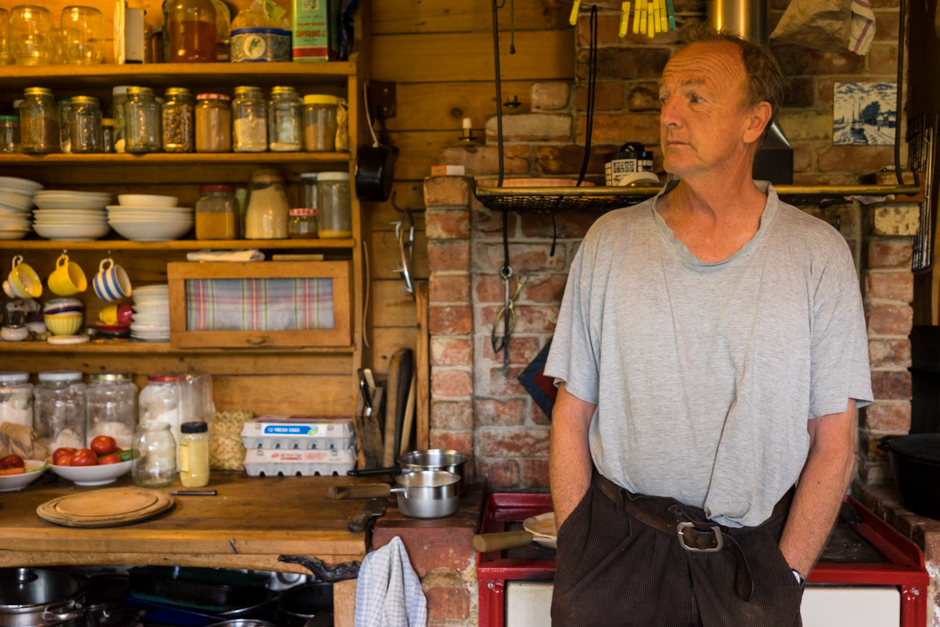 Of utmost importance was the attention to detail that the family provided to their morning rituals. Coffee, especially, was the most sacred of all rituals. The beans were grounded by hand each morning, the water was heated on their wood-burning stove, and the boiling water was then slowly poured over the grinds and into the pot. No fancy Nespresso machines here. The milk? Straight from the neighborhood cow's utters.
This was sustainable living at its finest.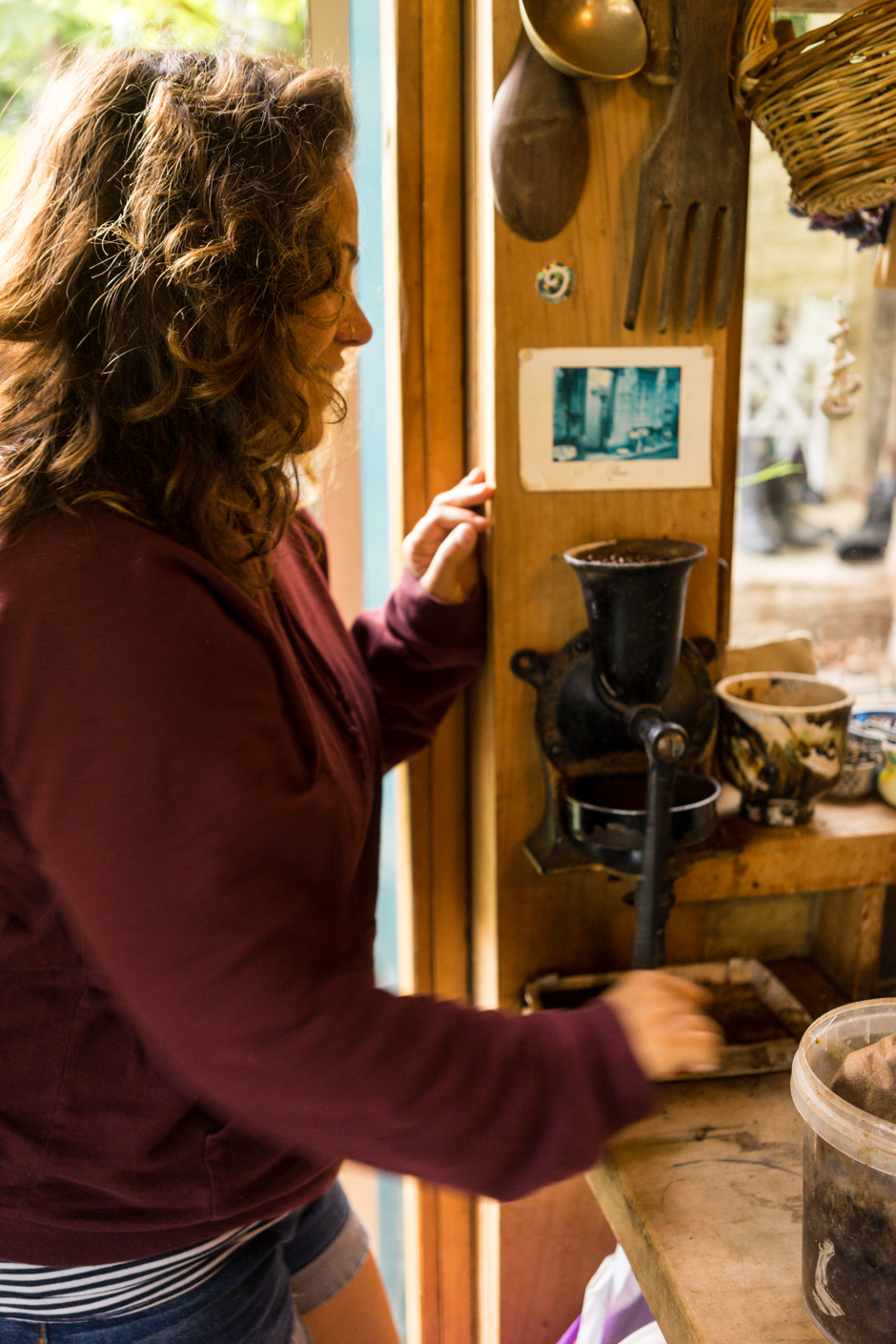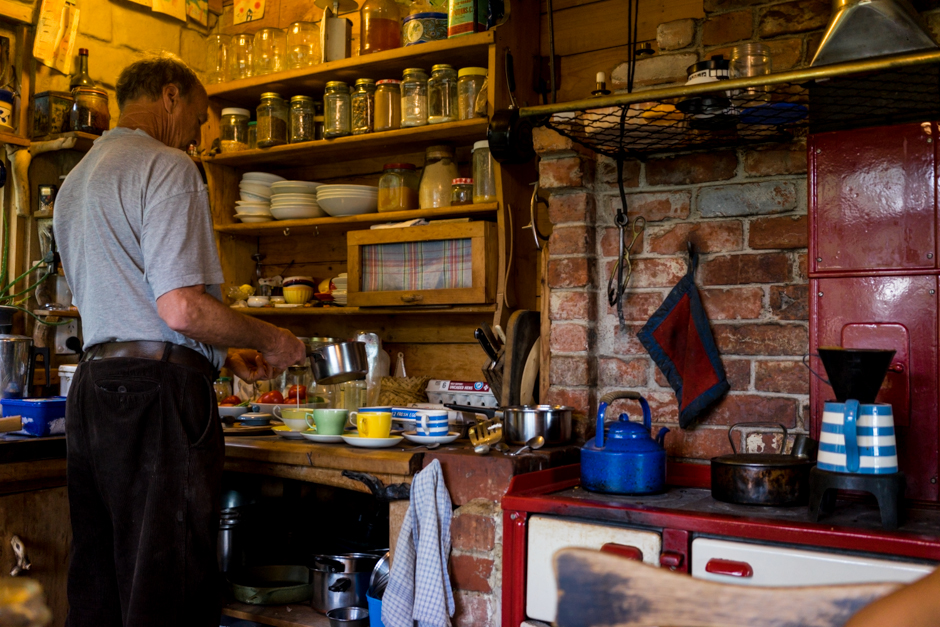 During our time here we were also welcomed into several family gatherings and celebrations. From cookouts and home-made pizza parties, to a blurry New Year's Eve, they took us under their wing, as their own, as family.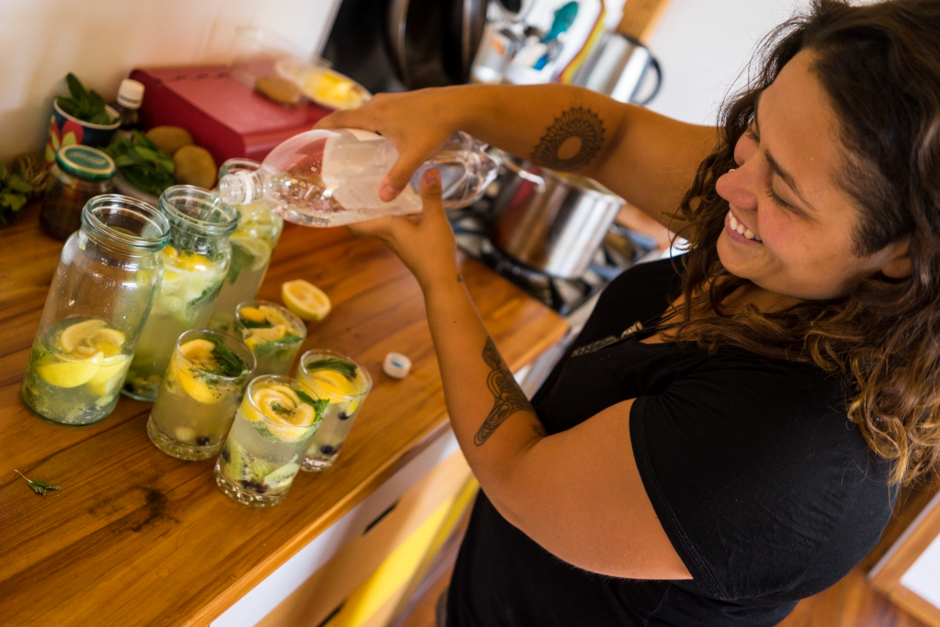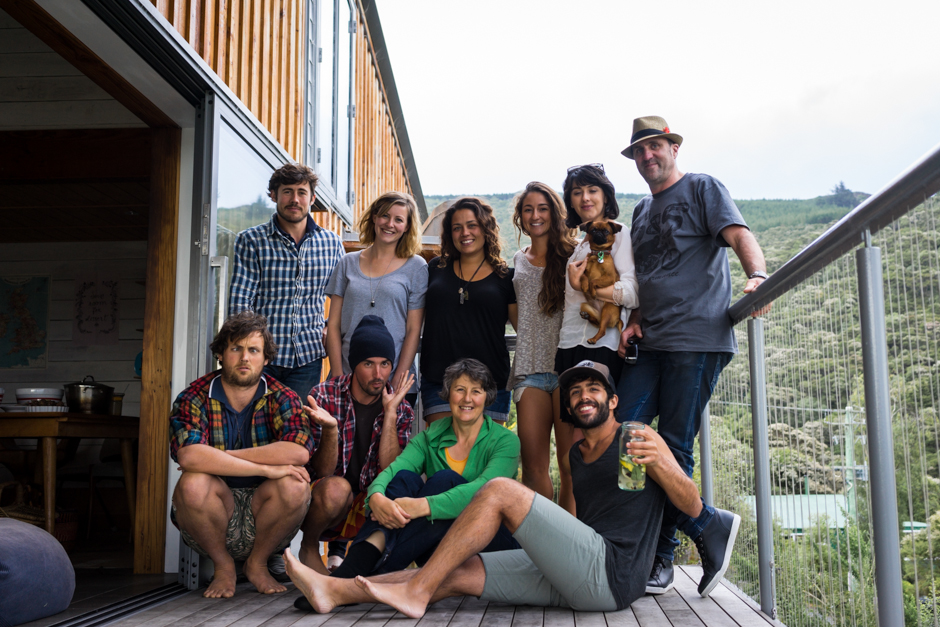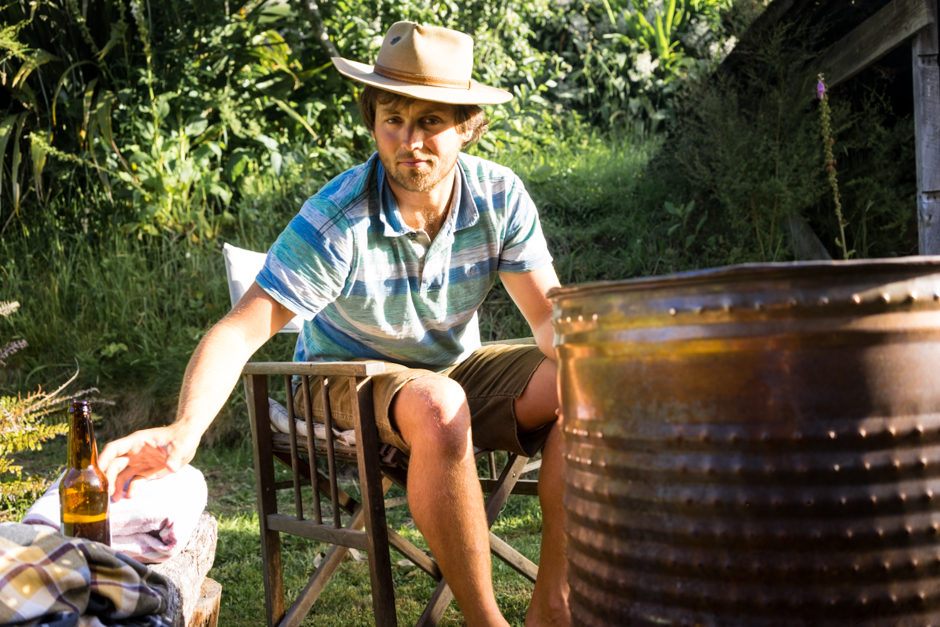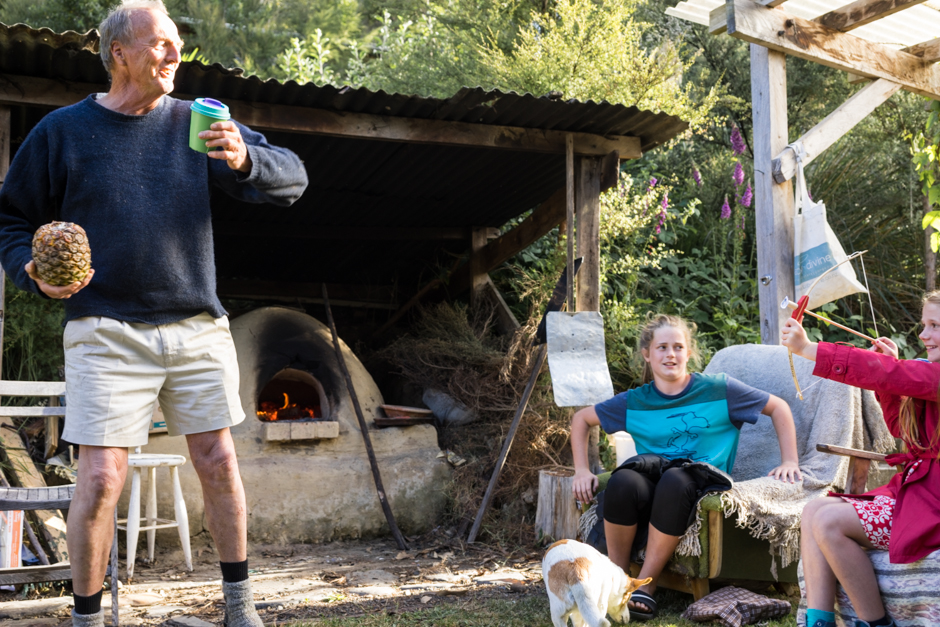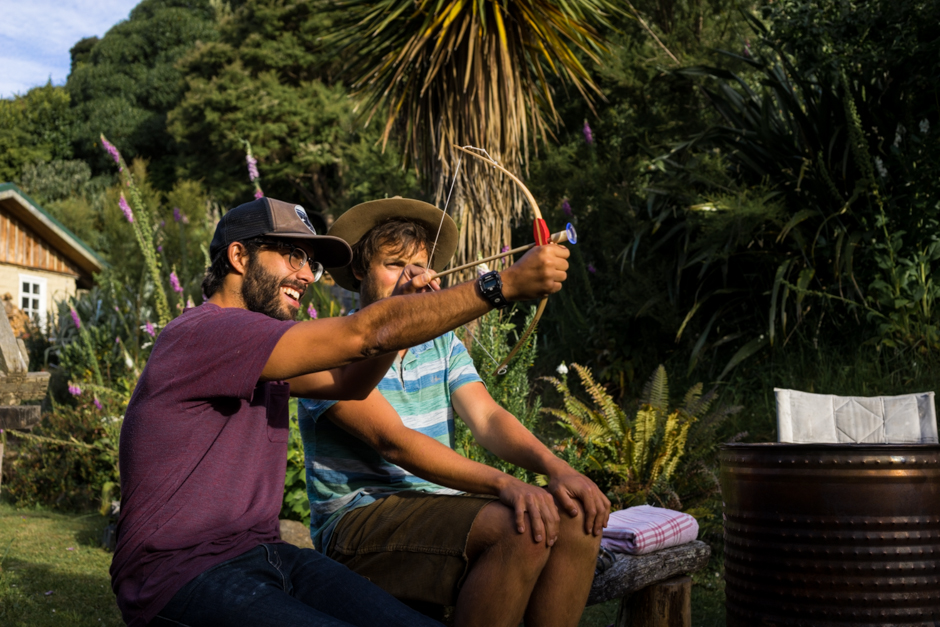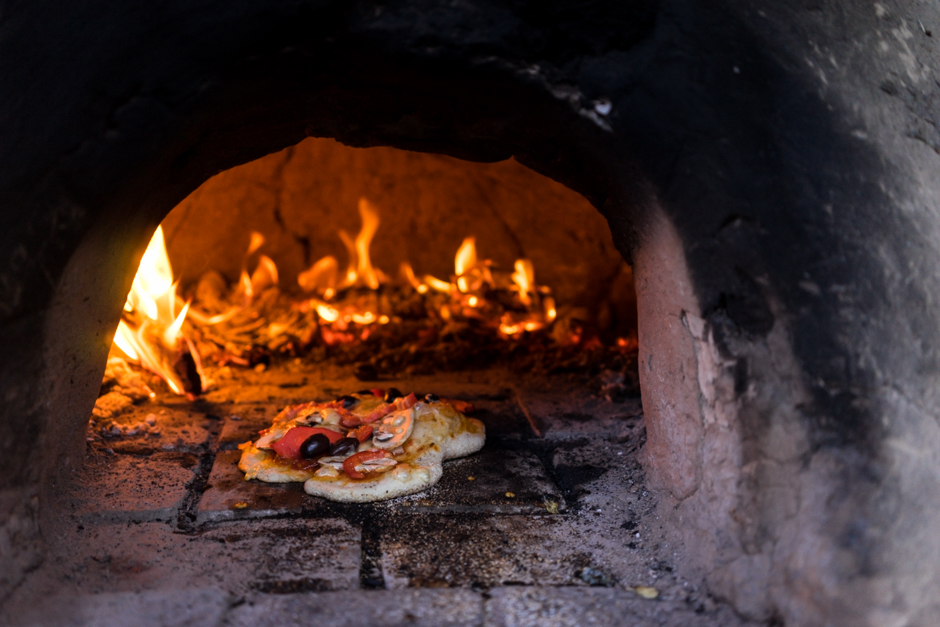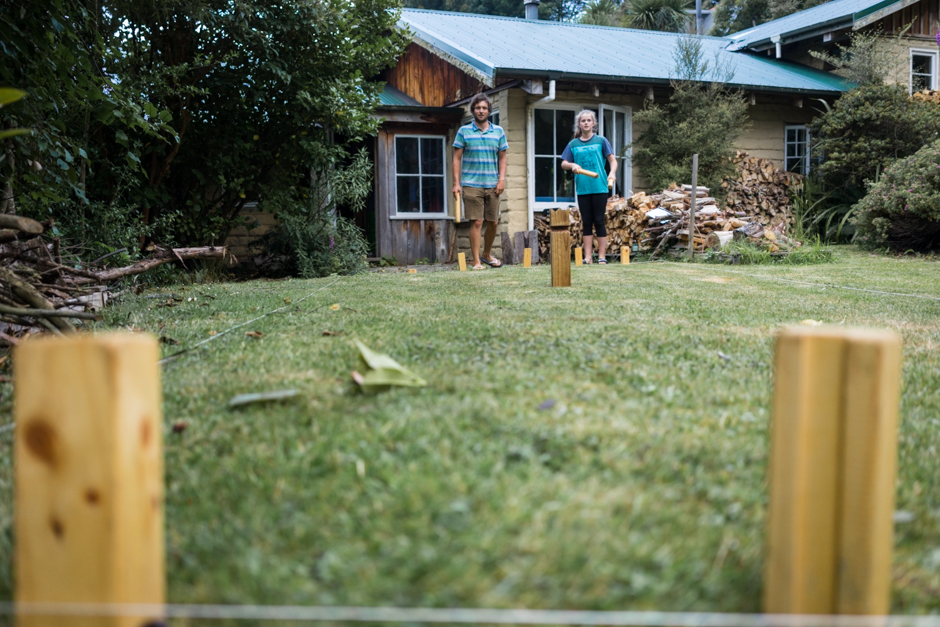 On one fateful day I drove alone up to Christchurch, just Bongo and I. We received an e-mail from a potential buyer, sounded promising.
After a 5-hour drive on what might be the only mind-numbing road in New Zealand, I arrived in Christchurch at noon.
I showed Bongo to an American couple who had just arrived from Australia and they fell in love instantly.
By 2pm Bongo was sold. A sad day for both Emily and I, as we truly had an emotional attachment to our little road warrior. Regardless, we knew it had to be this way, and at 2:15pm I caught the last bus back south to Dunedin. A shallow tear might've fallen from my now-healed eye.
The deed was done, our van life in New Zealand had come to a close, another chapter in the books, another batch of unbelievable memories that will one day induce life-loving nostalgia.
Our mission was complete, our lives had become that much more enriched, and our perspective on new and different ways of life had been amplified.
Experiencing these two incredible months, we're certain of one thing and one thing alone, the absolute best way to see New Zealand is in a camper van, be it Bongo or any other worthy lad whose steering wheel you may lay your hands across.
After all is said and done, there is no man too happy, to experience the joys, of living in a van, down by the sea.
||| Thanks for reading! If you'd like to see more photos from our travels through New Zealand, click here. |||