Over the sea, a stop at the port, a quick walk into town. Through the maze of an ancient medina we toured, past the swarms of faux tour guides and punchy merchants. On a new continent we've set foot.
Africa. Morocco. Tangier. A world so close, yet a world so entirely apart.
A country of old ways, a city caught up in its presence, unfazed by the pressures of modern society.
Upon arrival in Tangier, for the very first time on our journey, our international cell phone coverage ceased to operate. As we've yet to experience a state of unconnectedness while abroad, this was, for us, a step back into old ways.
With no cell service and no operating maps, we had no way of reaching our host. We walked directly through the medina and into the Grand Socoo in hopes of finding any remnants of a wifi signal.
We sat on a park bench, all eyes on us. We stuck out like sore thumbs. Huge backpacks, funny hats, a look of lost in our eyes.
"Hi, are you Emily & Kevin?" we heard, in a friendly Swiss accent. It was Monika, our host. She had found us, saved us from our overly stimulated selves.
A quick introduction and a quick stroll through the medina, she led us to her home, our new home for the next three nights. As we entered her beautiful house, she guided us up three flights of stairs. To the top floor we went.
Before us was a magnificent private room with a patio, overlooking all of Tangier. We were set for the week.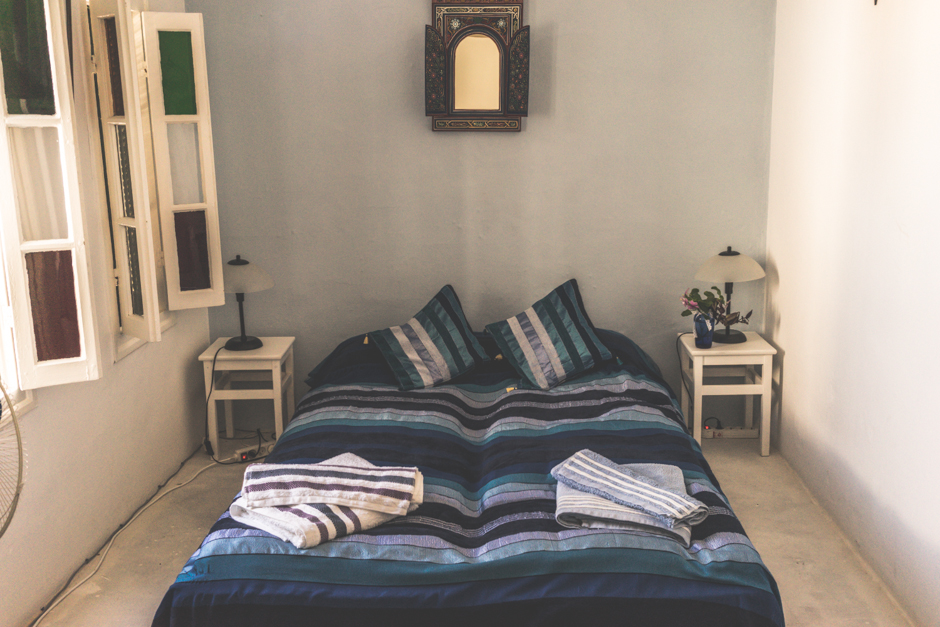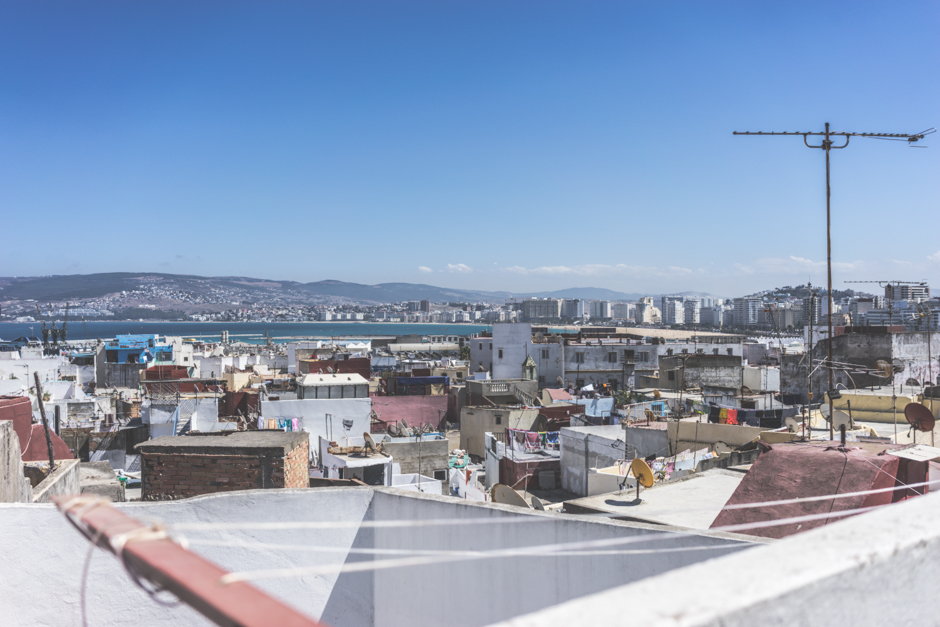 Tangier was incredible. In all sense of the word. Neither Emily nor I had ever experienced a place like this. So raw, so traditional, so real. The locals were aggressive with their sales tactics, but were also so friendly and alive. Their faces so hard, but their conversation so jovial.
The streets were old, dirty, smelly, but all in the while clean and neat.
Donkey-drawn buggies, stray roosters, ferral cats.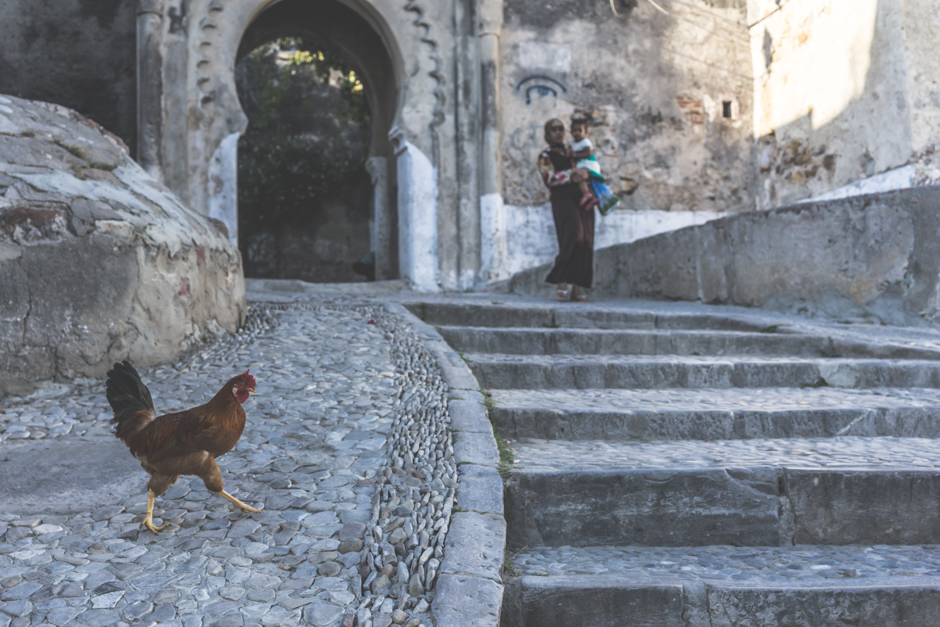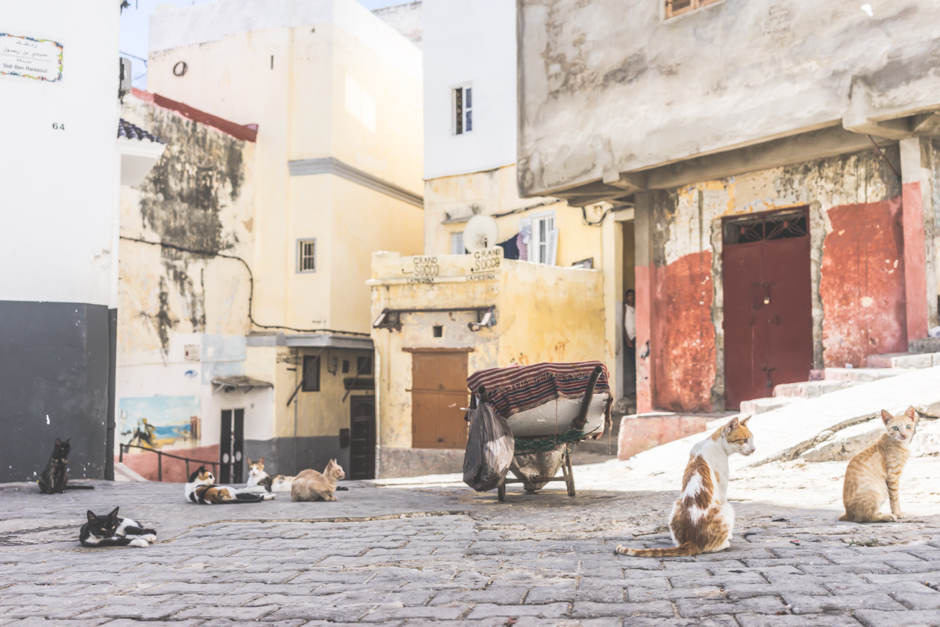 This, this was culture shock. This was a stimulation we hadn't felt in so long. It was exhausting, but we were addicted.
Always on the defensive as to not get pick-pocketed or pulled into a sales scam, we spent the next three days wandering the city's beautiful medina and ocean-front promenade.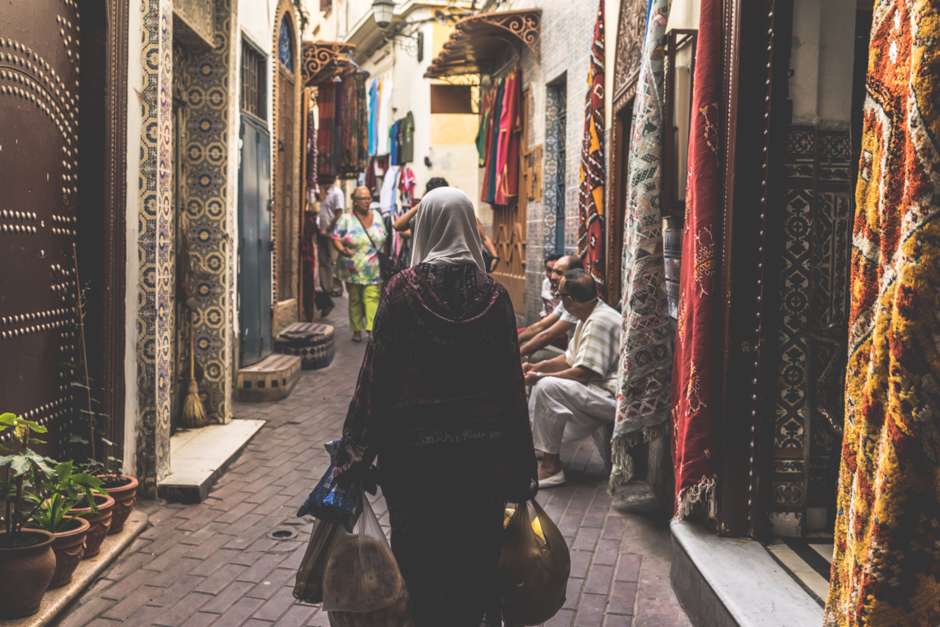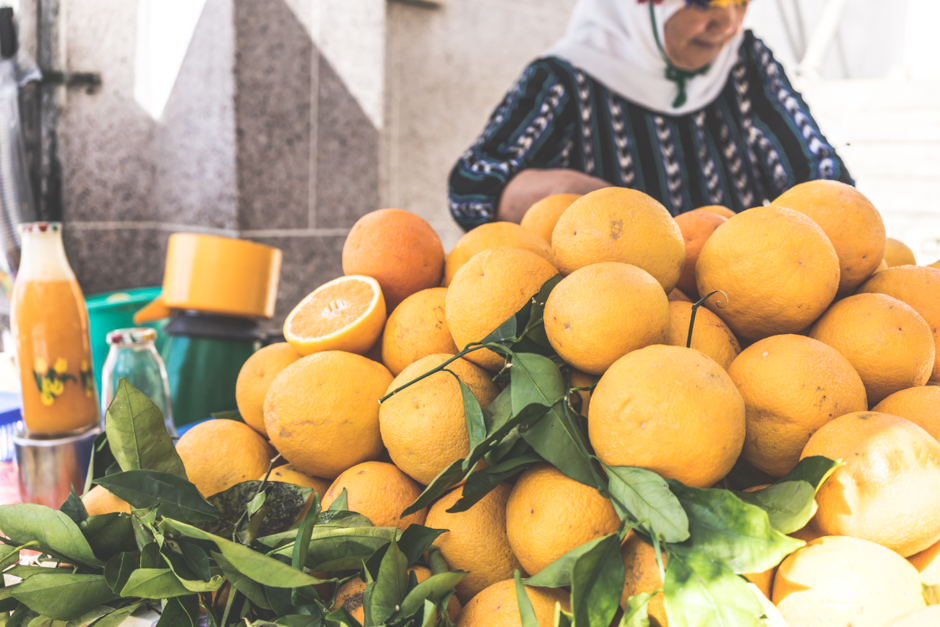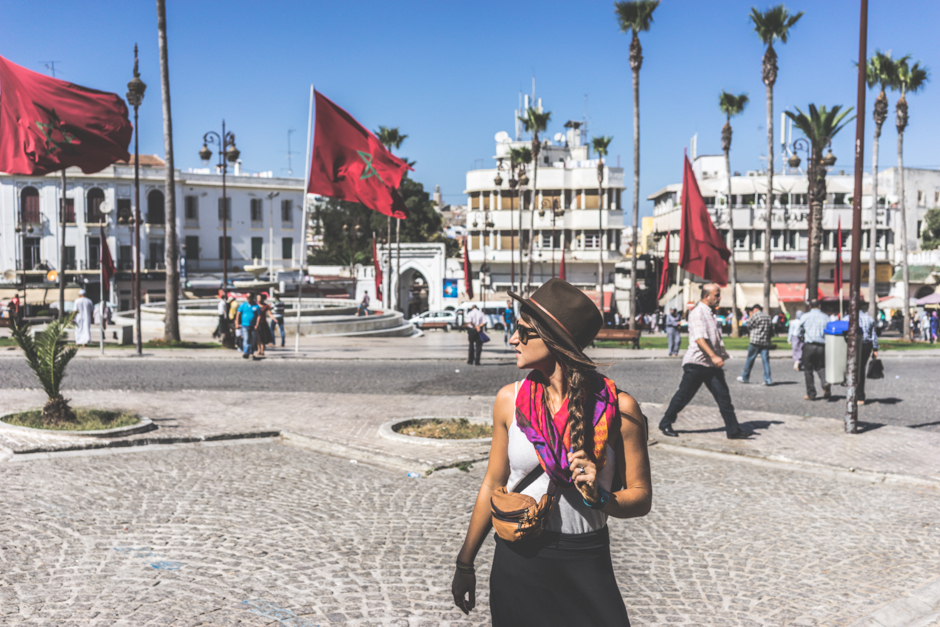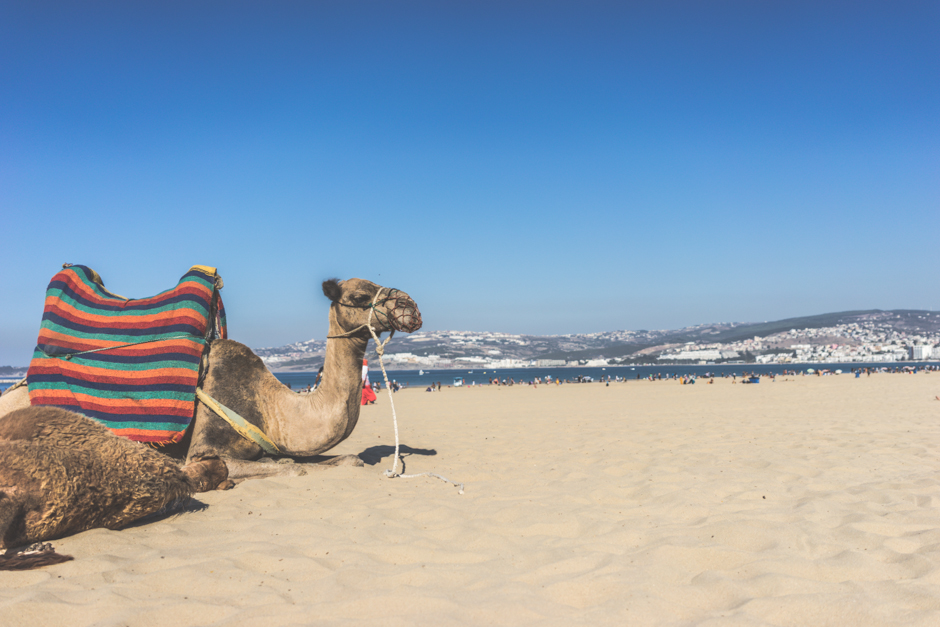 We were enamored by the rich contrasts between friendly and deceptive, delicious and bold. The blacks were blacker, the reds were redder, the food was more intense, and when the sun set, it set harder and deeper than anywhere in the world. Everything was so vibrant. For better or worse, we were awake, we were alert, we had never felt so alive.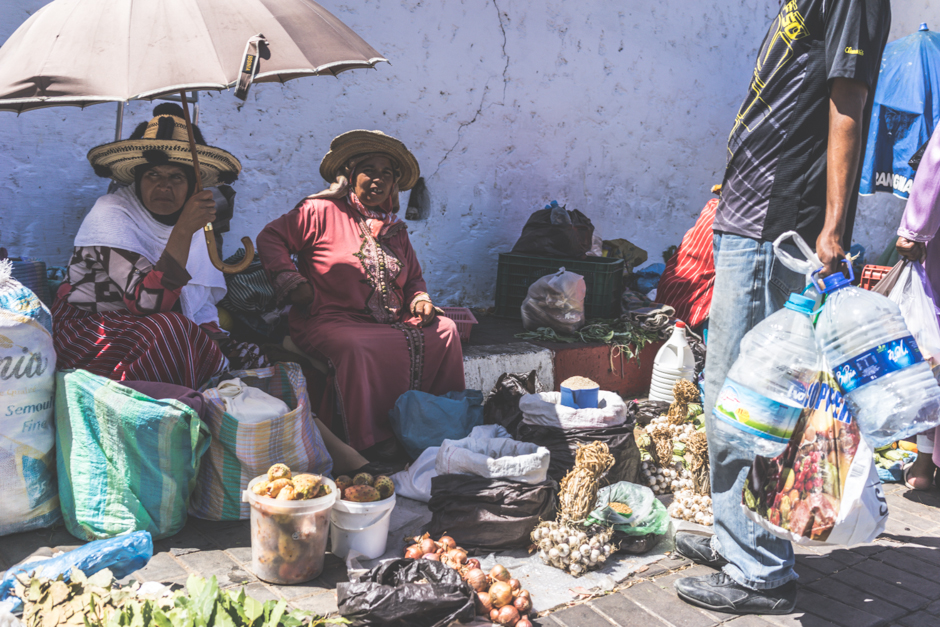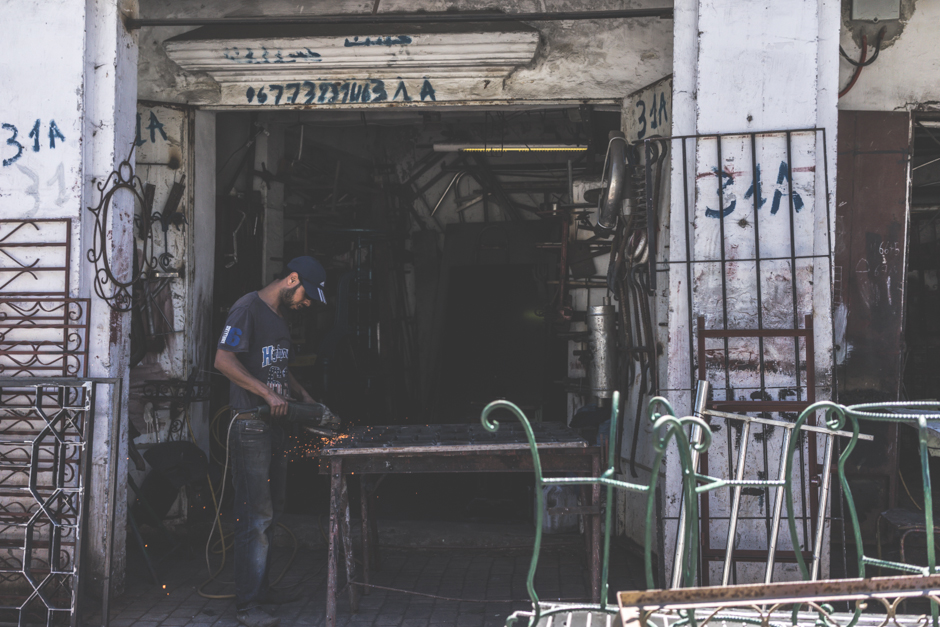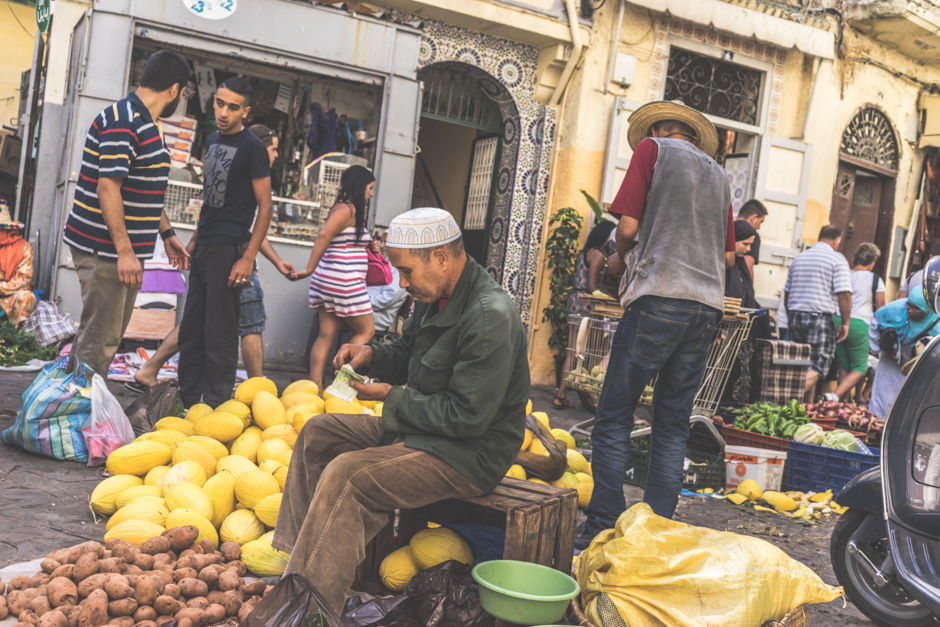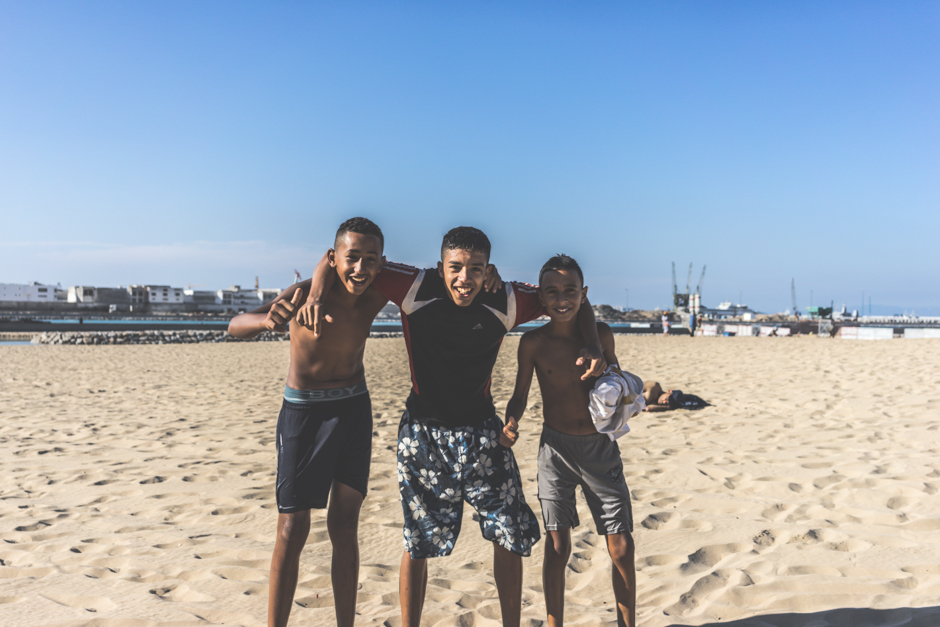 Tajine, couscous, avocado juice, mint tea, and endless supplies of coffee. Despite the stressful encounters, our stomachs and our pallets were in heaven.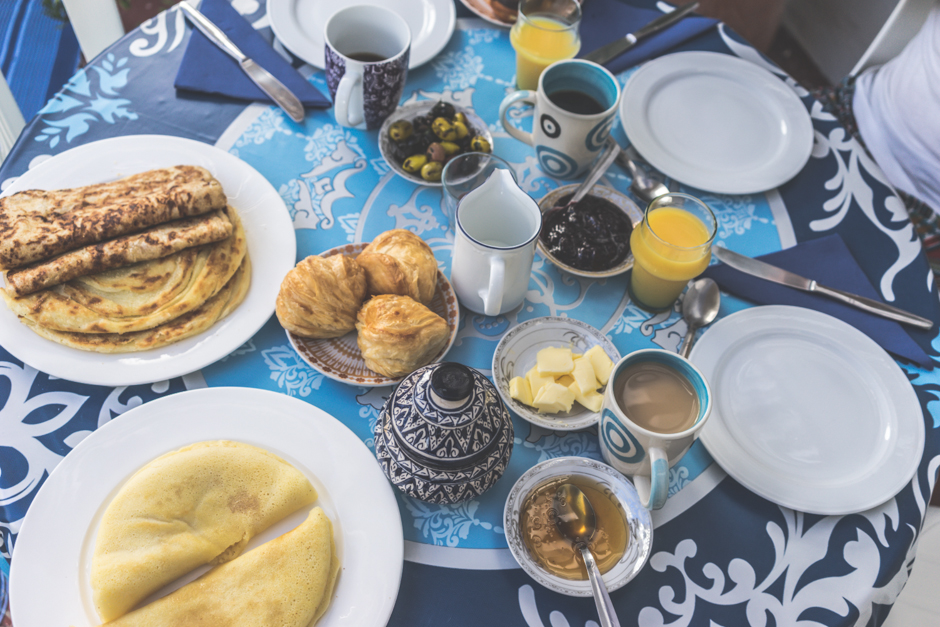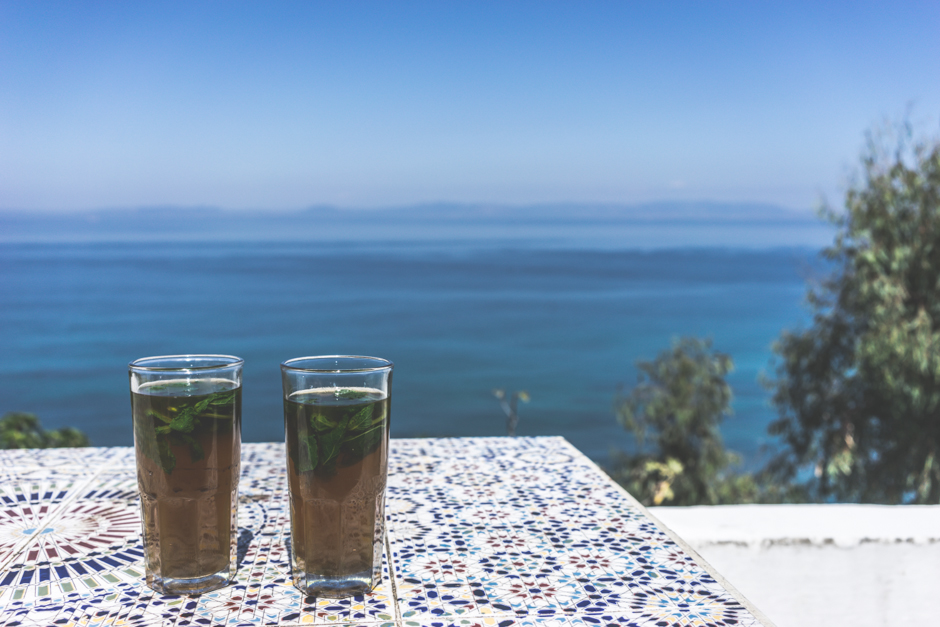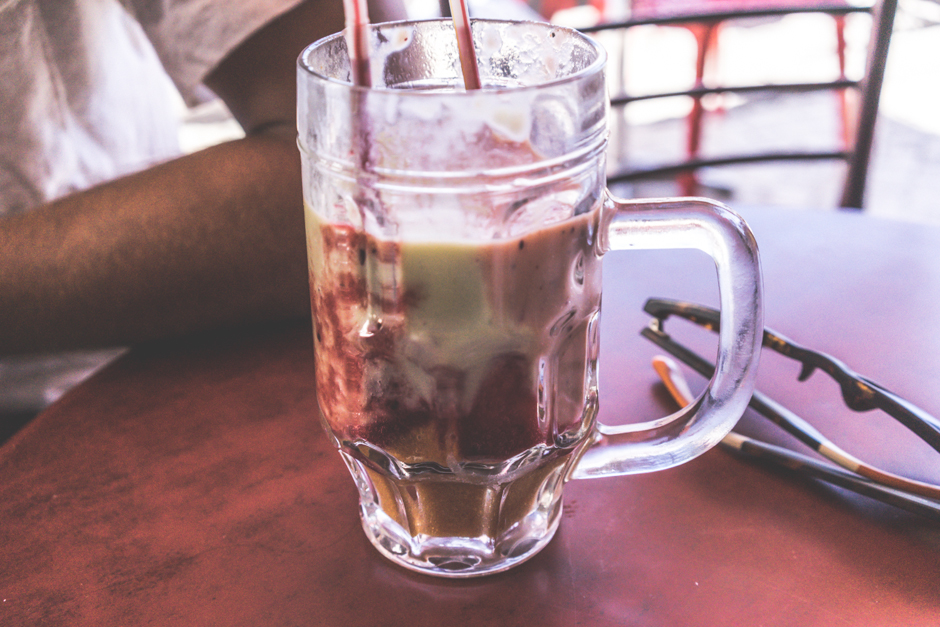 Time stood still here, it didn't exist. For us, at least, it was irrelevant, there was life to be had at all hours of the day.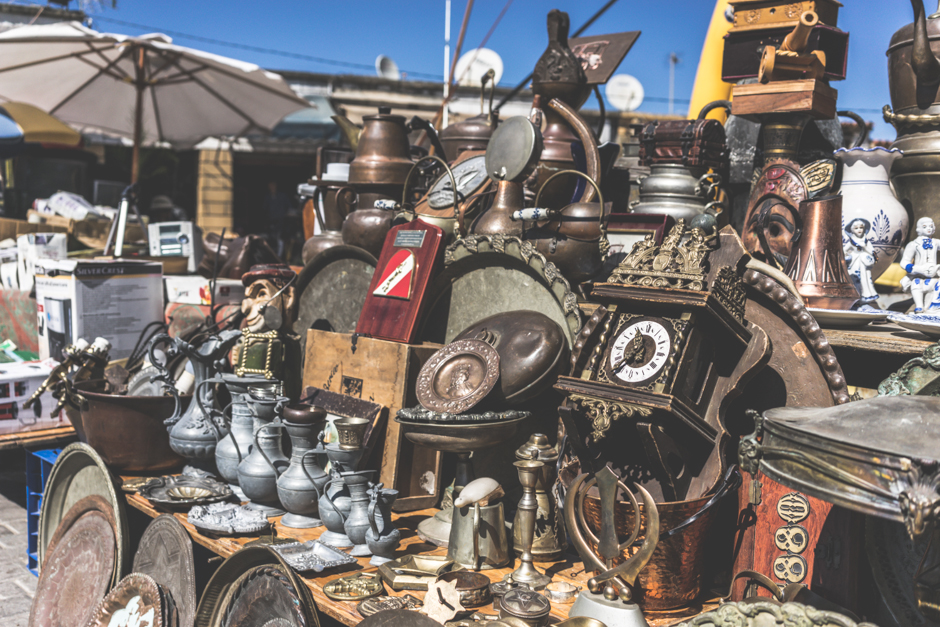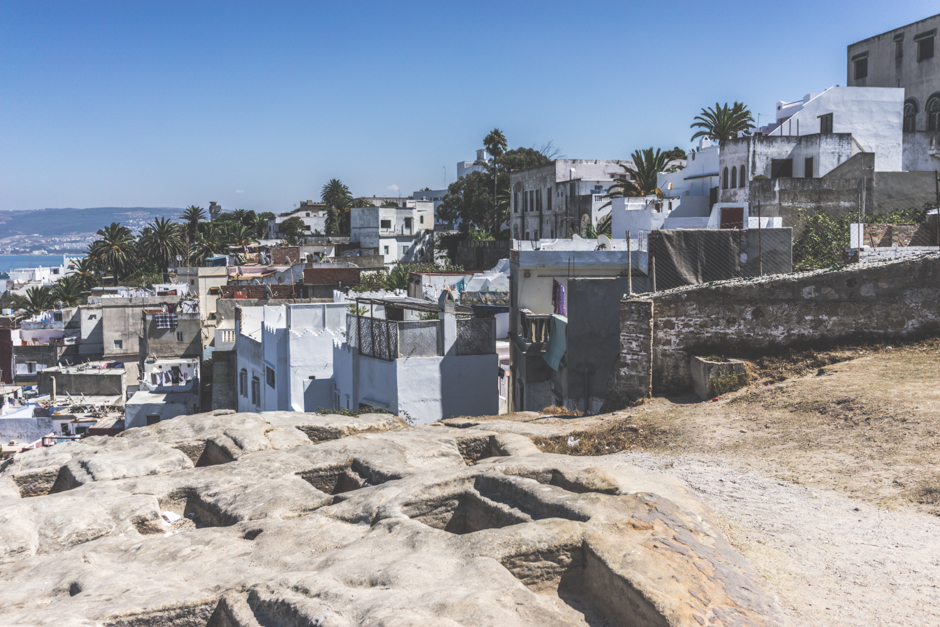 After three days that felt like weeks, we headed deeper into the country, south to Marrakesh.
In an over-booked train we stood, having avoided a sneaky pick-pocket who attempted to make his way into Emily's fanny-pack. On this train we met Kera, a tall, adventurous-looking archeologist from Portland who was traveling alone through Morocco.
The three of us chatted on the five-hour train ride and found much in common with one another.
Once in Marrakesh, we tucked our heads and drove forward, slicing through the sea of "private tour guides" and "cab drivers."
In hopes of finding a metered, authentic cab, we ran into a fellow backpacker from the Netherlands. He was a fantastic negotiator and scored us a rather inexpensive ride from the bus station to the medina.
Eventually, we parted ways with Kera and our Dutch friend and made our way to our hostel.
Kif Kif, the name of our residence for the week. A low-lit, hot-box of spicy smells, cigarette smoke, and friendly faces. This place would be the foundation for many new life-long friendships.
After paying for our accommodation, and as night began to fall, Emily and I headed out for a quick bite to eat.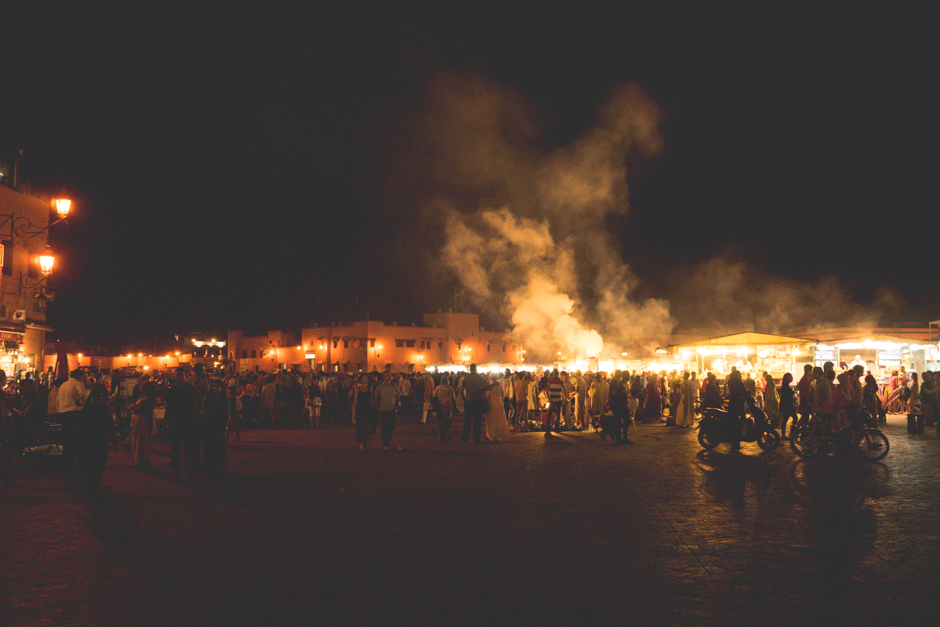 We found ourselves at a local restaurant, ordering a vegetable tajine and a plate of couscous. For 50 Dirhams, or six American dollars, we feasted. On affordability alone, Morocco just won our hearts.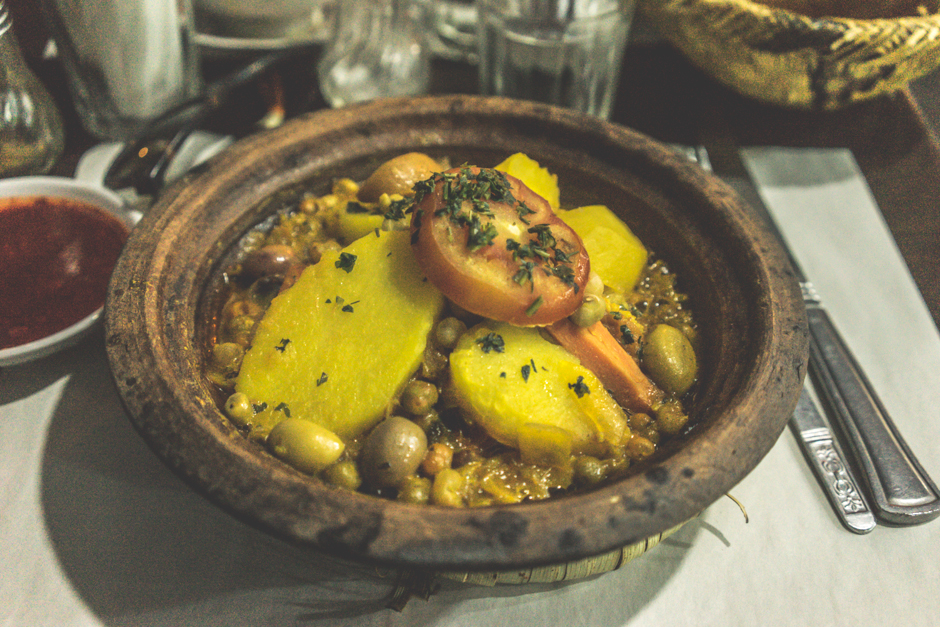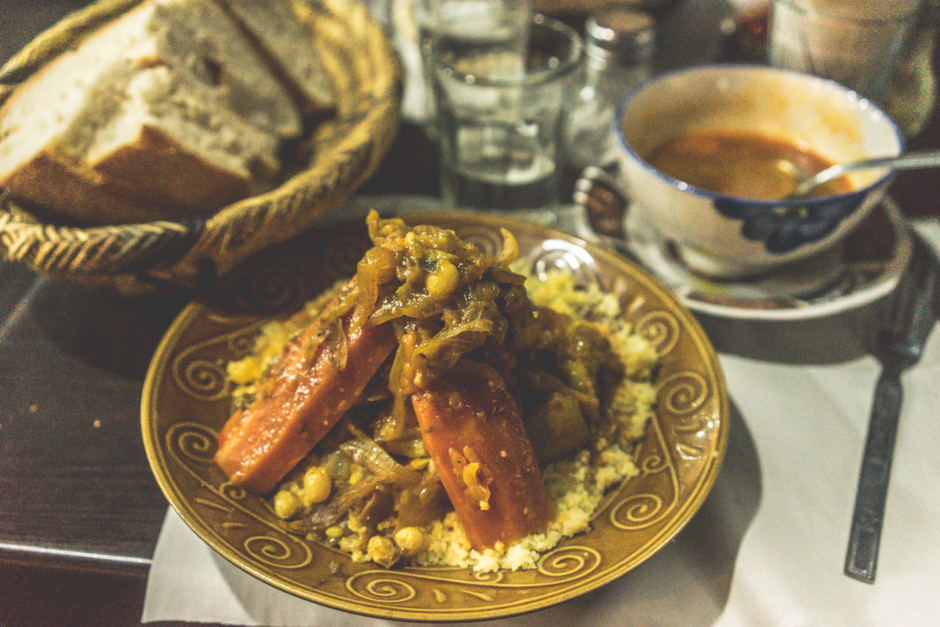 The next morning, at breakfast, we met Azadine, a London-based traveler who had recently been visiting his home-country of Libya with his father. Things got a bit dicey, so he decided to leave the country and visit Morocco before heading home.
Azadine decided to stay in for the day, so we met up with Kera and ventured into the medina.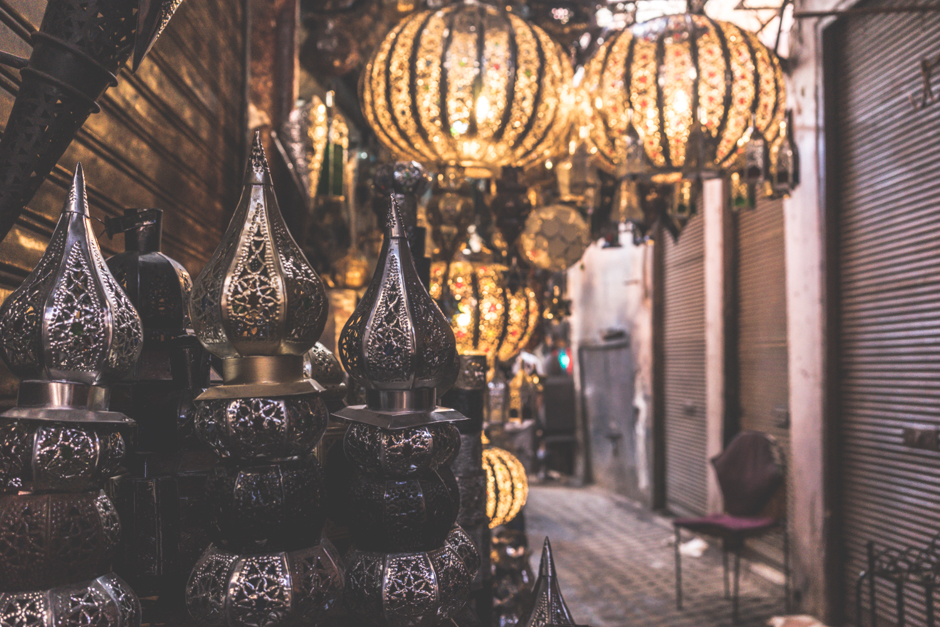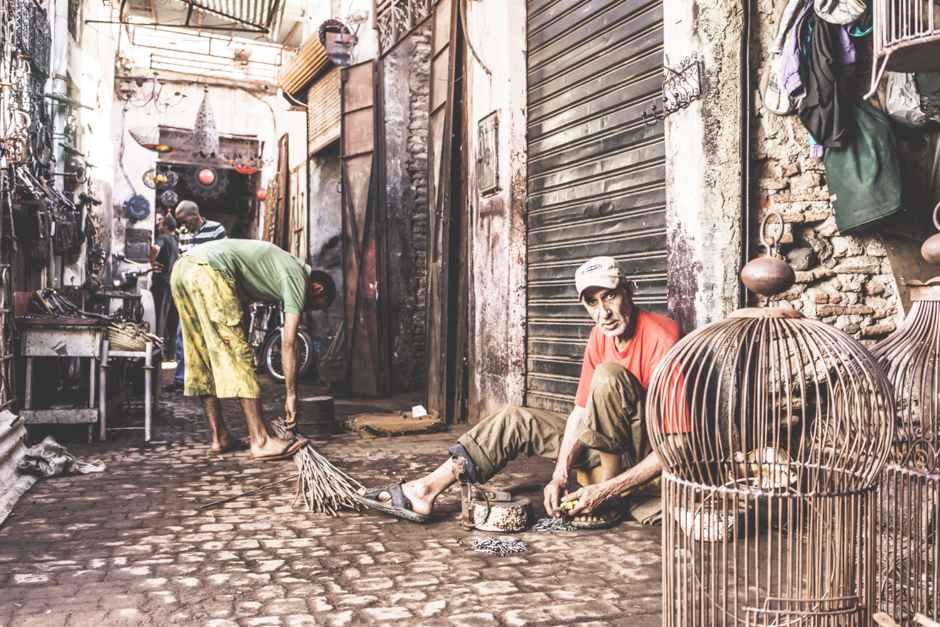 As the sun rose, rays of light orchestrated their way through the medina's open-air skyline.
With Kera by our sides, we walked for hours through this endless labyrinth, Kera looking for a bag, Emily and I looking for tasty snacks.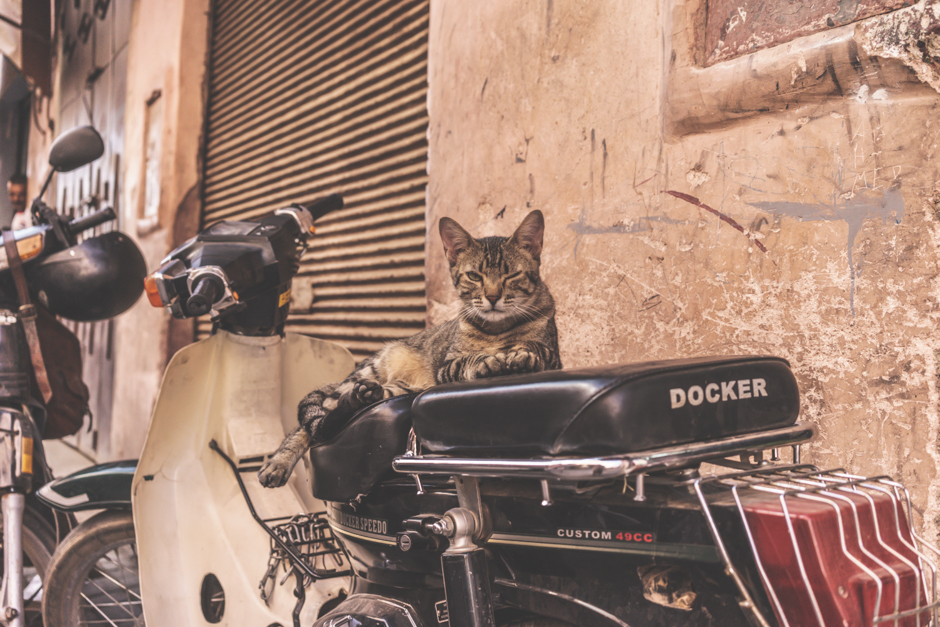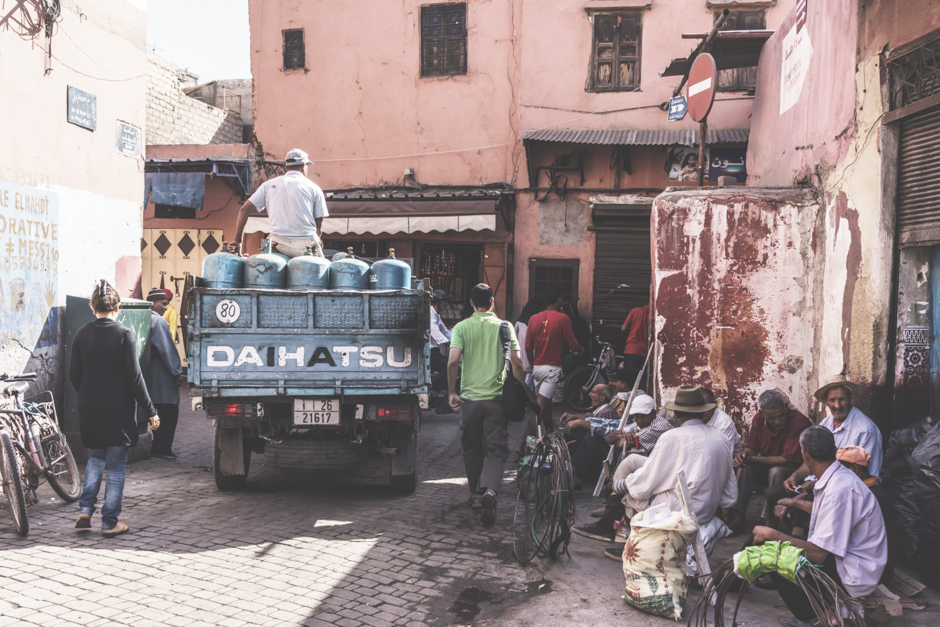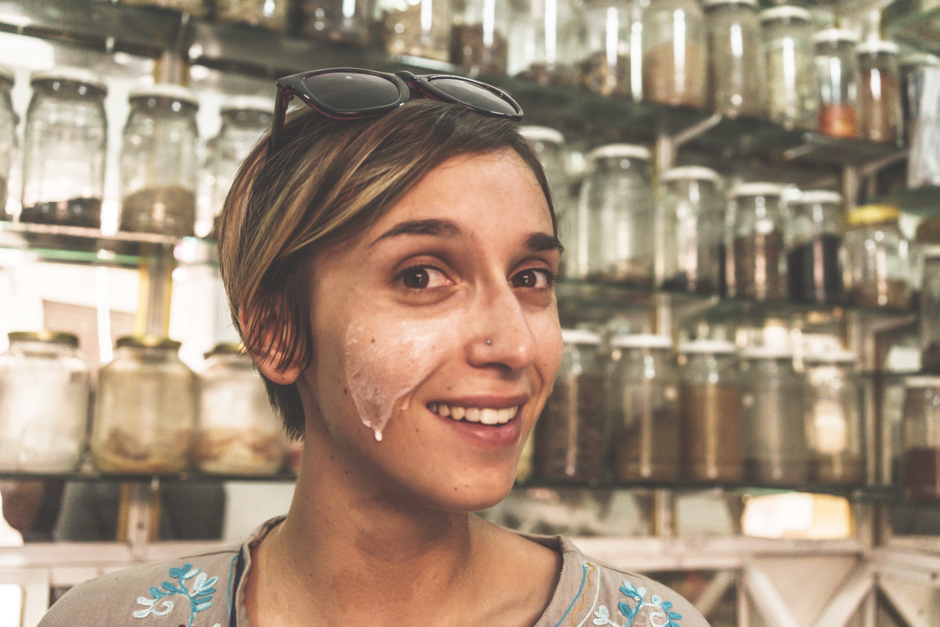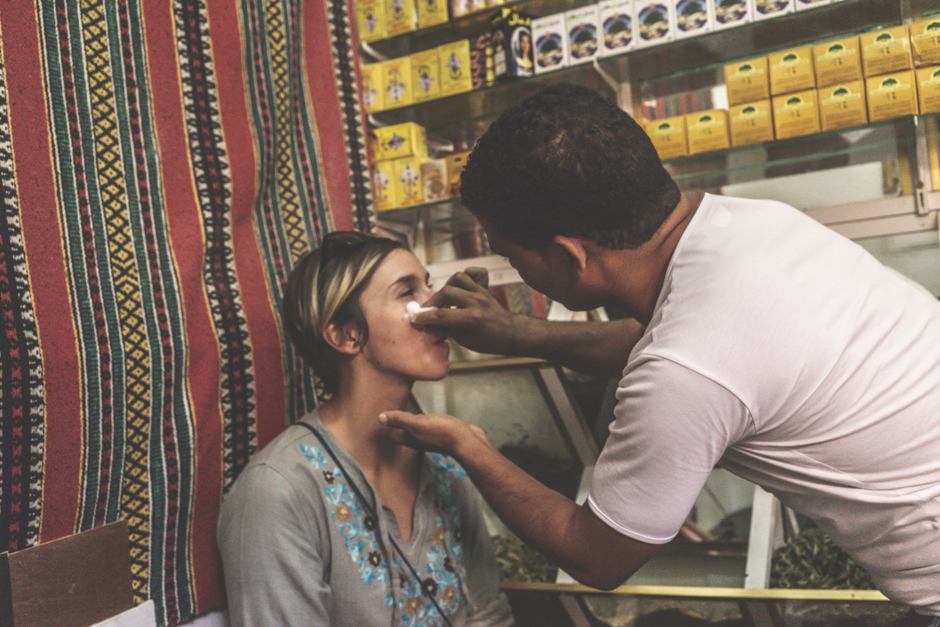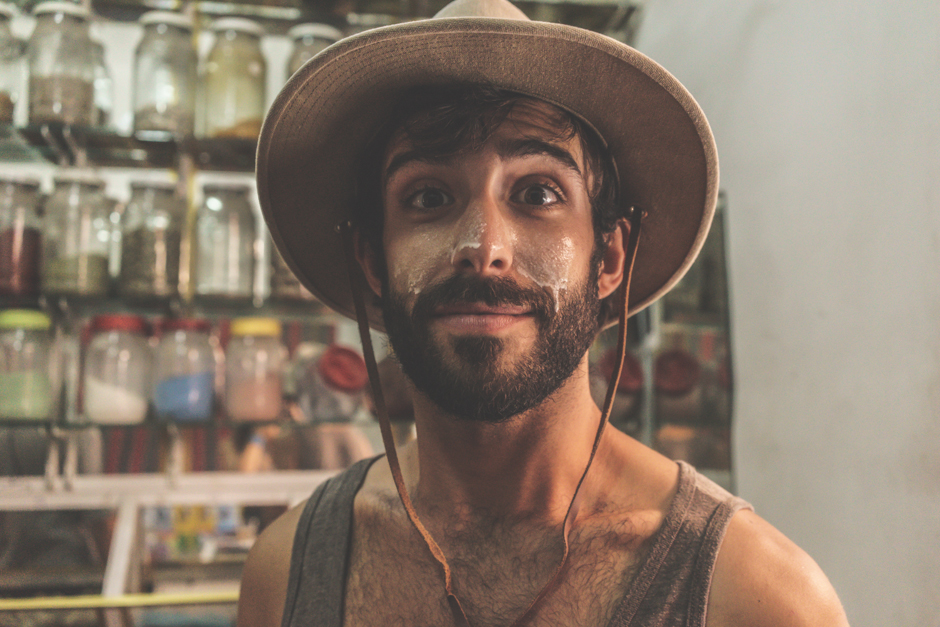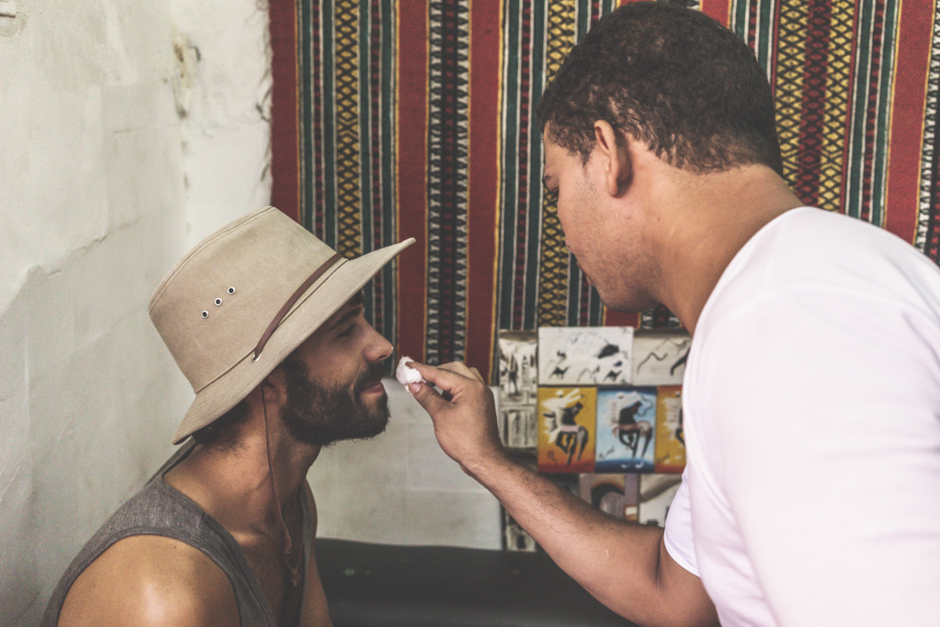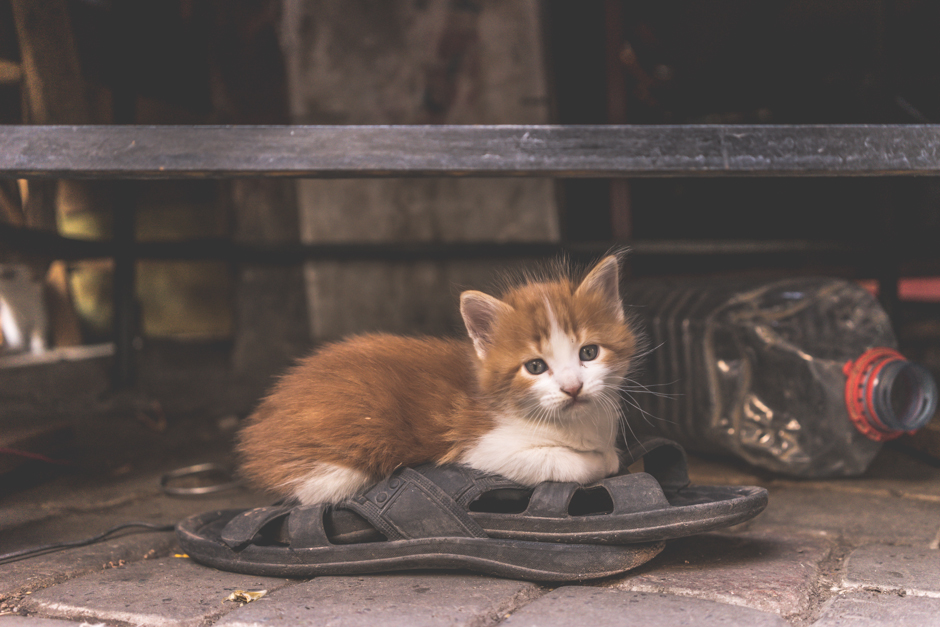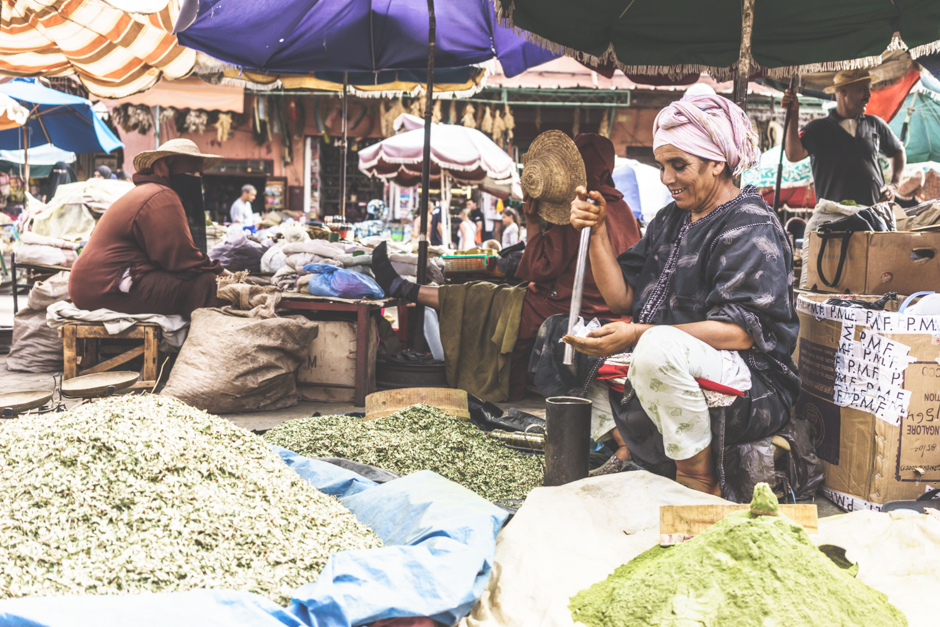 That night we joined forces with a few of our roommates and ventured into Jemaa el-Fnaa, Marrakech's main square, for dinner.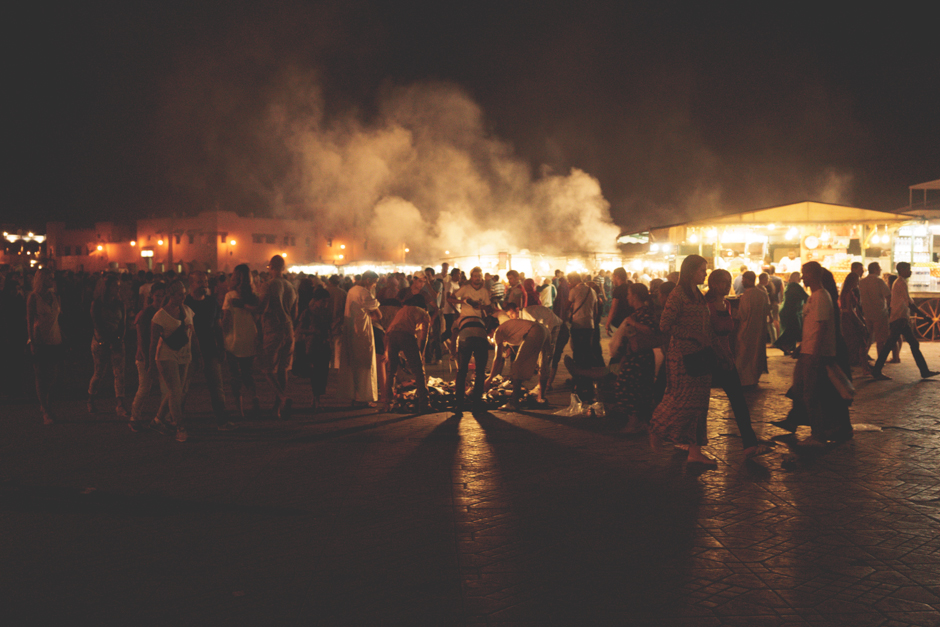 Like a swarm of bees, we were bombarded by merchants, each claiming their food stand was the best in town.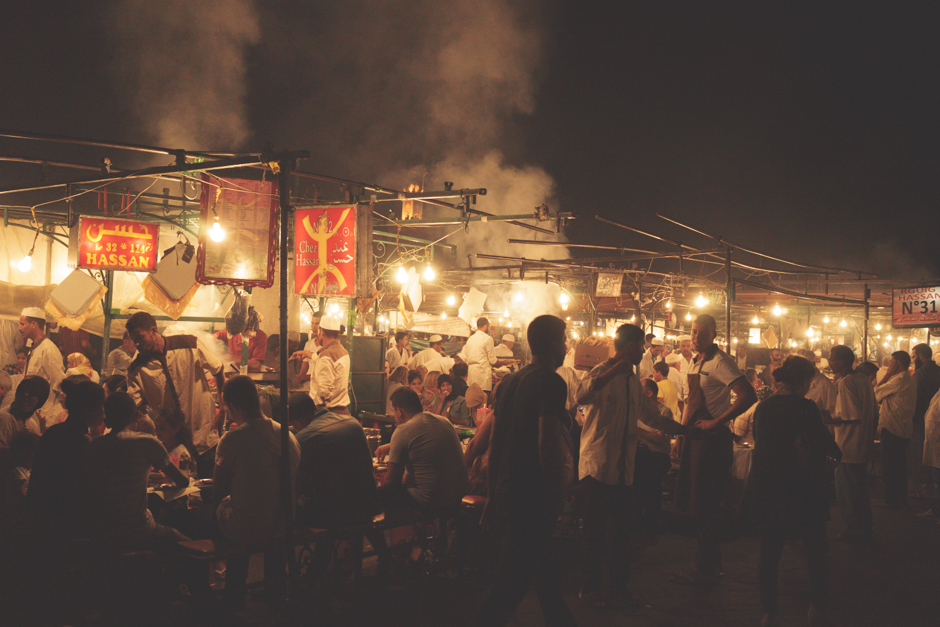 Eventually we sat, enjoying dinner with our new friends.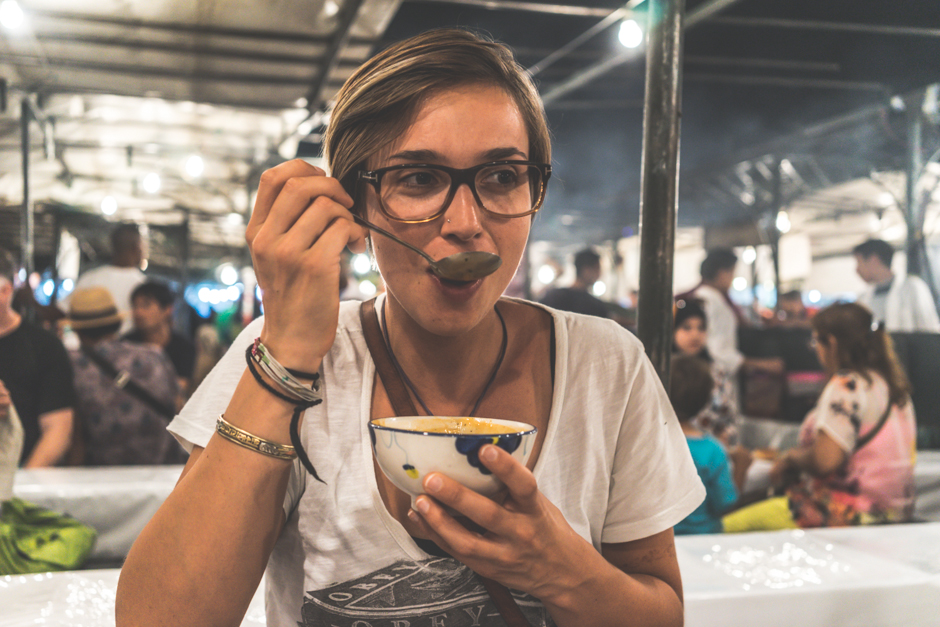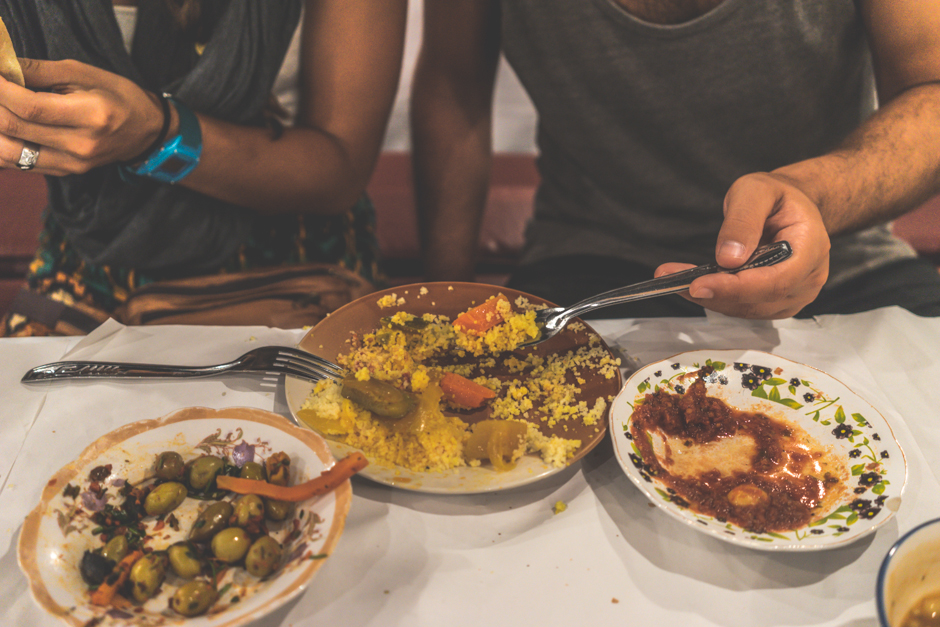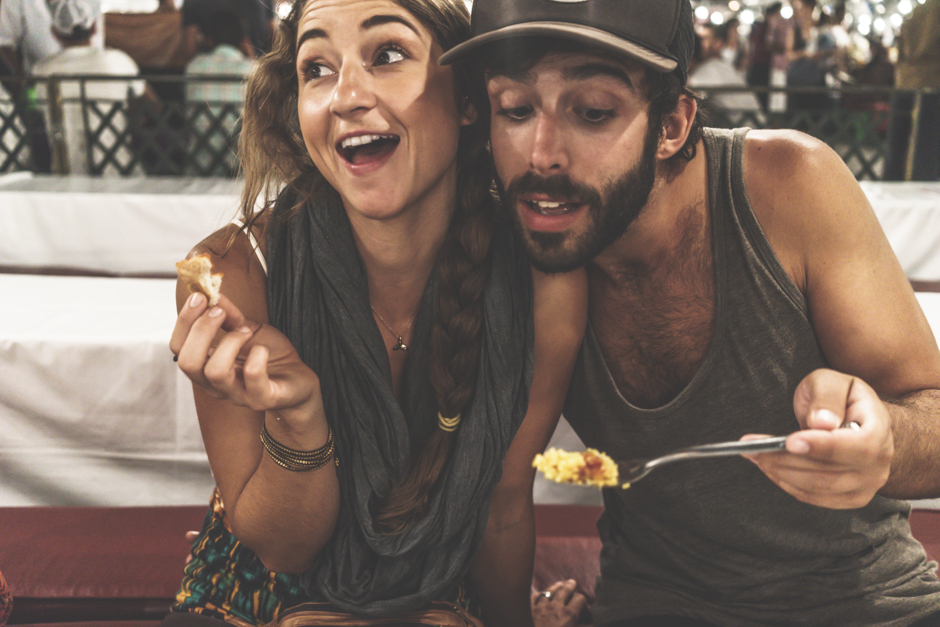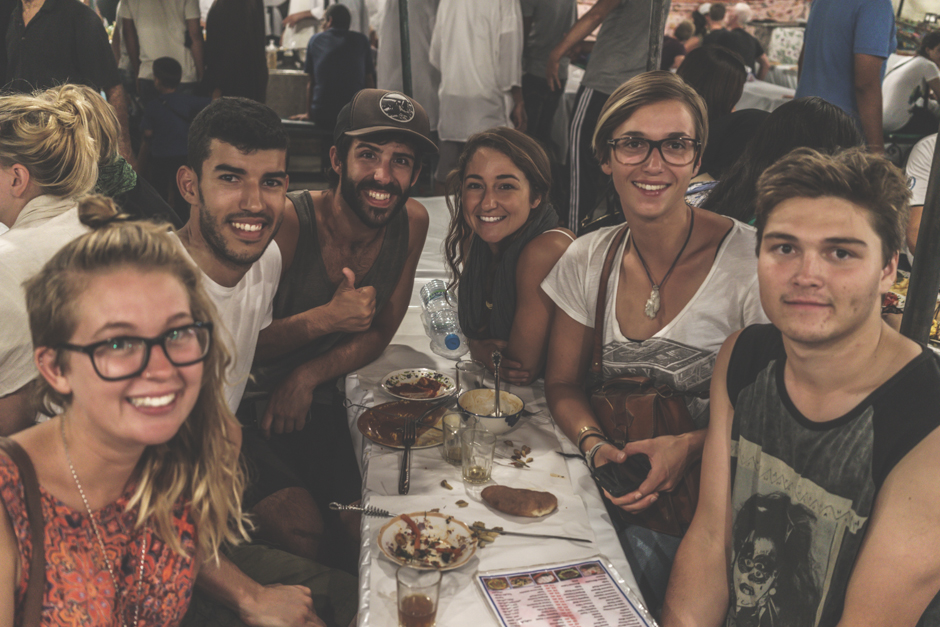 The next day, on the hostel's rooftop terrace, we met Philip & Linda, a lovely and light-hearted couple from Hamburg who were planning to travel through Morocco for a few weeks. Along with these lovely folk, we also met Valerie, an eclectic girl from Germany and Iulian, a sarcastically hilarious jokester from Romania.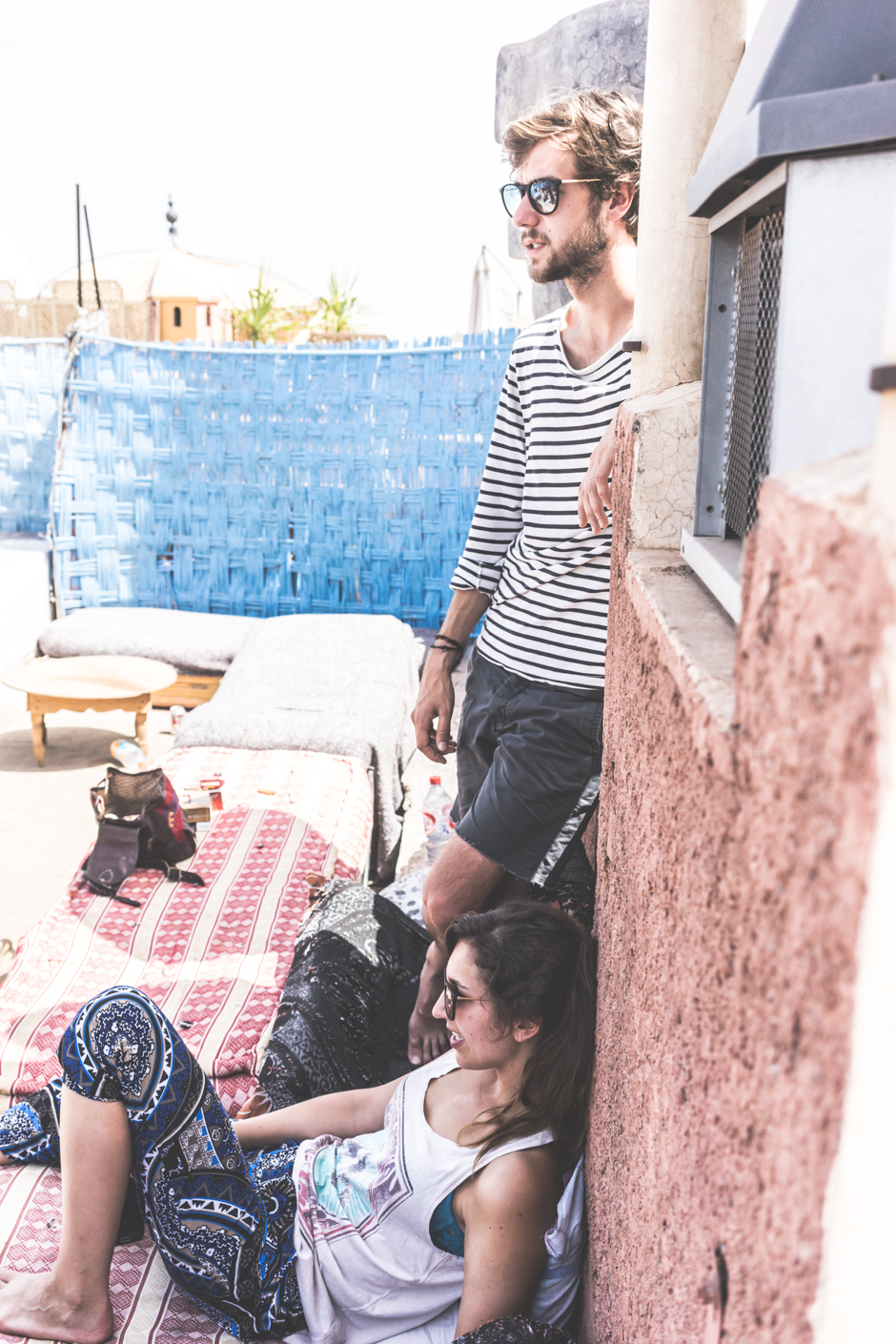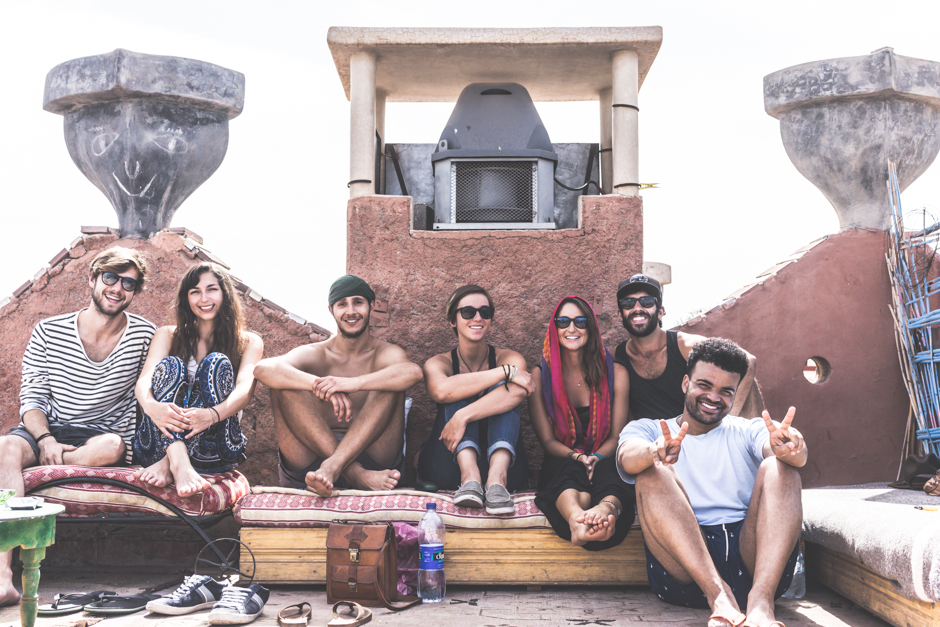 As a group, we roamed the streets, quickly falling in love with small, home-made coconut macaroons. These flat macaroons, costing only 1 Dirham and sold by little old women on the streets of Marrakech, were the undeniable epitome of heaven on Earth.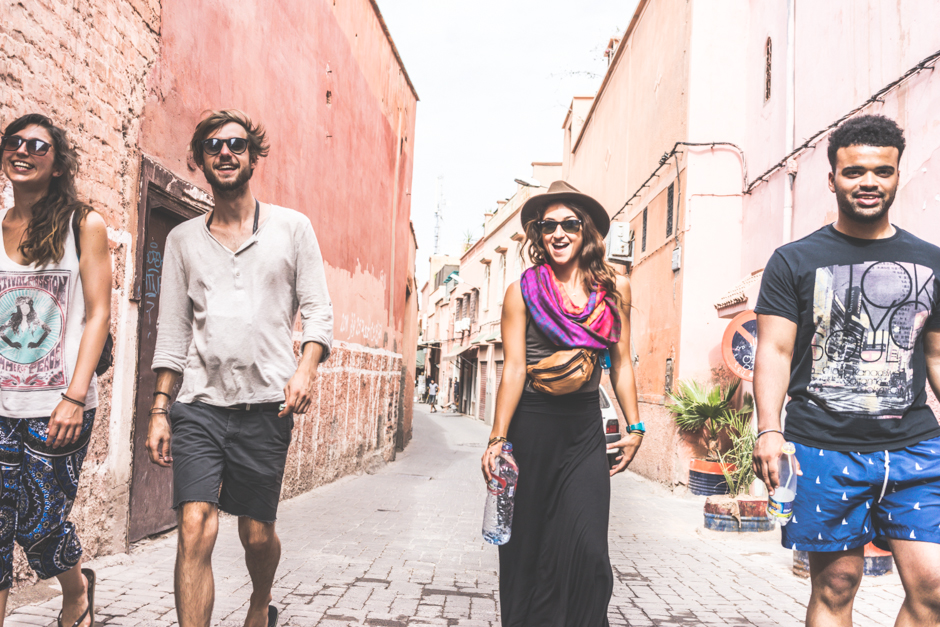 These macaroons became the highlight of our time in Marrakech, always devoured before we could snap a photo. Then, on one fateful evening on the rooftop terrace of ye old Kif Kif Hostel, we created the new three-day holiday of "Good Cookie." From September 15th-17th of every year, we all vowed to break cookie with our closest friends back home – an ode to the little things that make life better and bring friends closer together.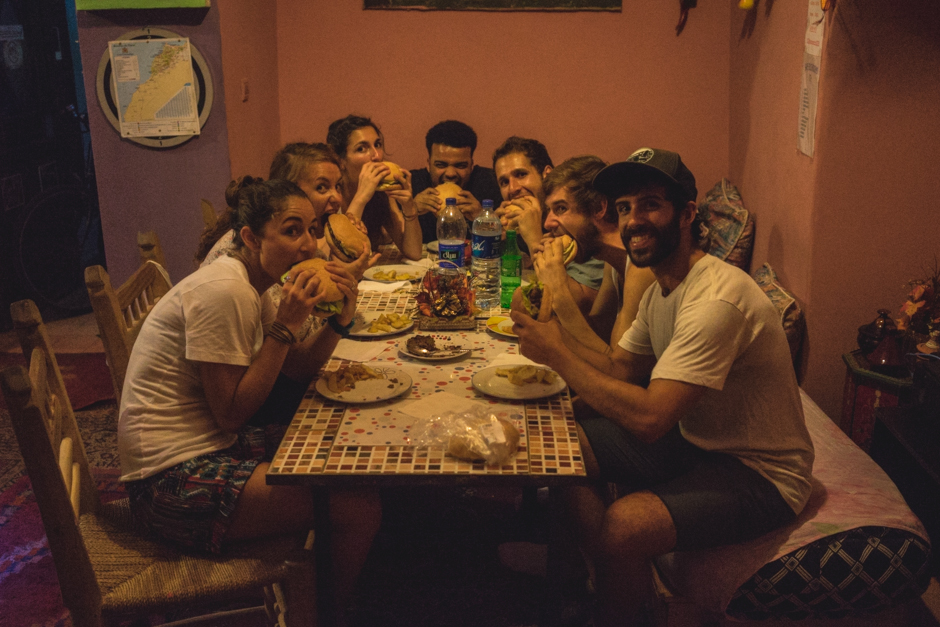 The next morning Phil, Linda, Azadine, Emily, and I awoke at 6am to catch a private bus that would take us on an 8-hour journey to the Sahara Desert.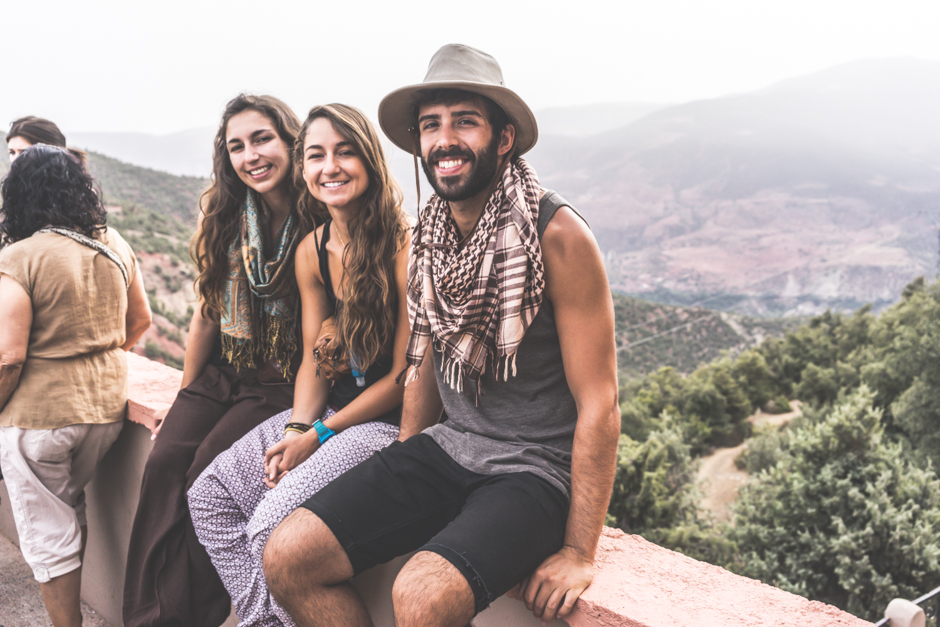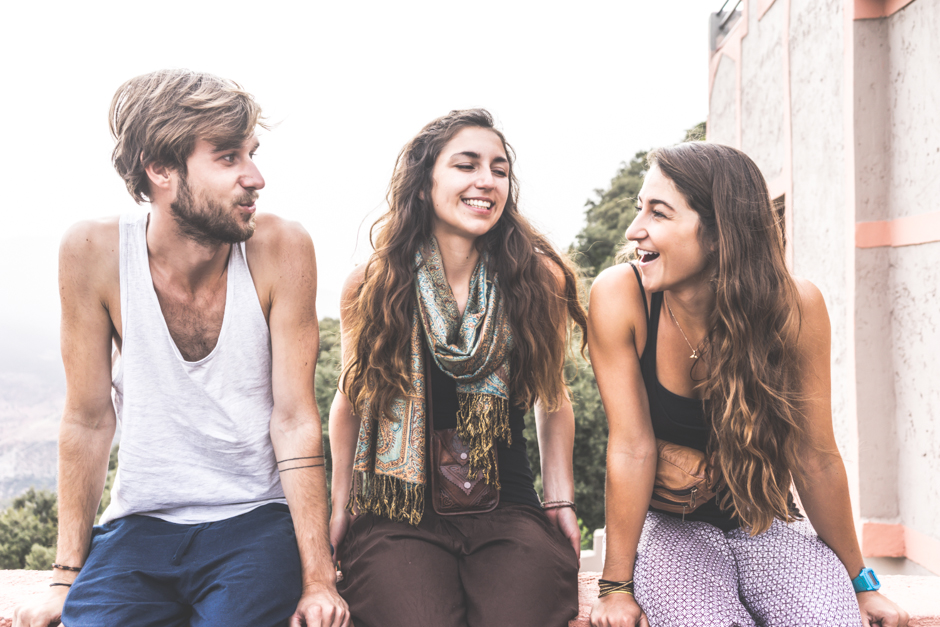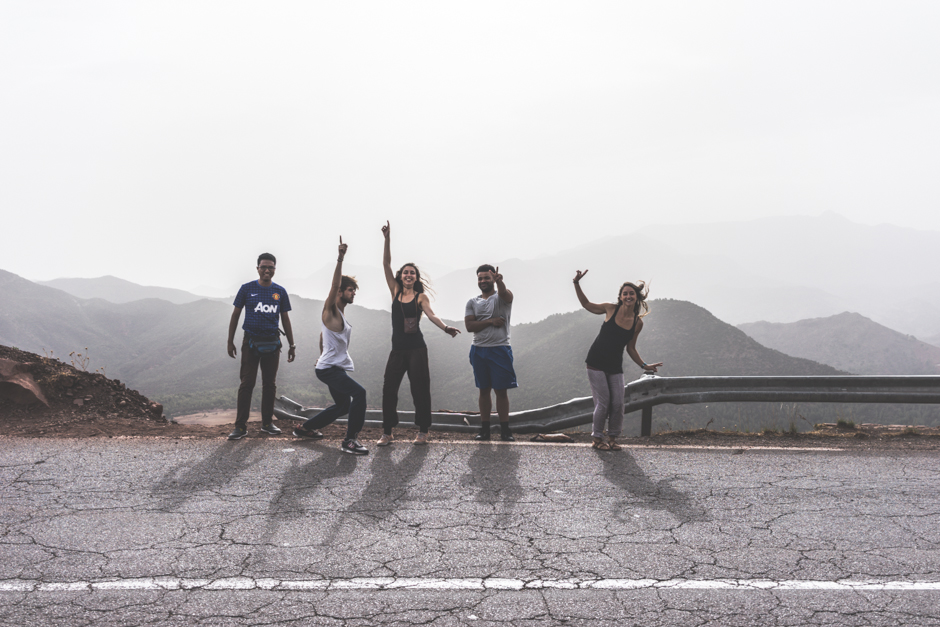 Past ancient Hollywood blockbuster villages and oceans of Date-Palm groves we rode, stunned by the sheer beauty of Morocco's countryside.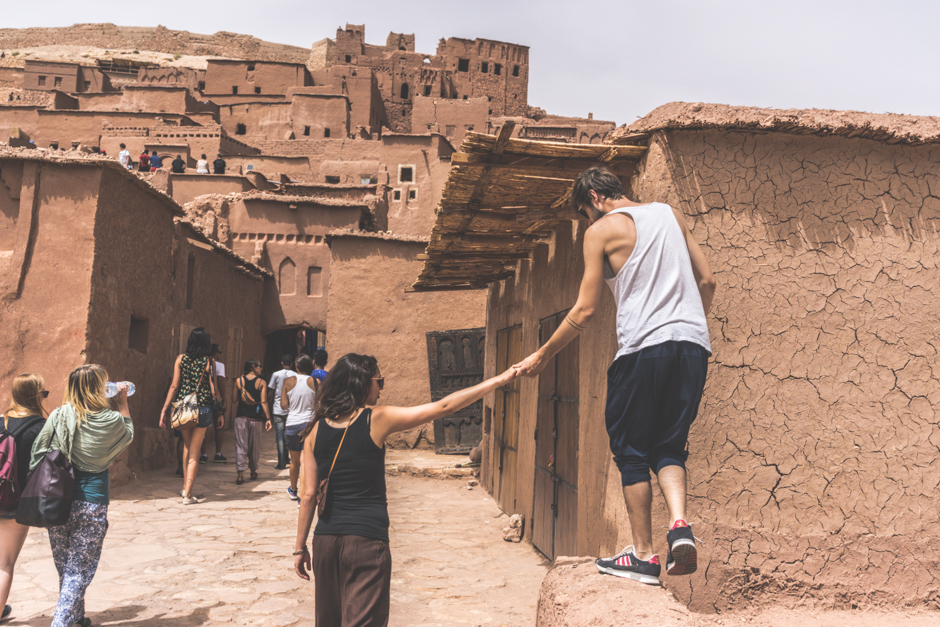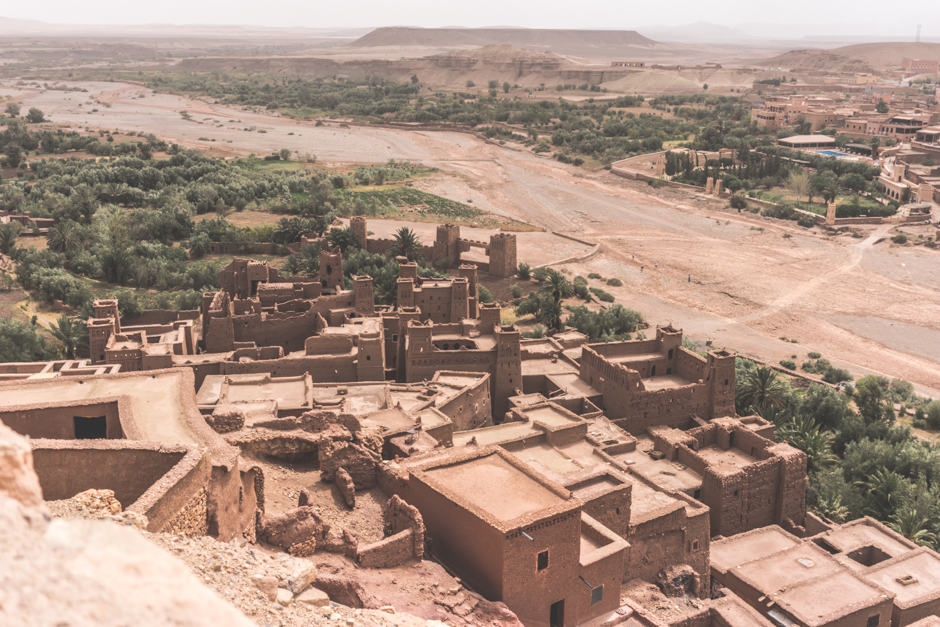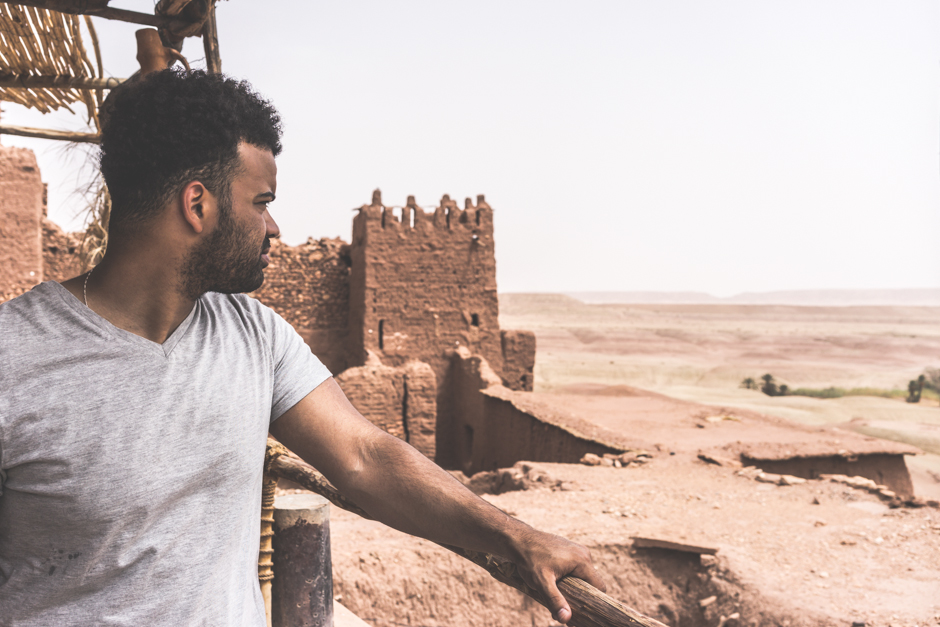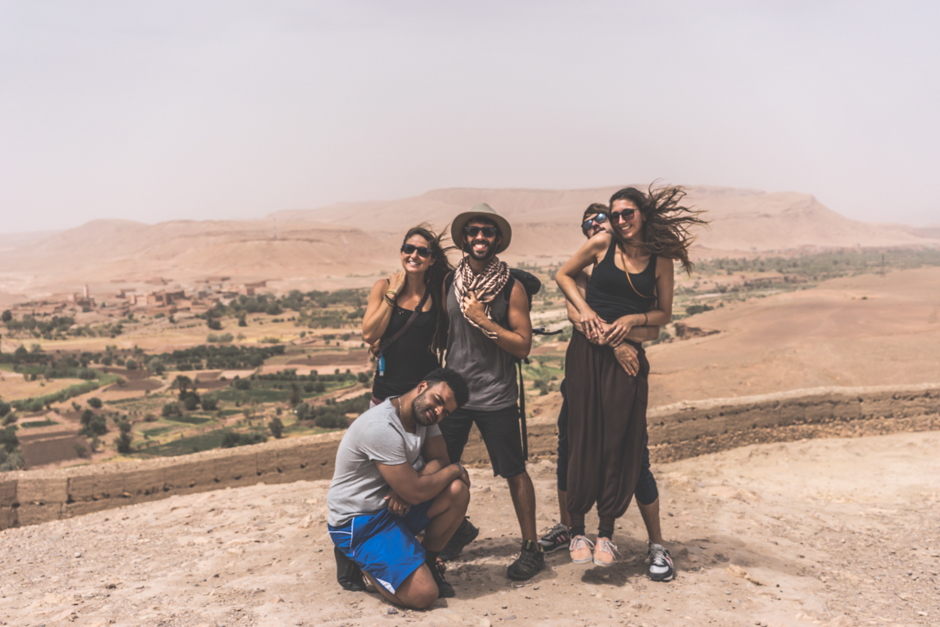 In the town of Zagora we were met by our trusty steeds, a herd of camels that would take us an hour and a half into the desert for one night of Saharan enchantment.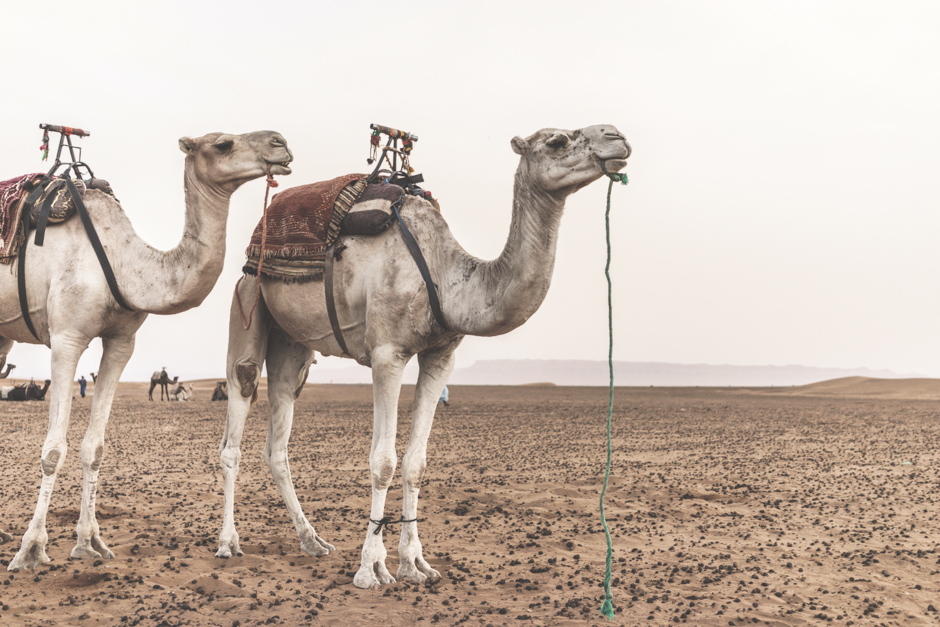 These friendly, noble creatures were enormous. Much larger than any of us ever imagined. Most rode rough through the desert, but mine so smooth. He was a professional, he had done this a few times before. We glided, him and I, through sand dunes as the sun began to set.
That night we were cooked an unforgettable meal by our Berber guides and were then treated to a live Berber performance of song, dance, and drums.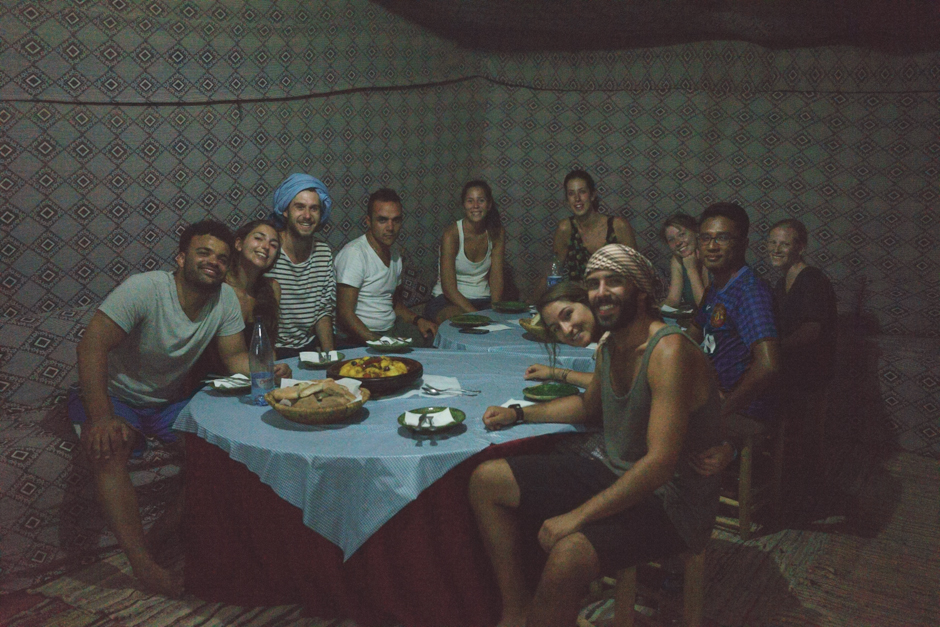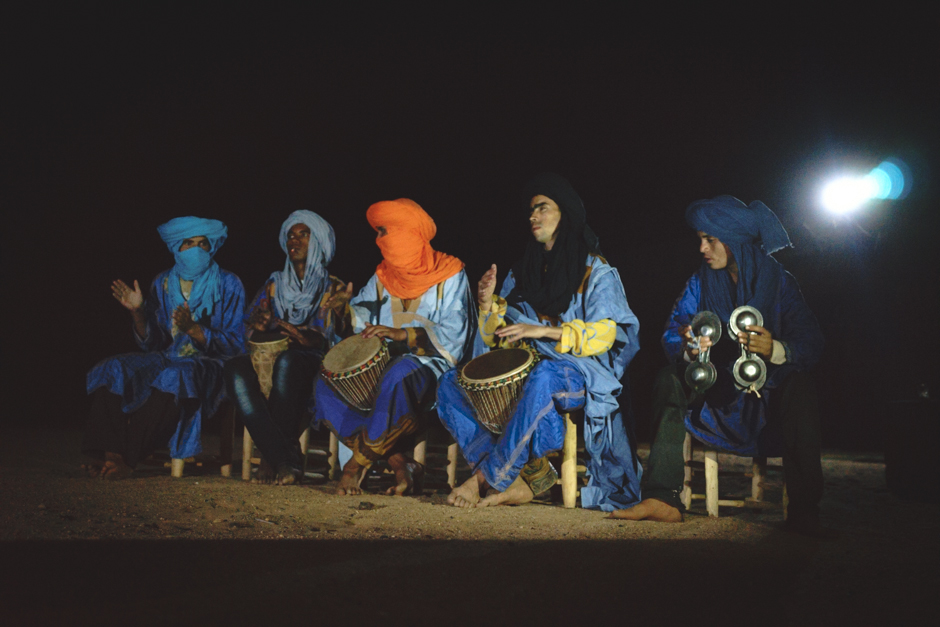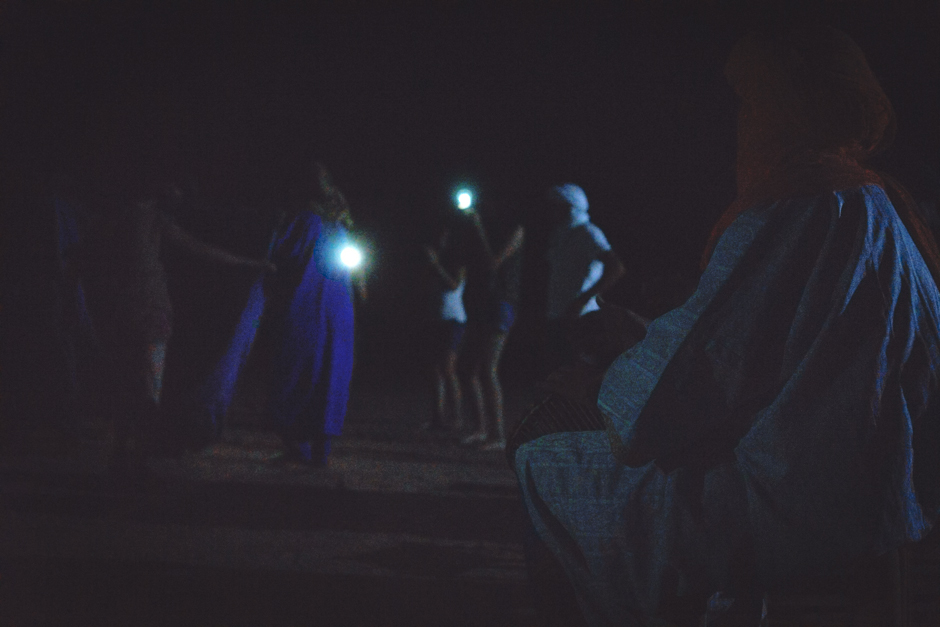 As the black of night became blacker, we lied our rugs out to rest in the sand, counting shooting stars to fall asleep.
It was magic, real magic, packaged in an Earthly experience.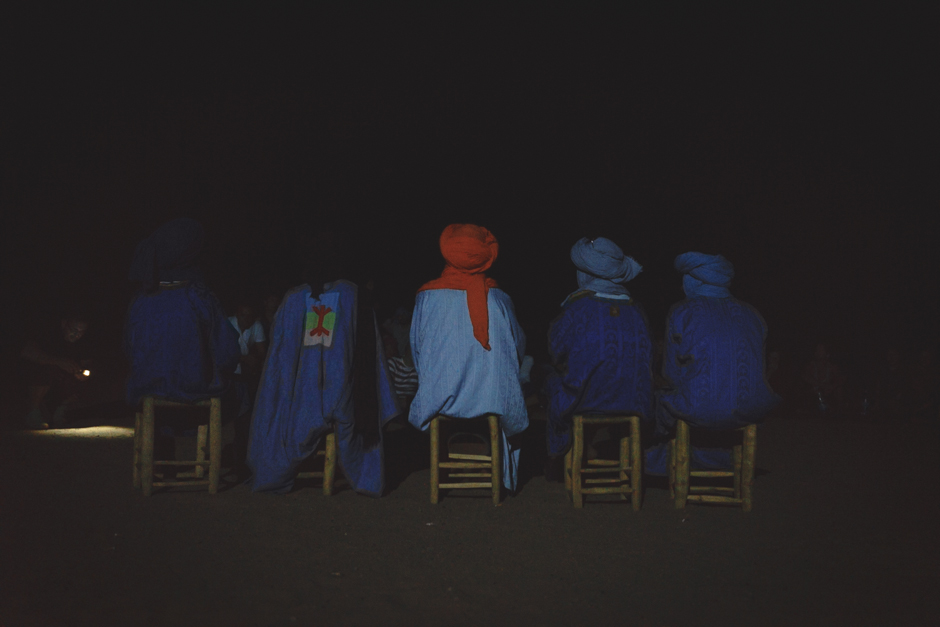 The next morning we arose with the sunrise, sipped some Berber coffee, hung out with our camel pals, and took the 8-hour ride back to Marrakech.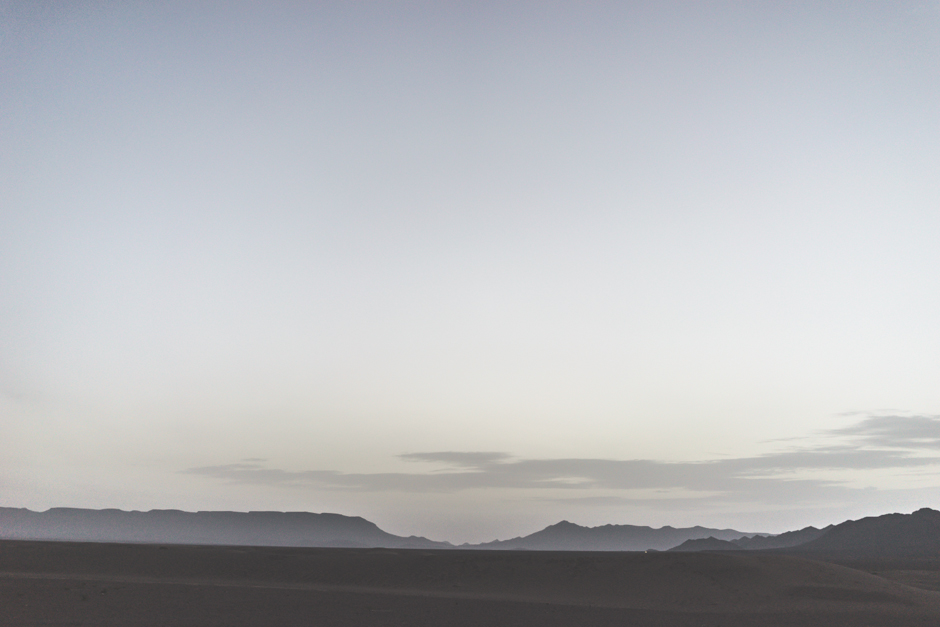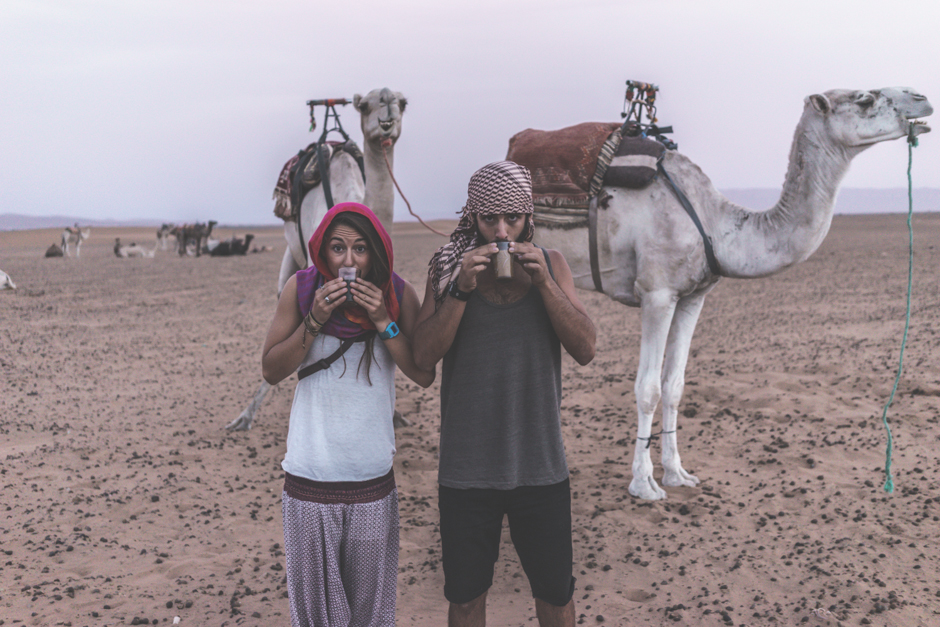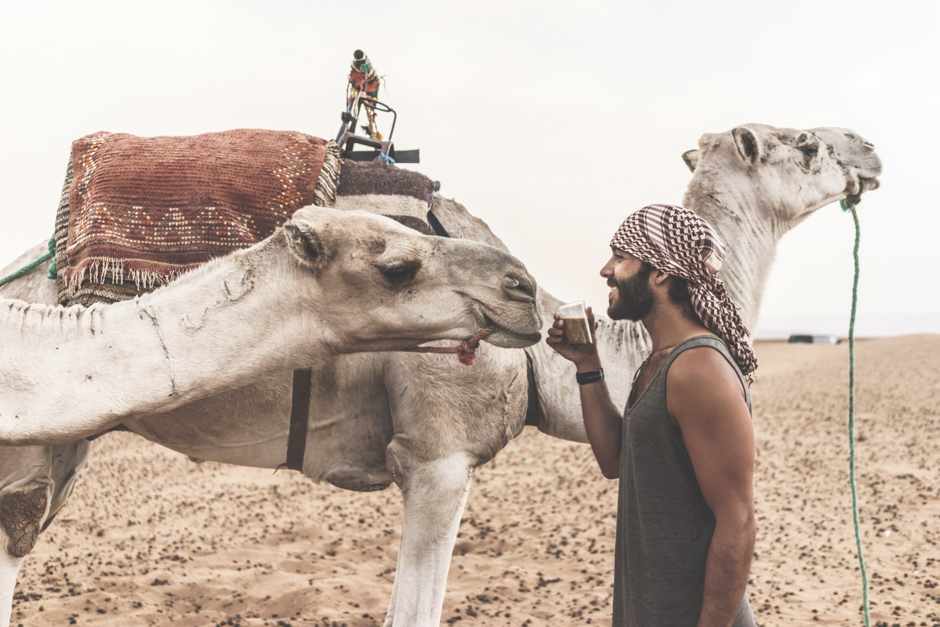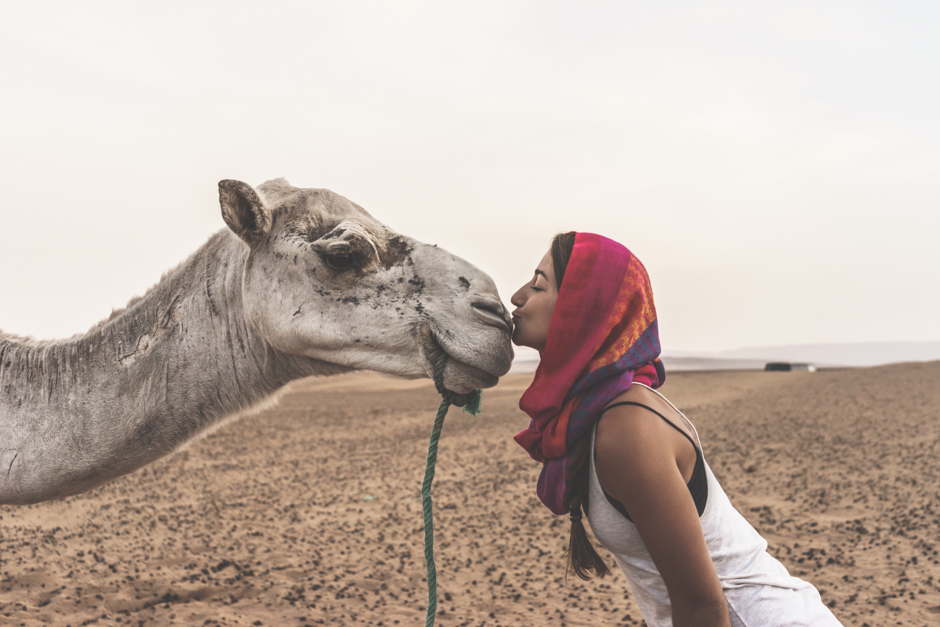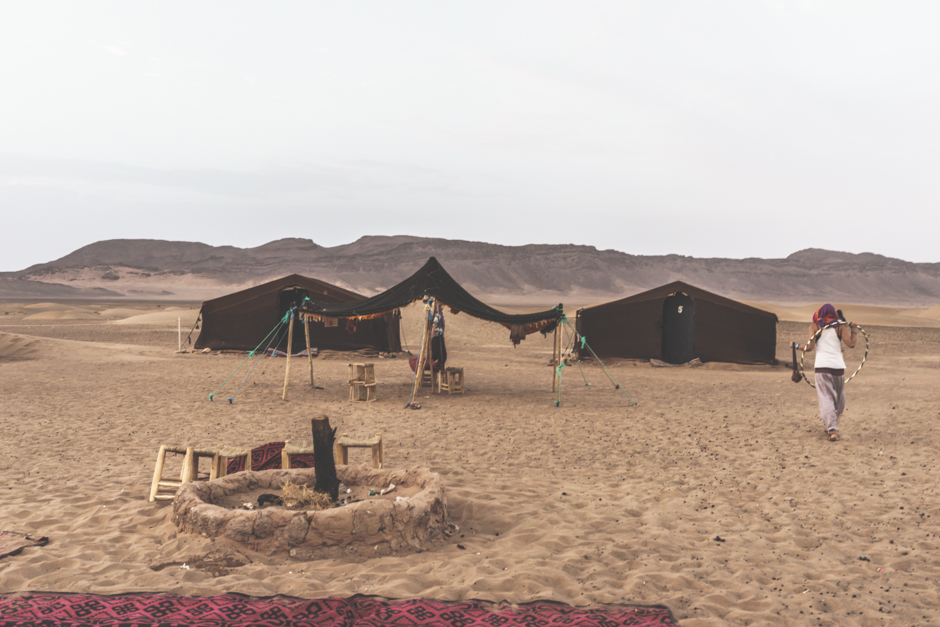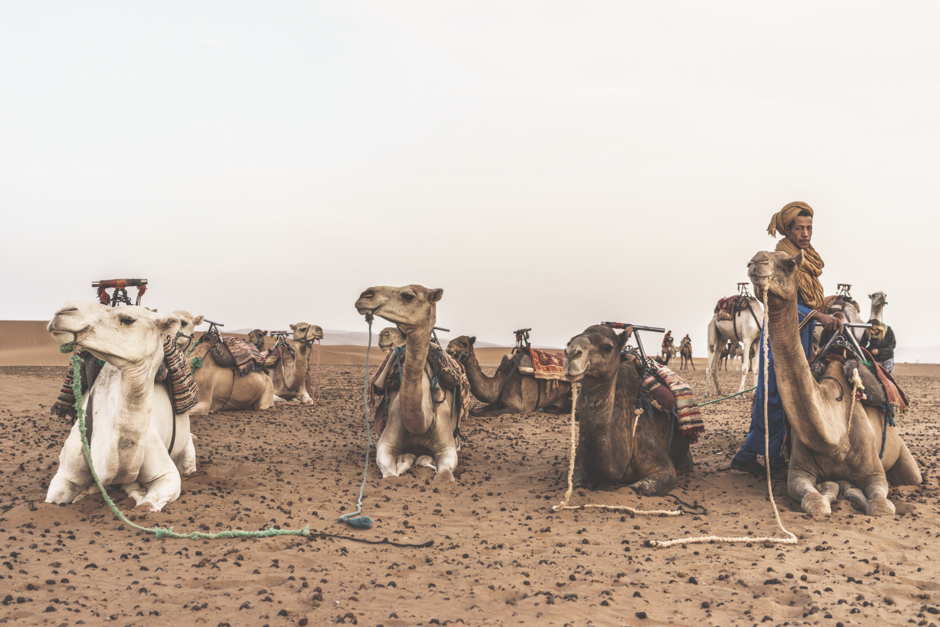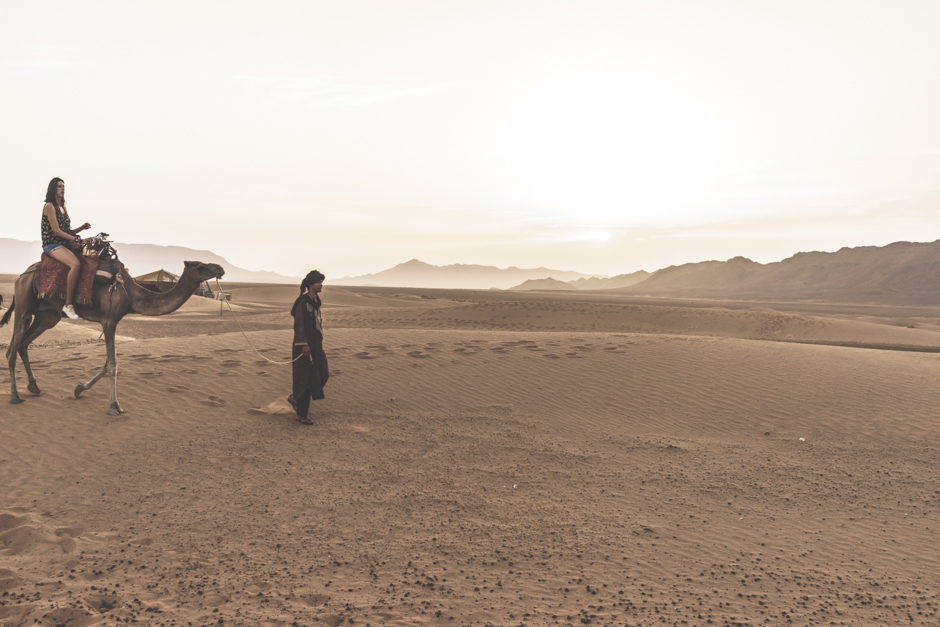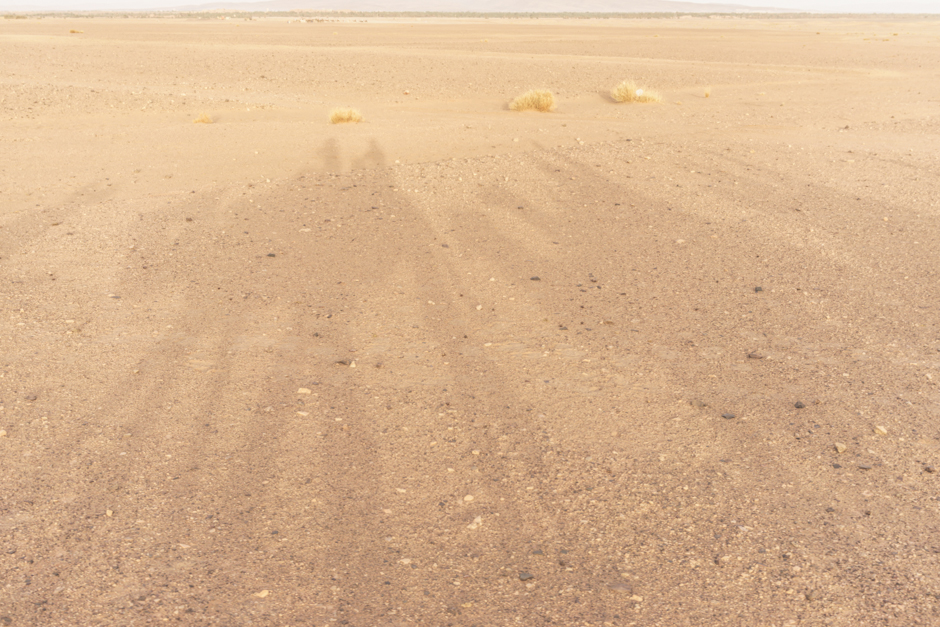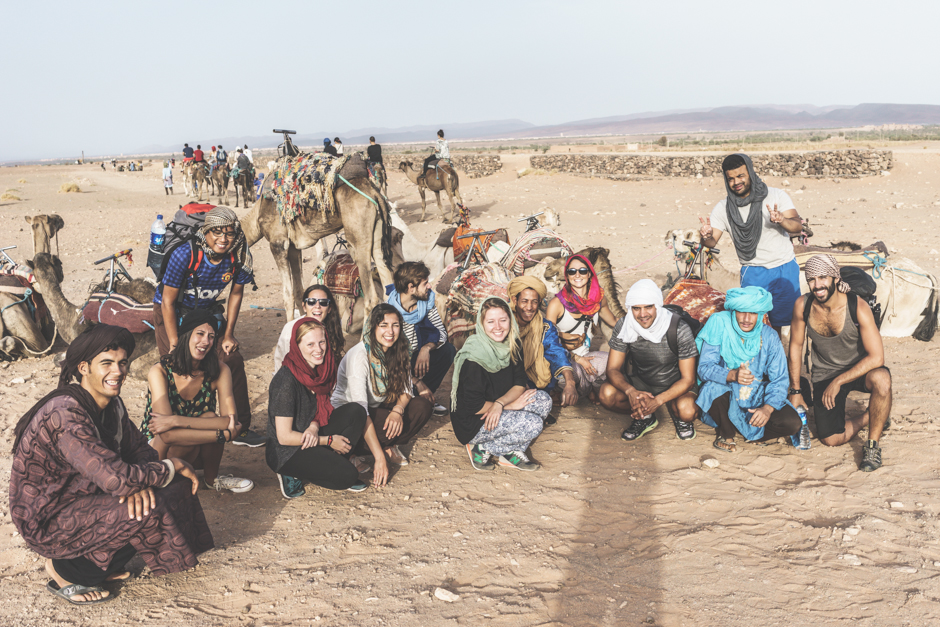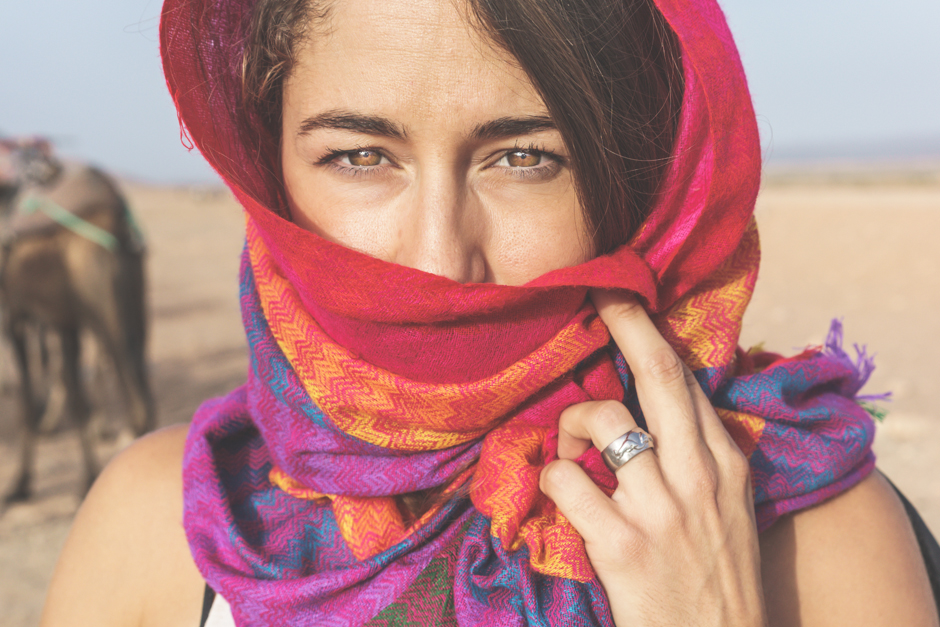 On the way home I found my paradise, my happy place, in the Date-Palm Oasis of the Draa Valley.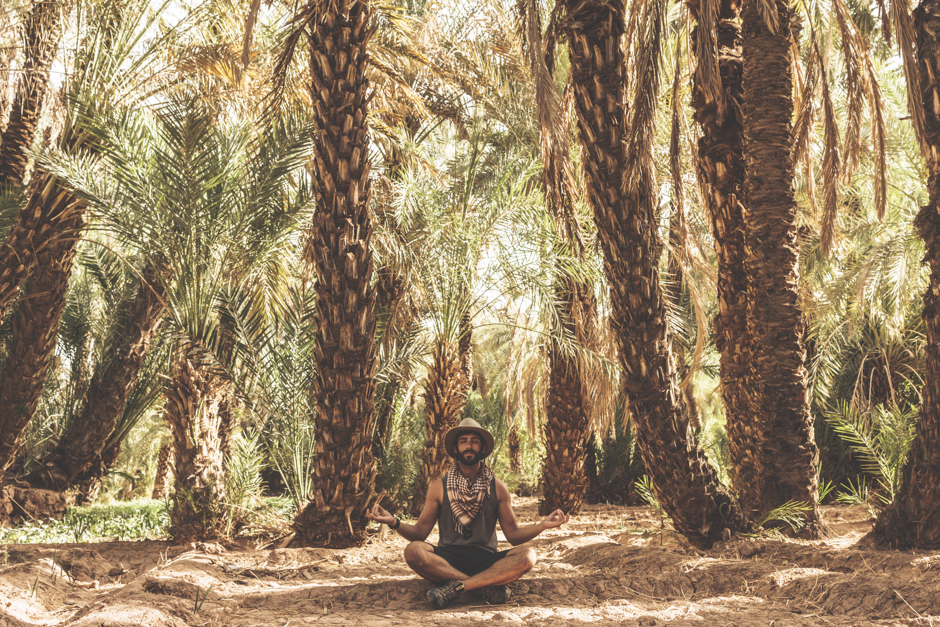 Eventually we said our goodbyes to Marrakech and our so-longs to the magnificent people with whom we'd shared our experiences.
Off to Fez we went.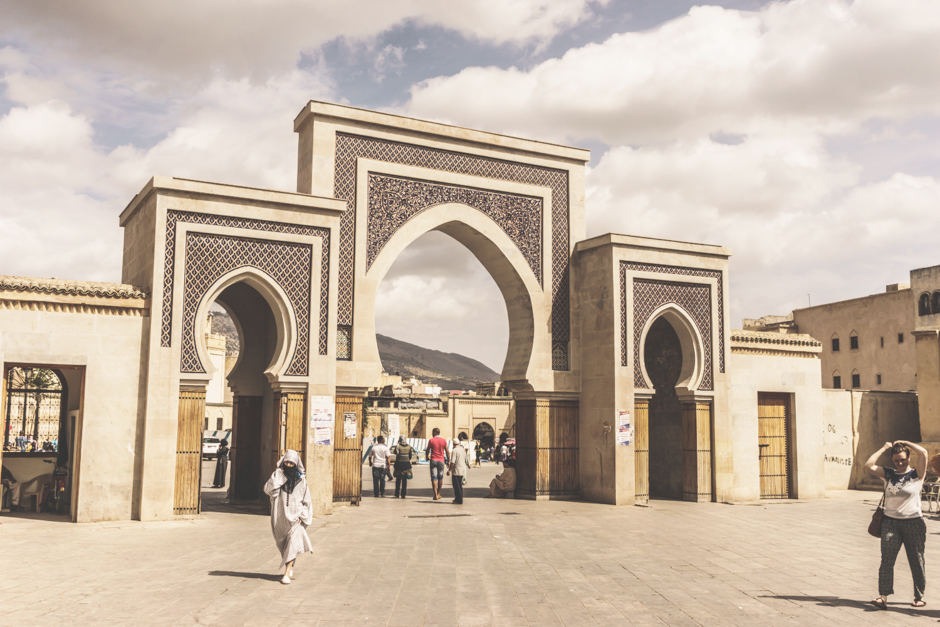 In Fez, we arrived early, early enough that our hostel host was still in her jammies, early enough that the breakfast's bread had gone untouched.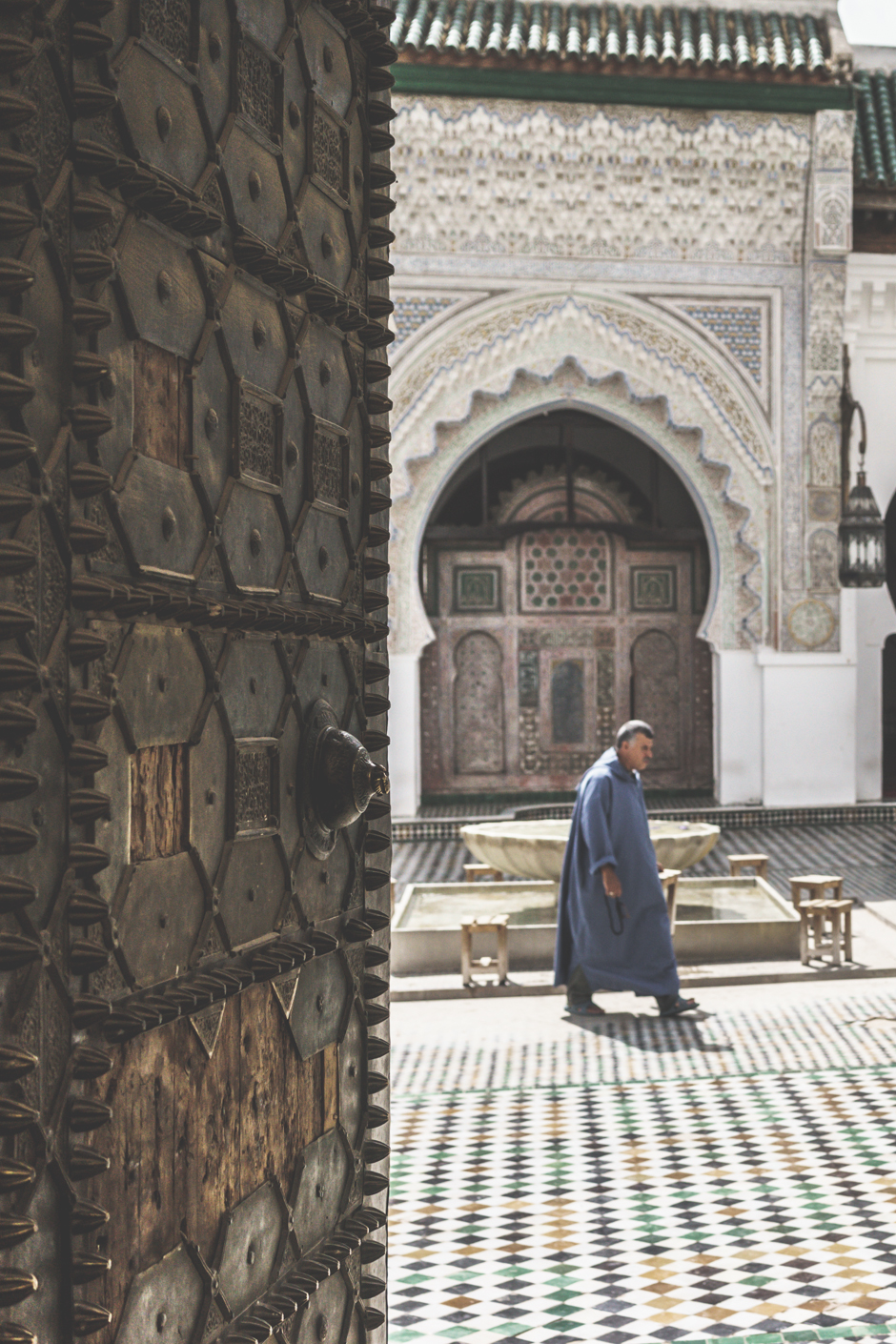 That day we ventured into yet another medina with two German ladies that we had met in Marrakech, Sina and Caro.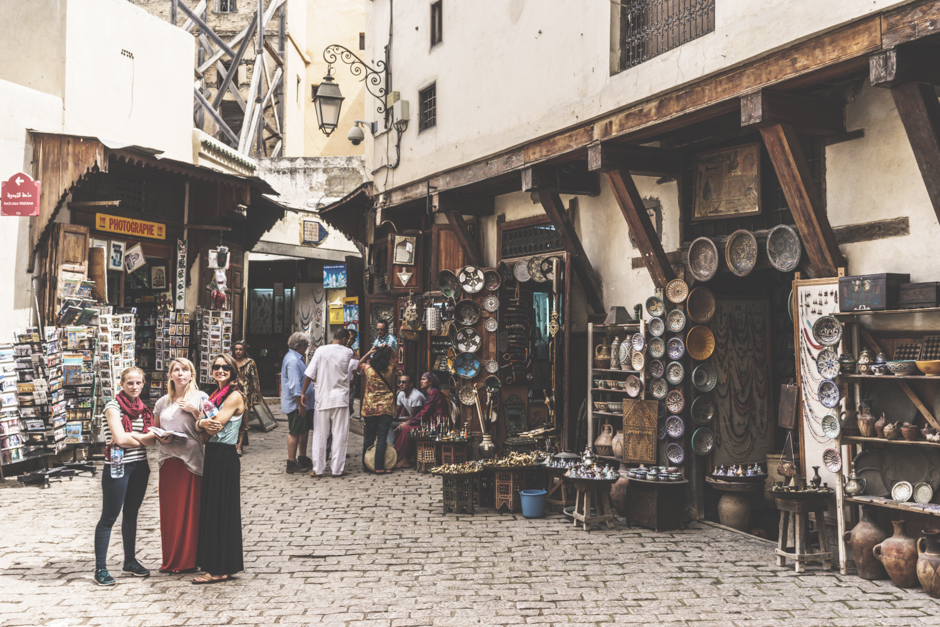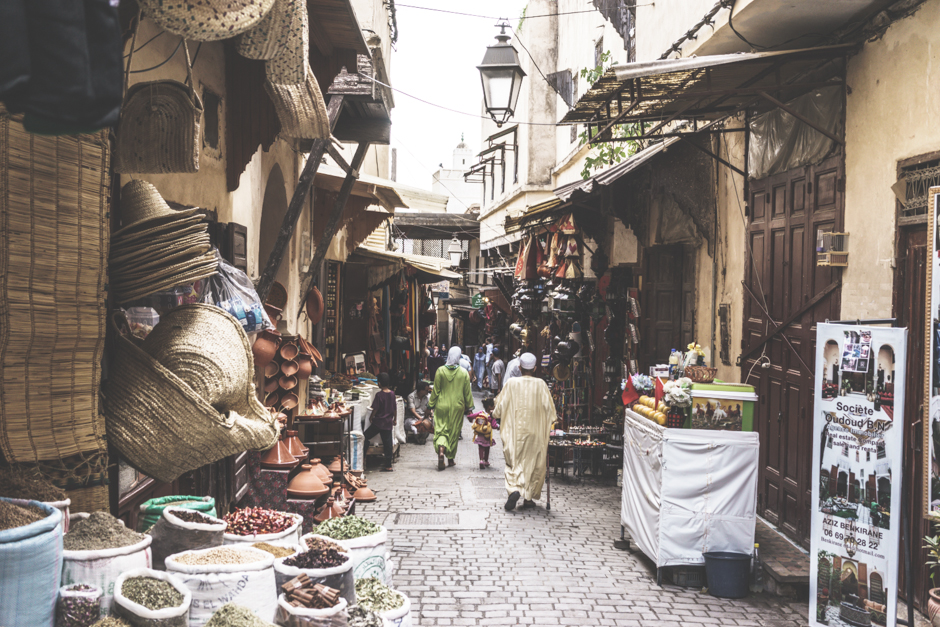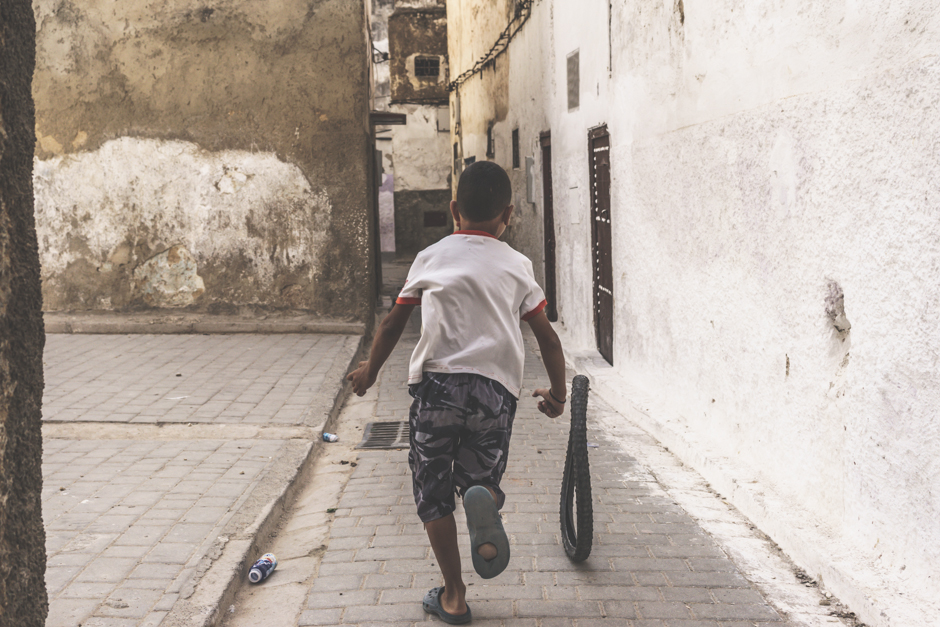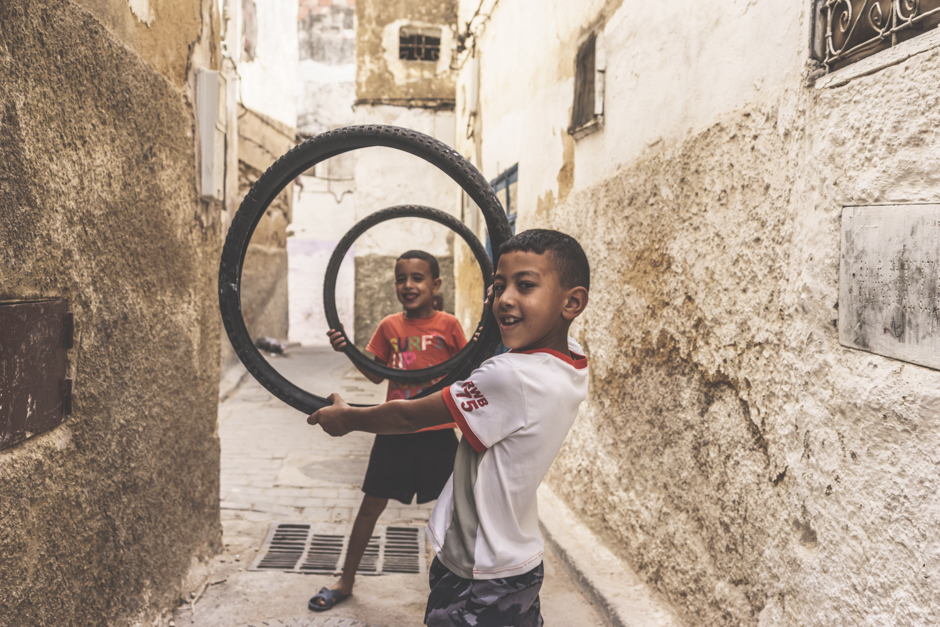 While out and about, we were approached by a 7-year old boy named Omar.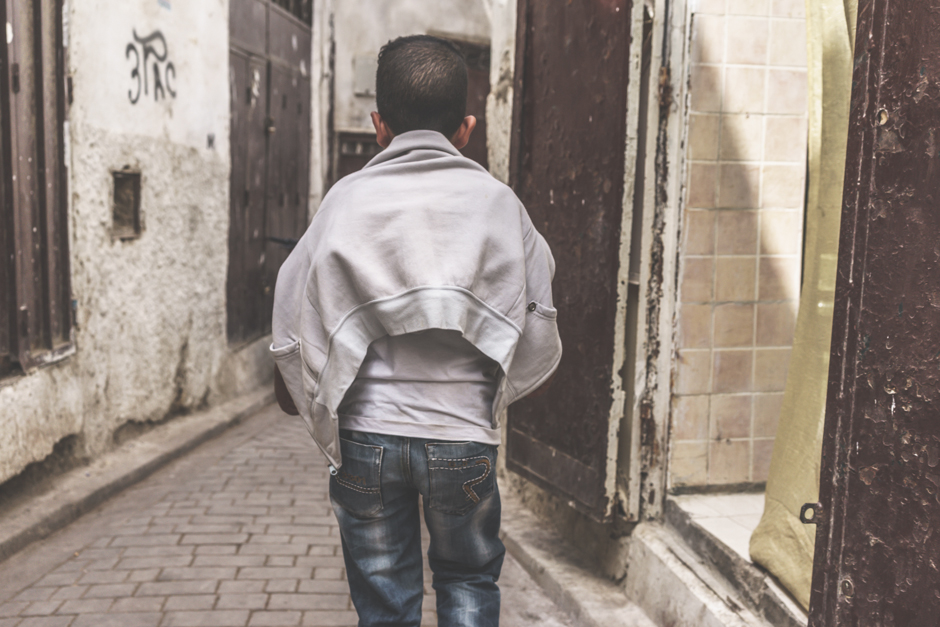 Omar wanted to show us the tanneries, insisted that he show us the tanneries. This was his home, he said, he knew all the secrets.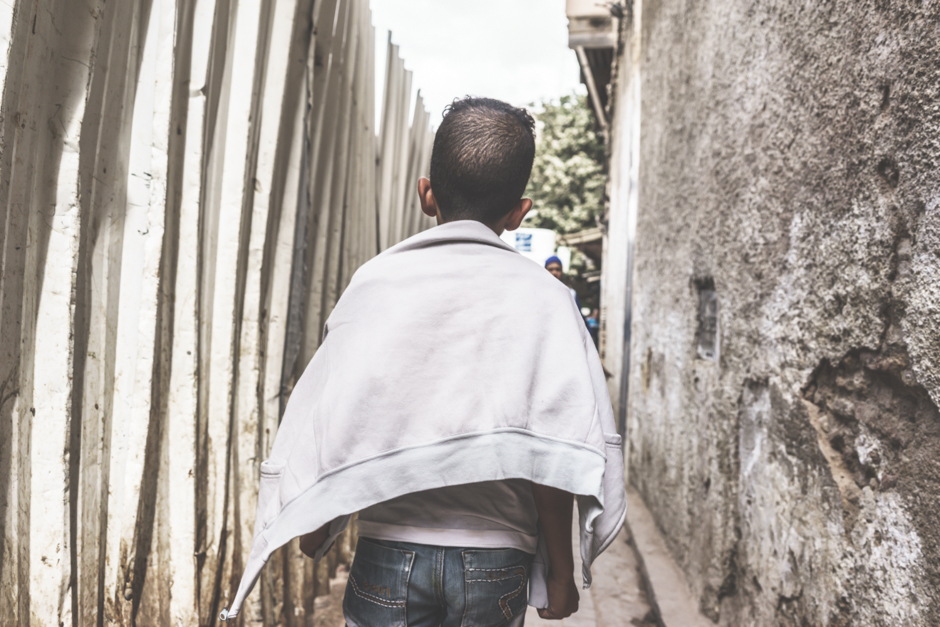 To eliminate any expectations, we quickly let Omar know that we didn't have any money for him. He proceeded anyway.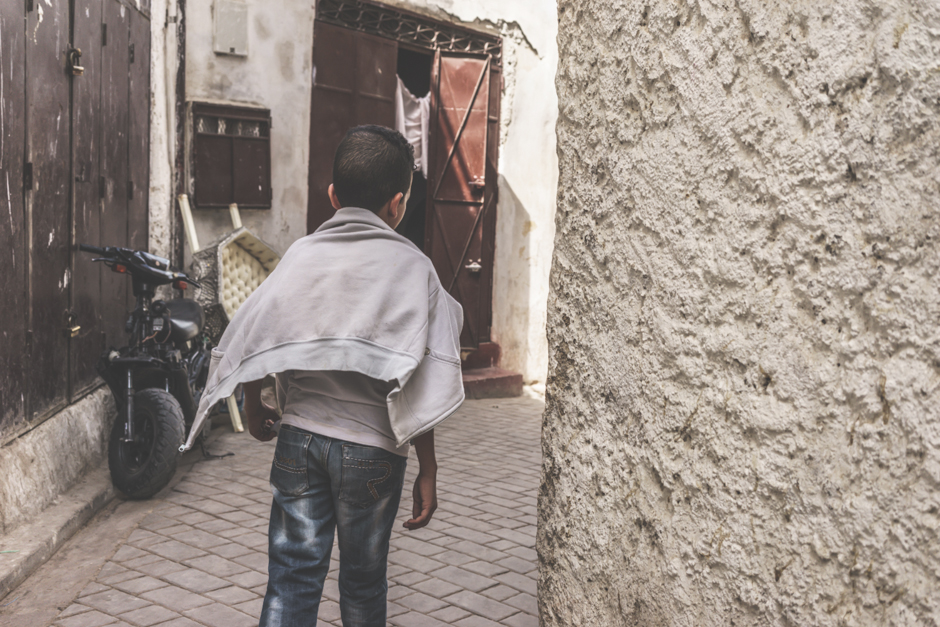 In no time we were on the rooftop of his father's leather-goods store, with a perfect view of the tanneries. The odors were putrid, but the scene was ineffable. Dozens of men drenched in vile concoctions, soaking and lying leathers out to tan. It was a once in a lifetime view, one of those moments where you stop, stay quiet, and soak everything in. I, myself, like one of the leathers, watching tentatively, out to dry.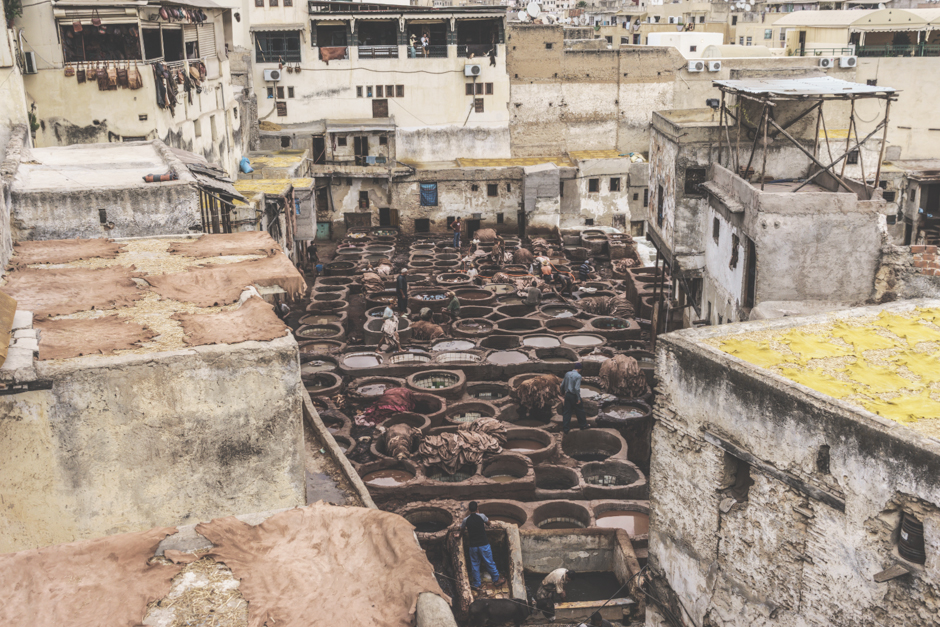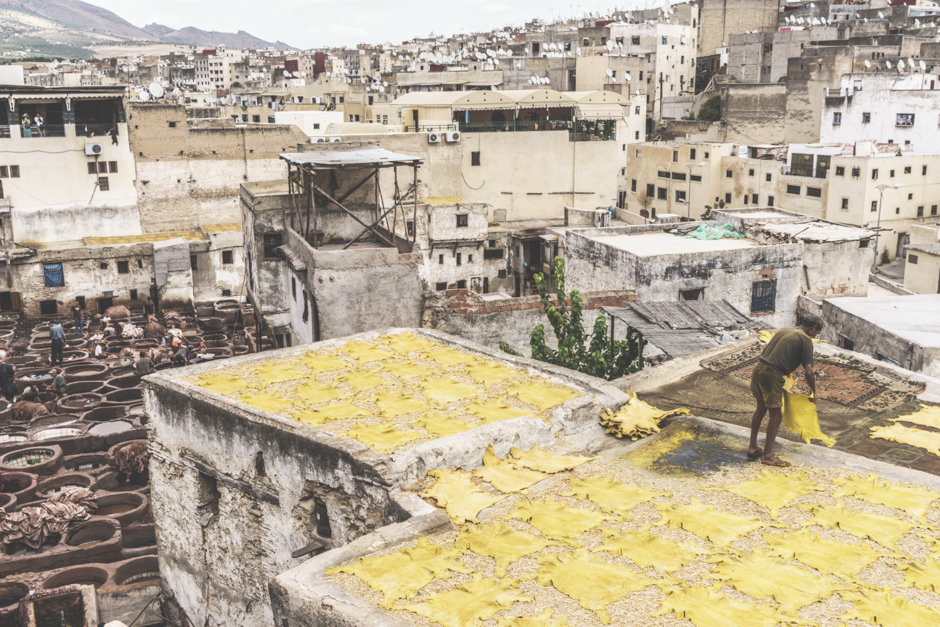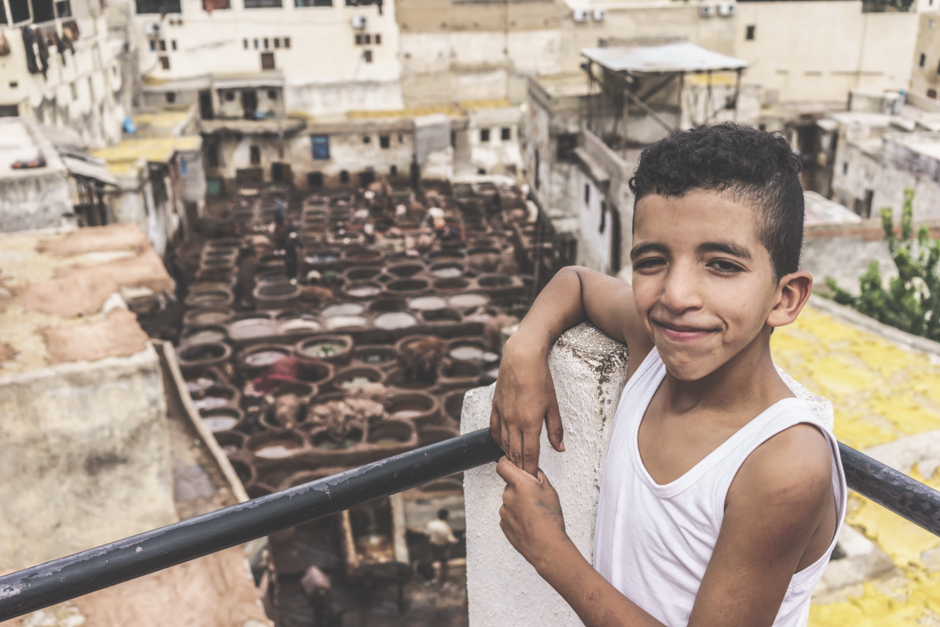 It was magnificent.
From there, Omar took us to his brother's rooftop cafe where we sipped on a few Berber coffees, then to the terrace of a rug store where we watched a group of women hand-make an Arabic rug.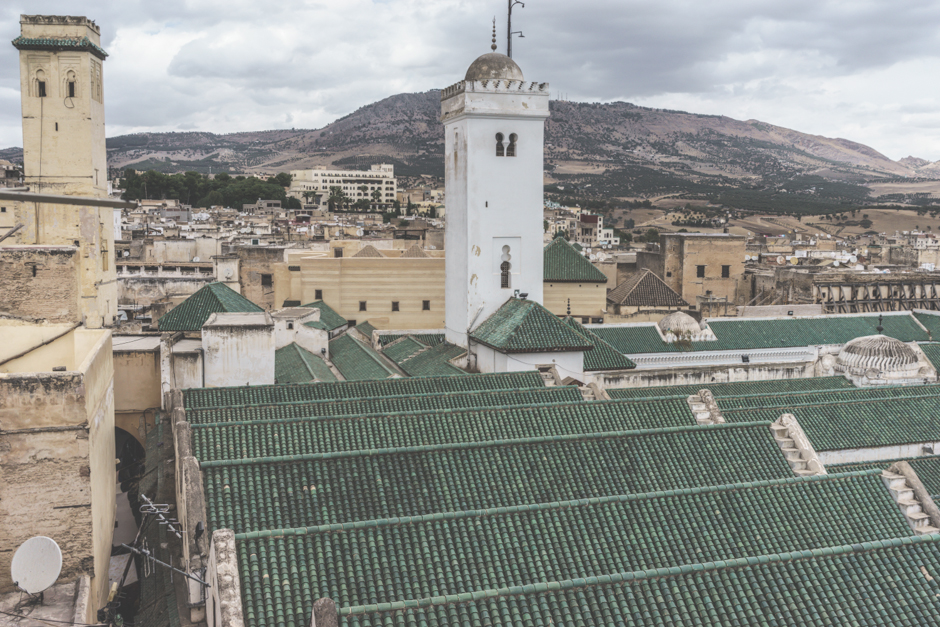 Omar was so well connected in the city, a 7 year-old socialite. With a quick stop at a local spice shop and a visit to a popular square where men crafted cookware, Omar finally left us where we had started off.
We were speechless. This small child had just showed us all there is to see in this ancient city. He spoke 5 different languages and had the street smarts of a 30 year-old American urbanite. He was special, and we wish the best for him in life.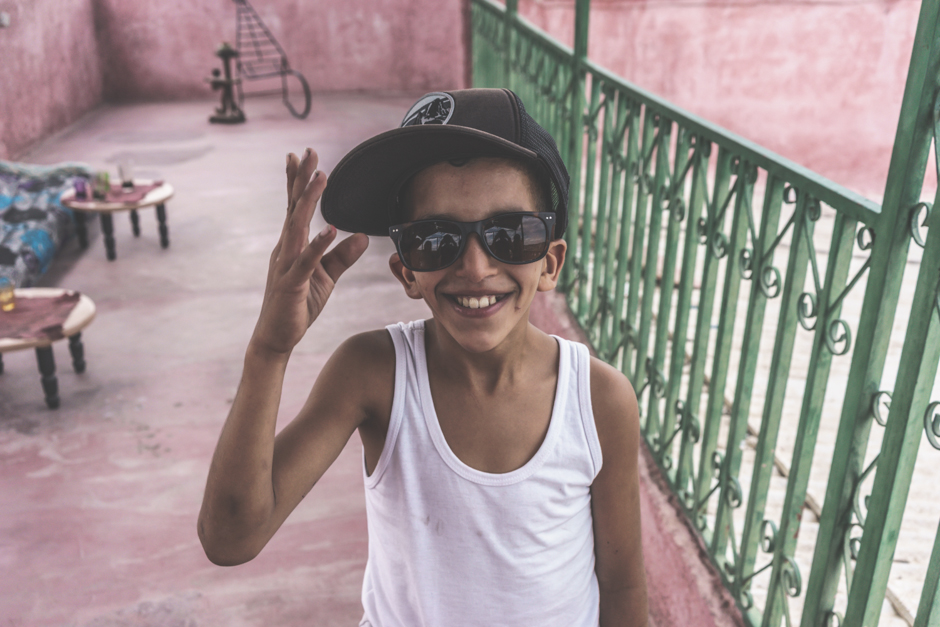 That night, while lying in our room, and as Emily took a shower, in arrived our new roommate – Jack.
Jack Clark, his full name, an adventurous fellow from Melbourne, Australia.
As we chatted, it turns out Jack and his girlfriend had recently cycled from Istanbul to London on second-hand bikes that they picked up in Turkey. We had, at some point, unknowingly crossed paths in France.
What were the odds? A couple, with the same idea and sense of adventure as ourselves. It was as if we had just connected with our twins from a parallel universe. Super trippy.
The whole next day we stayed in, blogging and route planning. At night, we went out with Jack for a quick bite to eat.
Before we knew it, we crossed paths with a group of 14 year-old boys. They were friendly, so we chatted for a bit. They taught us some phrases and then showed us how to write our own names in Arabic.
As we said goodbye and walked away, Ismail, one of the boys, ran up to us.
"Come to my terrace!" he exclaimed. "Come, come! You'll have a view of the entire city!"
We were a little hesitant, but quickly gave in. Up a round of stairs we went as all the boys followed. A door swung open and there we were, yet another terrace with an incredible view of an ancient medina.
The boys were so excited to show us their city. They even had their mom make us a round of mint tea. Then, as the sun set, they walked us home.
Friendship, conversation, it's all they wanted. These kids of Fez were something else.
The following day, Jack joined us on a bus to Chefchaouen.
Imagine a place where all the streets, buildings, doors, pots, signs, and windows are a cool shade of blue. Everything, blue. Sky-blue, snow-blue, blue-blue, and blue.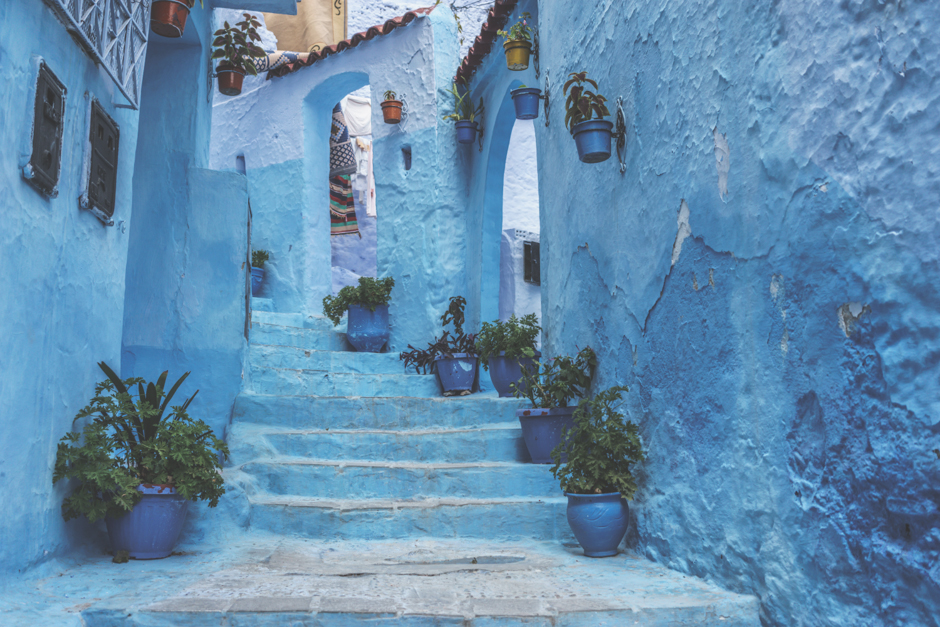 Yet a place where the people are a warm shade of friendly, glowing with the yellows of the sun, melting away any frigid feelings within the cold-colored walls. This place, a place very much on the border of imagination and the Rif Mountains, is Chefchaouen.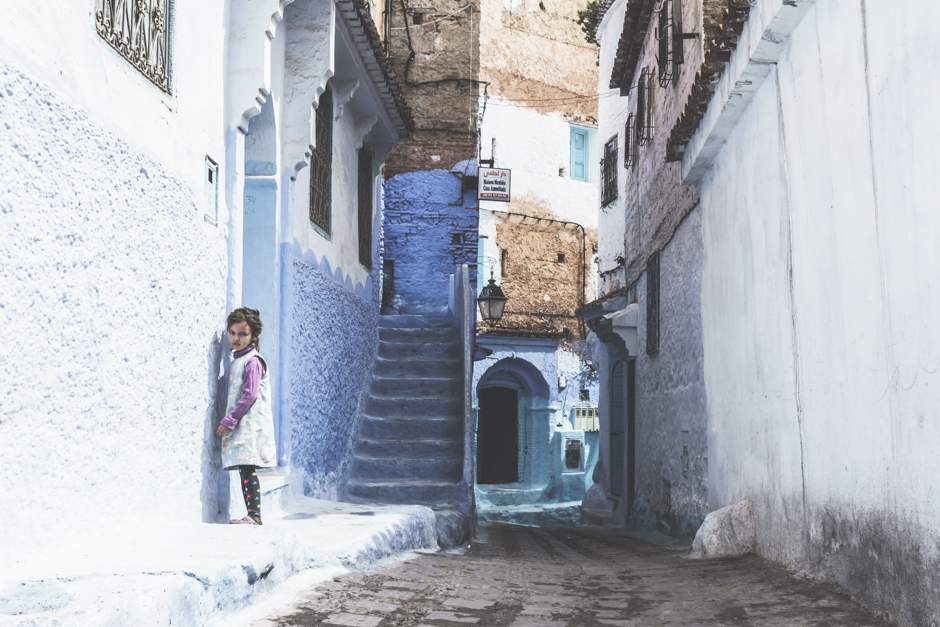 This was, in this world so new to us, a whole new world. The streets were calm, the people were laid back. All the haggling, all the scamming, it was all gone. Calm. Silence. Peace.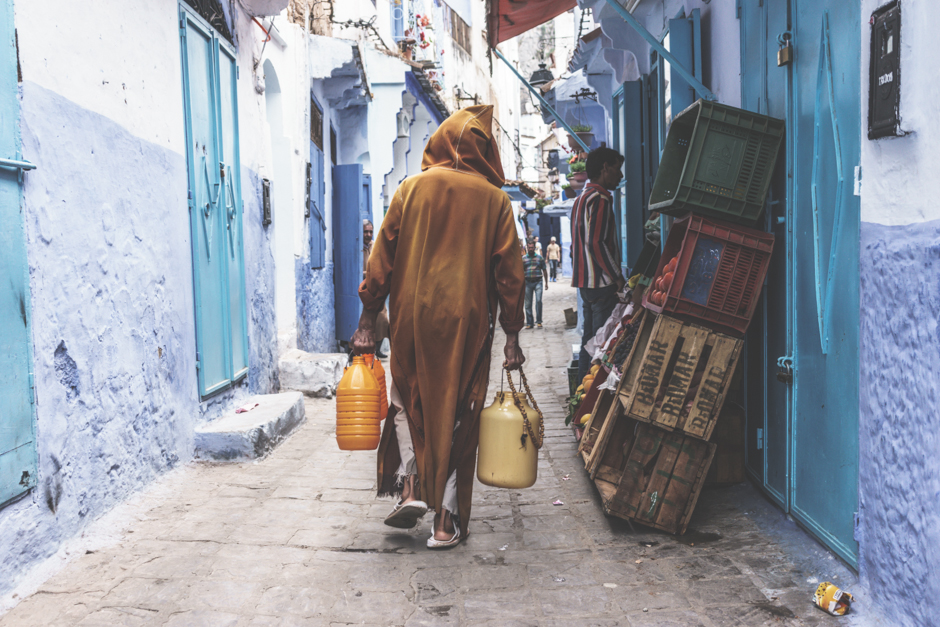 This small oasis was a breath of fresh air in a drowning sea of Moroccan madness.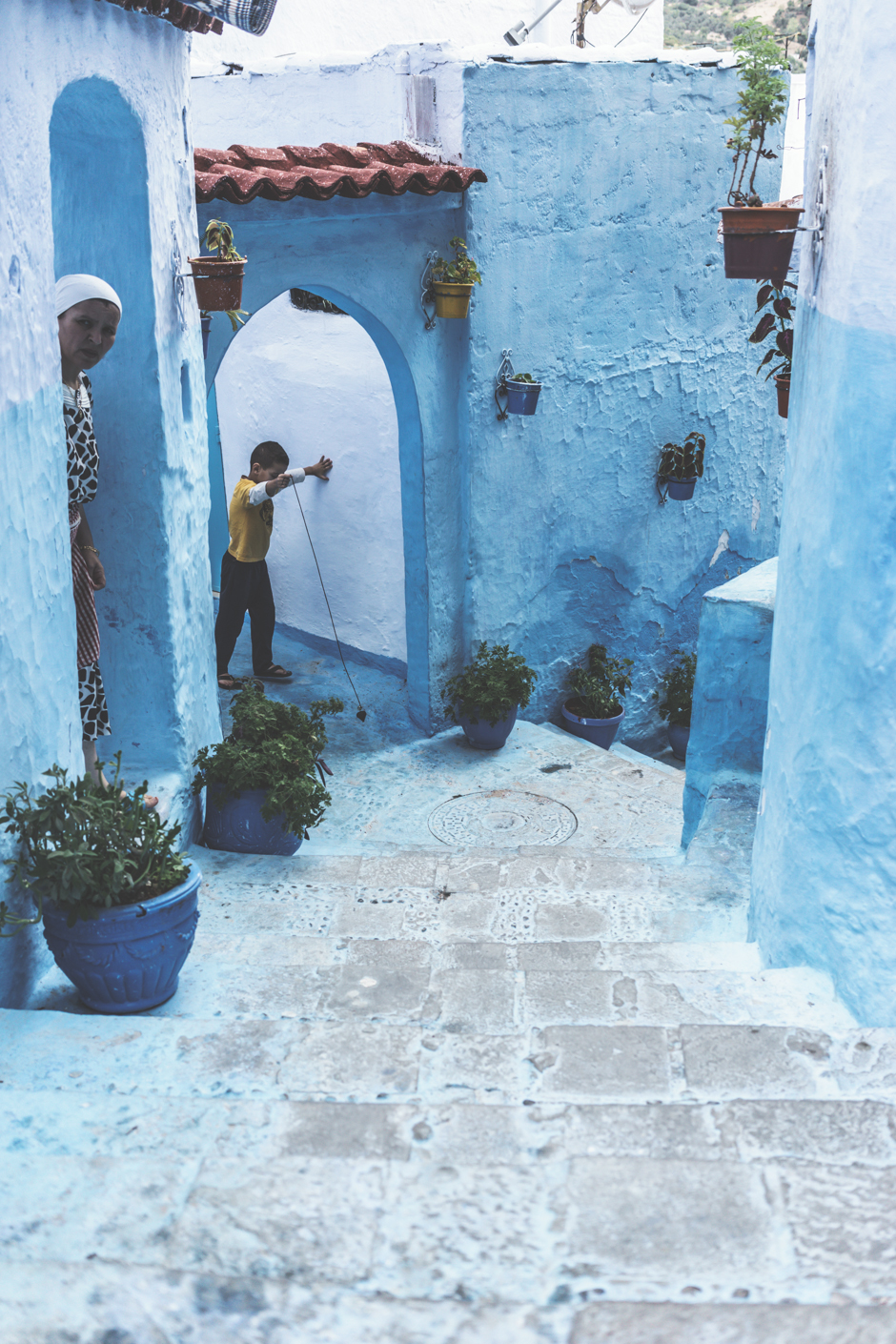 We ate where we wanted, shopped on our own accord, gazed leisurely without any pressure to buy. We even had a local store owner show us how to make paintings with sugar and took a walk with a couple local men to watch the sun set from atop an adjacent mountain.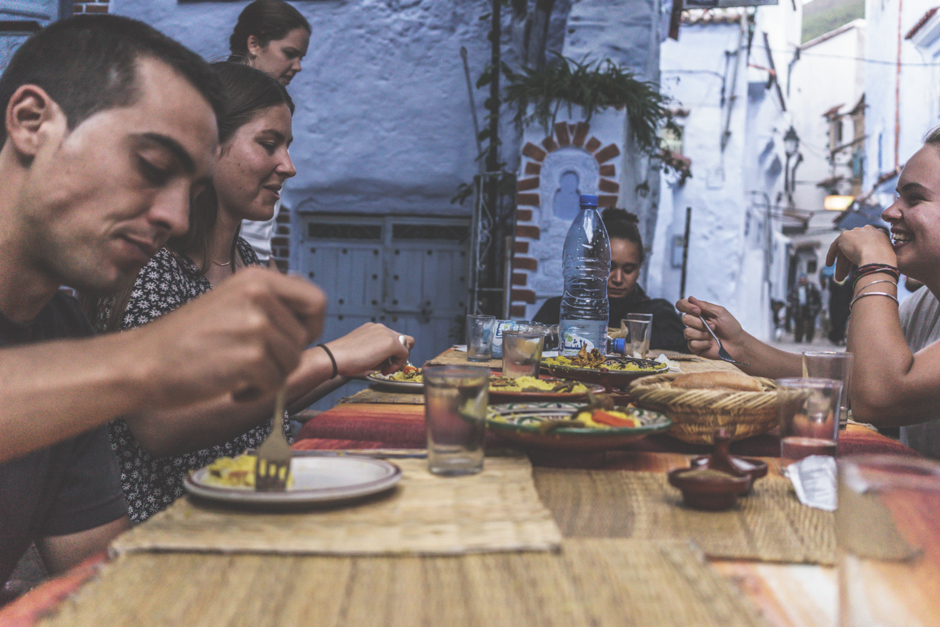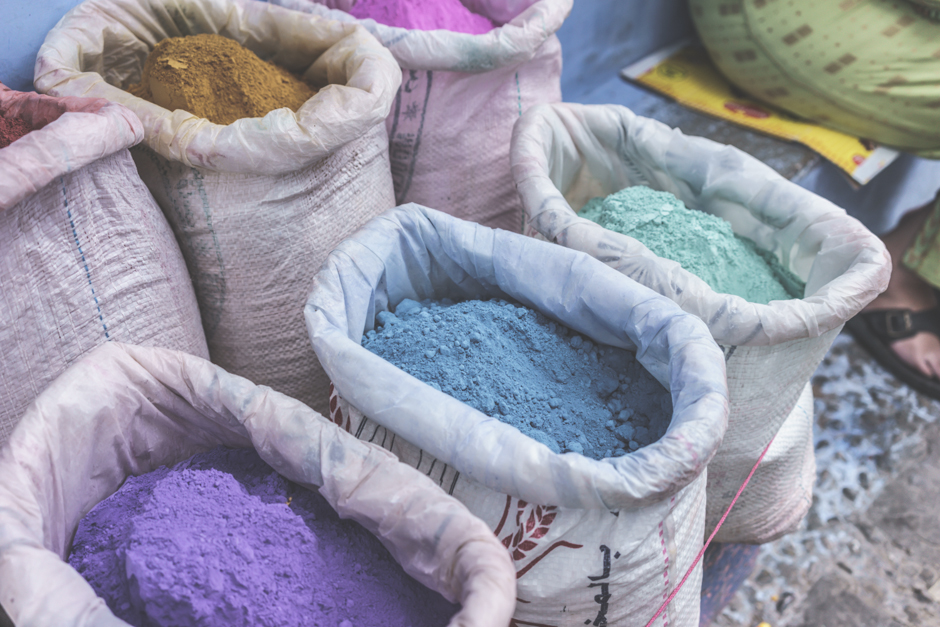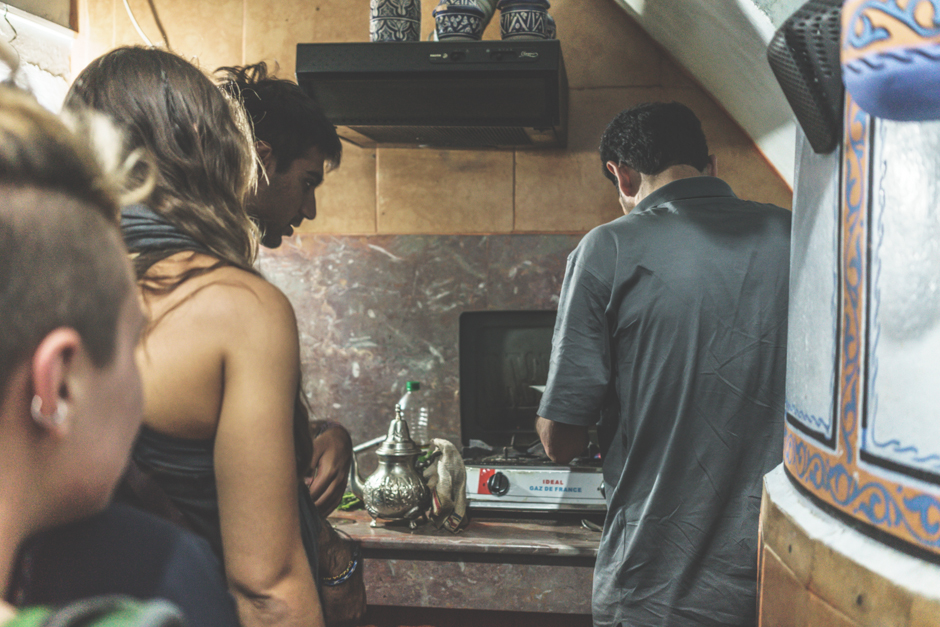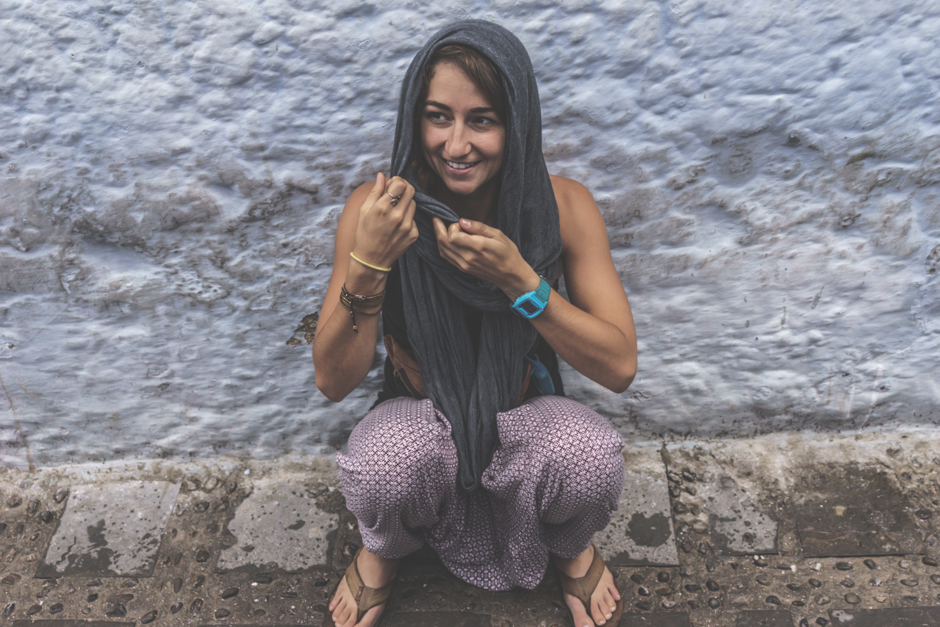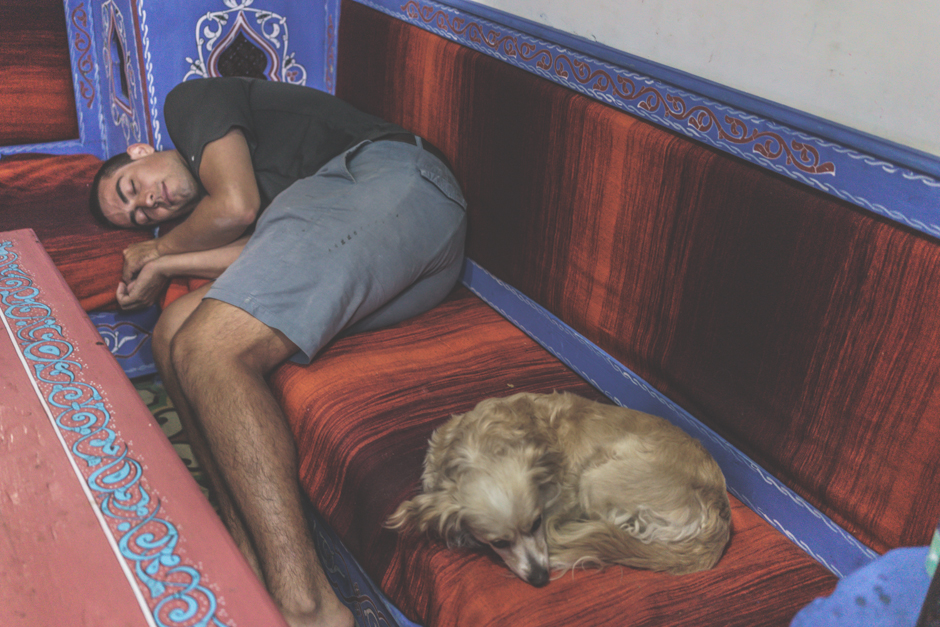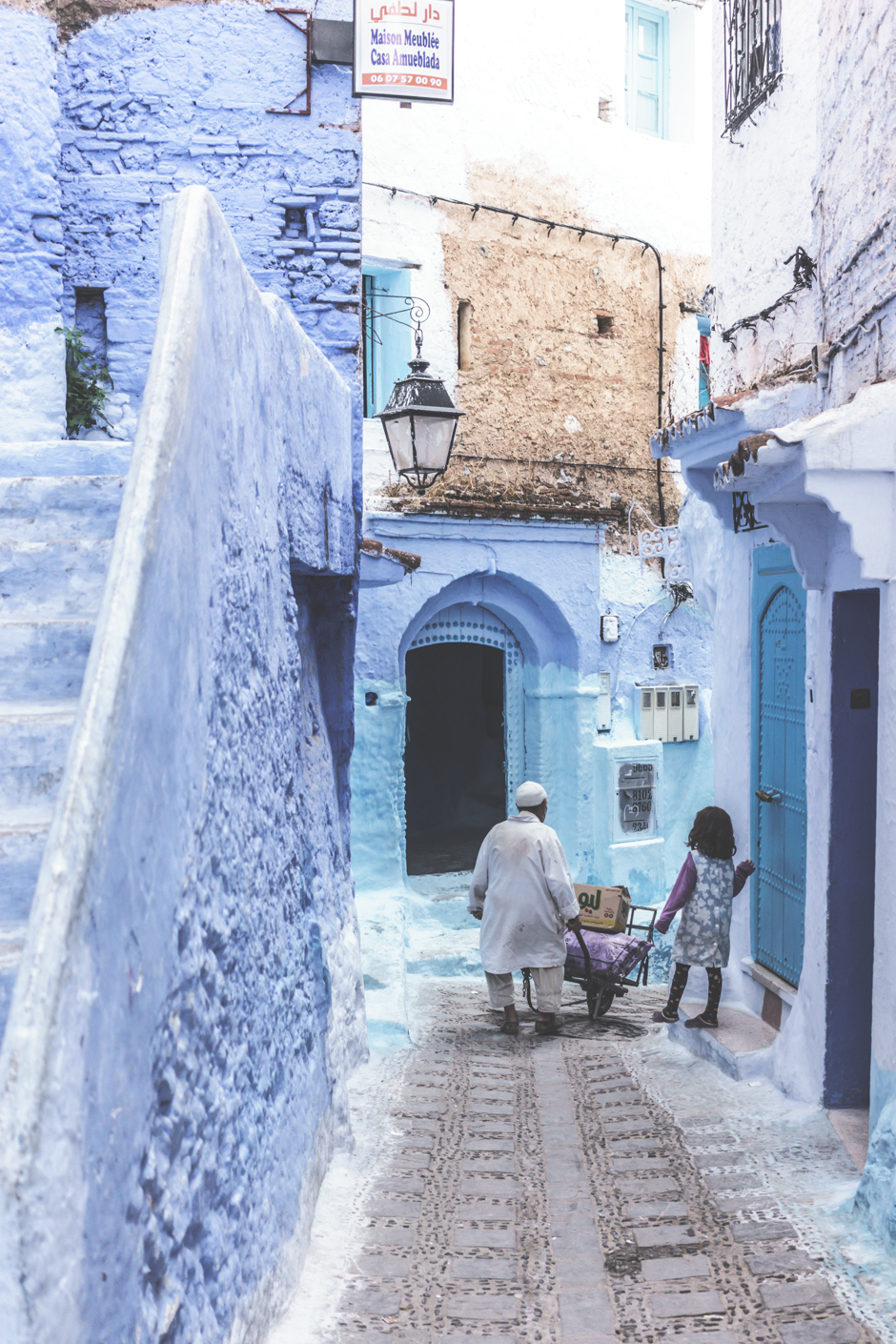 This city was, for certain, the perfect end to our adventure in Morocco.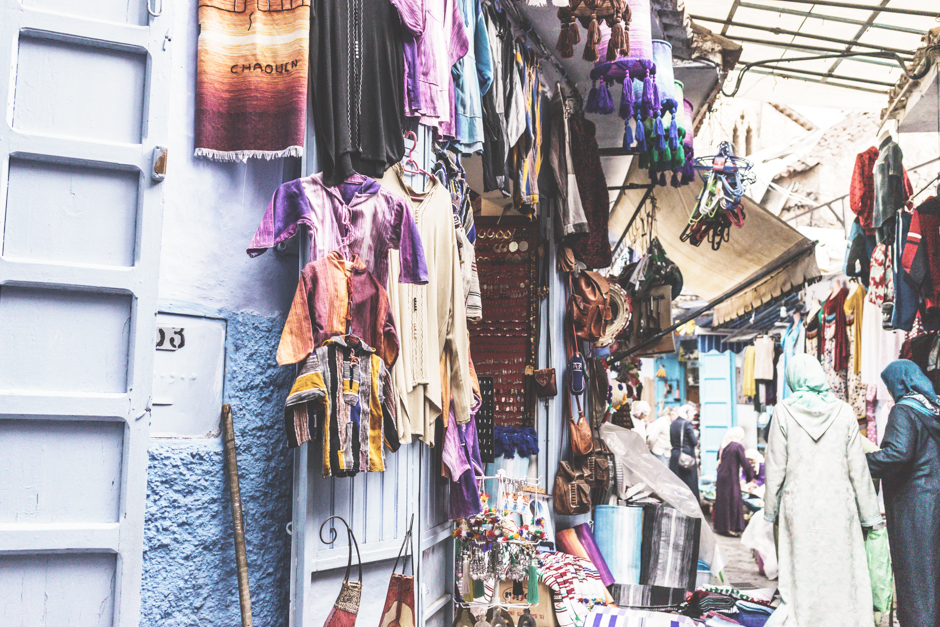 As our time in this peaceful village withered away, Emily and I found ourselves on a bus back to Tangier, with our new friend Jack.
Jack was just beginning his adventure in Morocco, but for us, it was back to the modern world.
Saying our goodbyes and agreeing to rendezvous in Australia later this year, we parted ways and boarded our ferry back to Spain.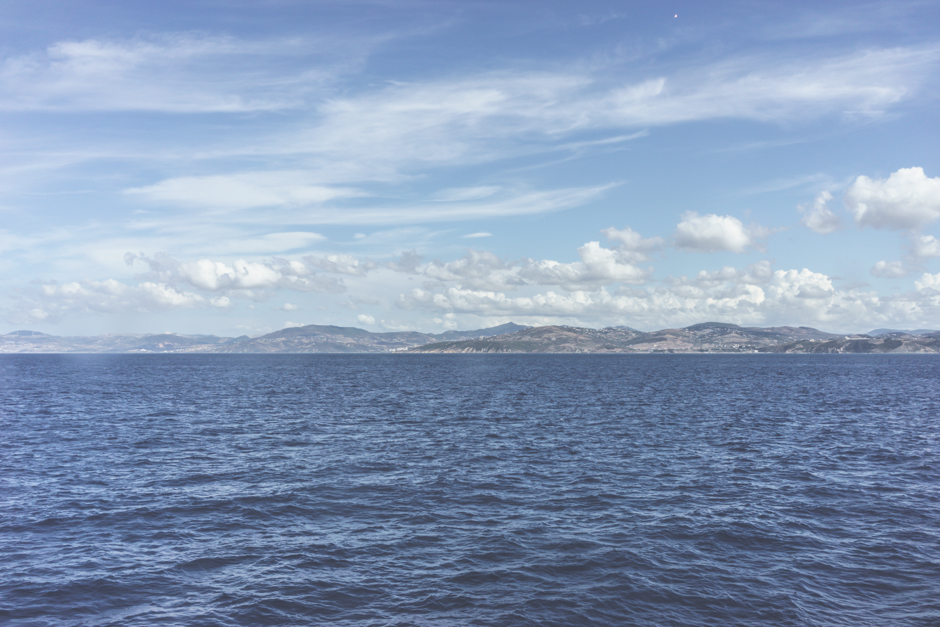 Like with Jack, Morocco, one day we'll meet again.
||| Want to see more photos? Click here. |||