"Would we take the train today?" We asked ourselves as we quickly finished packing our bags, reminiscing about our time in Bilbao. We had spent the last four days as locals- slightly inebriated, drinking Kalimotxo and eating tortilla during Semana Grande.
Saturday, August 23rd, 2014
During our last ride from Zarautz to Bilbao, the cycling had taken its toll on my body. A past knee injury began to flair up and by the time Friday had rolled around, I was unable to bend my knee past ninety degrees. Barely able to walk down stairs, I was unsure how I would ever complete our upcoming ride to Madrid.
Doctors orders would tell me to rest. Doctors orders would tell me to stop cycling.
Instead of continuing to break down my body, Kevin and I decided we would catch a train from Bilbao to Burgos, in hopes that a couple more days off the bike would help reduce the swelling.
We were hopeful as we cycled to the train station, we hadn't even donned our cycling clothes. We were ready to sit back, relax, and watch the mountainous landscape pass us at 160km/hr.
All hopes were gone the moment Kevin went to buy the train tickets.
We were told no bicycles were allowed on the train.
I was crushed.
Quickly, we checked the local trains and decided to board one that would take us further out of the region, bypassing as many large mountains as possible.
This local train stopped about 45km out of Bilbao, in the small town of Urduña. From this point on, with no connecting trains available, our only option was to ride.
My heart sank as we exited the train station and saw that the town was located in a small valley… surrounded by mountains.
The only way out was up.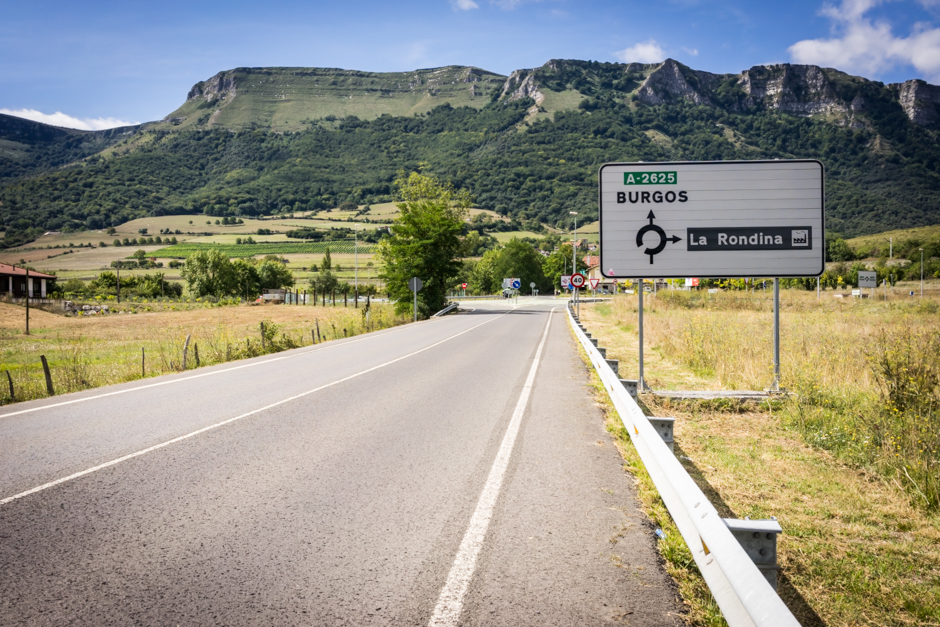 A couple ibuprofen (and some tears) eased the pain as we slowly climbed 2,000 feet (600m) to the 3,000ft (900m) summit of Monte Santiago. I regret ever complaining about the hills in France, because this was a true mountain.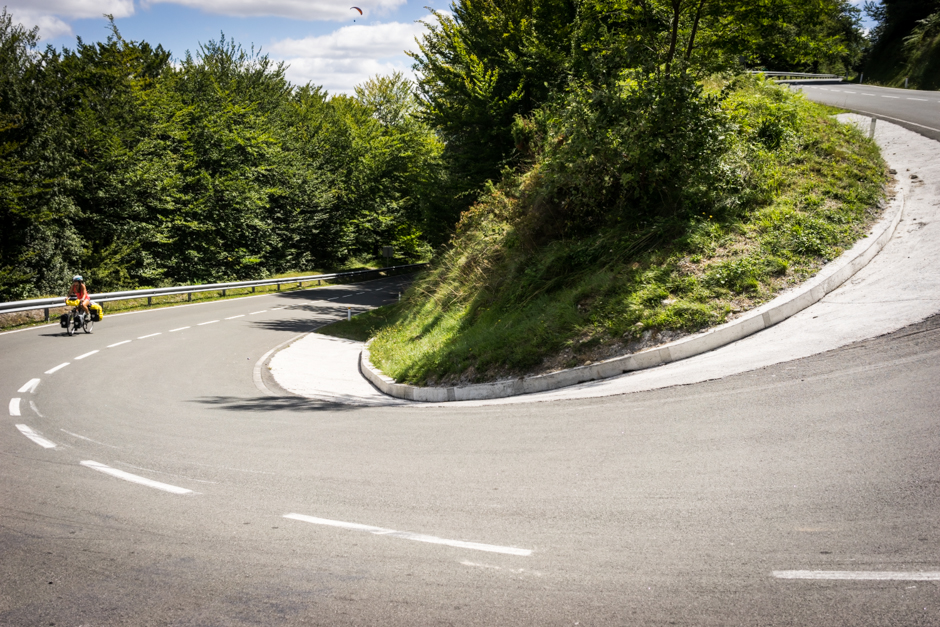 There was a feeling of pride and accomplishment when we reached the summit, overlooking the valley where we had been an hour and a half earlier.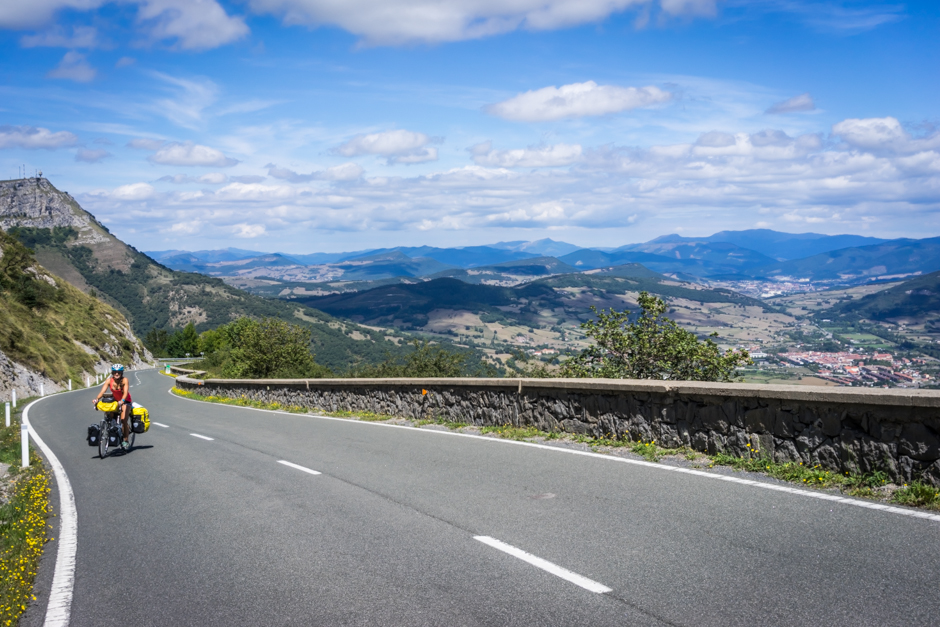 "We just conquered a mountain," Kevin said to me.
I smiled, realizing that anything is possible if you just keep pushing.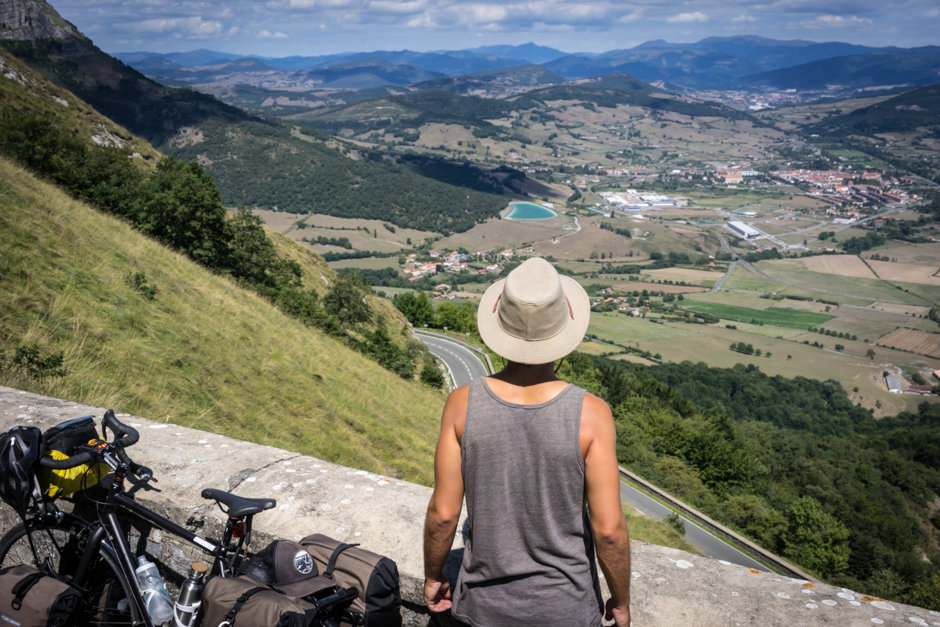 With eight vertical kilometers down, we had sixty left for the day.
Luckily, what goes up… must come down.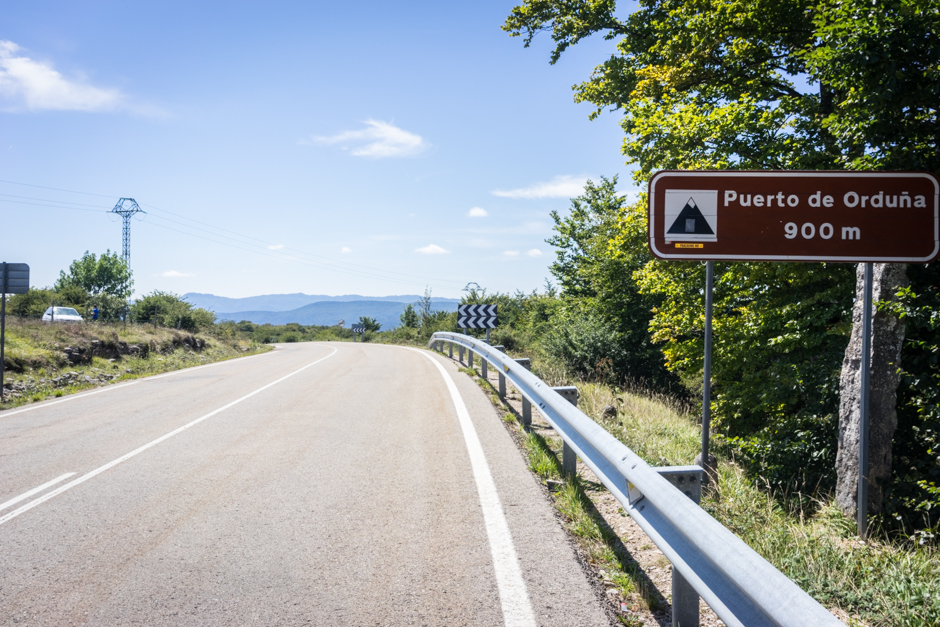 We rode downhill for the next three hours, arriving at the small town of Miranda de Ebro.
After another failed attempt to catch a train at the nearest station (and more ibuprofen), we cycled an additional 15km to settle for the night at a campsite 70km east of Burgos.
Sunday, August 24th, 2014
Sunday morning we were back on our bikes. We didn't know what to expect from the terrain today. Spain had given us coastal hills, flat farmlands, mountains, and today… more rolling  hills (and headwind).
We slowly fought the wind, barely crawling towards Burgos. The wind so strong that if we stopped pedaling it would push us backwards.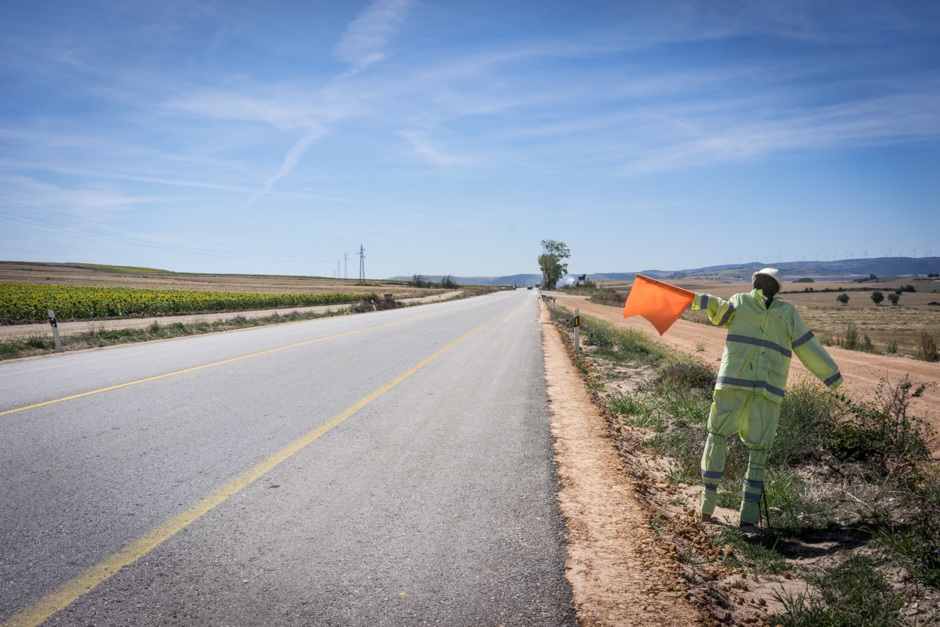 If Monte Santiago had taught me anything, it was to simply take it one pedal at a time.
20km away from our campsite and with the sun setting, we eagerly looked forward to a warm shower and some dinner.
Then, unexpectedly, my tire went flat. A piece of metal wire, the culprit.
We quickly fixed the flat at the nearest dirt pull-off and rode away. Two minutes later, flat again.
We hurriedly walked to a gas station we had seen 1km prior, where we knew we could find some shade and escape the passing traffic.
We again fixed the flat, much easier with an air compressor.
As it was now 8:40pm, we called the Burgos campsite to inquire about their hours of operation.
They were set to close at 10pm.
We now had 1 hour and 20 minutes to travel 21km with 60+ pounds of gear on our bicycles. This would be impossible with the hellish conditions we had battled all day, slowing us down to an average of about 10km/hr.
Magically, the gas station attendant assured us that it would be all downhill and flat from this moment on.
What were the chances?
Off we went. Hauling ass down the mountain we had been climbing all day, maxing out at 45km/hr. All the pain in my knee had disappeared, I couldn't let it prevent me from having a good night's rest.
With only 10 minutes to spare, we finally arrived at our Burgos campsite. A quick high-five and a giant hug followed… we couldn't believe we had just made it.
We quickly set up our tent in the dark, had a quick snack, showered, and went to bed… absolutely exhausted from the day's adventure.
Monday, August 25th, 2014
Monday morning we were ready for a bit of a rest.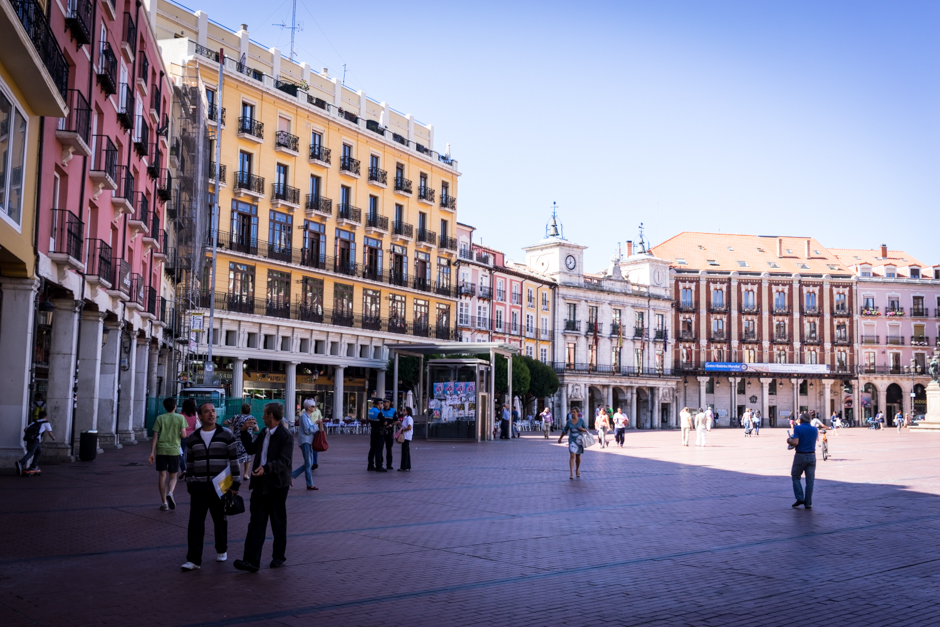 Burgos, a main stop on the Camino de Santiago, was an enchanting little town. Small winding streets led us past their Cathedral and up the hill to the Castillo for a panoramic view of the city.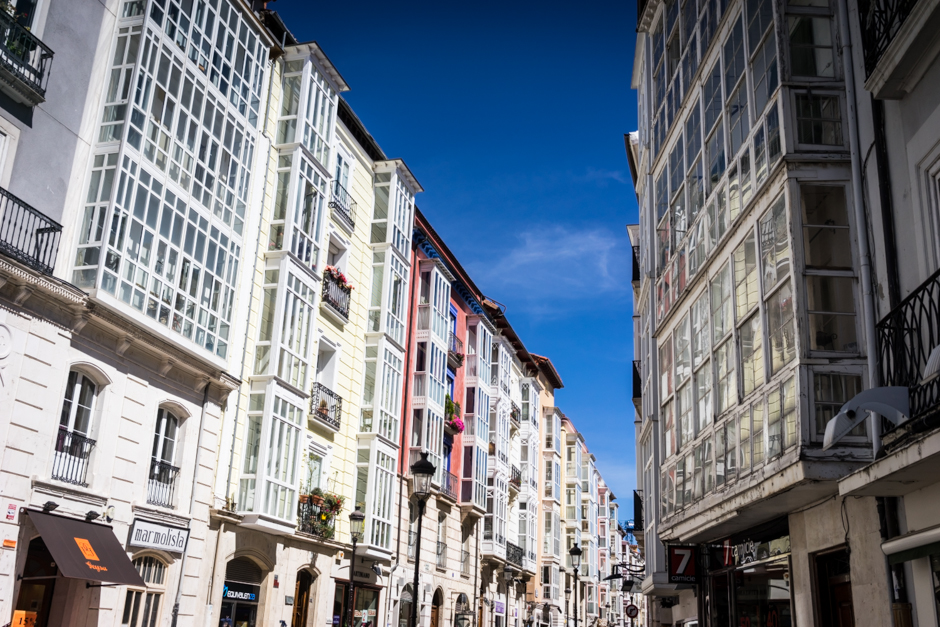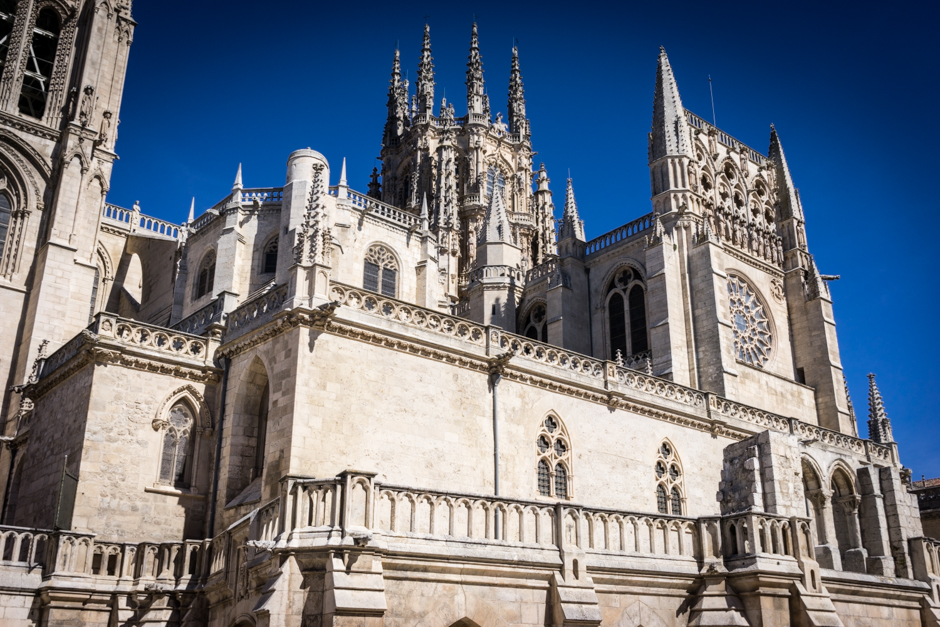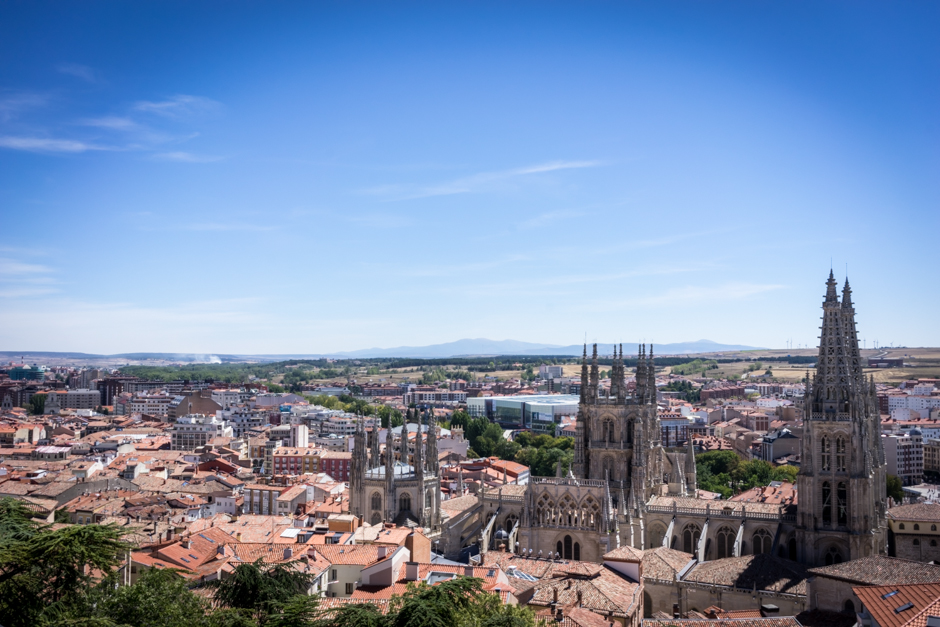 After exploring the old town for a few hours, we spent some time blogging and editing photos in a local cafe before heading back to our campsite.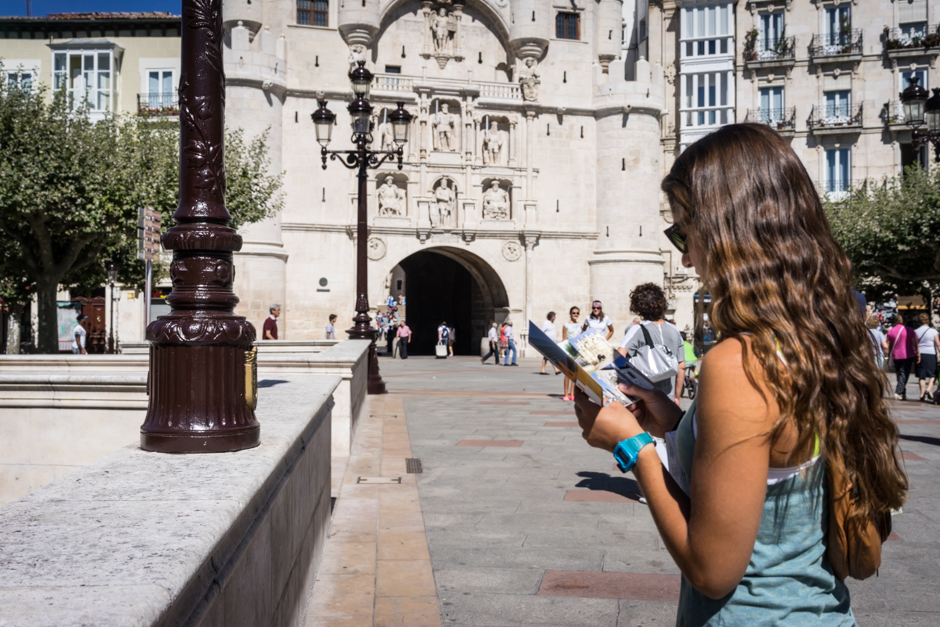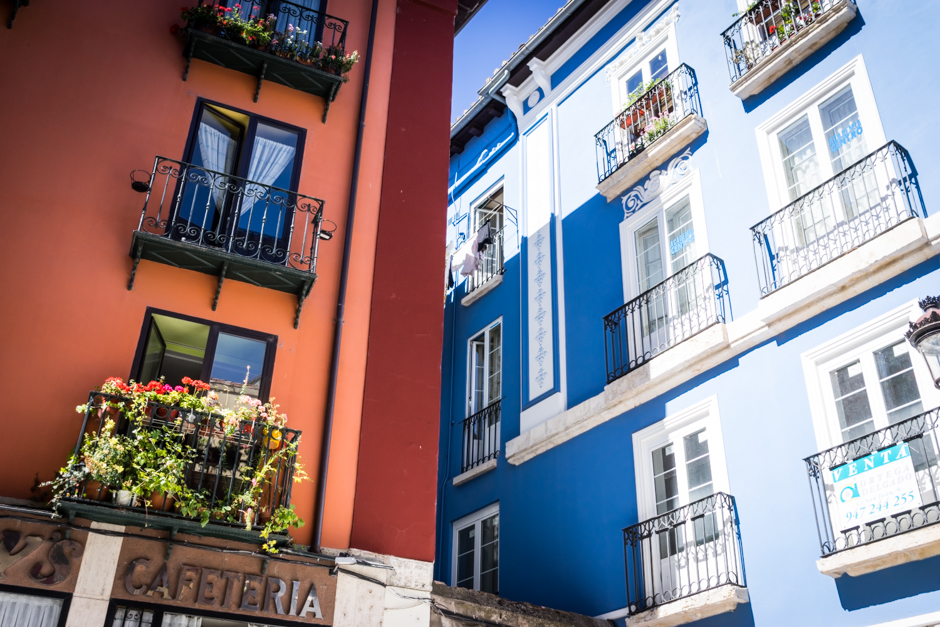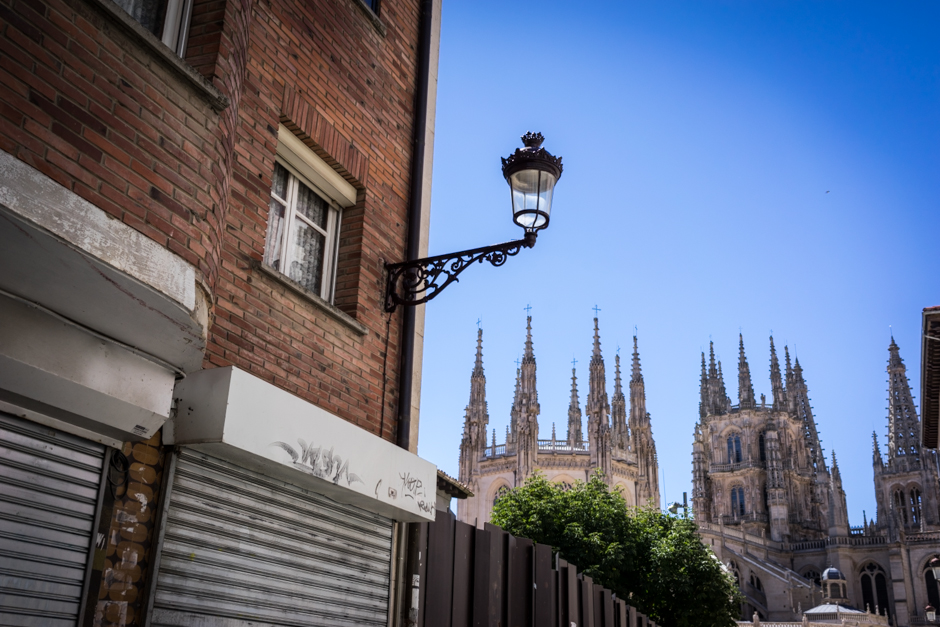 In the morning, we would try one last time to catch the train.
Tuesday, August 26th, 2014
The morning of August 26th would take us down one of two very different paths.
We would either be in Madrid today or we would cycle 250km over the next 4 days, pushing through continuous knee pain, empty deserts, and high heat.
We arrived to the Burgos train station one and a half hours early for the train to Madrid.
I eagerly waited outside as Kevin disappeared through the sliding glass doors.
A few minutes later he emerged… head low with a look of defeat.
He looked me in the eyes…
… "we can take the train!!!"