Saturday, August 9th, 2014
We arrived at 8pm, Biscarrosse. On an airplane runway we rode on the way to a pilot's home in a pilot's village. No one was home, but a key awaited us behind an address plate. In we entered, showered, ate, slept. No sight of the homeowner, other than a chain of text messages welcoming us into his home.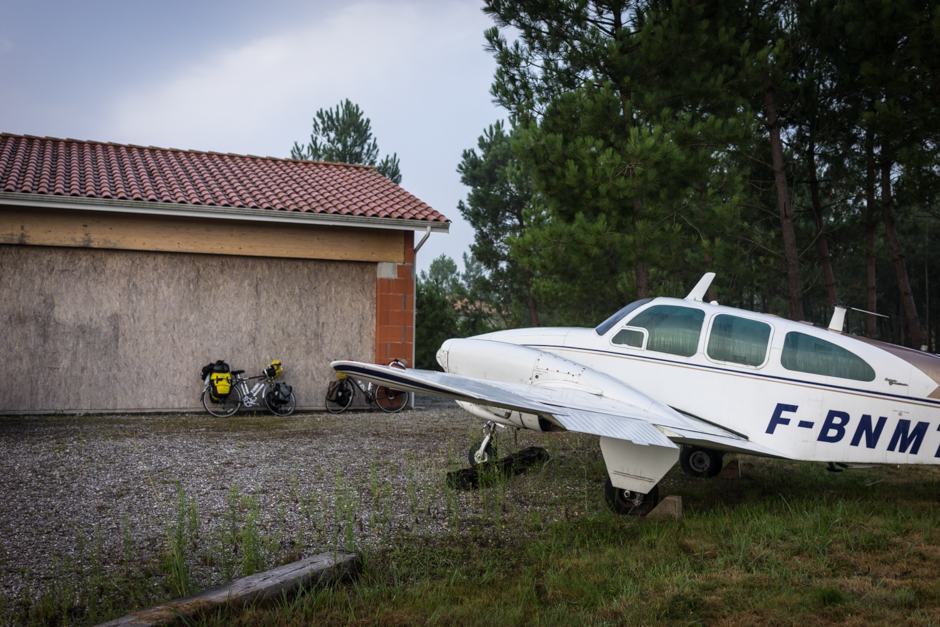 Neither Emily nor I are very religious, but this night began a journey on which we'd encounter countless Earthbound angels.
On our way to Bilbao from Bordeaux we followed the coast, with plans to complete a portion of the religious pilgrimage, El Camino de Santiago, from San Sebastián to Bilbao.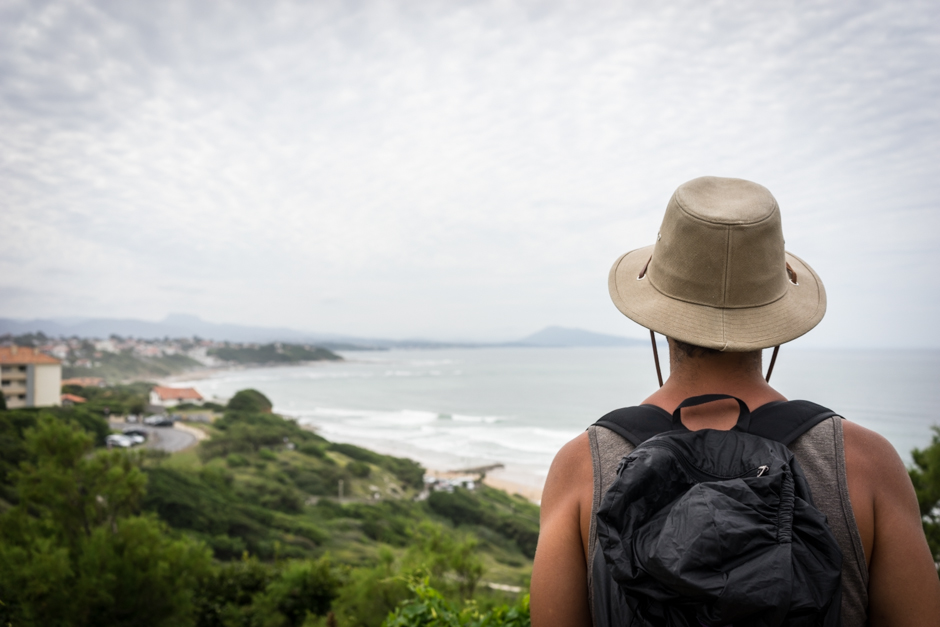 Sunday, August 10th, 2014
After Biscarrosse we found ourselves at a campsite just north of Biarritz, where we met a family from the Netherlands, cycle touring from Nantes to Hendaye. Renée, Kase, Okke… those were the names of this uplifting threesome. With much enthusiasm, we stood around sharing tips and tales from life on the road.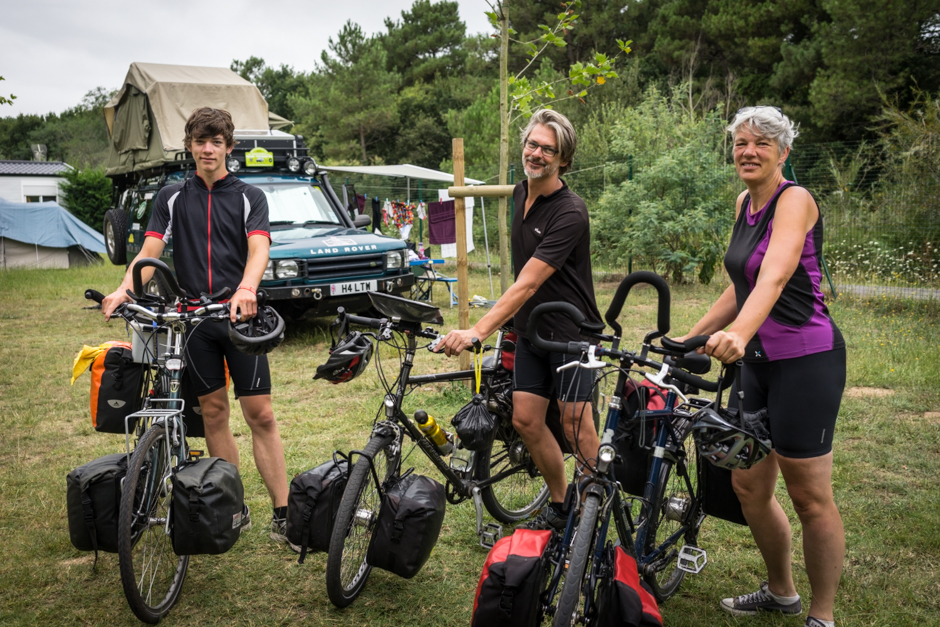 Having previously pushed our bikes through 2km of thick sand in an equestrian forest (don't ask), we were quite tired and headed off to bed.
Monday, August 11th, 2014
The next morning, as we packed our bags to hit the road, out of nowhere appeared the young Okke with a baguette. He handed the baguette to Emily, wished us a good journey, and then wandered off never to be seen again.
Shocked by this random act of kindness, we continued south toward Biarritz where we planned to stay for one night.
Arriving in the city, stuck beneath a vicious downpour, we stood homelessly on a sidewalk awaiting responses from Couchsurfing hosts. When none replied, and with no campsites in sight, we travelled south toward Bidart.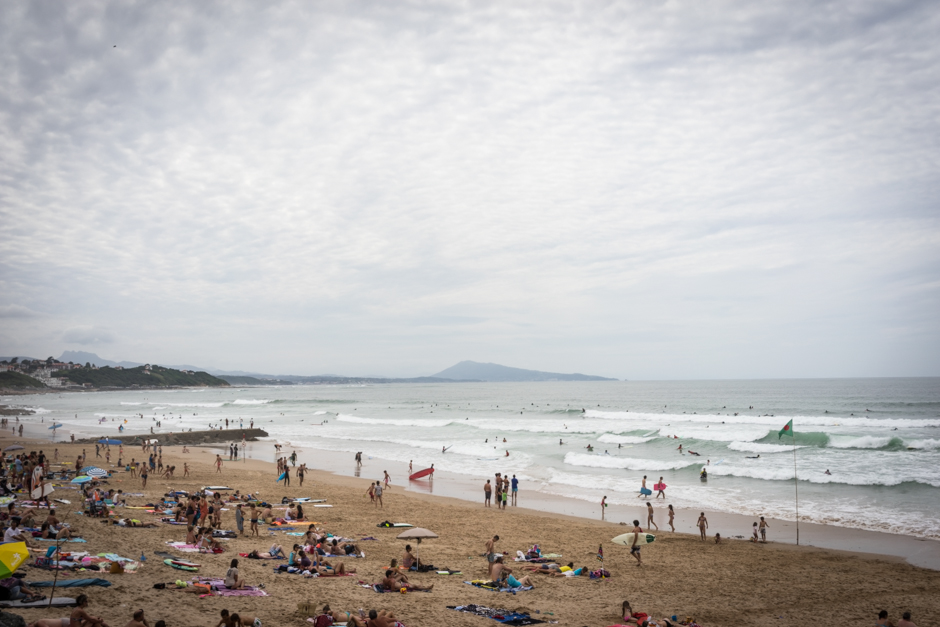 The city was packed. The entire region was packed. It was summer by the beach and all of France was on holiday. Inquiring at three different campsites, we rode eleven additional kilometers until we found a site with vacancy. Luckily, the site we came to was right by the beach in Bidart, a beach town where we would stay for the next two nights.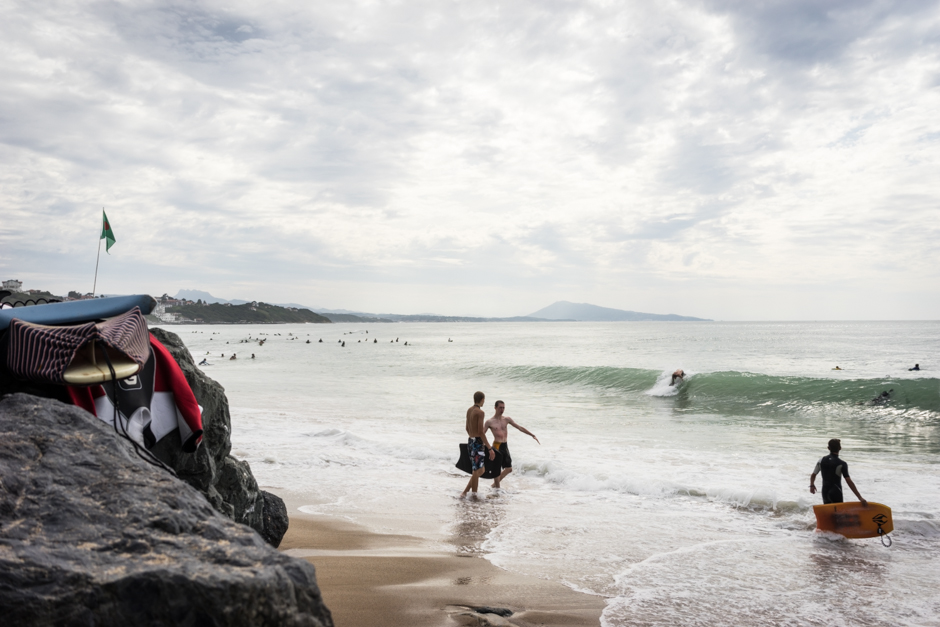 The first night we were off to bed early, beat from a day that was suppose to be easy and leisurely. Once asleep we were awoken by a loud thump. I rushed out of the tent, only to find a belligerently drunk and entirely overweight old man who took a tumble right beside our tent. I tried to wake him, but he was down for the count. "You can't sleep here," I'd tell him, but all I got was "ça va bien."
Eventually, his inebriated friend hobbled over and attempted to carry him to his tent. After unleashing the loudest drunken fart, reminiscent of a fog horn, the clouded fellow wobbled off to his tent where he fell only feet shy of the entrance. That'll do for tonight.
Tuesday, August 12th, 2014
The next day we'd spend writing and enjoying the beach. With hopes of surfing Bidart, Emily inquired about surfboard rentals at a beachside shop. They wouldn't let us take a board due to overcrowding on the beach, but the nice fellow lent Emily some fins with which to body surf. I lied on the beach while she did just that, enjoying a cold beer and a very warm sun.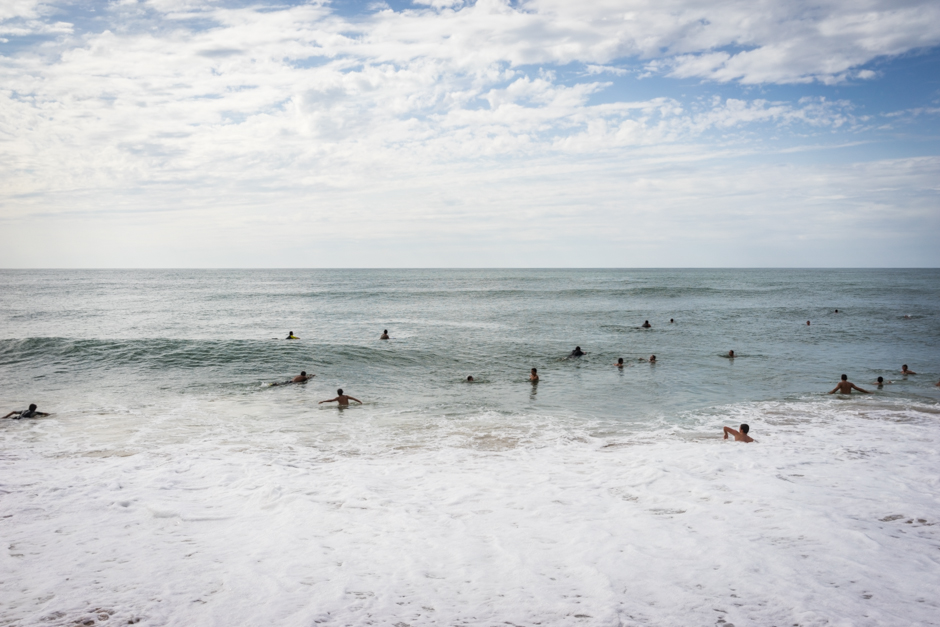 On the second night we met a nice couple from Plancherine (Eastern France), also cycle touring along the French coast. They left early the next day on the way to Hendaye, the same direction that we'd find ourselves heading.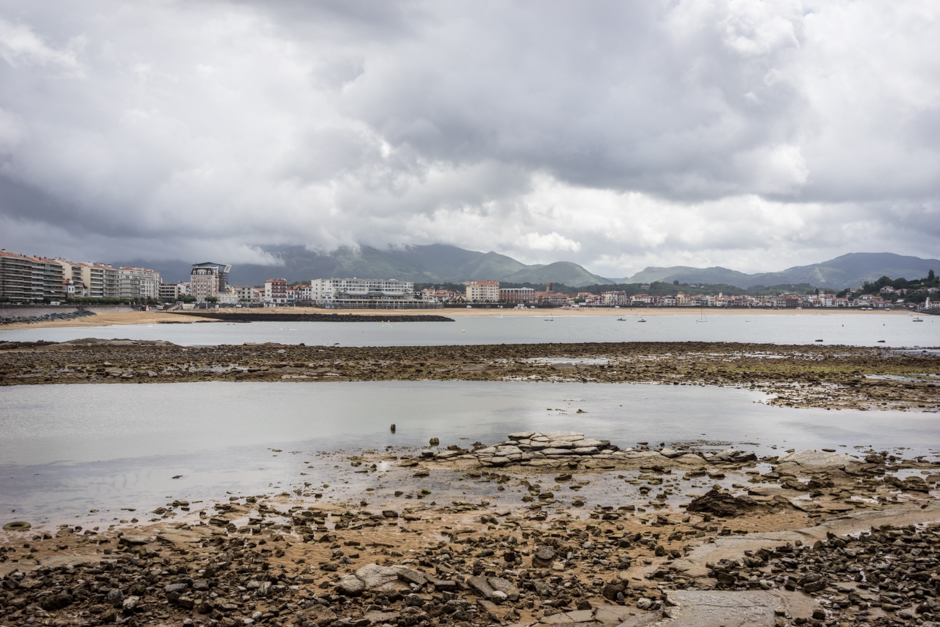 Wednesday, August 13th, 2014
Pouring rain and gargantuan hills greeted us the next day as we took a bike path along the absolutely beautiful coast to Hendaye. I changed my brakes for the first time this day, as they were barely stopping my bike's load on the downhill portions.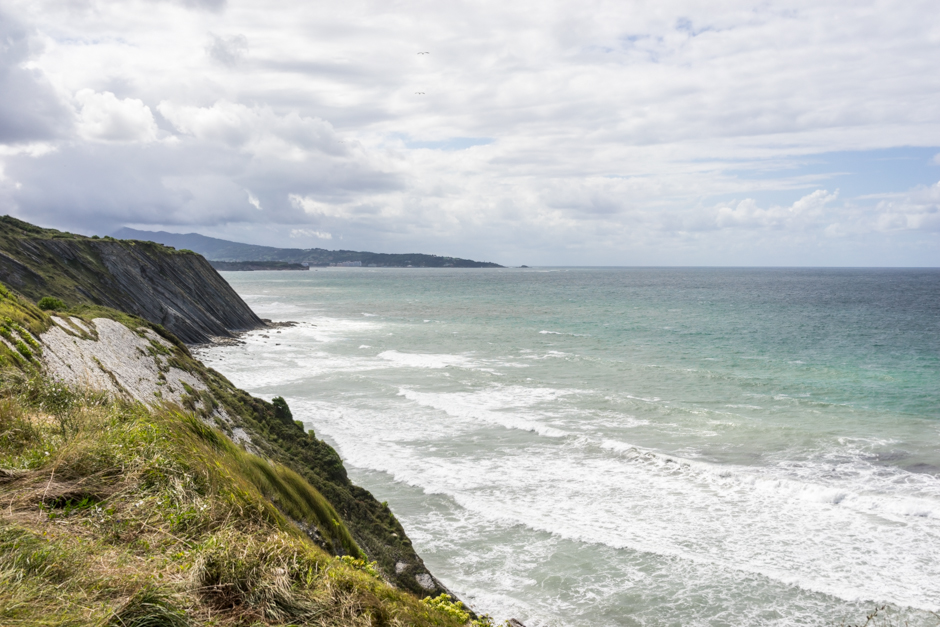 Past Saint Jean de Luz and over stormy, wind-ridden mountains, we arrived in Hendaye… unsure if we would stay the night or continue on to San Sebastián.
Deciding to stay, we had trouble finding a local campsite, so we made a pit stop at the tourist office for some advice. While waiting outside for Emily, I felt a slight tap on my shoulder. It was Herve, our fellow French cycle tourist from Plancherine. He pointed us in the direction of the campsite at which he and his wife, Catherine, were staying (only 1km away). He mentioned that if they were full for the night, we could stay on their pitch.
After a short ride to the campsite, I'd find myself speaking Spanish for the very first time on this trip, securing us a spot for the night only a few kilometers from the Spanish border. The rain poured on us as we set up camp, no mercy from Mother Nature. As we sat inside our tent, waiting for the rain to pass, Herve and Catherine arrived at our doorstep, stopping by to chat and share the delicious cheese and sausage that they had just gathered from the local market. We exchanged information and were welcomed to their mountain town if ever we wished to visit.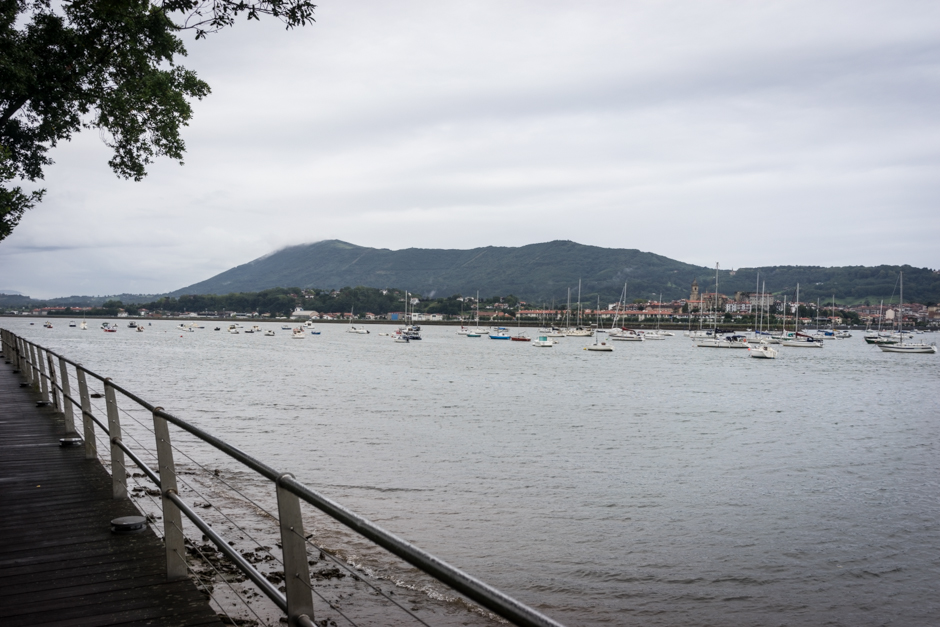 Thursday, August 14th, 2014
Awaking to yet another stormy morning, the next day we finally crossed into Spain! Irun was the name of the first town on which we'd set foot.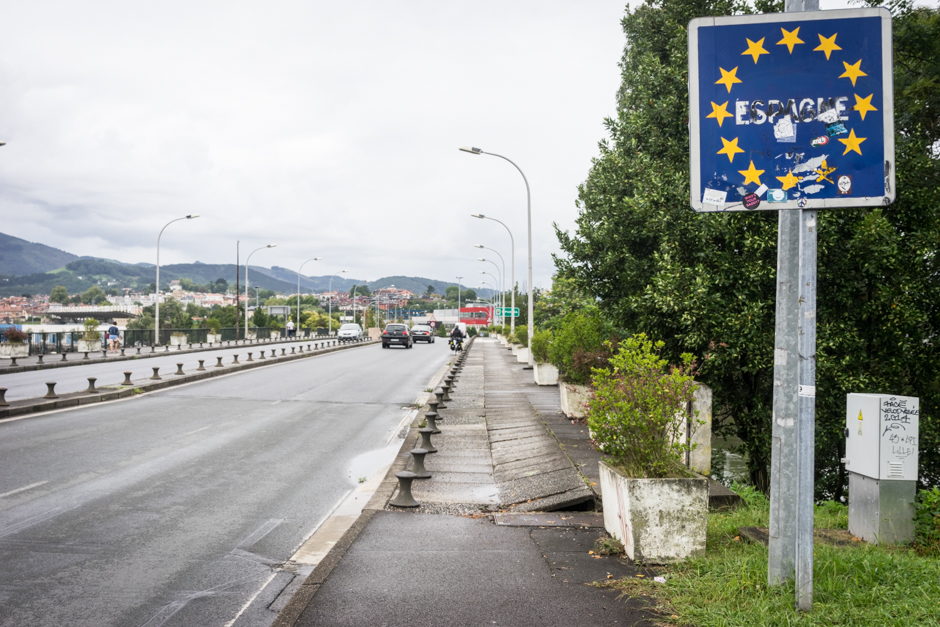 Unsure if we'd want to cycle over large mountains during a rainstorm, Emily and I began to consider taking a local train to San Sebastián.
Unable to find the local station, a man appeared, again out of nowhere. With a small dog in the basket of his bicycle, he graciously offered to guide us to the train station.
Off we rode, following this man and his pup through the streets of Irun to the train station. Once around the corner, he wished us good luck and rode off.
"How does this keep happening to us?" we thought to ourselves.
In minutes we found out that the train to San Sebastián would only cost us €1.30, so we took it. Discouraged by Mother Nature's merciless ways, the decision was easy. Facing another day of rain and hills would've been detrimental to our mental health.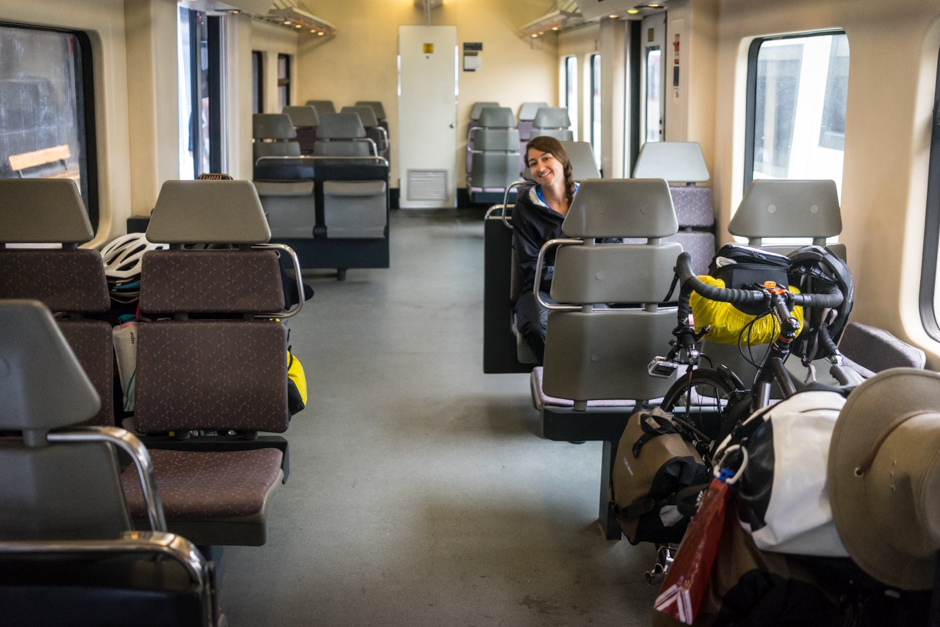 Once arriving in this majestic city (seriously, one of the most beautiful places you could ever visit), we sat at a park bench trying to determine the best way to obtain our pilgrim passports for the Camino de Santiago. We were also on our smartphone, trying to find a place to stay for the night. It was Semana Grande in San Sebastián, so all the local hostels and campsites were either completely full or incredibly expensive.
Low and behold, in front of us appeared Pili, yet another terrestrial angel that would guide us on our way. She asked if we're on the pilgrimage, and once we shared that we're trying to start in San Sebastián, she began offering us advice and directions for obtaining the credentials and finding the pilgrims' hostel. She spoke with us for 15 minutes and then walked away into the crowd of tourists.
As Emily and I arose from our bench to ride toward the credential office, the elderly Pili came running out of the crowd. "I'll take you there!" she exclaimed in Spanish, "follow me to my bike!."
We followed, and once on the bike she rode us all the way across town to the pilgrim's hostel, where we would be able to both acquire our credentials and stay for one night. With a big smile and a quick "adios" she disappeared down the small, dimly lit street.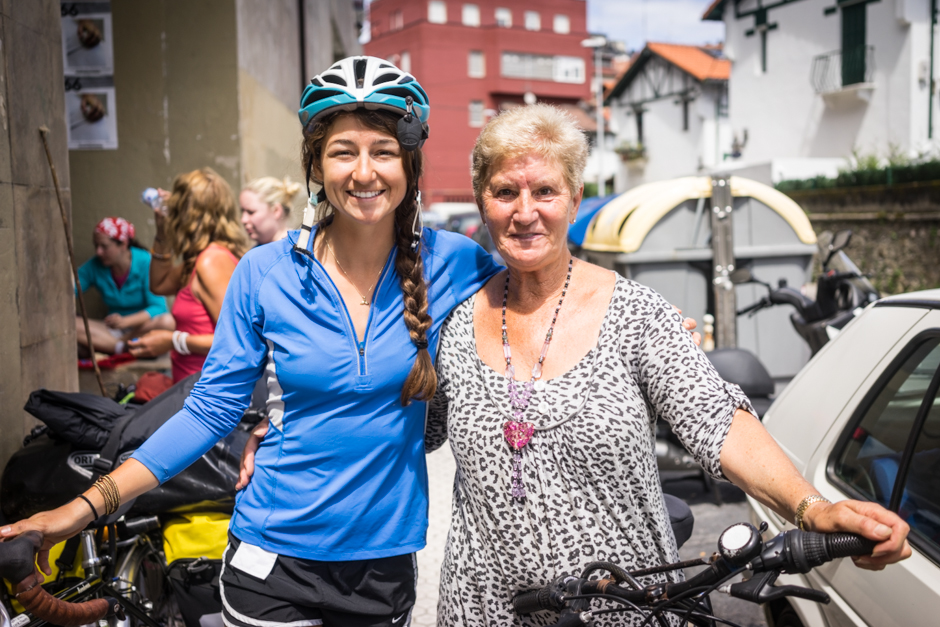 Once inside the hostel we met a group of friends from Barcelona who invited us out for some drinks. We accepted the invitation and wandered the streets of San Sebastián with our new Spanish friends- Elena, Daniel, Sergio, and Juan Mark. We drank "Tinto de Verano" while watching the sunset over San Sebastián and then stopped at a small bar for pintxos and cheap wine. The city was entirely alive for their week-long festival, and we quickly lost track of time. With the hostel doors closing at 10pm, we sprinted across town to make curfew.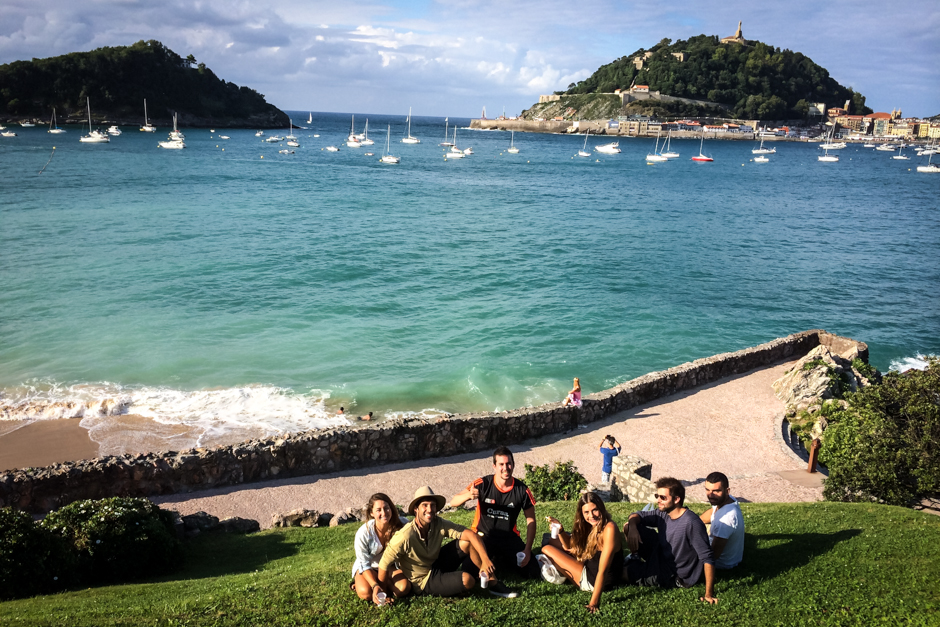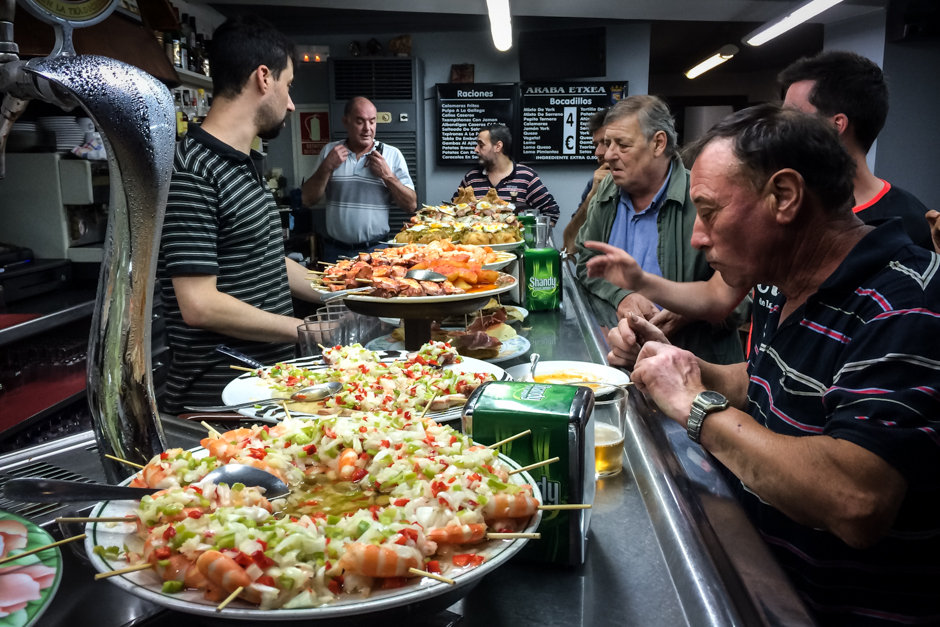 Friday, August 15th, 2014
The next morning our Spanish friends continued their Camino westward, but we decided to stay in San Sebastián for one more day.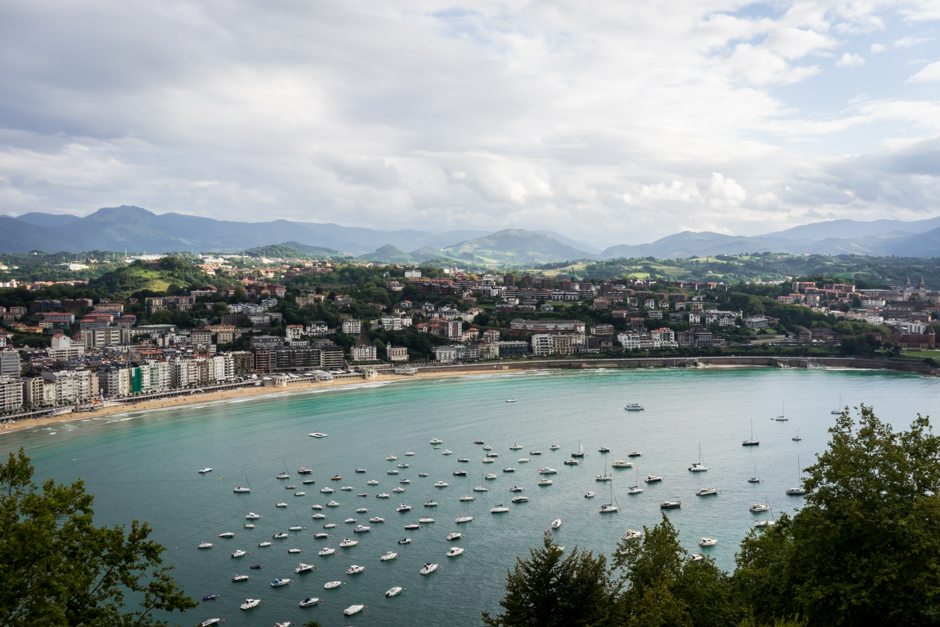 Still with no place to stay in this beautiful city, we sat outside a coffee shop sending Couchsurfing requests and searching for affordable hostels/campsites. With no success, we eventually gave up and just decided to explore the town. "It'll all work out," we thought.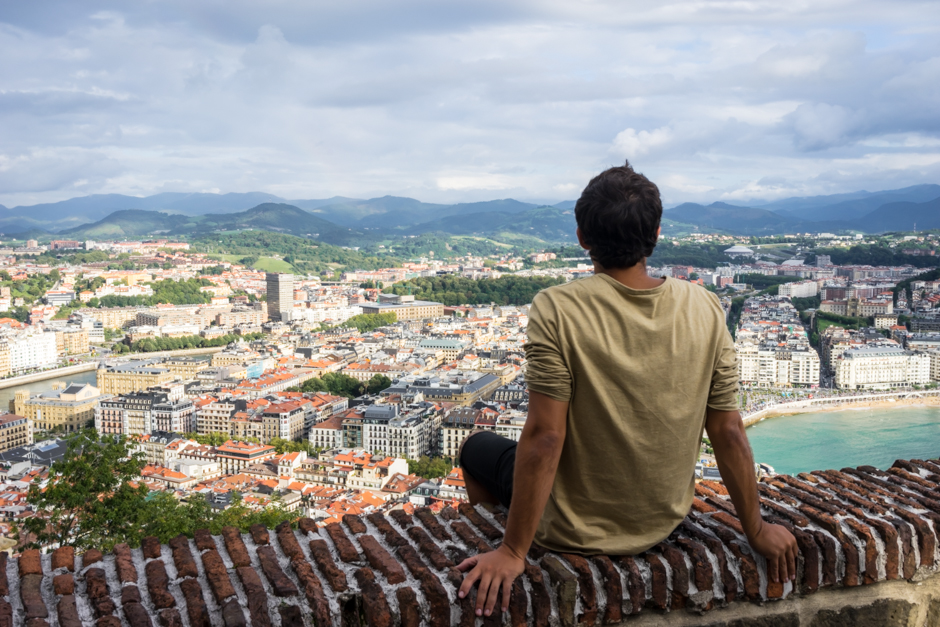 While at a small grocery shop, picking up a few snacks for the day, we were met by a small old man. "Are you on the Camino de Santiago?" he asked. "Yes, but we cannot find a place to stay for the night," we replied. He then proceeded to tell us about a hostel up on a hill only 5km from town. After brief guidance and small talk, we followed his directions and found our way to the hostel. With vacancy found, we were overjoyed. We dropped our bags and bikes off and then ventured back into the city for more pinxtos, wine, Semana Grande parades, and an amazing firework show over the bay.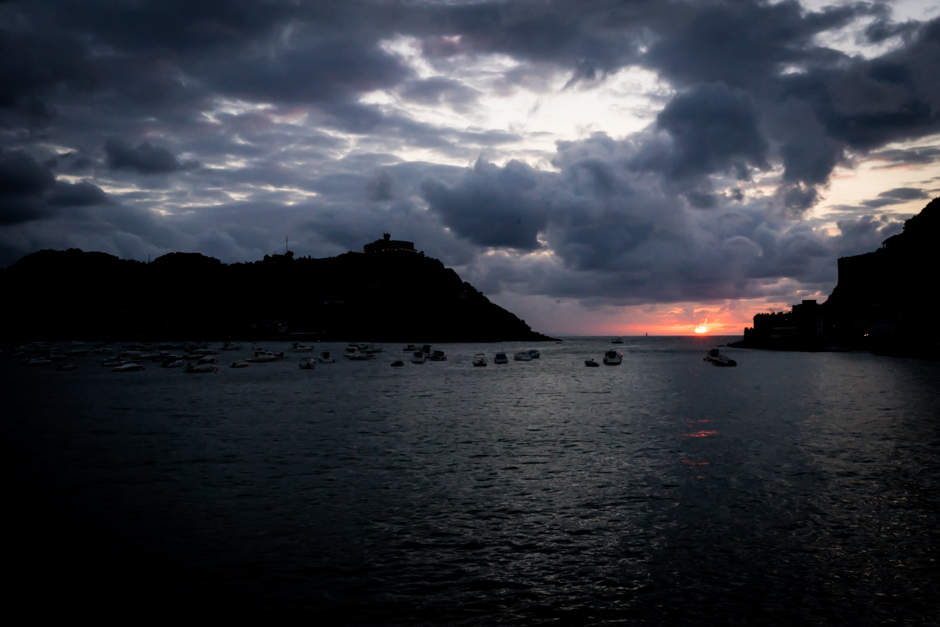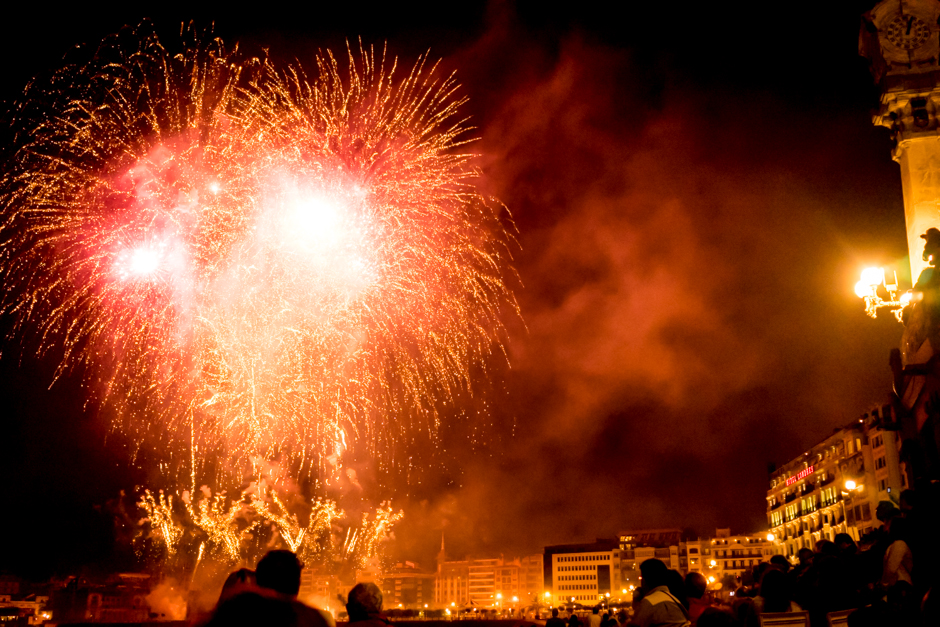 Saturday, August 16th, 2014
After an amazing night, our first priority for the next day was to send a load of gear back home. Our bikes were simply too heavy for the mountains that we were set to face in Spain. We sorted through our bags and sent home a collective 30lbs (15kg) of stuff. Unnecessary clothes, our entire kitchen set (which we never used), solar panels, and a slew of other things. We were able to each cut down an entire bag, leaving us with only 5 bags of gear each.
After ridding ourselves of unneeded baggage, we rode 30km to the small beach town of Zarautz. The mountain roads were strenuous, but the views made it all worth it.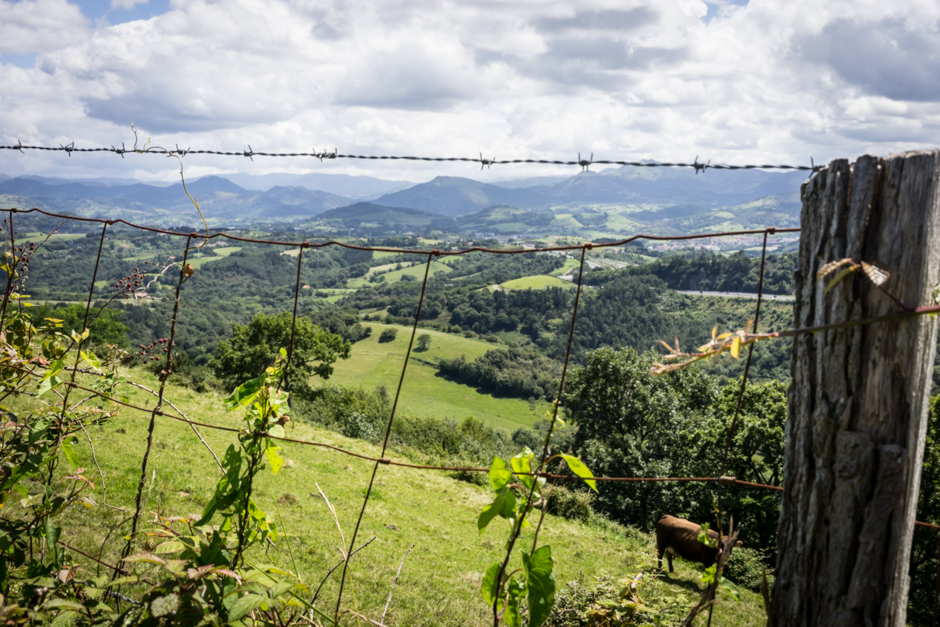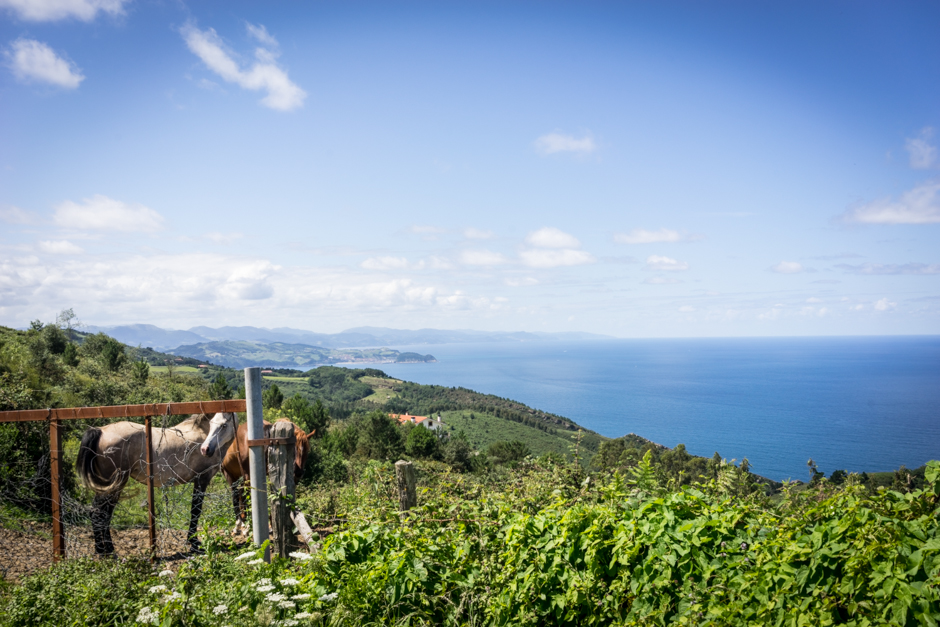 Once in Zarautz, we found the campsite that our Spanish friends had been staying in and we were given the perfect spot overlooking the ocean.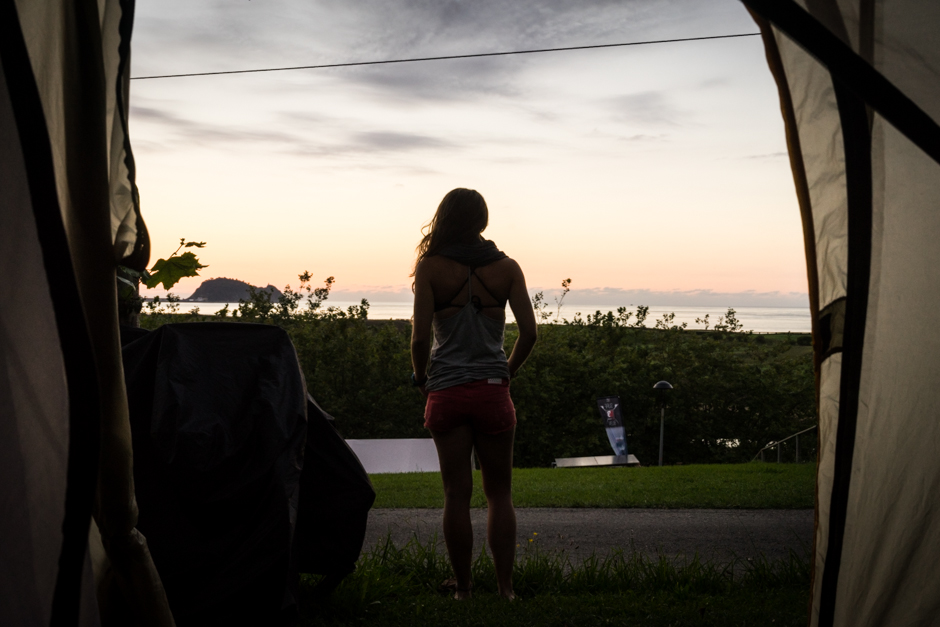 After setting up camp we met up with our Spanish crew and hit the town. It was Semana Grande in this city, as well, so the night was spent sipping wine, drinking beer, and munching away at delicious pintxos.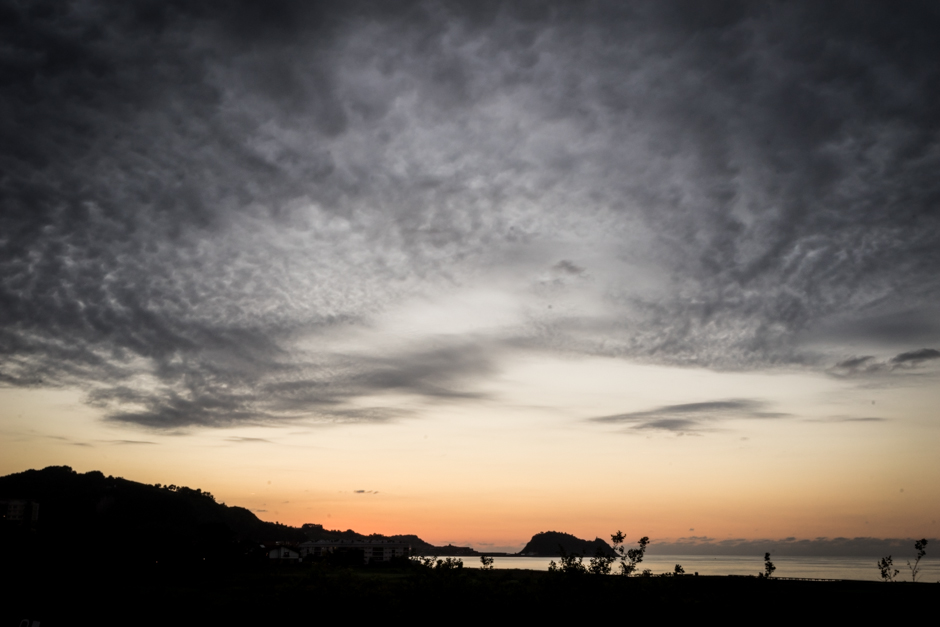 Sunday, August 17th, 2014
The next day was spent on the beach. The entire day. No shame. We surfed, we sun-bathed, and we relaxed.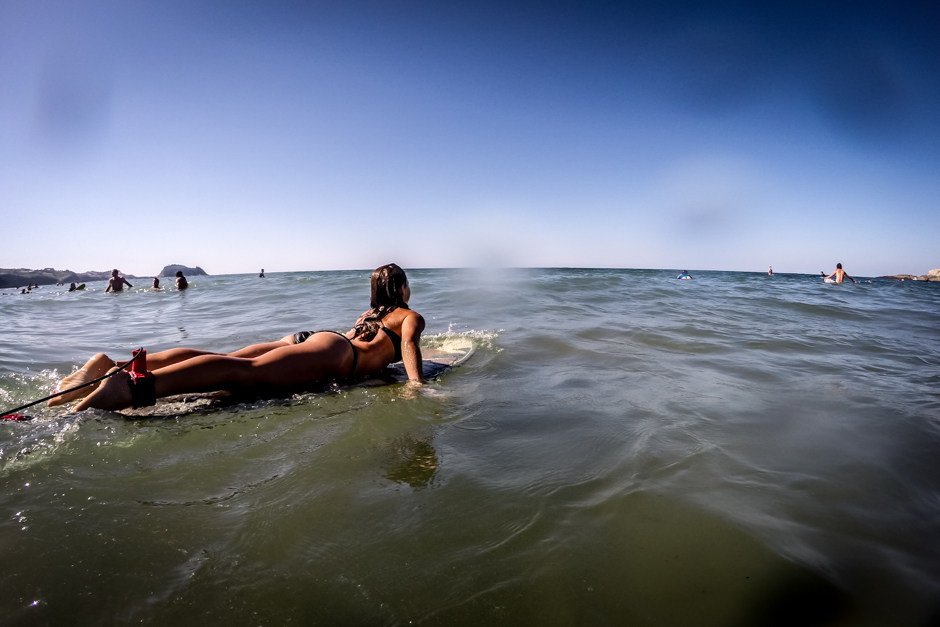 Emily also invented the new sport of hula-surfing, which is, for lack of a better word, radical.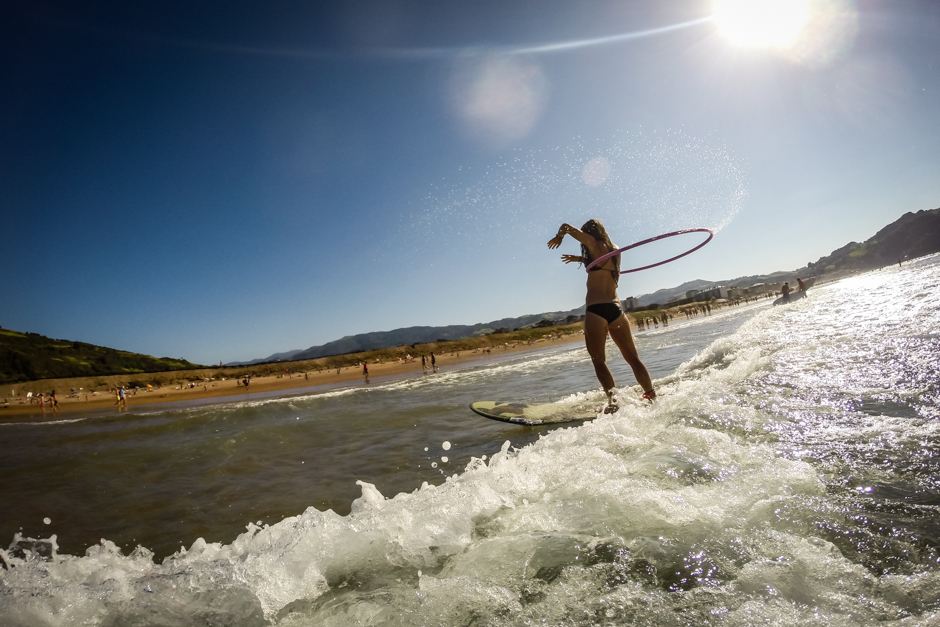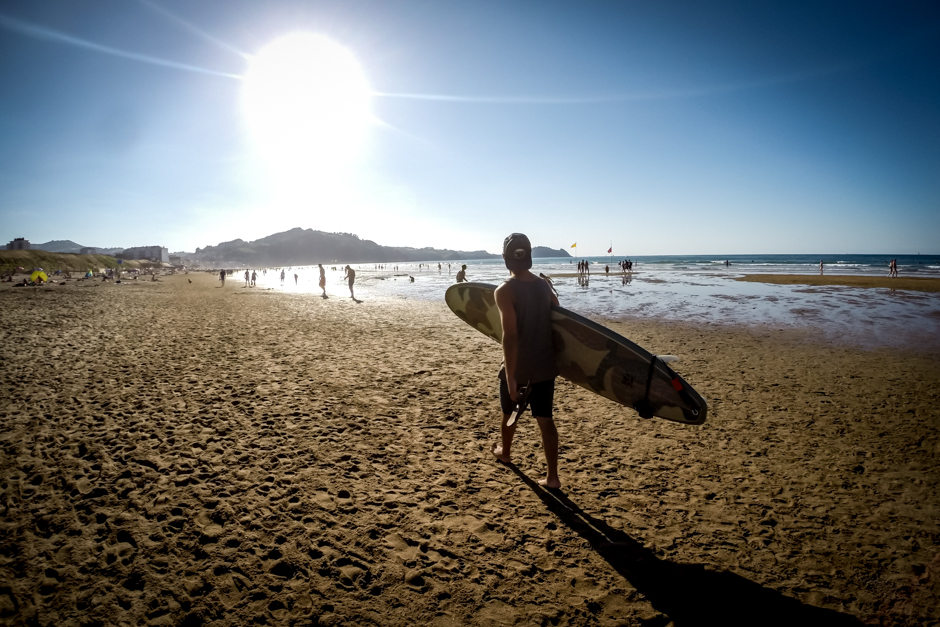 Monday, August 18th, 2014
On Monday we continued the journey to Bilbao. In store for us were more beautiful views and mountainous hills. After 50km we arrived in the town of Eibar, which was suppose to be our final destination for the day. With no camping and no hostels available in this old industrial town (and with Emily experiencing an excruciating pain in her knee) we decided to take another local train, this time straight to Bilbao.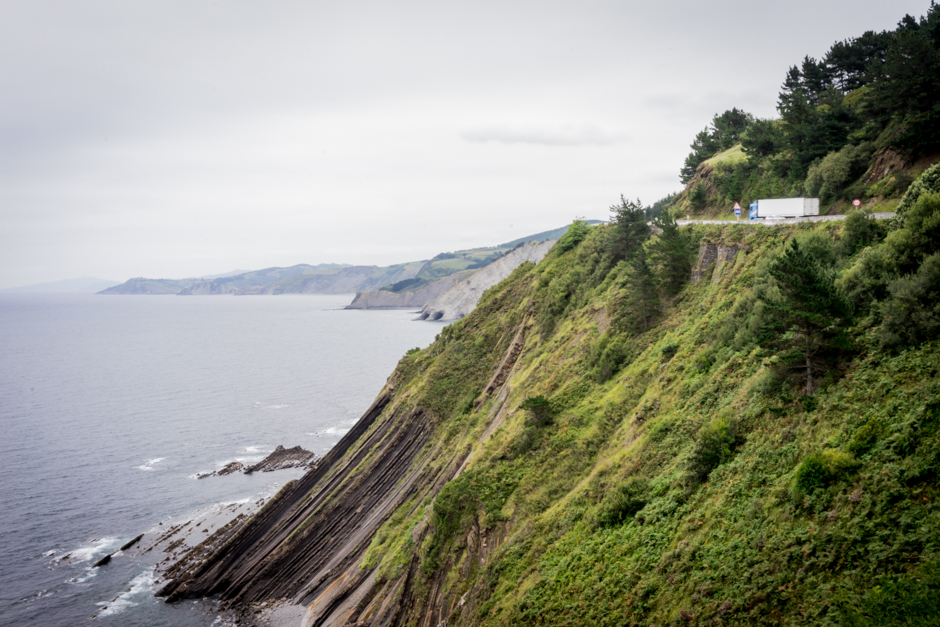 Once there, we searched for the local pilgrims' hostel. Eventually, a little old man pointed up a hill, knowing exactly what we were looking for.
As we arrived at the top of the hill, looking puzzled, two women in a car pointed further up another hill. As we rode, they led us the entire way to the hostel.
What have we done to deserve these gentle guardians?
With Bilbao also hosting their Semana Grande during this week, we watched the firework show from atop the hill before heading off to bed.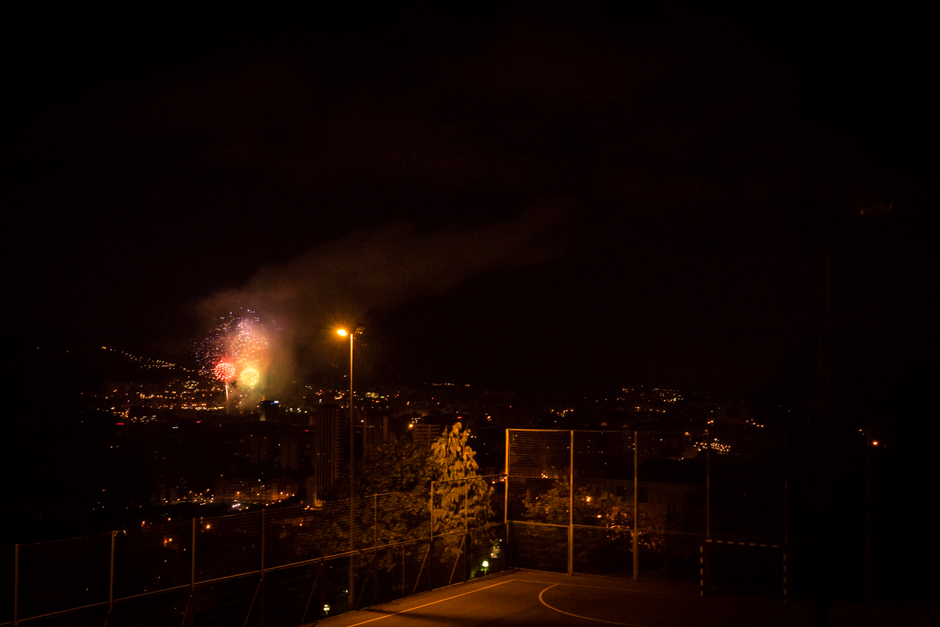 Tuesday, August 19th, 2014
Up with sunrise, the next day we met our host Estela and her boyfriend Daniel. Friends of a friend who live in Bilbao as Auxillaries (English teachers). With Estela, we got a full tour of the city before heading to the festival to experience a tortilla contest. For those who don't know, the Tortilla Española is a traditional egg dish served in Spain. It's almost like an omelette, but juicier. In fact, don't call it an omelette.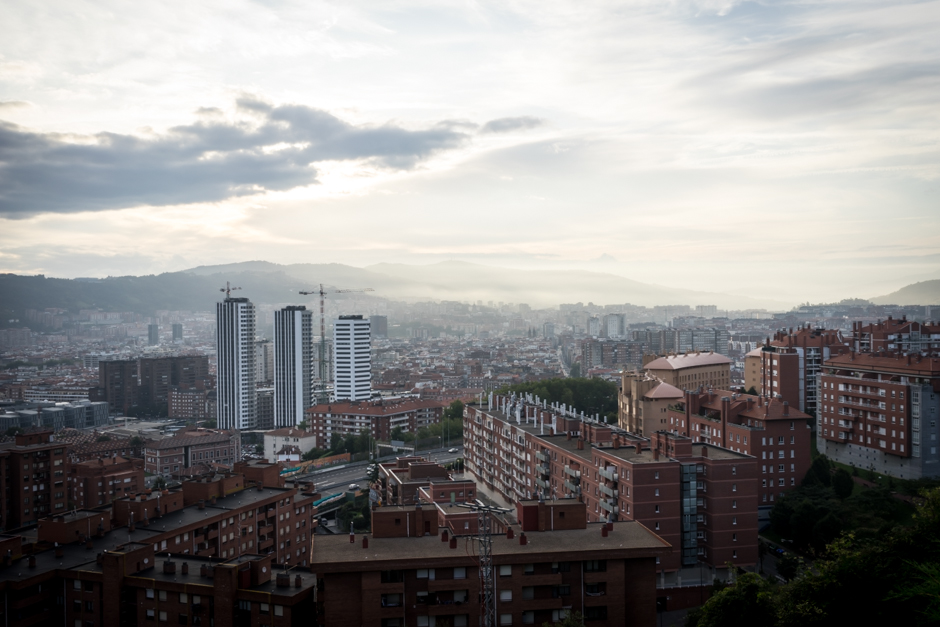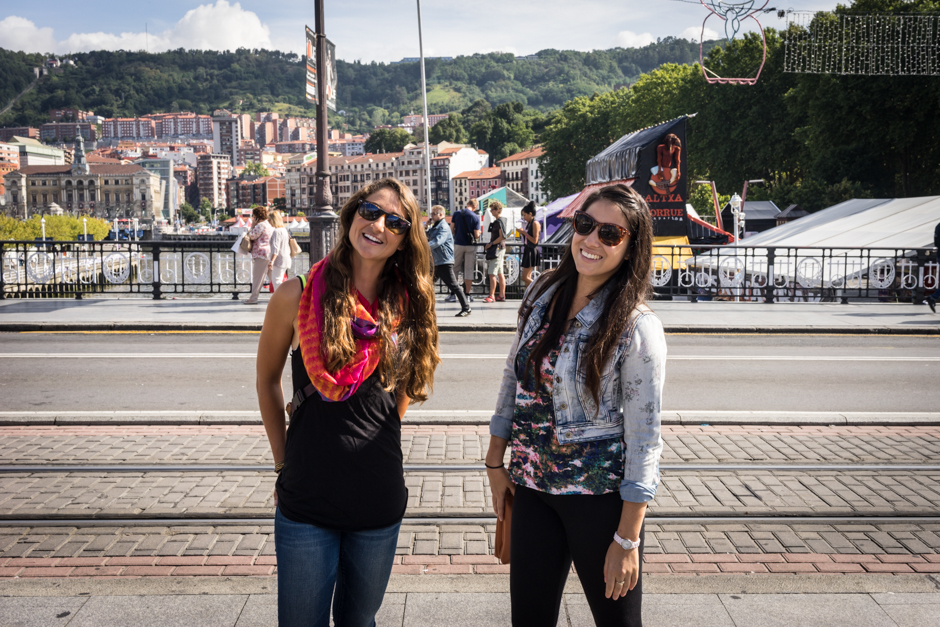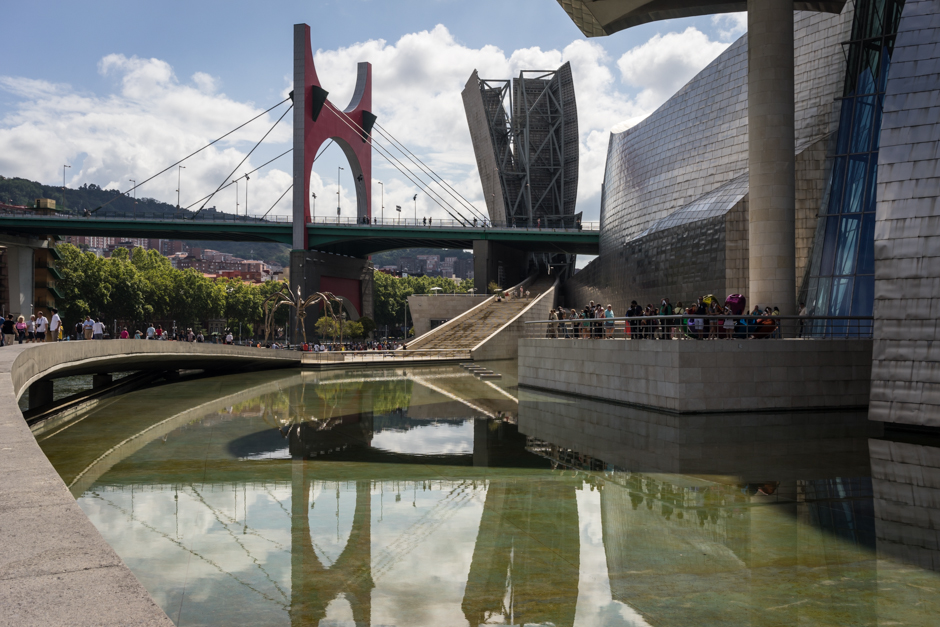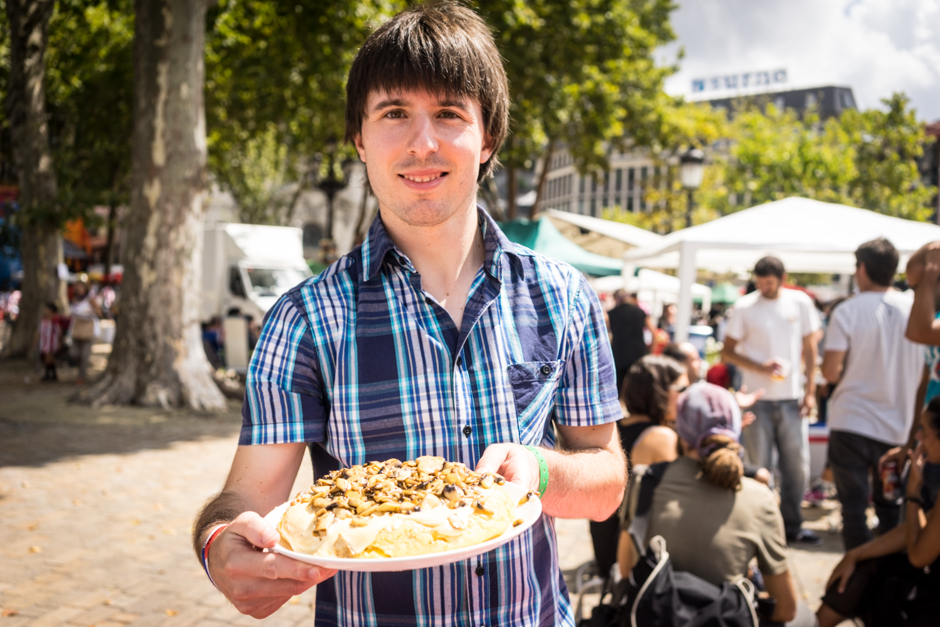 Wednesday, August 20th – Saturday, August 23rd, 2014
Drinks, food, and parties comprised our next three days in Bilbao. The entire city was in festive mode, so nocturnal we went.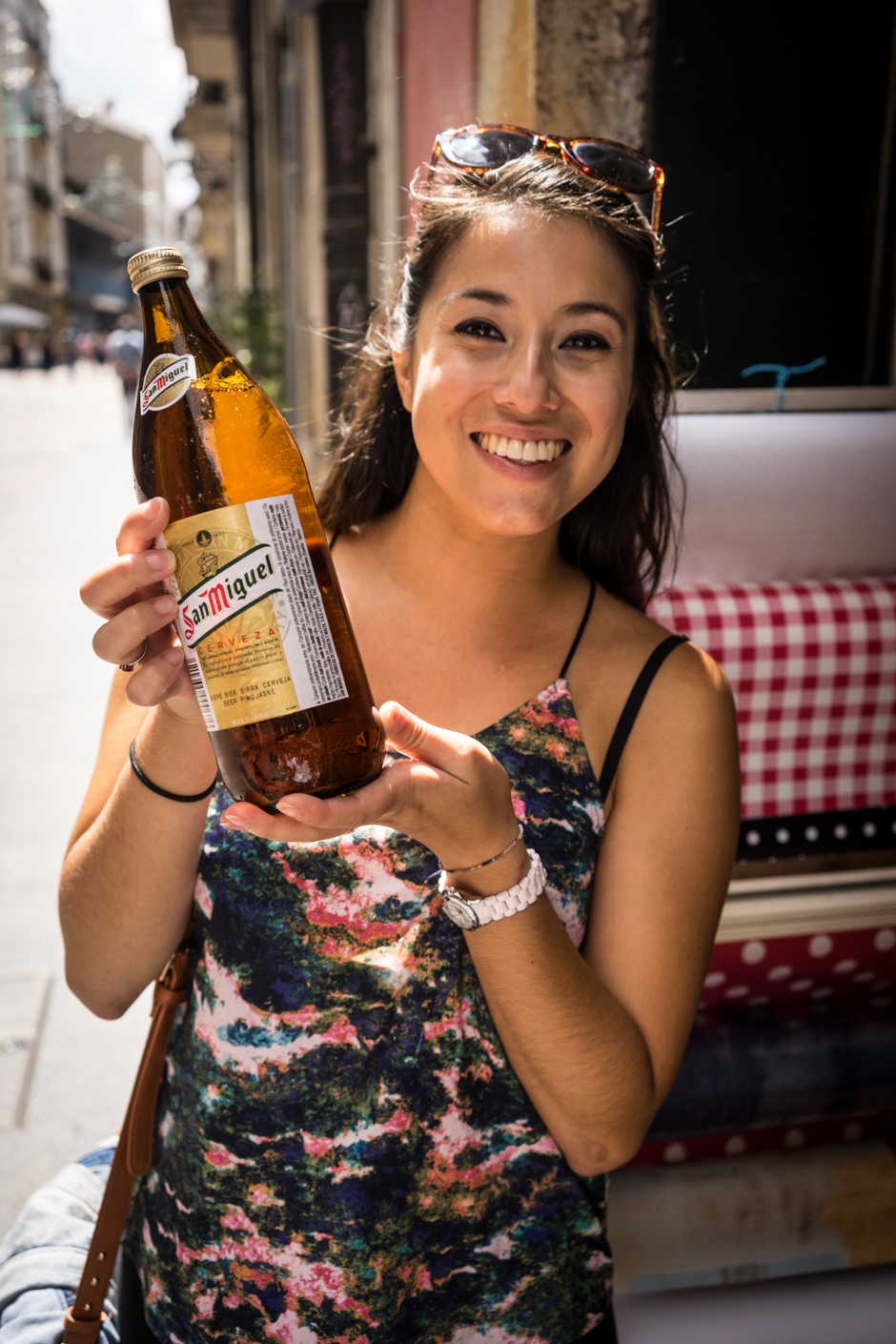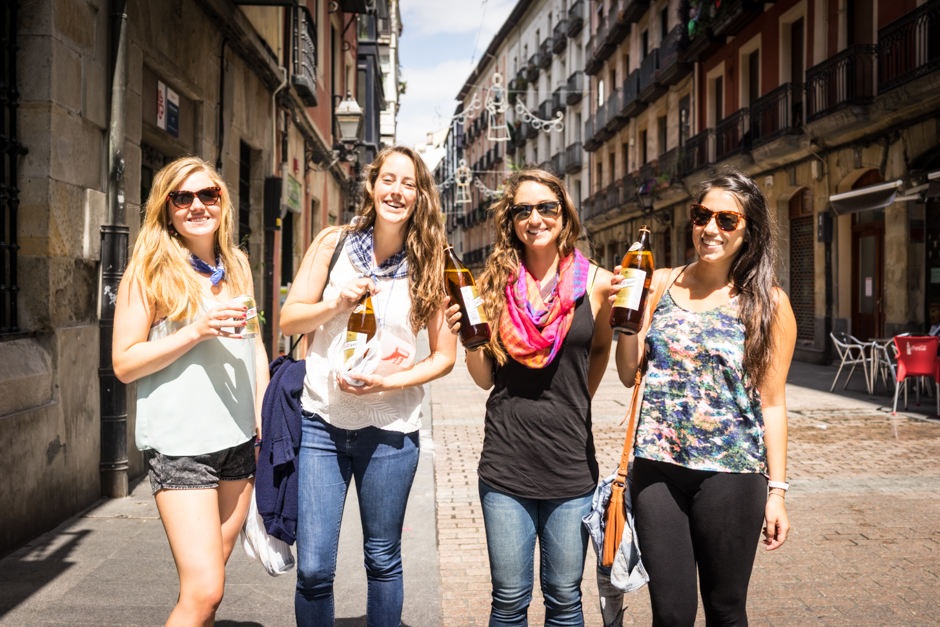 These days were a blur… filled with Kalimotxo, fireworks, churros, San Miguel beer, middle of the street dance parties, family dinners, teenage music festivals, and a pleasant visit to the Guggenheim museum.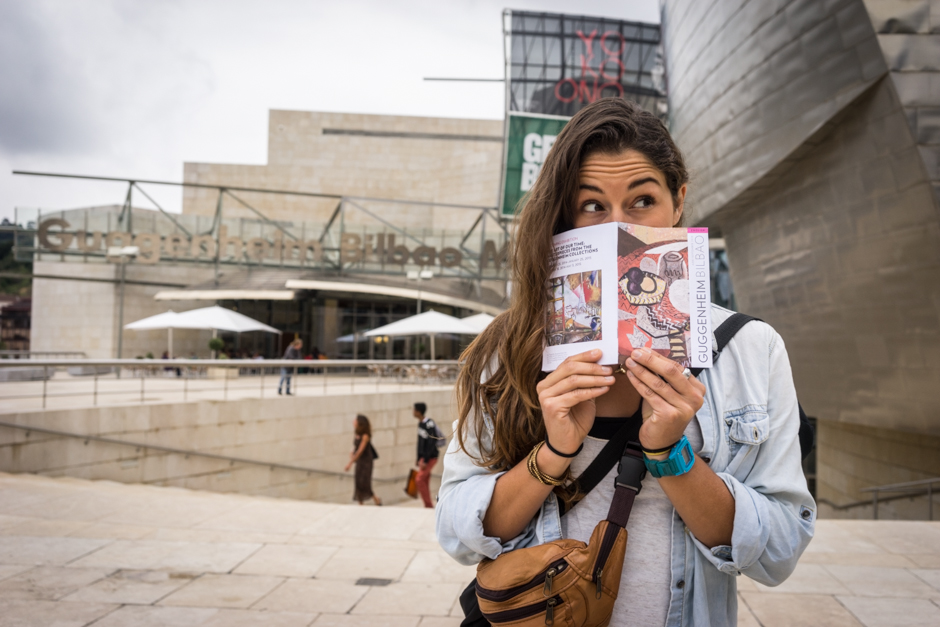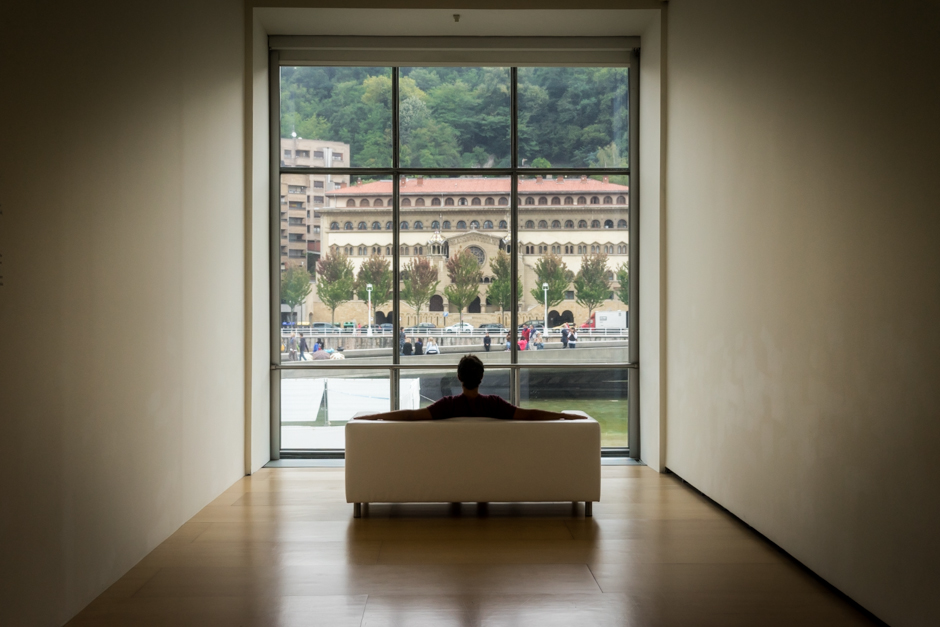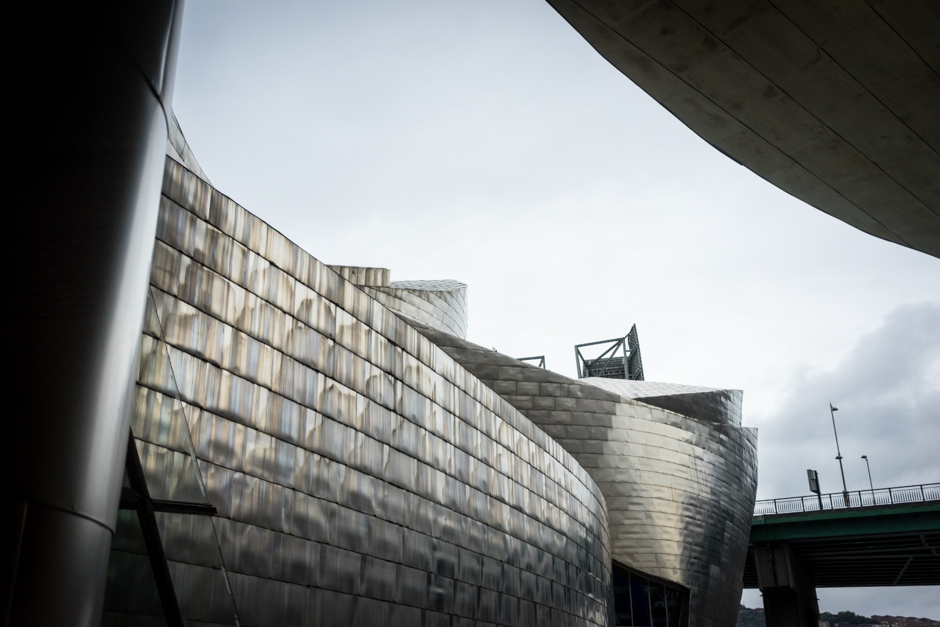 Our hosts Estela & Daniel and then Jessica & Tiago were outstanding. Daniel and Tiago both exhibited master chef abilities- cooking us delicious tortillas, vegetarian pasta dishes, and chicken curry meals.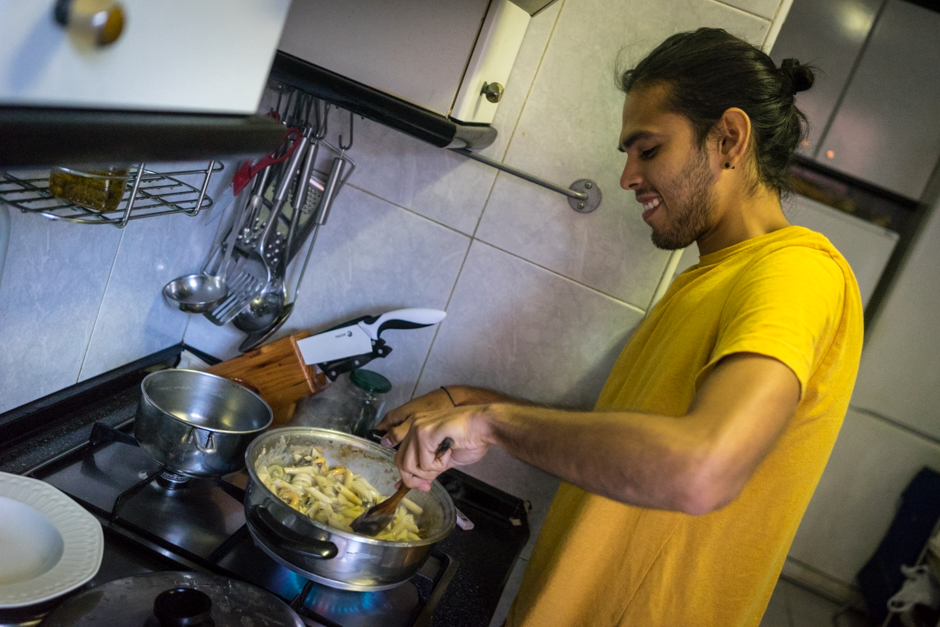 The roads have been hard on us throughout the past two months. Hard on our spirits and hard on our bodies. But somehow, out of thin-air at times, our spirits and our bodies have been lifted by the most pleasant of creatures. People, strangers, angels… they are everywhere around us, as if perfectly positioned to guide us along on our very own camino.
Whatever the force behind these random acts of kindness, we'll take it; we'll accept it and we'll carry on our wayward journey around this beautiful world.