The sounds of a calm city wind entered through white-painted balcony doors as we lie on the thin-cut mattress of a sofa-bed. All of our bags resting in a corner, enjoying the sounds of morning traffic. Both of our bikes resting in the basement, luxuriating in the chill underground climate after days of wallowing in the warm sun.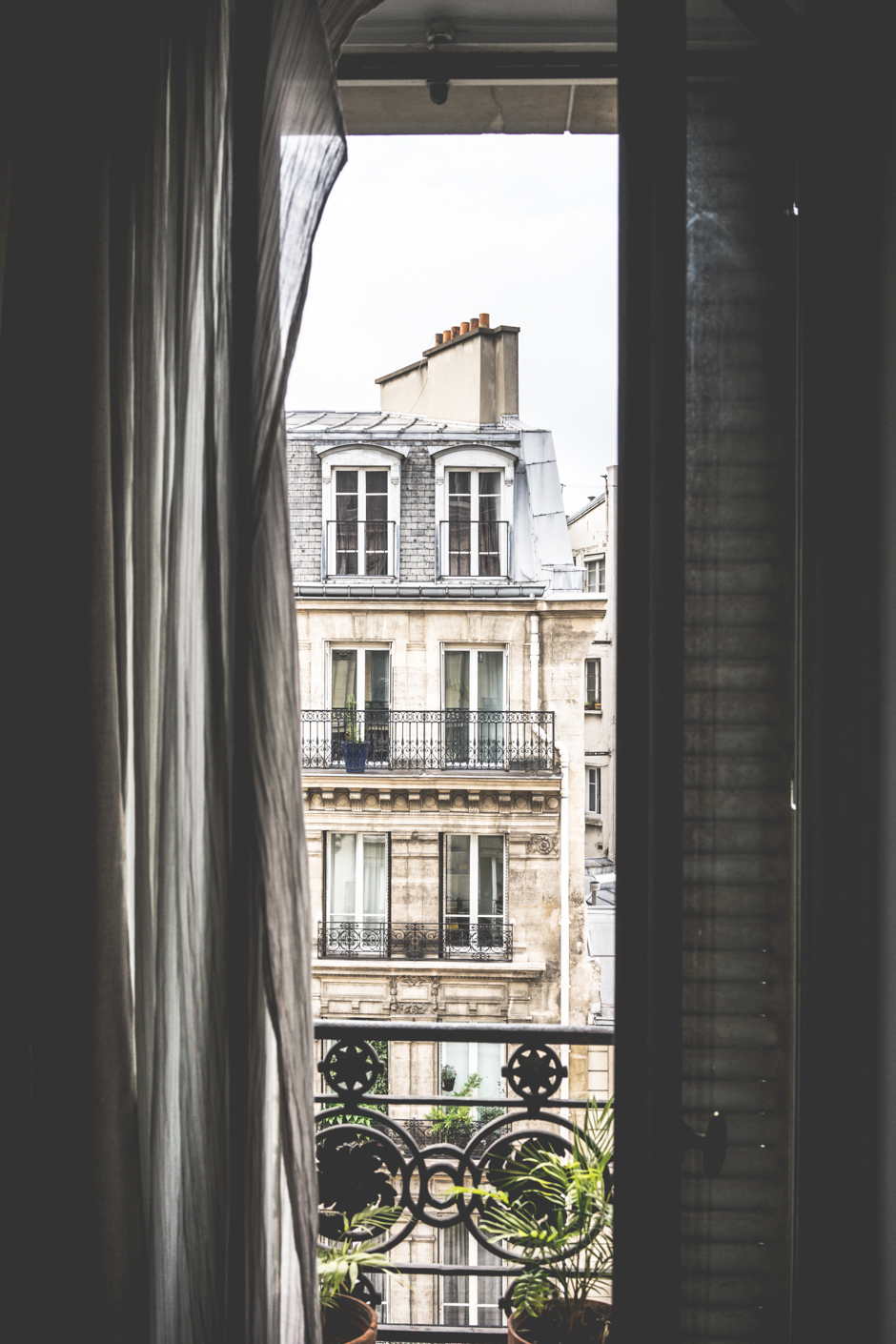 We had made it to Paris, La Ville-Lumière, Paname, the city of le Flâneur. As connoisseurs of the wandering kind, we would find ourselves strolling the streets of this labyrinth-like city for the next 7 days. 
Our objective for the week was quite simple, we wanted to live like Parisians (minus the going to work part). Sipping espresso, eating baguettes, wandering the streets, enjoying picnics, and leisurely savoring every ounce of life… those were our goals. 
Day 1
Thursday morning moved rather slow, but time flew rather fast. We slept in to recover from the previous six days of cycling. Around noon, we walked toward the Notre-Dame from the 10th arrondissement in search of crepes.
"Ham, egg, and cheese!" I yelled, as we pulled up to a street vendor after half an hour of walking. A quick exchange of 5 euro and I held before me a grand bundle of savory joy.
The day had only started, but for me, it was already complete.

While devouring our crepes, we perused the Notre-Dame and wandered over to île Saint-Louis where we would find ourselves relishing in a bowl of Berthillon sorbet.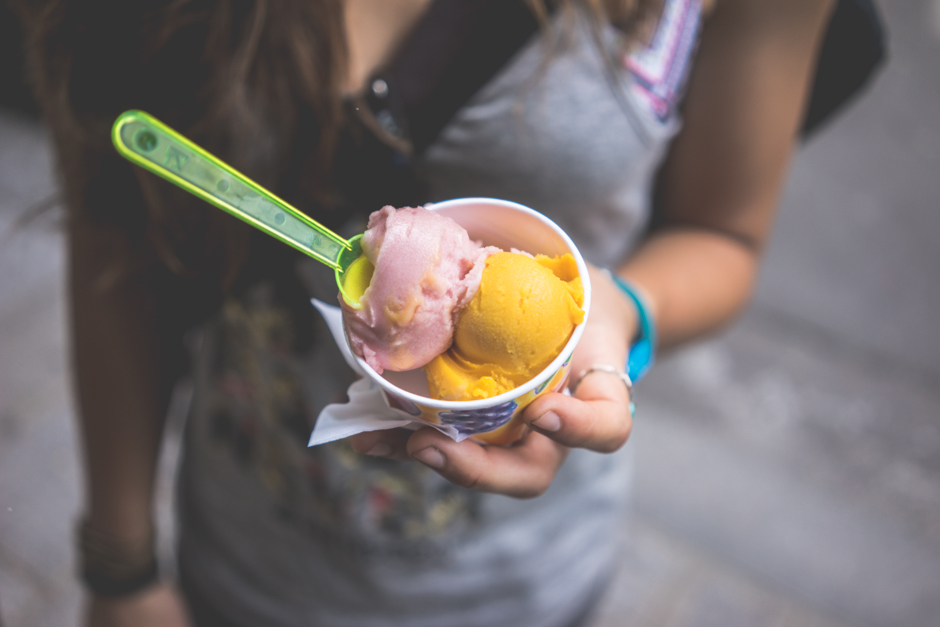 After a short nap in the park, we picked up a couple cups of coffee and signed up for our 7-Day Velib bike passes (convenient city-wide bike stations that would later become our main mode of transportation for the week). Hopping on our first batch of bikes, we headed back toward our host's home, gathering a few items for the night's picnic.
With Susu (our incredible host) taking the lead, we walked to Parc des Buttes-Chaumont for a charming picnic beside a small pond. Baguettes, mozzarella, pesto, tomato, salami, macaroons, wine… the works! After a delicious meal, we lounged in the park until sunset before walking down to the local canals.
Along the canals we sat, enjoying conversation and tunes from a nearby guitarist. Inspired by the night, Emily pulled out her hula hoops and began exhibiting her skills, quickly gaining the attention of several strangers… the nearby guitarist, his girlfriend, two college-aged french fellows, and a small trollish creature who didn't seem to speak a lick of any modern language.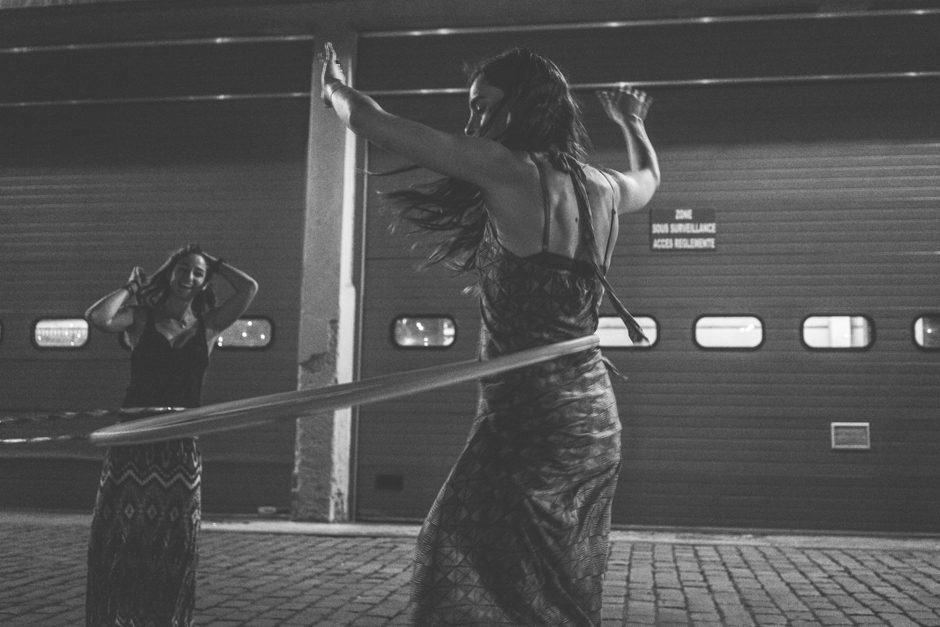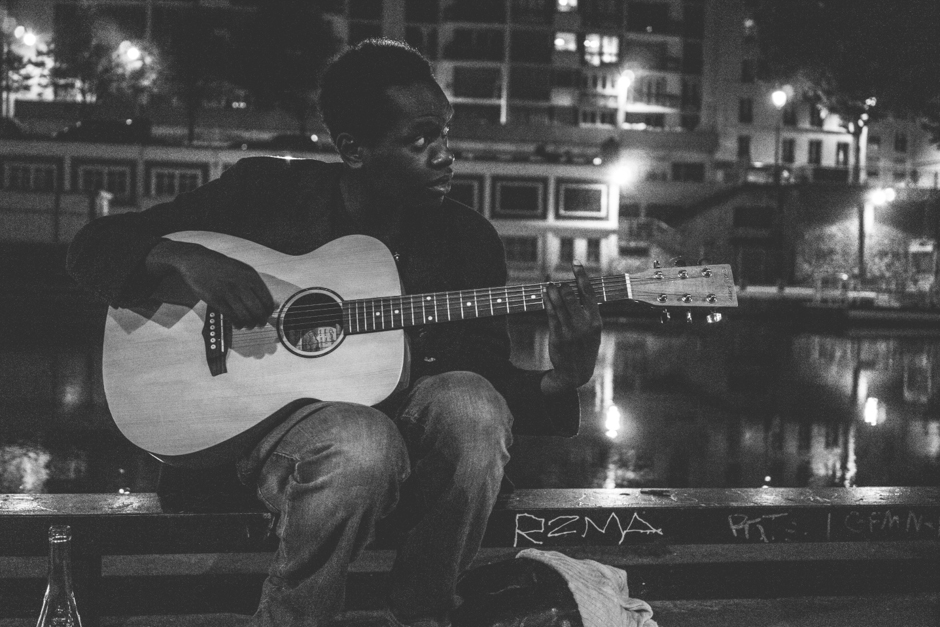 It was an enchanting evening (despite the hula-hogging troll-thing), and we were so grateful to have experienced a real, low-key Parisian night with new friends.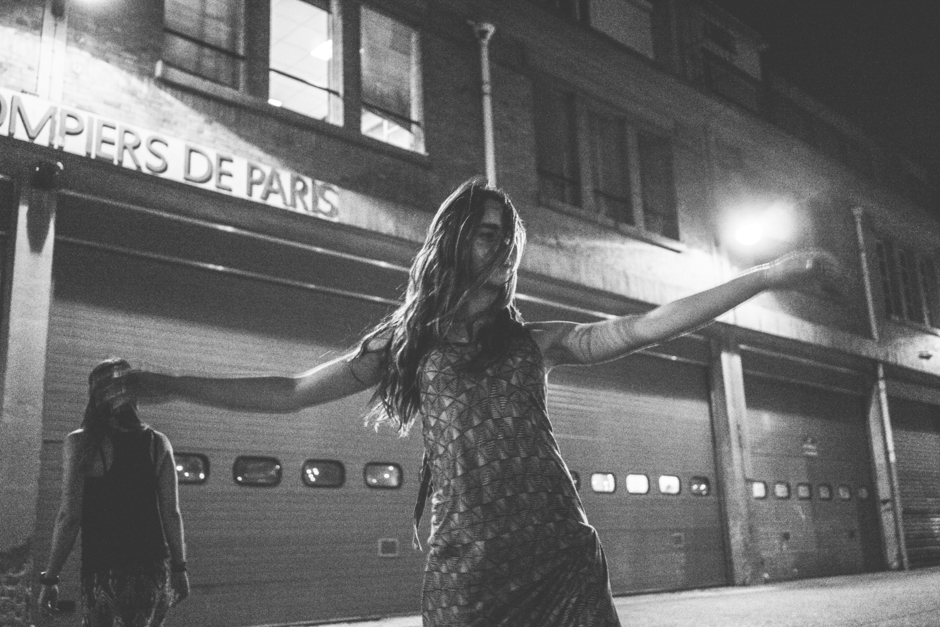 Day 2
Friday, another slow day for the two of us. Seems as if we're experiencing some sort of land-crossing "jet-lag." Tired, groggy, and in a bit of a haze, we biked around town and walked for around six hours- cycling through Place Vendome, around Place de la Concorde, crossing the Ponte Alexandre III bridge, and walking to the Eiffel Tower. All before returning home to work on our blog for a few hours.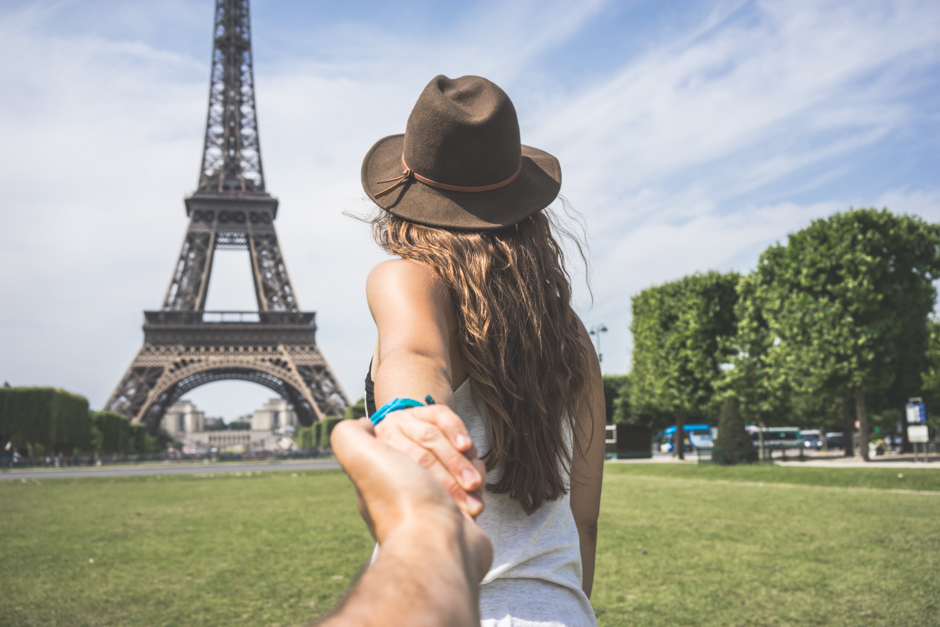 Despite our eventful day, we were feeling a bit guilty for spending time indoors that evening and not taking full advantage of every waking moment in Paris. To combat this feeling of guilt, we had to quickly realize that we are not tourists. We are not on a one or two week vacation in which we have to see as many sights as possible. This is our lifestyle now, we travel for a living. As with any lifestyle, there will be days which are action-packed, and down-days when we relax or work on personal projects. Coming to terms with this latest reality, we are excited to fully embrace our new lifestyle of long-term travel.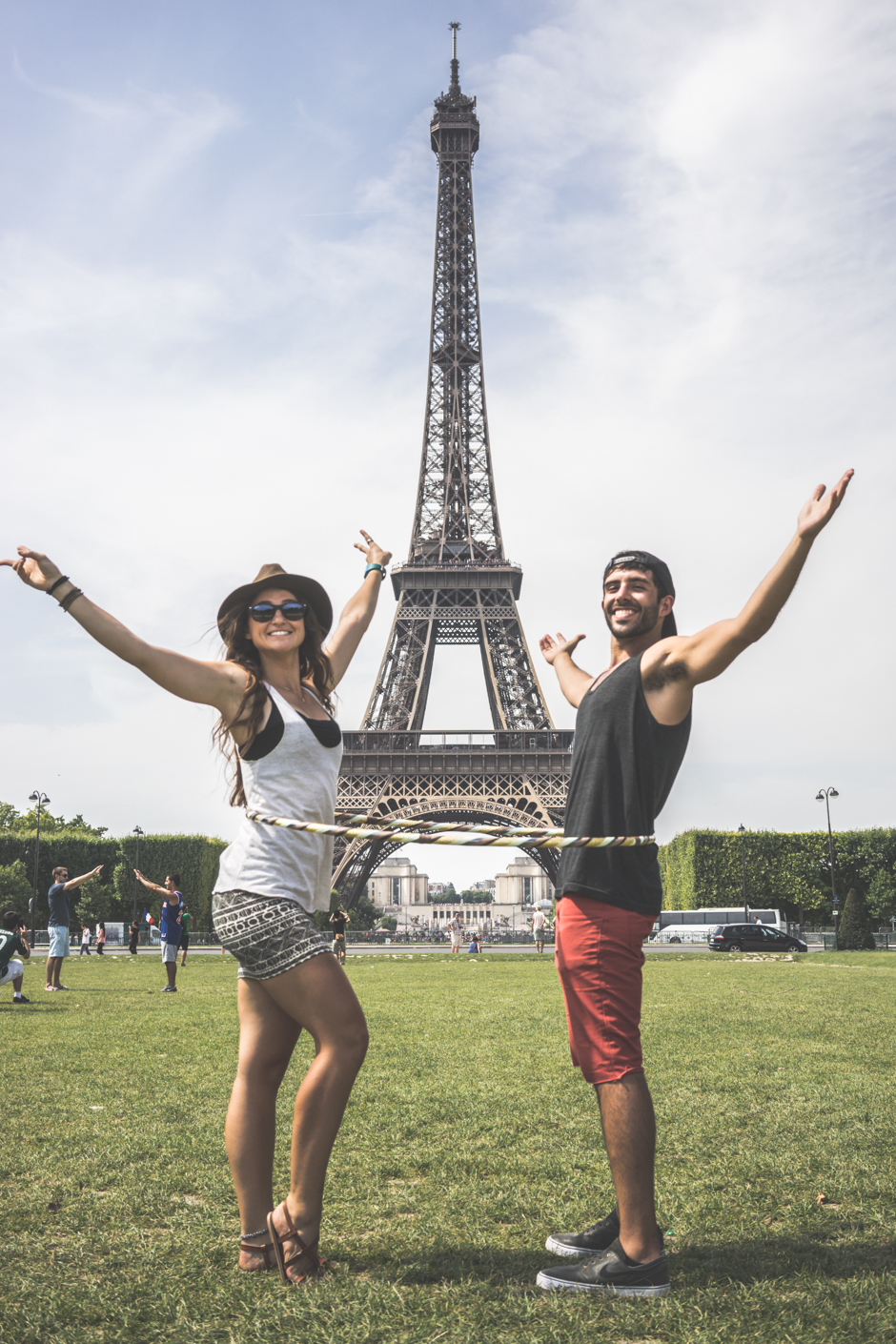 As the night progressed, we found out that our host's roommate would be moving out of the apartment and their new roommate wouldn't be moving in until August. This was fantastic news, as it meant that we would have a place to crash for the entirety of our stay in Paris. We were ecstatic, to say the least. Truly appreciative of our hosts and the good fortune that's come our way.
Day 3
On our third day in Paris, we were feeling well rested and ready to tackle the city. In the morning, we were asked by Susu (our host) to take her spot in a soccer match while she entertained her visiting mother. Gladly accepting the invitation, Emily and I met Patrice (one of Susu's colleagues) at a local train station and rode together to the soccer complex. Having never played a game of "Futbol," Emily and I hit the fields for a 5 on 5 game which lasted somewhere around an hour. Emily performed surprisingly well (as she does with most sports), but our team ended up losing by a single point (heartbreaker).
After the game, we decided to walk around the city for the next 9 hours. We came across a pro-Palestinian protest, visited the Opera House, checked out the rooftop deck at Galeries Lafayette, and visited the exterior courtyard of the Louvre.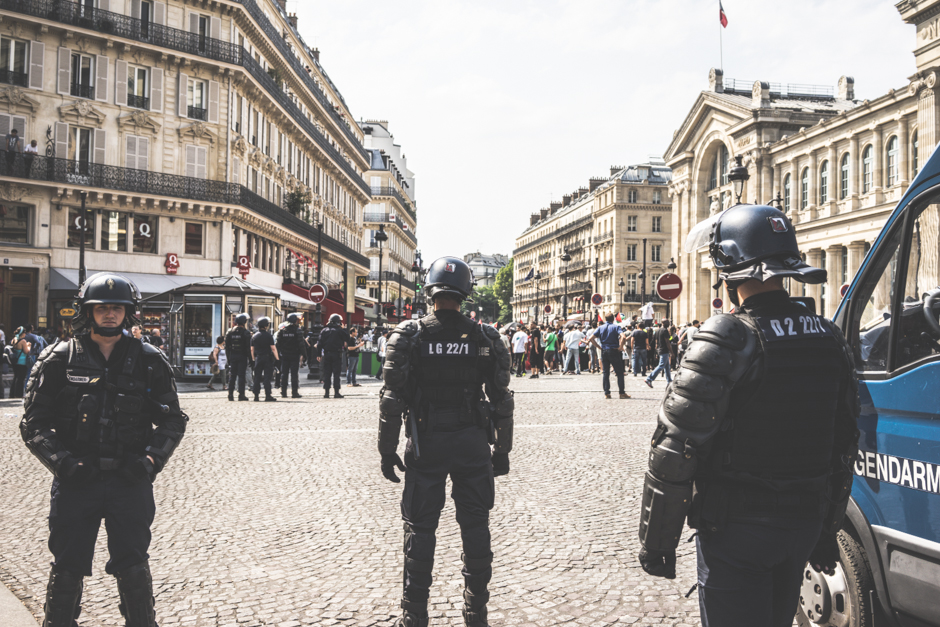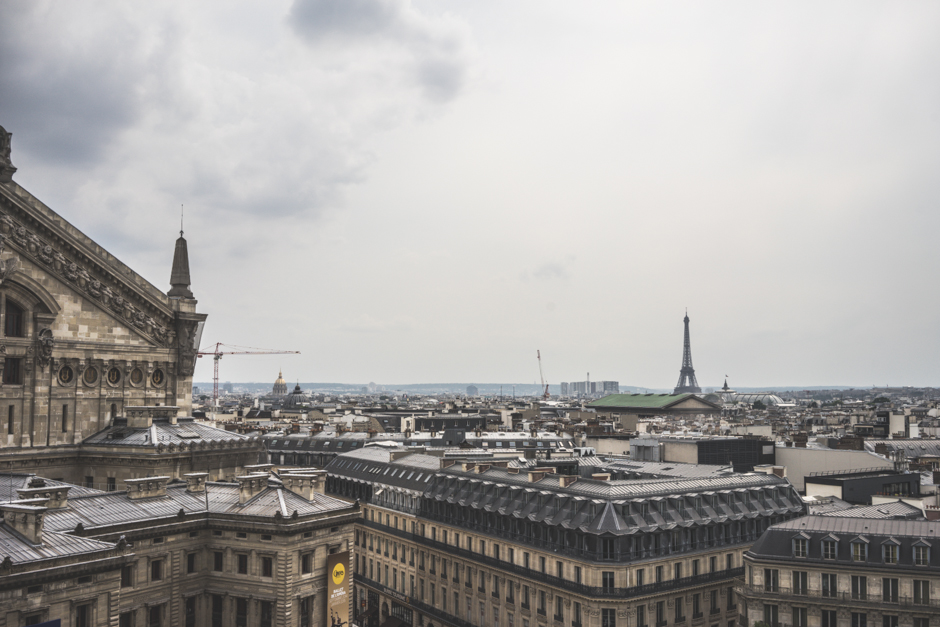 As it began to rain, we took refuge at a small sidewalk cafe for two delicious shots of espresso and one of the sorriest cheeseburgers to ever confront the light of day. Sorry Cafe Palais Royal, but your cheeseburgers were better left as cows.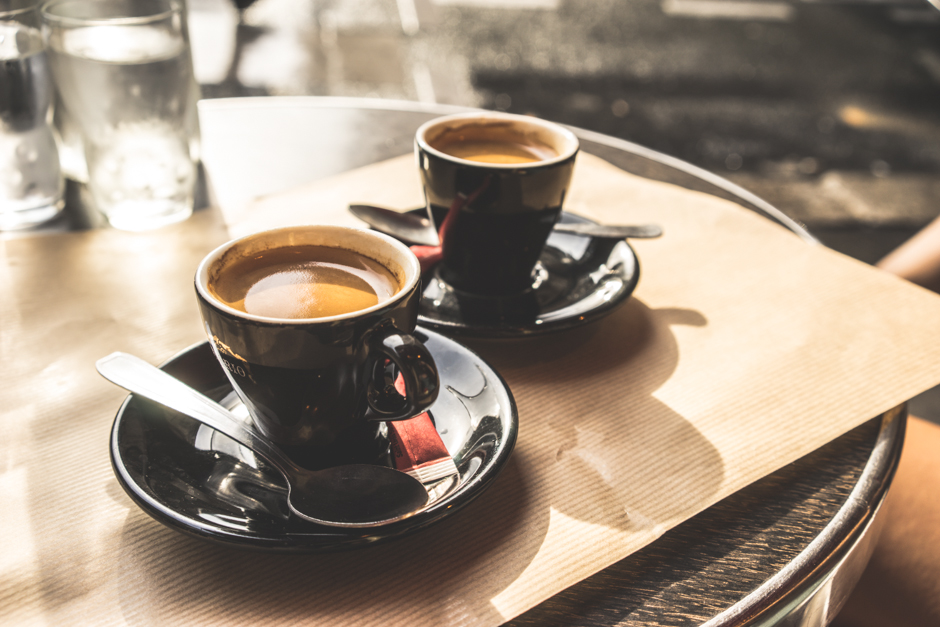 Following the two delectable espressos and the pigmy cheeseburger that wouldn't have satisfied even the gnarliest of river trolls (see Day 1), we headed back toward the Notre Dame. In effort to double-down on our previously lost appetite, we purchased yet another crepe and enjoyed it outside the Georges Pompideu Center. After the crepe, we tripled down on some Amorino Gelato and walked home in the rain sipping a couple of ice-cold beers.
Once home, we hung out with our other host, Alexi, and several of his friends before heading off to bed.
This was a good day.
Day 4
On our fourth day in Paris we paid a visit to the Sacre Coeur. Meeting up with a friend of a friend, now our friend, Rob, we walked to the Sacre Coeur for a few more crepes, a killer view of Paris, and a short stroll through a mighty fine church. We also sat on the lawn watching scumbag tourist wranglers force their way onto the wrists (and wallets) of unaware visitors. Their scam went a little like this:
Step 1- Force your way onto the wrist of a tourist.
Step 2- Tie an unwanted bracelet onto tourist's wrist.
Step 3- Charge tourist for this unwanted item..
It's truly and remarkably bizarre how they get away with this. If you ever visit Paris, don't fall for this!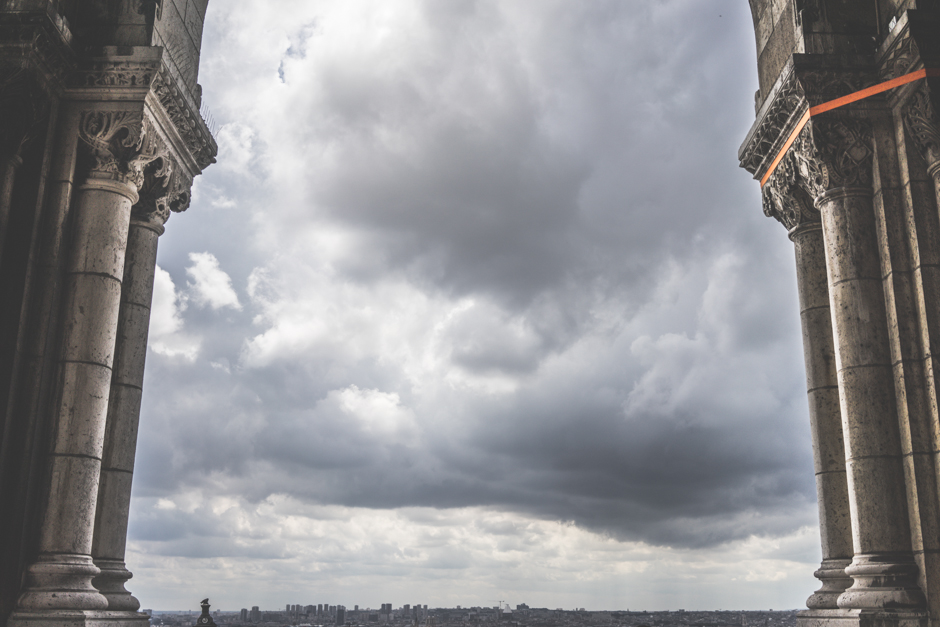 On the flipside, we had quite a positive encounter with an (actually) talented street performer who could dribble a soccer ball for 5-minutes straight, even while climbing a lamp post. See below.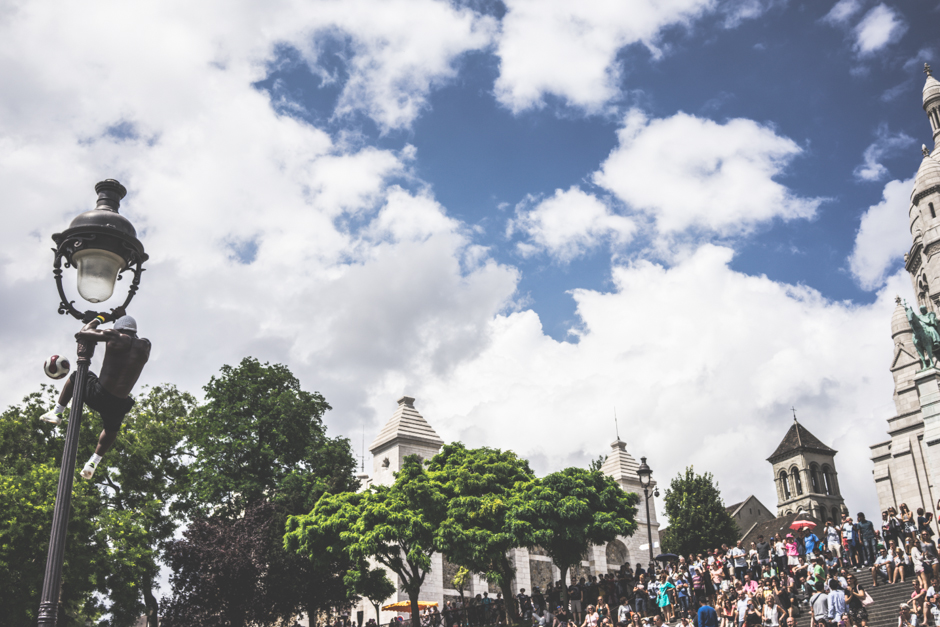 As the rain began to pour, we popped into yet another small cafe for some coffee and conversation. We then wandered around the streets of Montmartre and down some alleys to see The Wall of "I love Yous."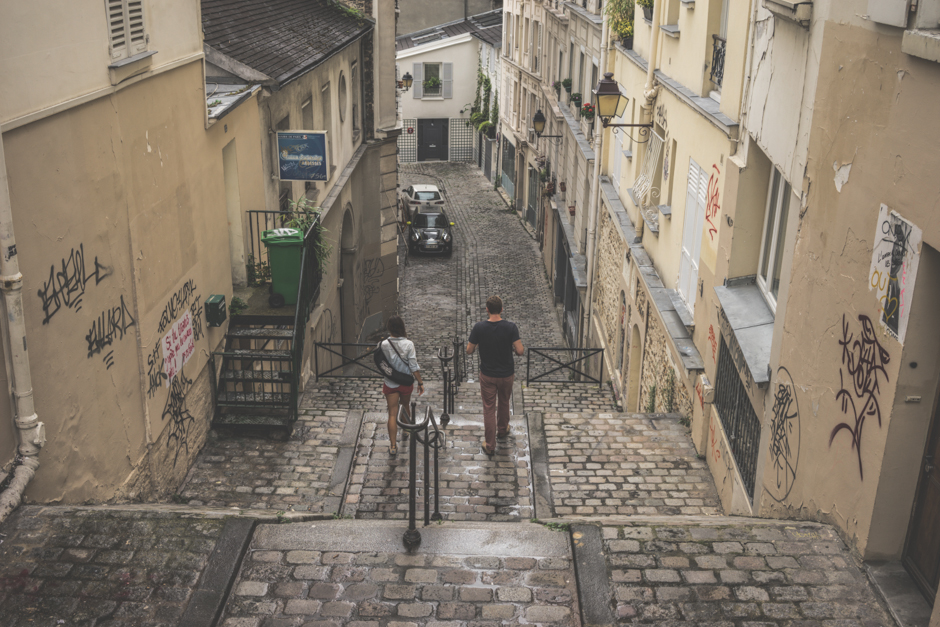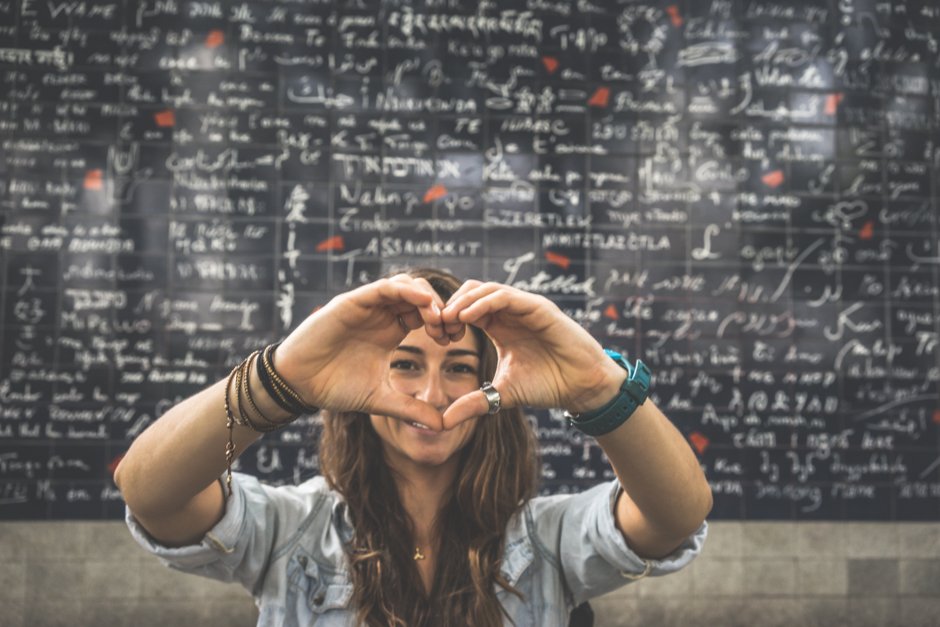 Onward with our stroll, we purchased a couple roadies and walked to check out the Moulin Rouge… followed by the Arc de Triumph.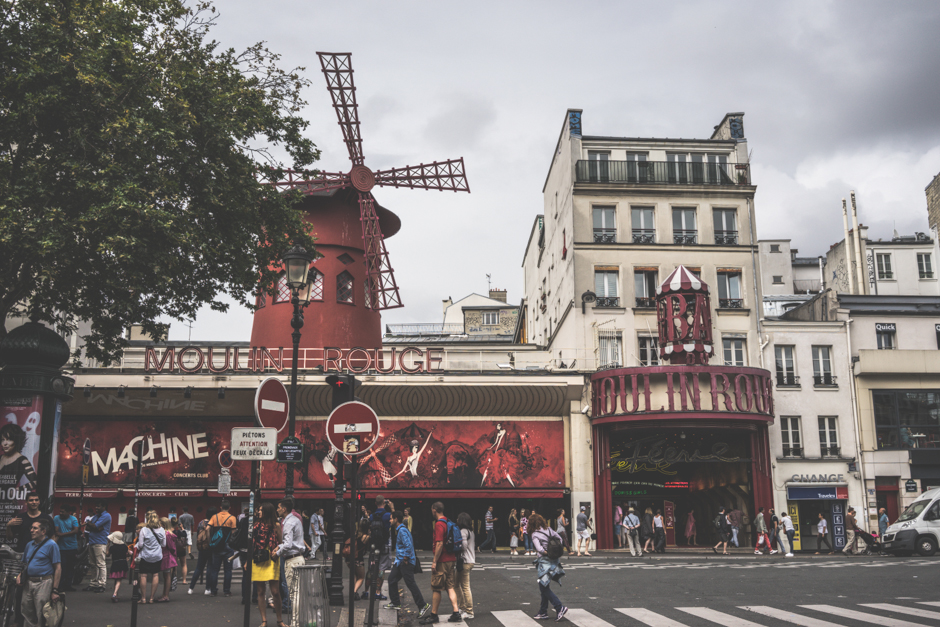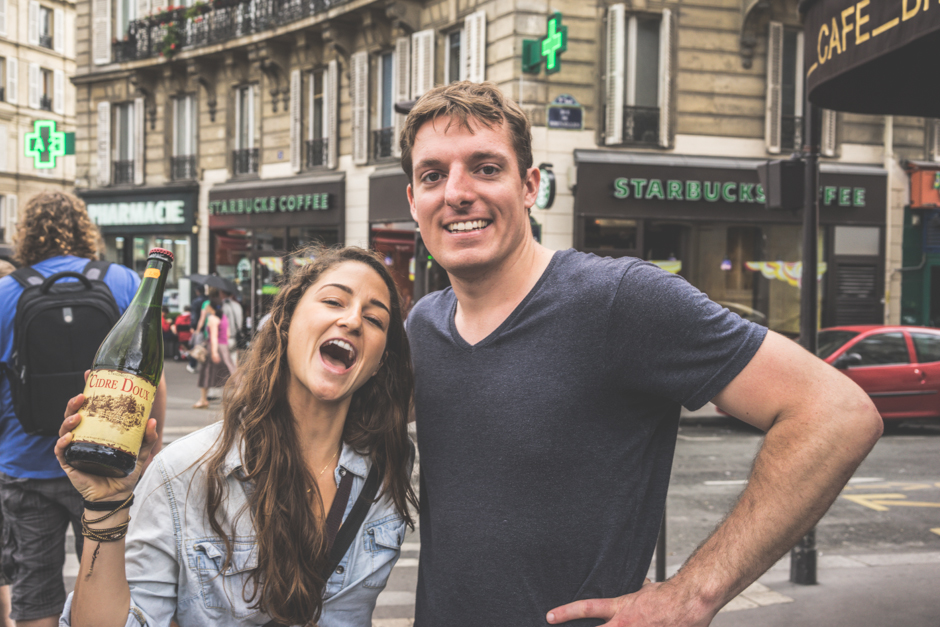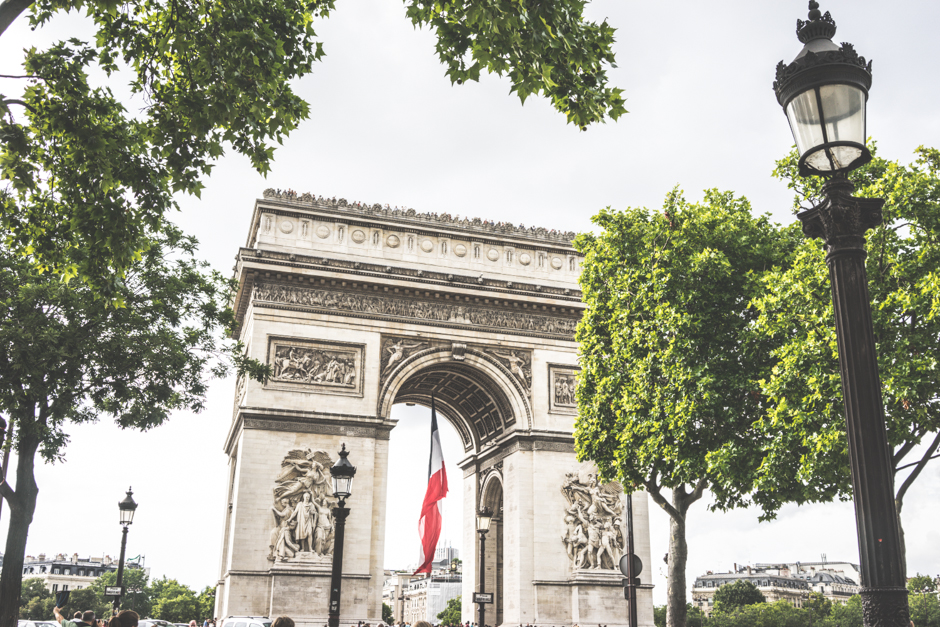 As Rob had pre-existing dinner plans with another friend, Emily and I decided to hop on some bikes and head back toward our part of town for a quick bite and an early bed-time.
Day 5
Thanks to an online donation from my parents, Emily and I were allotted some extra funds to check out the Louvre. With an enormous line wrapping around the courtyard, we asked around to try and find an alternative entrance. With great fortune, we were informed that if you enter through the Porte des Lions, there would be no line. Surprisingly, our trusty informant was right and we skipped the lengthy line.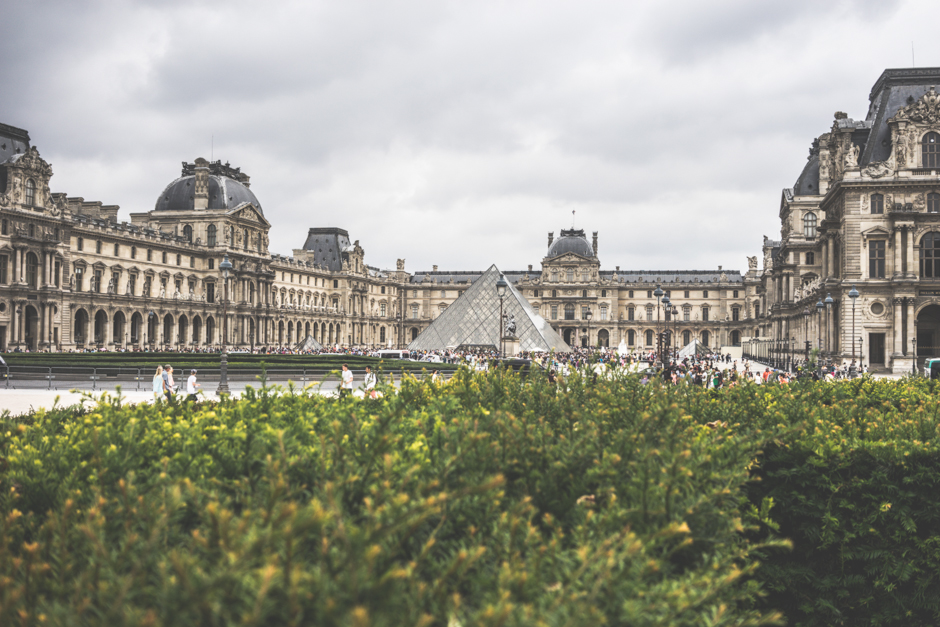 Once inside, we explored this expansive museum for about 3 hours, covering less than a tenth of the exhibits (the entire building is around 652,000 square feet). As with many of the museums we visit, the architecture of the museums themselves are often the highlights of our visit. The Louvre only reinforced this tradition. Originating as a fortress in the 12th century, the building was later deemed a museum in the 18th century and has been expanding in magnificence ever since. It is truly an architectural masterpiece, and one that everyone should see before they die.
Before departing, we followed the troves of iPad-wielding tourists and were able to get a quick glimpse of the ever-popular Mona Lisa. Look at that little smirk, she's so cunning.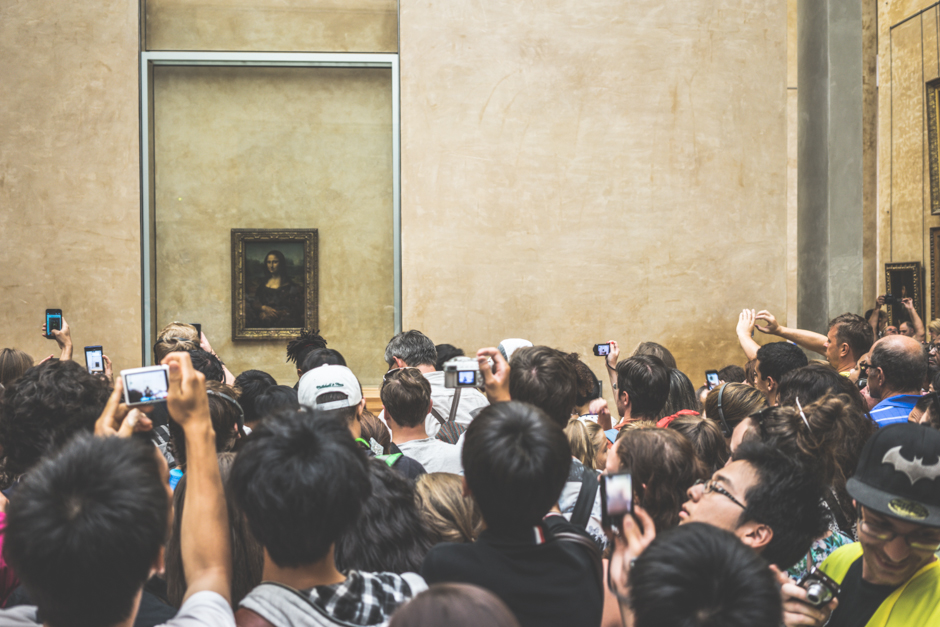 After the Louvre we walked/biked to Promenade Plantee, an elevated park built on old railroad tracks. This was a very nice change of pace, as the masses of tourists dissipated and gave way to a beautiful tree-lined path.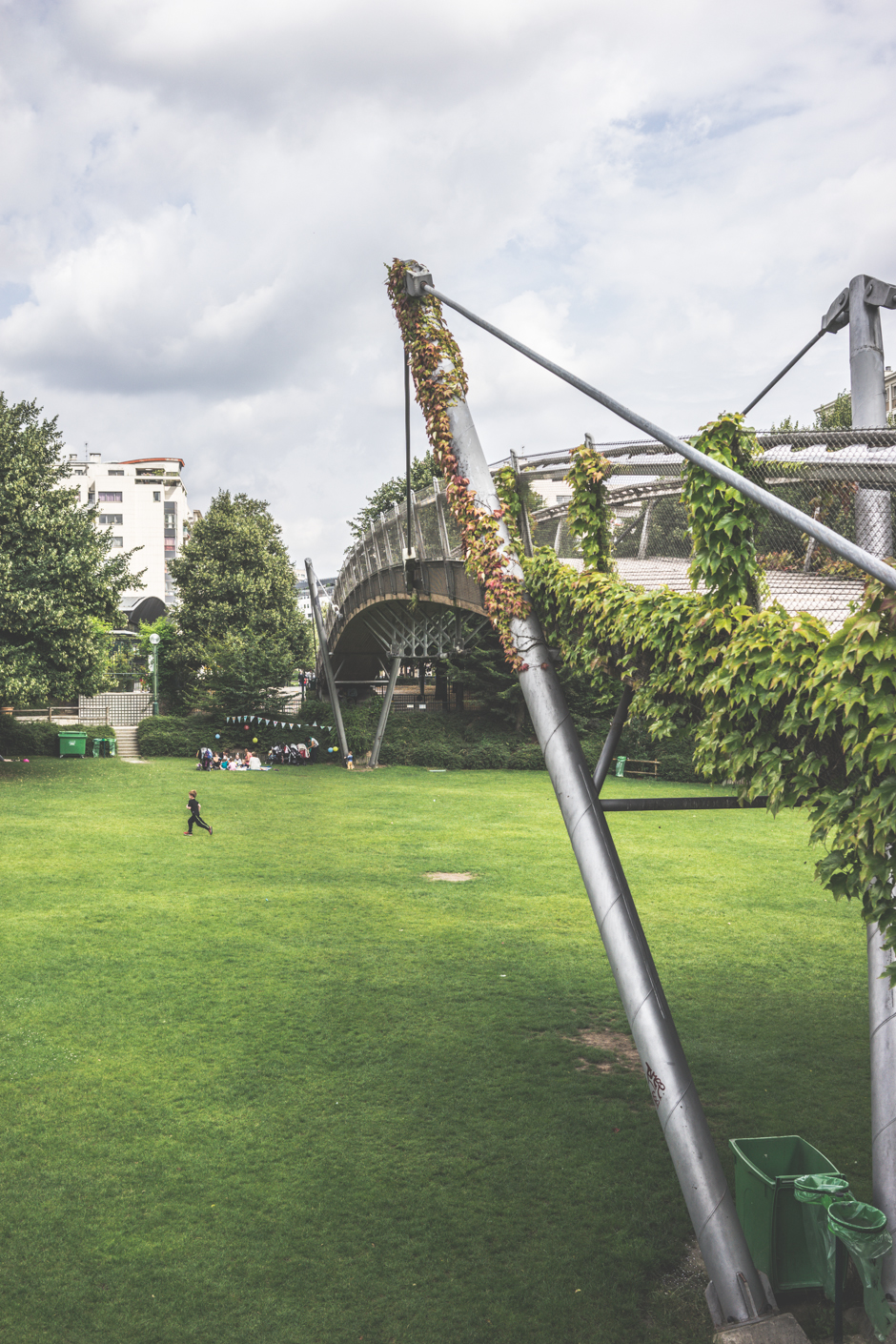 Next we made our way to Père Lachaise Cemetery, the largest cemetery in Paris and the final resting place of the legendary Jim Morrison. It was quite the beautiful cemetery, as beautiful as a cemetery could get, although we were spooked by the many crows sitting beside and above tombstones.
Is there a specific reason why crows enjoy graveyards?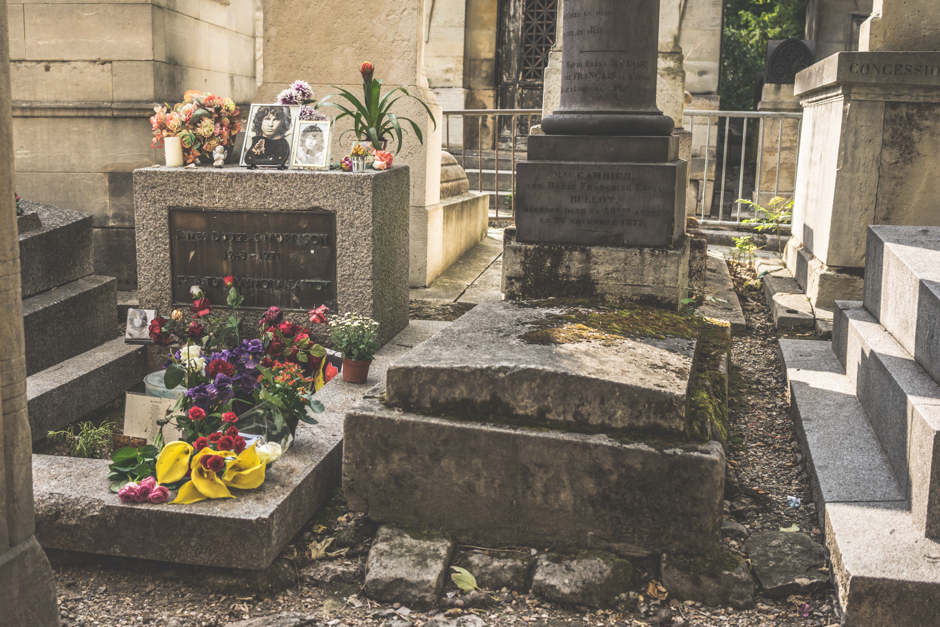 After the cemetery we headed home to gather a few groceries. Tonight we would be meeting with our friend Denis for a picnic by the Eiffel Tower.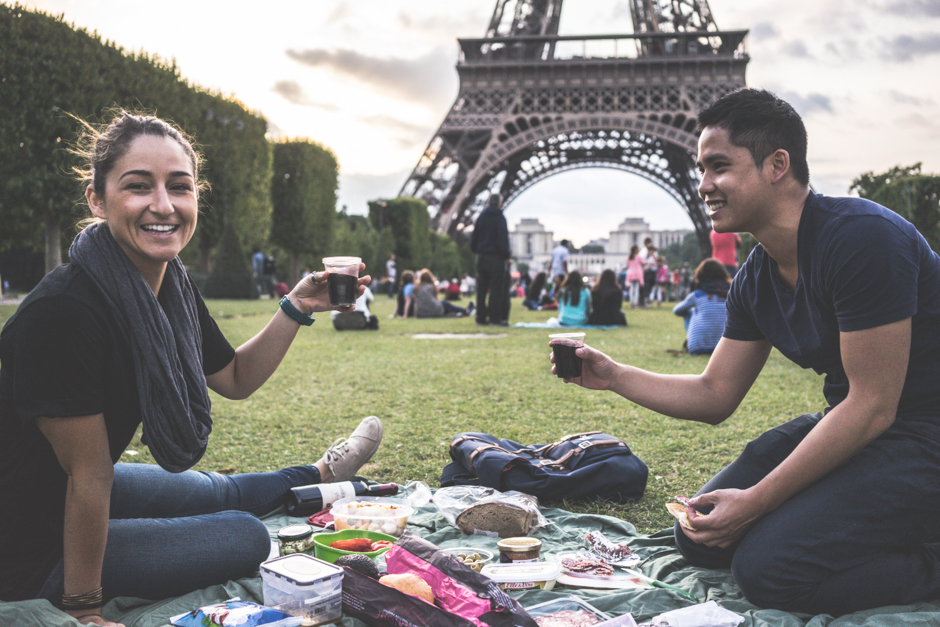 For dinner we enjoyed a large spread of food, including pâté, dried salami, cheese, olives, fresh baguettes, and wine (of course).
To add to the romanticism, there were several locals playing guitar beside us, with a large group of people gathered, all singing joyous tunes.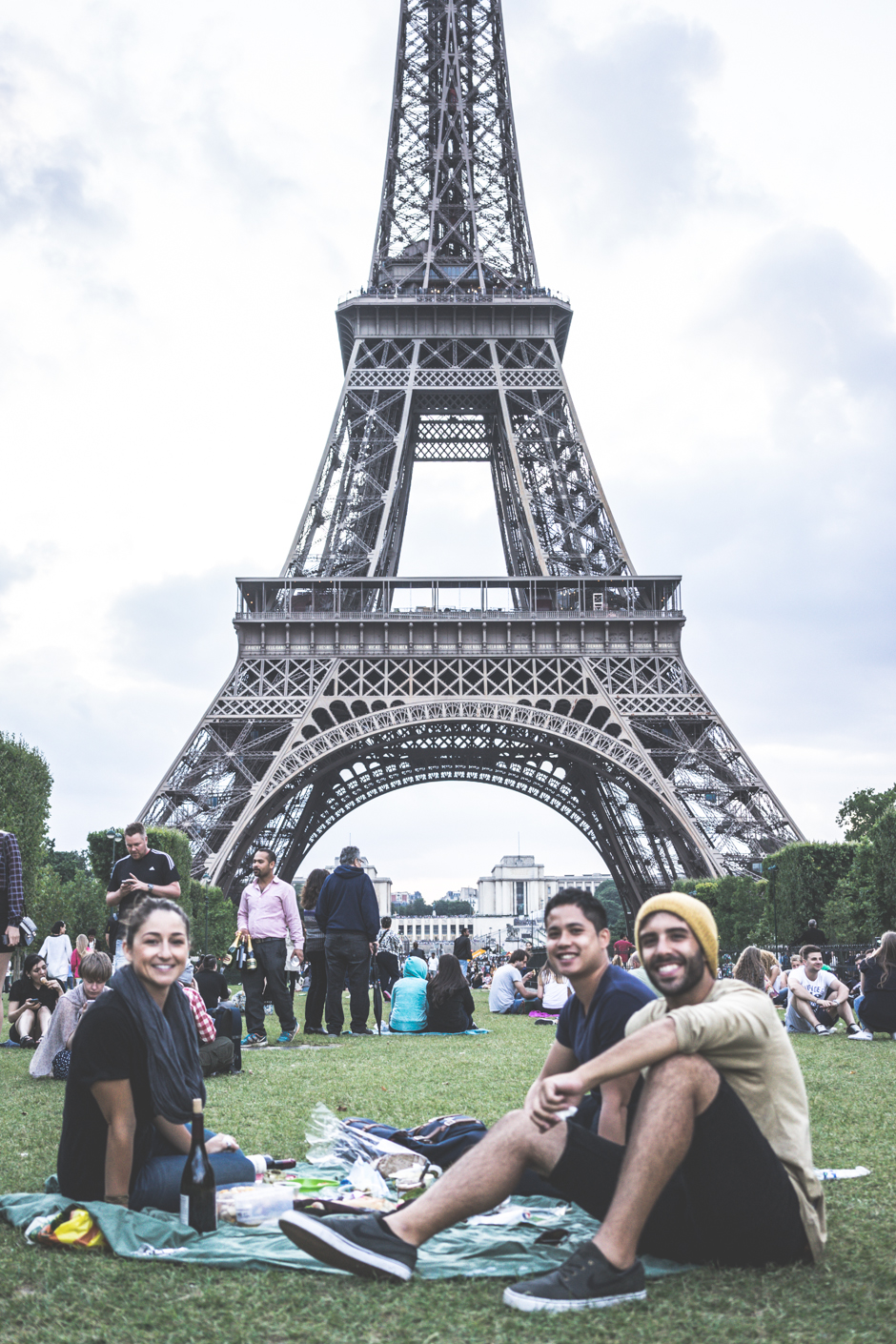 Once the sun set, the Eiffel Tower performed a light show every hour, on the hour. I proceeded to smile like a kid at Disneyland… every hour, on the hour.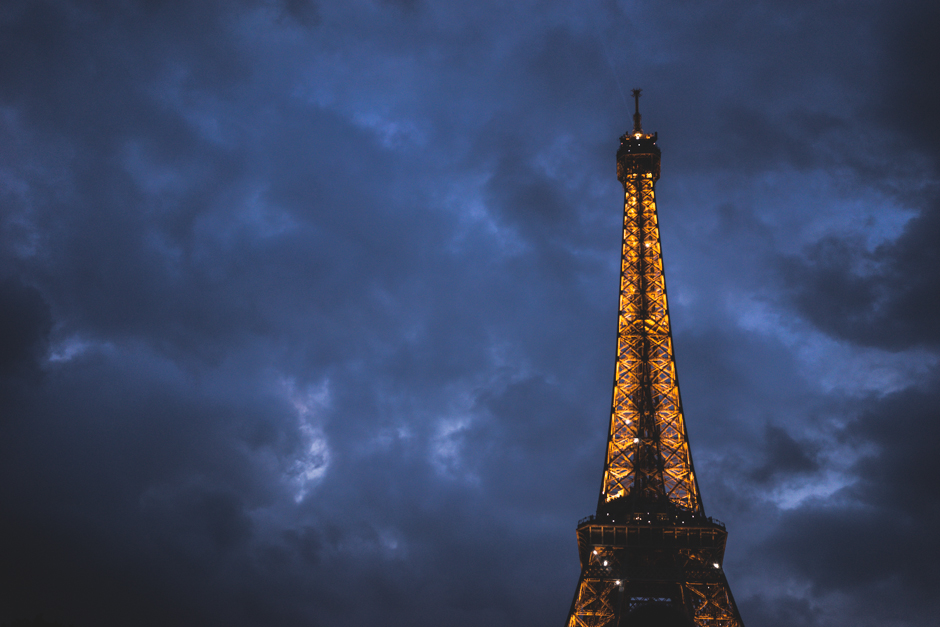 We met lots of other travelers this evening, although not many Parisians. We met a fellow from Argentina, two girls from Sweden, a couple from Florida, a gentleman from Arizona, and a few lads from the UK. Pictured below is a sweet fellow from Seattle who had a bit too much vino and passed out on our blanket.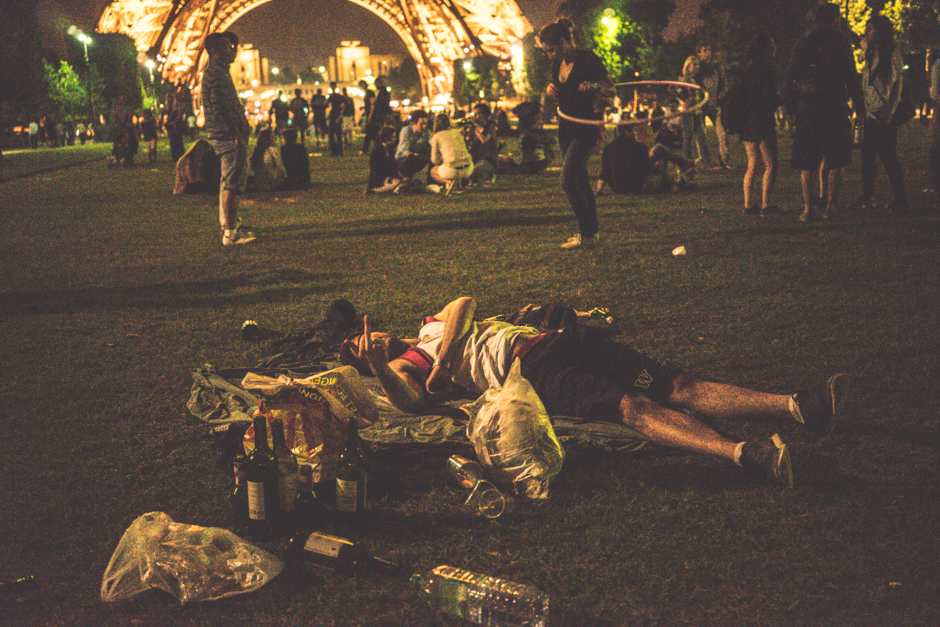 Day 6
It was Tuesday now, and we awoke with an ambition to visit the Catacombs, a labyrinth of underground tunnels used as both a stone mine and a burial ground for the remains of over 6 million people.
Arriving a bit late in the day, we were faced with a 3-4 hour line and decided to try again the next day.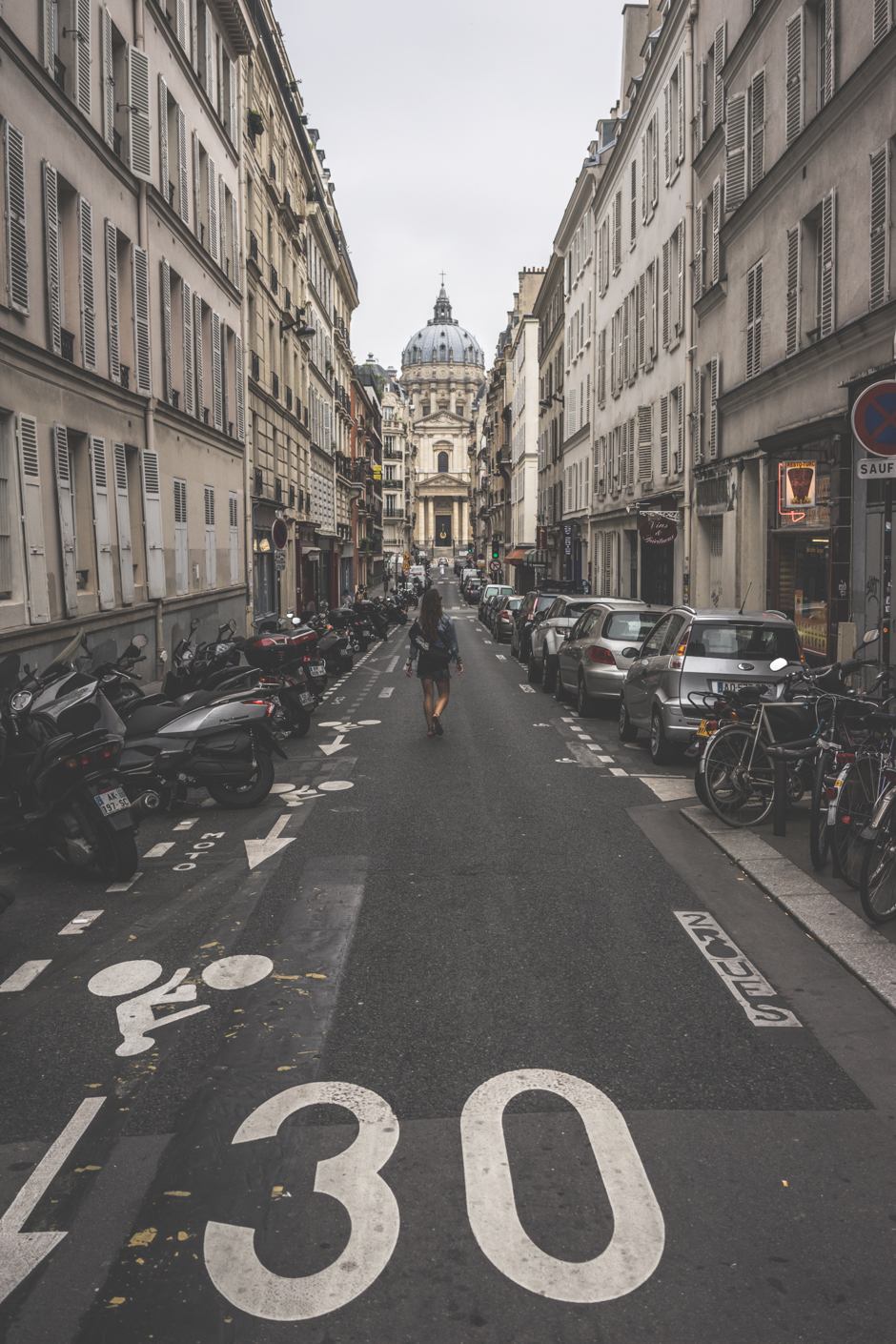 From here, we walked to the Luxembourg Garden for a quick stroll and an hour or so of entertainment as we watched children play with small sail boats. Emily was the happiest kid on Earth as we sat alongside this small pond. She wanted a boat of her own, but there were only a few remaining, so we let the kids have priority.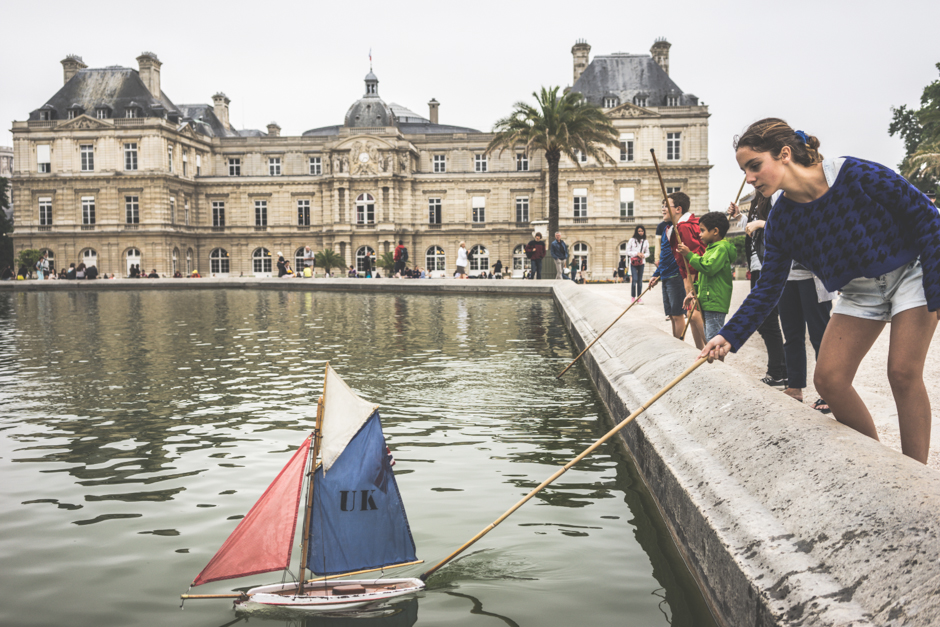 Onward with our stroll, we paid a visit to the Pantheon and then walked along the Seine River before adding our very own lock to the "Love Lock Bridge." Instead of tossing the keys into the river, we've decided to reserve them for another great water-way further along our journey.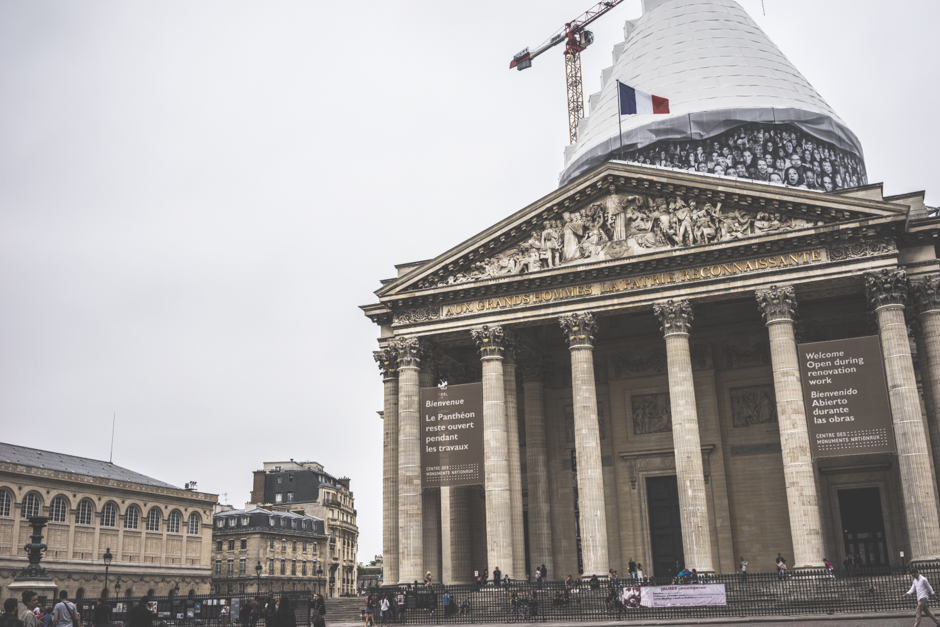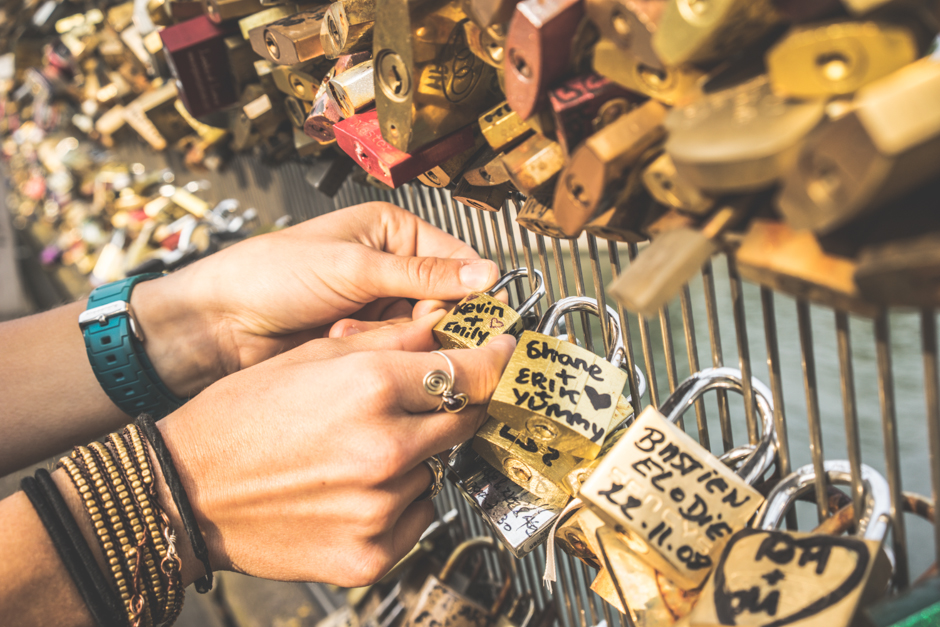 Later that night we met up with Emily's friend Evan and her boyfriend, Thomas, for a few drinks at a local restaurant and a few more at the local, family-run bar beneath their apartment. Everyone was very welcoming as we shared recent stories of our ongoing travels. We tried a few local liqueurs this evening, as well, including Chartreuse and Pastis.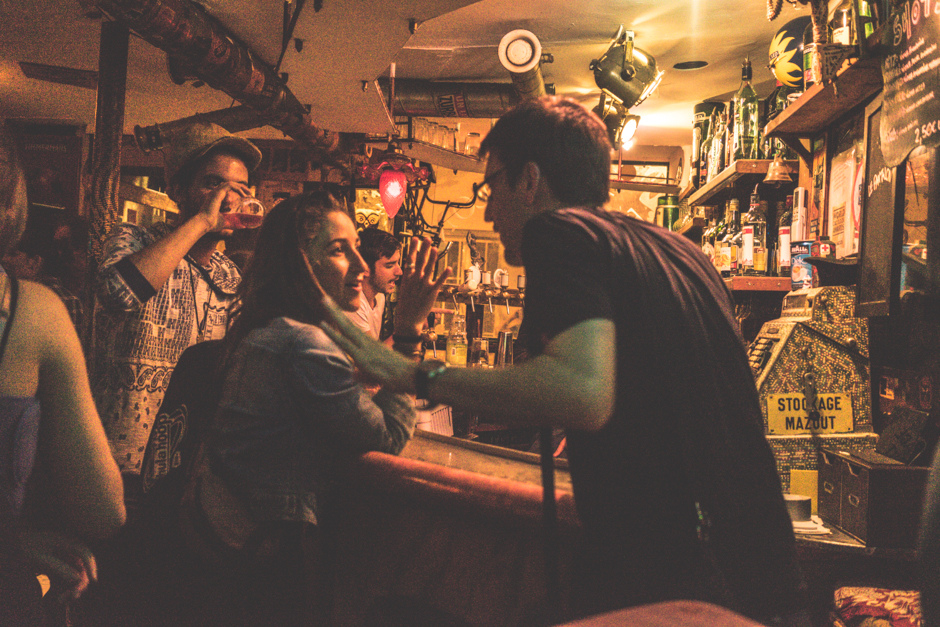 After a few drinks and a brief hula-hoop session outside Le Pantalones Bar, we rode our bikes home through the quiet(er) night-time city streets.
Day 7
Catacombs here we come! We woke up early this day to try and beat the line to this seemingly popular tourist attraction. Arriving at 10am, the line had already extended around the entire block. Thankfully, while in line, we met a Toronto-based electronic band named Keys N Krates, with whom we hung out for the duration of our 4-hour wait. Grabbing a few bottles of wine and a couple baguettes at a nearby grocery store, we spent the morning drinking, socializing and meeting other interesting folks in line. Adam & David of Keys N Krates then invited us to their Thursday night show in Paris, a small show that they'd play before heading back to Belgium to perform at weekend 2 of Tomorrowland. We had plans to hit the road on Friday morning, so we regretfully ended up turning down their invitation.
An important lesson was learned here. Moving forward, we need to learn to be a bit more flexible with our schedules and allow spontaneity to take us in new directions.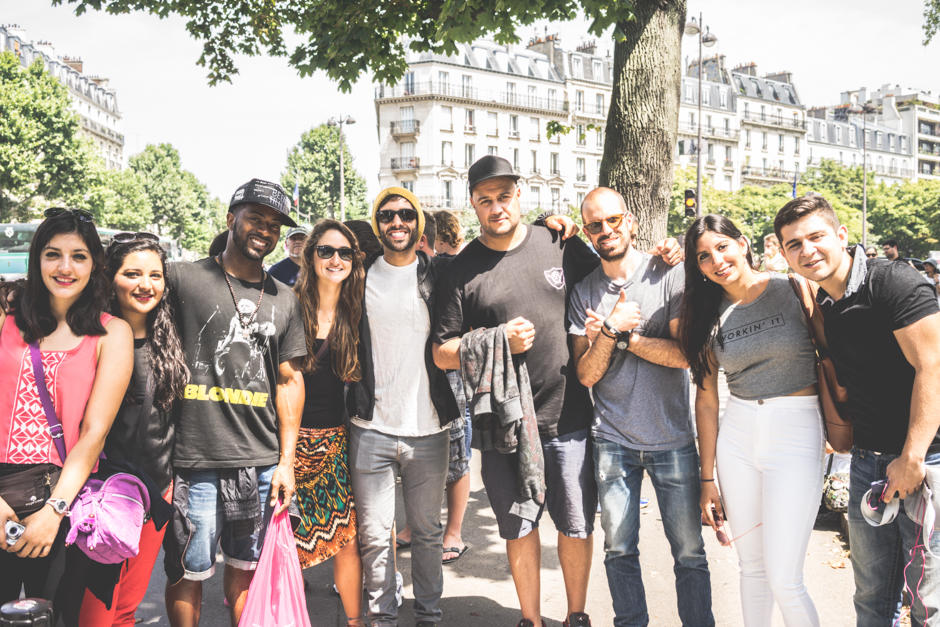 After 4 or so hours, we finally made it into the catacombs! An eerie spiral staircase led us deep into the Parisian underground where we were met by halls of limestone and rows upon rows of human remains. Not to mention a cool 57 degree climate.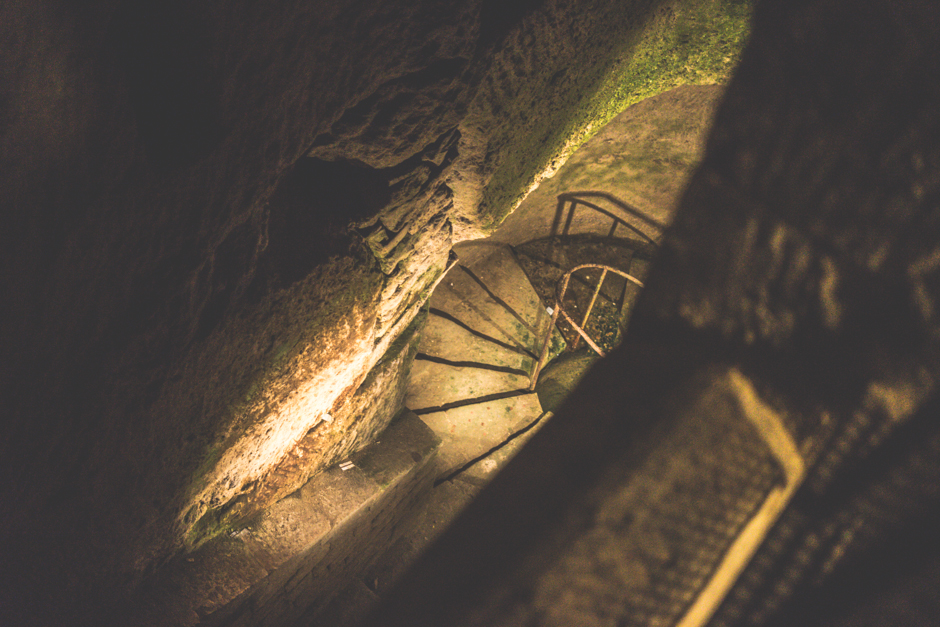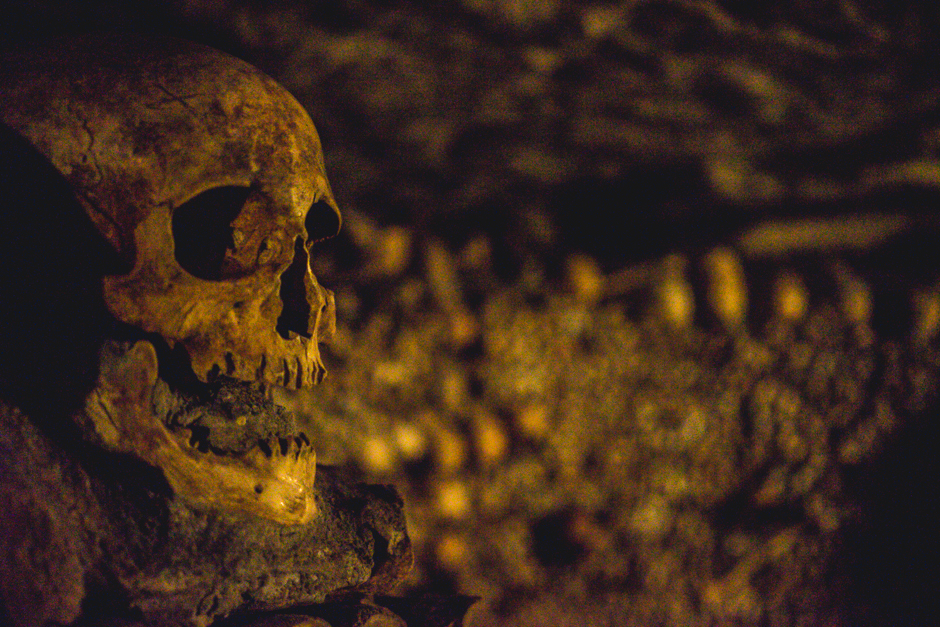 Walking 2 kilometers through this dungeon of past peoples, we were amazed at the sheer quantity of bones found in these tunnels… all methodically positioned to form neat rows and pillars.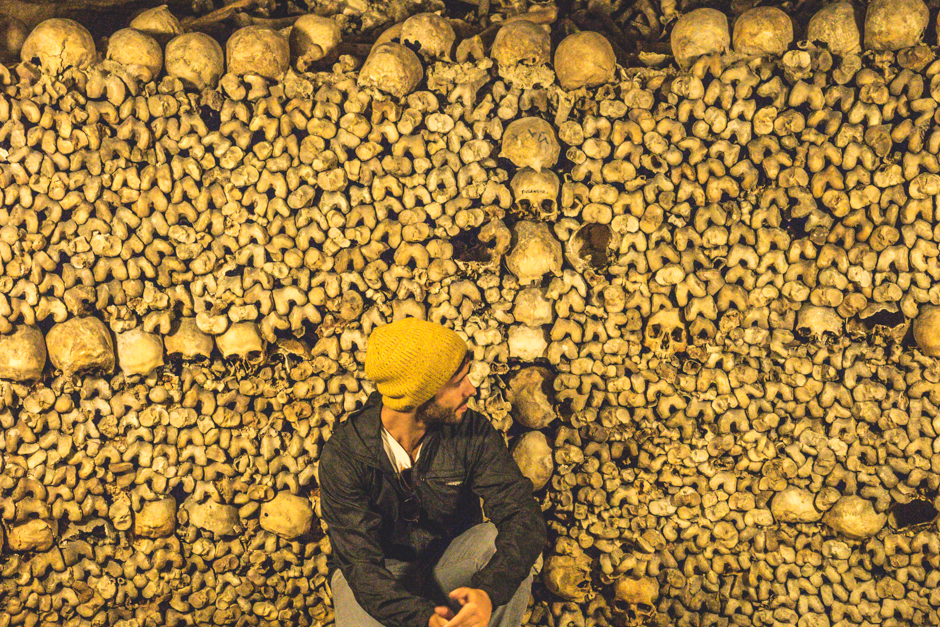 After the catacombs we hopped on bikes toward Bastille, stopping at a small farmer's market and checking out a neat beer shop called La Moustache Blanche (we highly recommend this place for a fine selection of craft beers).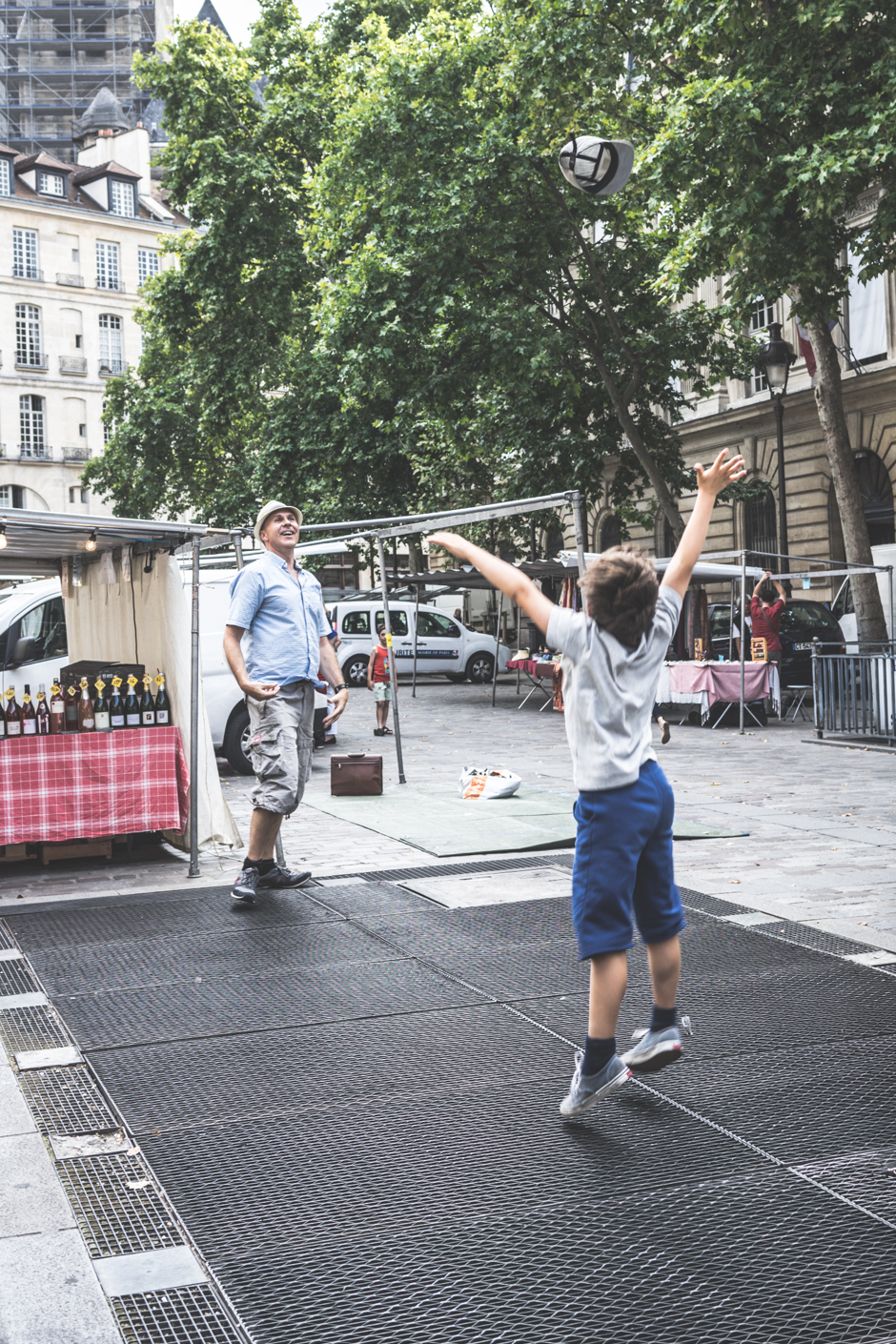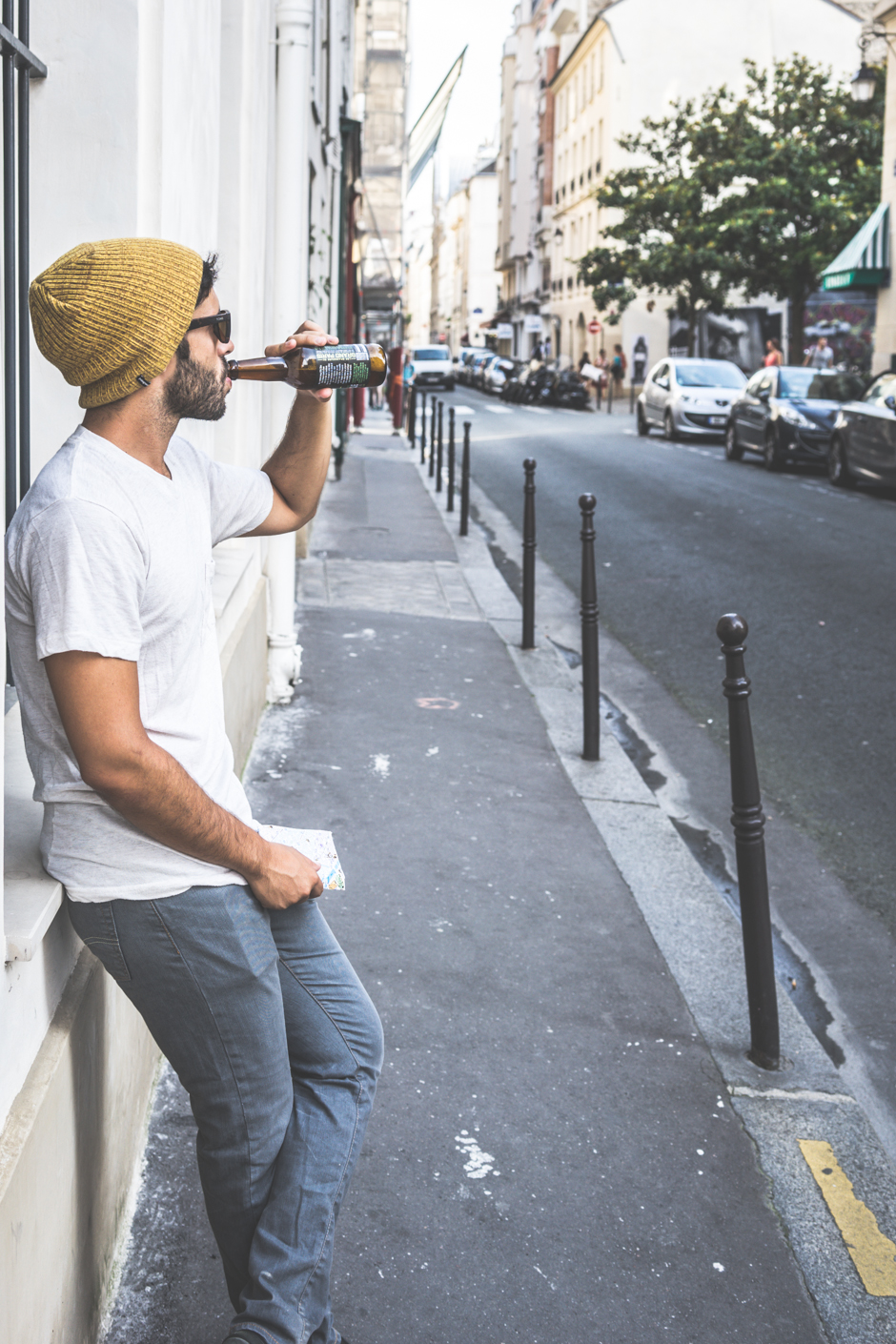 Once home, we bought some more picnic supplies and walked to Parc de la Villette for the first night of their summer movie series. Amazing park, amazing show, and a perfect end to our time in Paris.
Days 8 & 9
The next two days were spent cleaning, doing laundry, writing, and editing photos. We expected to leave the city on Friday morning (Day 9) but our bikes, which were safely locked in the basement, became trapped by a broken keyhole. We were told that this wouldn't be fixed until early the following week, but the lock miraculously came undone on Friday afternoon, only delaying our departure until Saturday morning.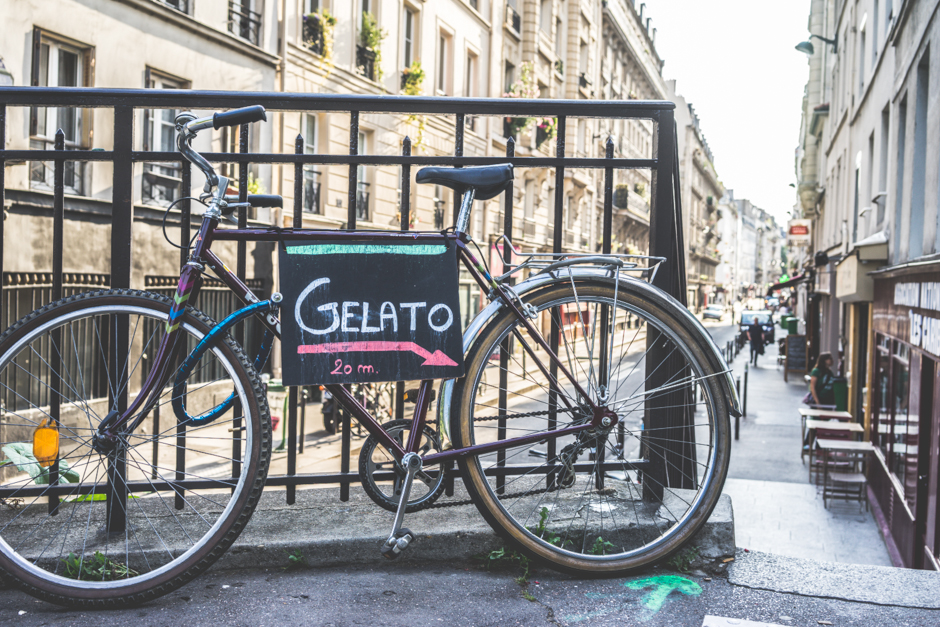 In the true spirit of a Parisian Flâneur, most of our days in Paris were spent strolling endlessly through the charming streets of this wonderful city. This city, built for the aimless wanderer, certainly lived up to its promise of mystery, surprise, and romance. Around every street corner there's a historic monument, beautiful piece of architecture, small cafe, or group of friends gathered for an afternoon picnic.
This city is truly one in which life is vividly lived and thoroughly expressed.
Coincidentally, this is also the city in which we realized the very life-loving and laid-back nature of our own trip… learning to take things slower and enjoying the magnificent experience at hand.
Thank you to our hosts Susu & Alexi and to all the other friends that we met and made throughout the past 9 days. Your home is wonderful and we'll certainly be returning in the near future.