No more talk, no more planning. Here we are. We started. Bam. We're in. Trip status: Go.
Our very first stop? London.
A quick 16 hour flight – easy. A 20 mile bike ride from Heathrow to London – done.
Our first experience involved 5 days in the land of her majesty.
Goals? Iconic sightseeing, beer in a proper pub, Bangers & Mash.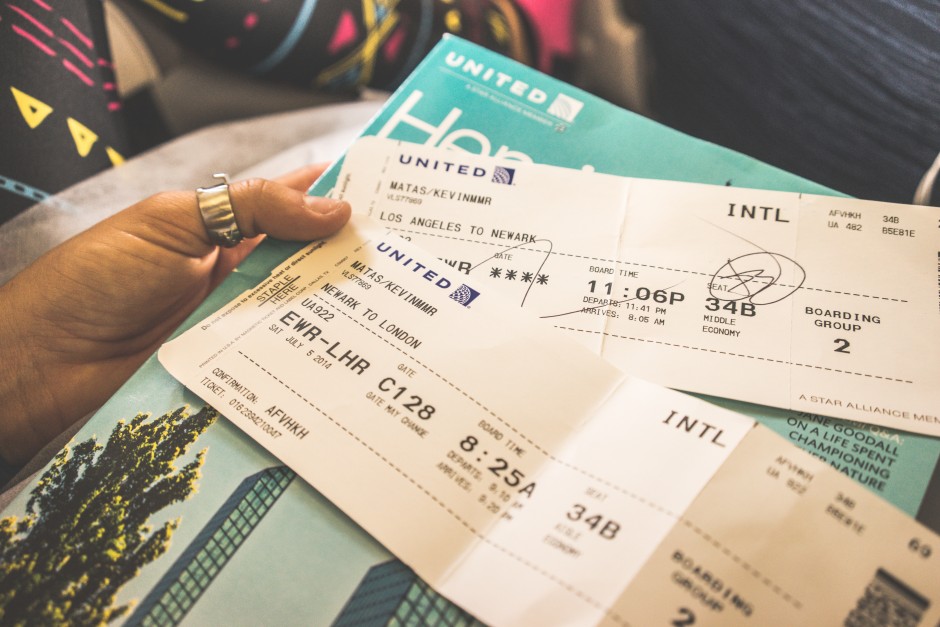 We hopped on a plane in Los Angeles on July 4th, our Independence Day. After a few naps, we arrived at Heathrow Airport. Reality of what we were doing had not yet set in as we eagerly waited in customs, nervous to see if our bikes would make it in one piece.
Before we departed from Los Angeles, Kevin had carefully wrapped important components of the bike with bubble wrap, turned the handlebars, and removed the pedals so our bikes would fit neatly into a large plastic bag. While researching this trip, we read on numerous blogs that if the airport staff could see our bikes through the clear plastic, their humanity would kick in… and our bikes would not be mistreated (as is normally the case with standard luggage). To our surprise, they were almost spotless, although Kevin did have a broken piece of plastic which attached his fenders to the bike (thank the heavens for Duck Tape!). Our panniers, on the other hand, didn't arrive quite as spotless. We had placed our panniers in large bags so we could check them. Both Kevin and I had holes torn into our bags which meant  smaller holes in our waterproof panniers- no longer waterproof (thank the heavens for Duck Tape!). We spent the next few hours at the airport as Kevin realigned his derailleurs. At around 1am, we were warned by airport staff that they would be closing part of the airport, so we packed our bags and were on our way.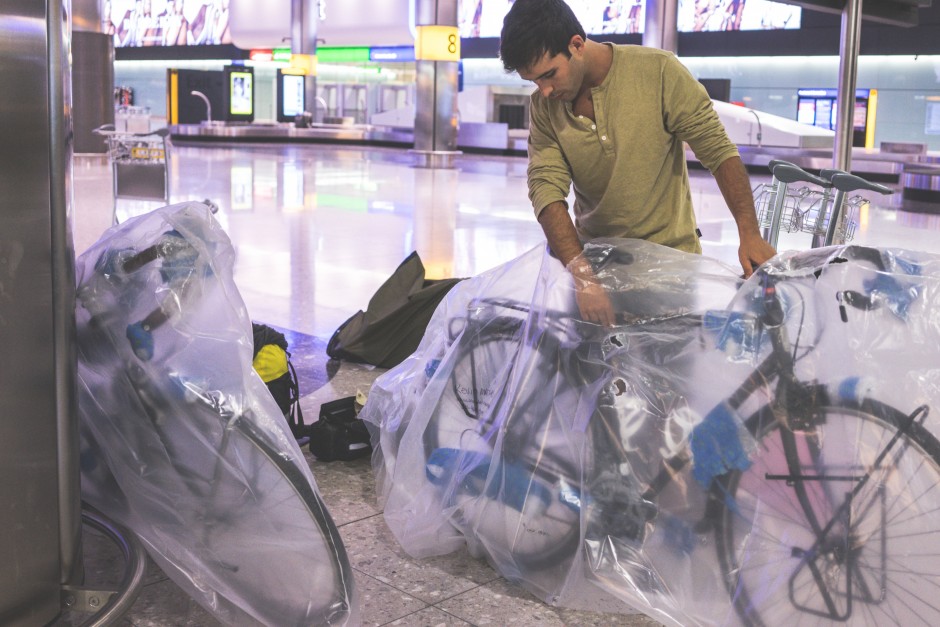 Ready? Yes. Nervous? Yes. Our first ride through the city would take us just over 20 miles at 2 o'clock in the morning. Our parents were uneasy about this night ride through the bustling city, but it actually worked in our favor. Although it was late and dark, the metropolitan city streets were lined with lights, and the time of day meant very few cars on the road. After weaving our way in and out of neighborhoods, we finally arrived in Holloway, just north of the heart of London. Our new friend Ben graciously waited up and greeted us at 4am.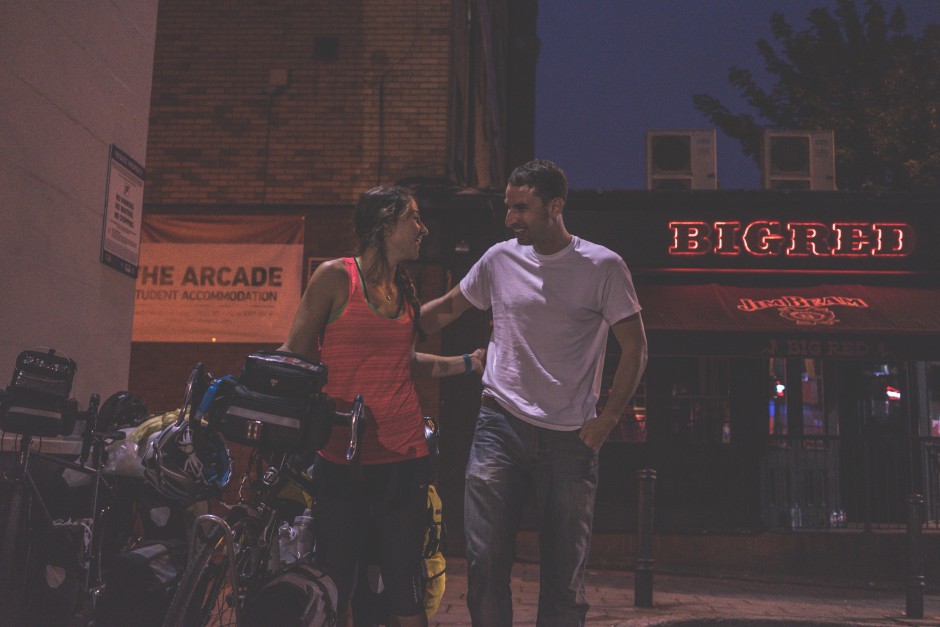 We made it. London, our first stop.
Day 1
To the metro station we went. The focus of this day was on aimless wandering. We grabbed the tube in Holloway, just a few blocks from where we were staying, and were told to get off somewhere near Tower Hill. Once off, we were led down a path of rich and dark English history. Following signs towards the Thames lead us to the grand river. A path on either side could lead you for miles to explore the adjacent neighborhoods. Along old brick roads and through tight alleyways, we later made it to Tower Bridge. Iconic and large, this bridge was flooded with tourists of all shapes and sizes taking selfies with the towers. From this vantage point, we could see the beauty of the city skyline, the foundation of old buildings with the modern skyscrapers rising just behind. The Shard, for example, stands as the tallest building in Western Europe.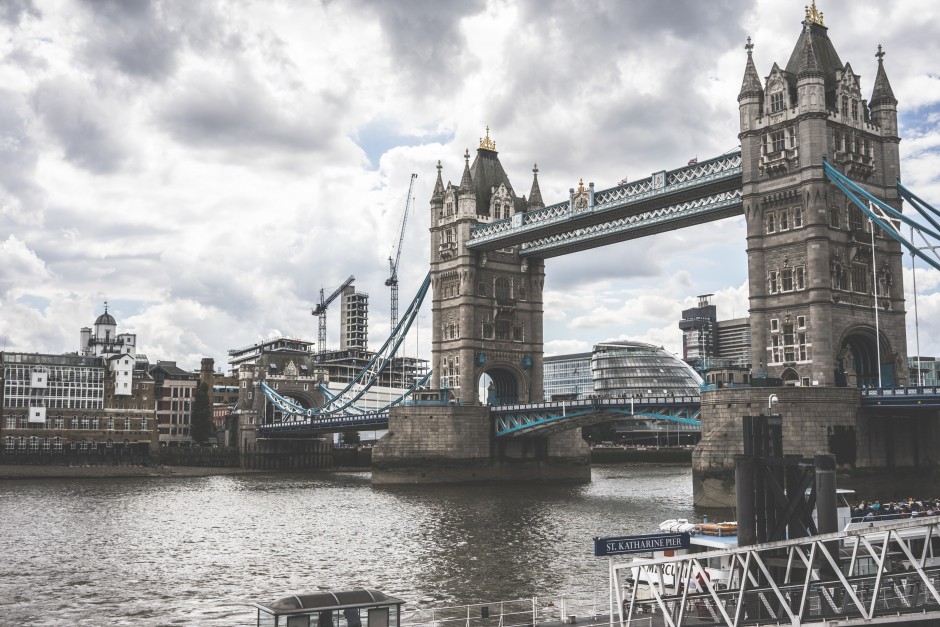 From below rose the aroma of delicious food and the sounds of an excited crowd. Large screens were set up to display a Wimbledon match as viewers picnicked on wine and fresh food. We couldn't help but grab an Argentine Burger for lunch as we walked along the Thames.
From there we were off to the Tower of London, a beautiful piece of architecture filled with history. As we stood on ancient land, the displays of chopping blocks where prisoners were beheaded reminded us that England has its dark past. This theme of times past would continue to show itself throughout the week as we explored castle-like structures and old winding roads built by the Romans, just large enough to fit a horse and carriage.
Because it was Sunday, the streets of the financial district, just across the river, were rather quiet. Shops and restaurants were closed. The drizzle of rain hurried our footsteps toward the next destination, Saint Paul's Cathedral. Just below this beautiful building stood an old red phone booth, by which we decided to take a photo. The couple we asked to take our photo was from Australia. As we chatted for the next 20 minutes we were informed that London has taken a very positive turn in the last couple of years. When they visited three years ago, downtown was crowded with cars and traffic, but the local government has focused heavily on creating a more bicycle friendly atmosphere. While it is still no Copenhagen, they have installed checkpoints where people can easily rent bicycles to explore the city. We were also told that cars that enter London are charged a daily rate of 10 pounds, thus reducing the number of people driving within the city center. This couple also informed us of the history behind the Great Fire of London and pointed us toward the old Jack the Ripper allies, which we explored while the rain began to thicken.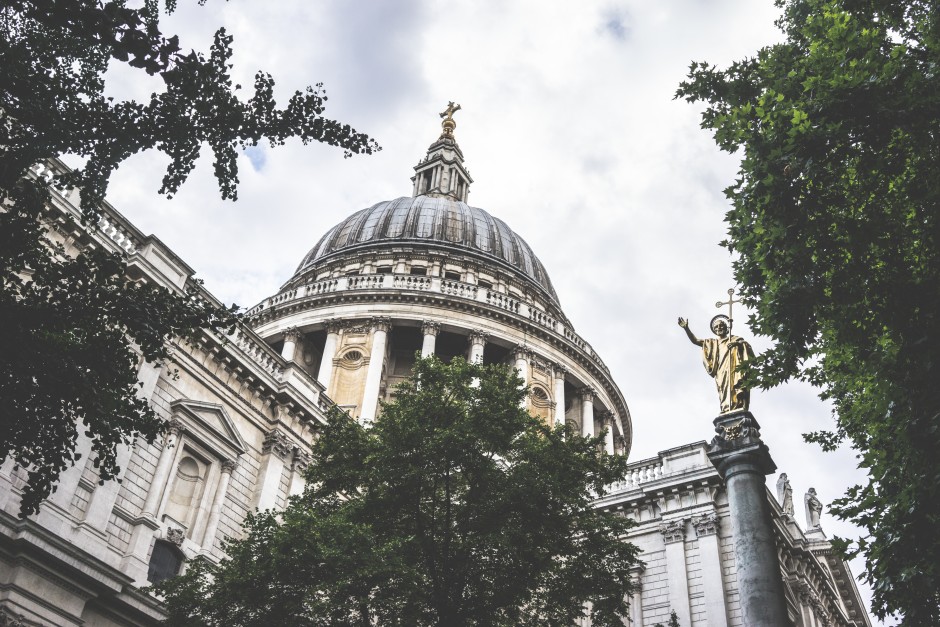 The "typical" grey London weather only showed its true colors on our last day. Every other day we experienced warm sunny weather in the morning followed by an afternoon shower (or "spit," as our friend Ben called it). This was true for the first day, as well. On our way home, a double rainbow appeared over the buildings. In awe, we stopped for multiple photos. A double rainbow? A good luck charm for the start of our trip? We think so.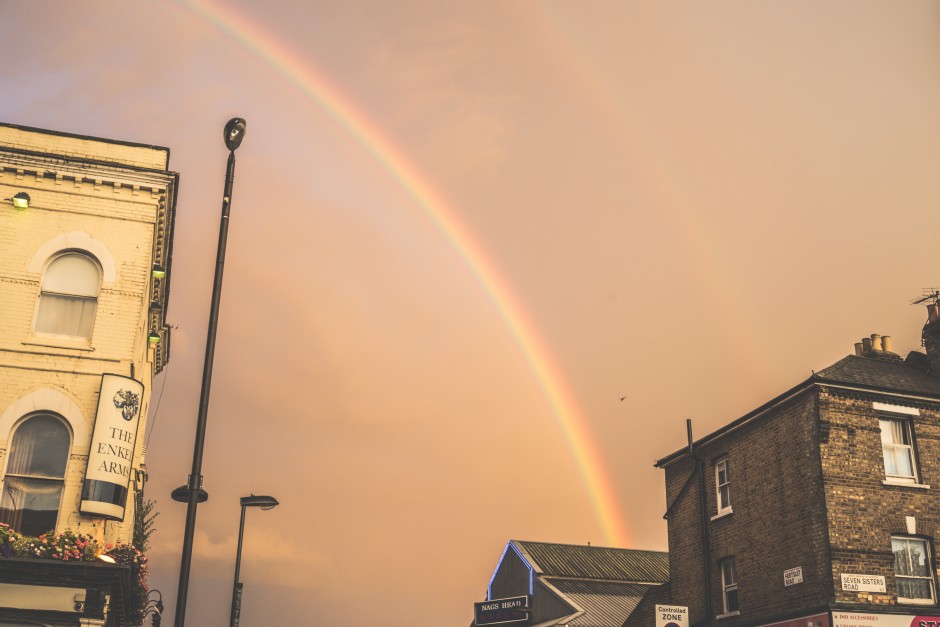 Day 2
Ben, our gracious host. We met Ben back in Los Angeles through a mutual friend. Although we have never spent a significant amount of time together, he welcomed us into his London flat. I can honestly say he's been one of the best hosts we've ever had. Not only did he wait until our 4am arrival, but even with school work for his Masters in Chemical Archeology and work until late at night, he still managed to make us feel right at home… making us snacks for the day and treating us to morning wine and homemade frittata.
On this day, guided by Ben (a Masters student at the University College London), we dove deeper into the life of a Chemical Archeologist.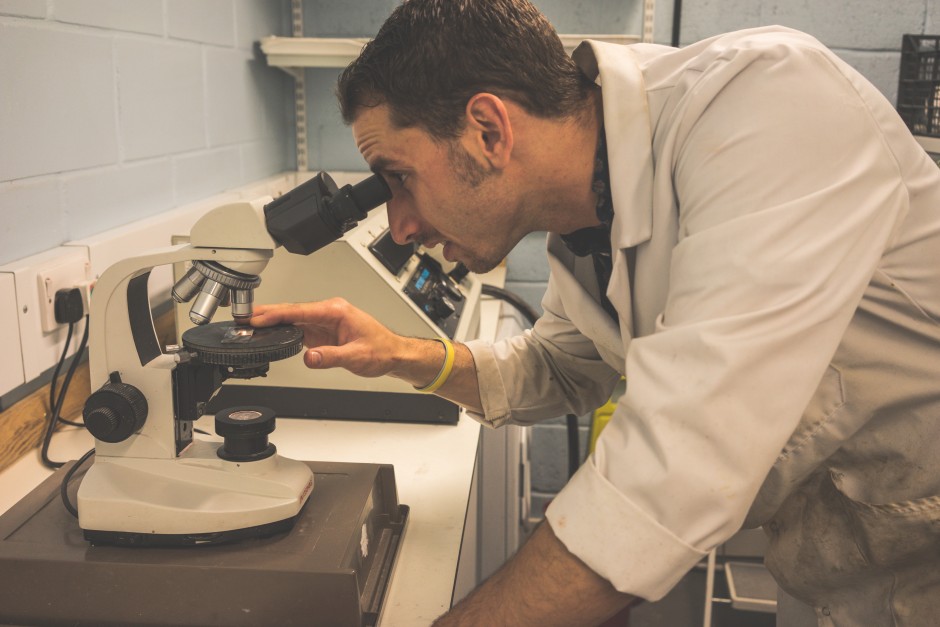 We donned our lab coats and safety glasses as Ben exhibited his methods of research. With a diamond tipped saw, he sliced ancient ceramic artifacts into thin sheets that could later be observed under a microscope. We played for a short time, looking at the beautiful colors of these minerals. It became clear to us why Ben was so fascinated by his work… every day he gets to hold pieces of history that date back hundreds, even thousands of years. Incredible.
Today's theme quickly became one of history and discovery. After the labs, we ventured on our own to the British Museum, an expansive vault of ancient history. With only a short amount of time to spare, we spent our visit exploring the Egyptian exhibit. With beautiful sarcophagus' and preserved mummies, it was absolutely incredible to see the respect and time the Egyptians took to honor those who had passed. Exploring corridor after corridor of ancient artifacts, we allowed our minds to wander into the past- how they lived, how they interacted, how their discoveries and innovations truly laid out the framework for modern society. The most mind-blowing artifact, in our eyes, was the Rossetta Stone. Standing alone in a glass case, surrounded by a large group of people, this was true history. This one stone had unlocked the Egyptian hieroglyphics, taking them from an unknown language of images to a full written text. If this Egyptian alphabet had not been unlocked, thousands of years of Egyptian history as we know it would still be hidden from our world.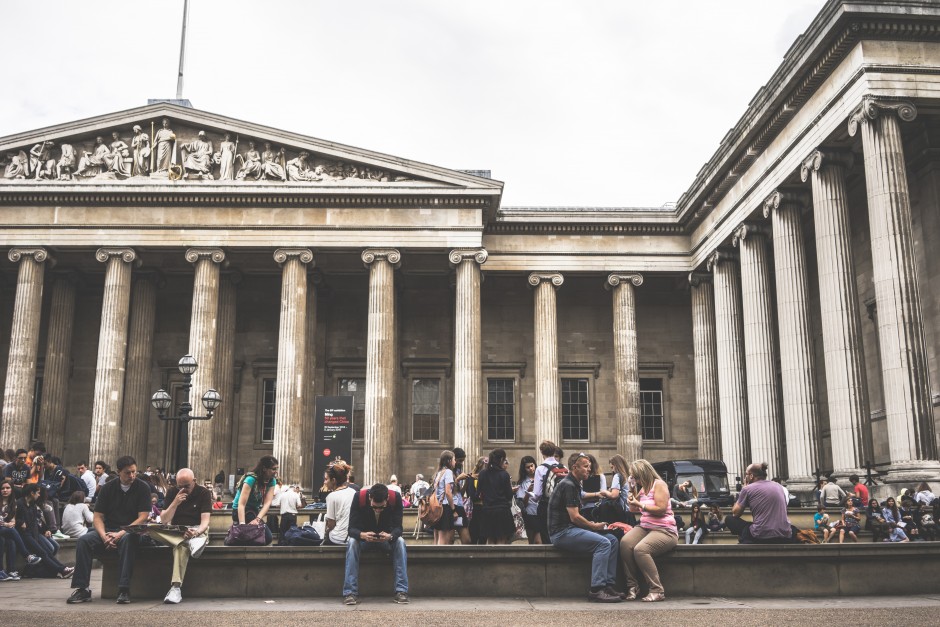 Although we could have spent the entire day exploring the many halls of Roman, Greek, and ancient history, we decided to head toward the Victoria & Albert Museum. As stories tell, Queen Victoria and Prince Albert were once wed. A love so strong that not even death would pull them apart. While alive they vowed that if one of them were to die, the other would then pass, as well. As Albert fell ill, his last wish for Victoria was that she continue to live in his honor and not take her own life. She respected his wish and for the next 40 years she lived a life dedicated to Albert, wearing only black as a symbol of mourning for her late husband. Victoria built this museum and a nearby memorial to honor her one true love (a job very well done). In the middle of this museum sat a large fountain only a couple inches deep, by which we decided to sit and enjoy our day's lunch.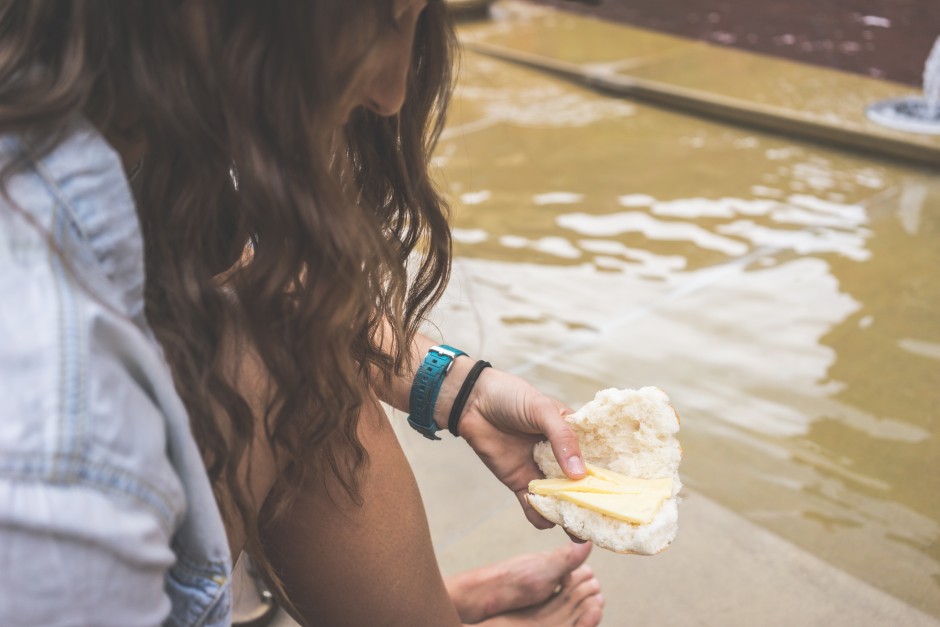 While we sat eating, we watched as a group of small children splashed and played in the water without a care in the world. They were in a state of pure bliss, a feeling we hope sticks with us throughout the entirety of our trip.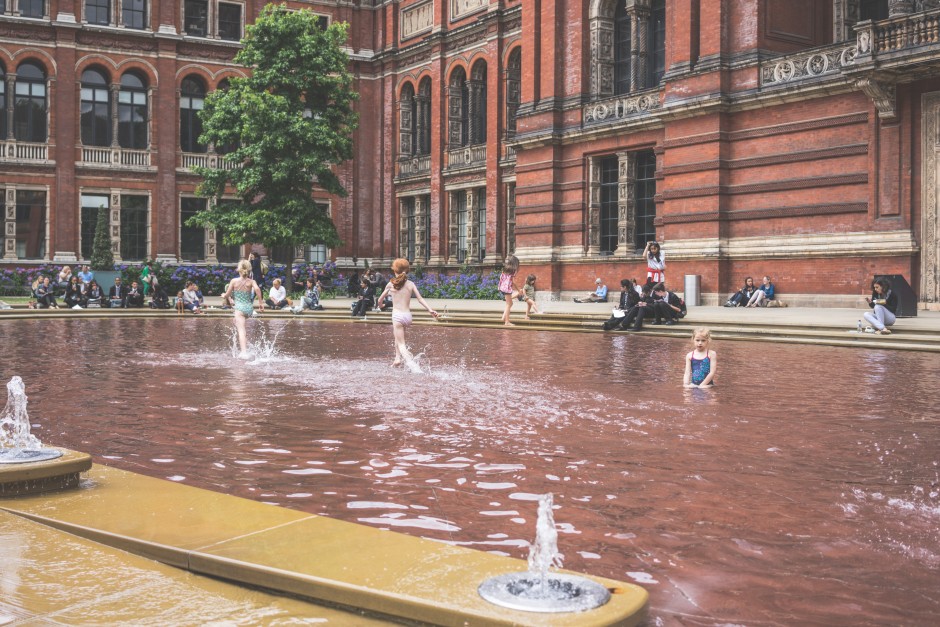 Being that we are about to start a large bicycle tour, we were excited to hear that the Tour de France would be making an appearance in London. To Buckingham Palace we went! The area, as expected, was packed with cycling fans from around the world. Even as the rain fell harder, these fans stood their ground, hoping to get a glimpse of the passing cyclists.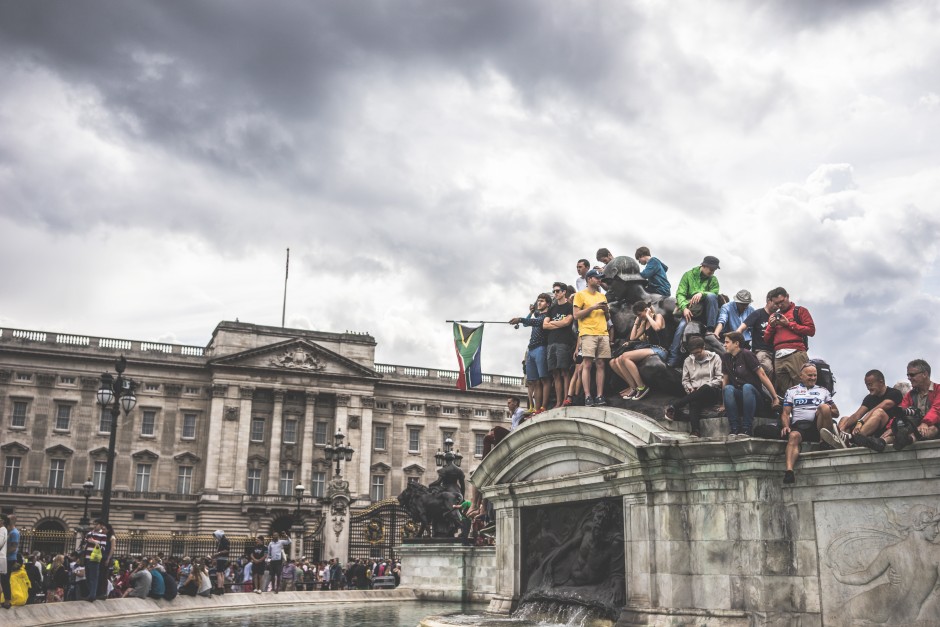 After the race we walked through the city of Westminster, passed the Parliament Building, and walked over the Westminster bridge to the London Eye. Taking a moment, we glanced back toward the Elizabeth Tower (home of Big Ben), this was hands down one of my favorite buildings in London. I can't explain why, just a feeling of awe.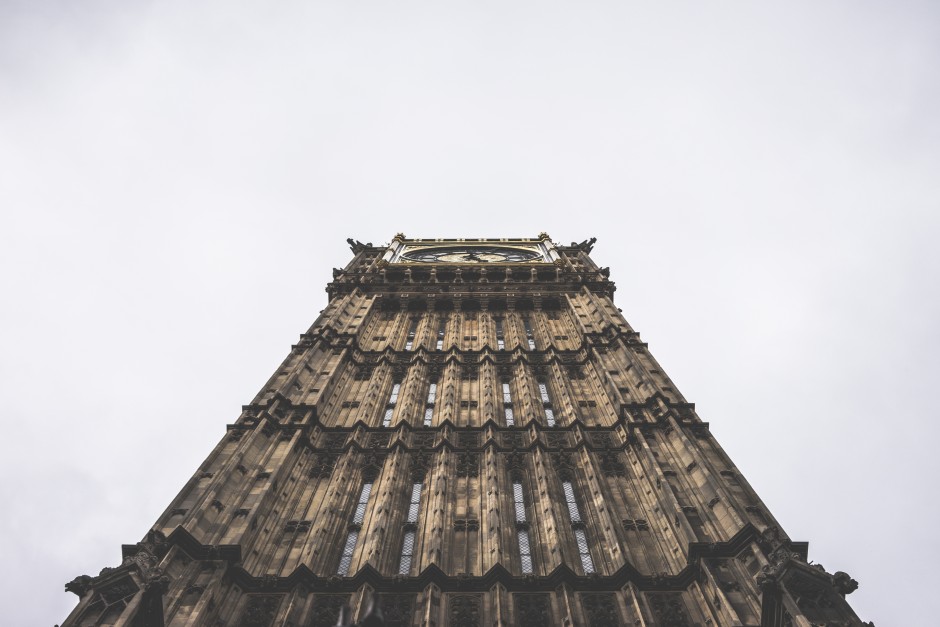 With one of our goals achieved (iconic sight-seeing), we were off to achieve another goal – drinking in a proper English pub. We kept our eyes peeled for the perfect pub until one finally caught our eye. Down a little alley in Covent Garden, we entered. With no clue of what beer to drink, we struck up a conversation with three brits, who were cyclists in town to see the Tour. They recommended a true English bitter.
Day 2 closed with us gulping down a pint of  "London Pride." Goal number two achieved, with more brews to come.
Day 3
This city is large. More sight-seeing. More wandering the streets while the stereotypical London raindrops fall on our heads. Changing of  the Guard at Buckingham Palace was the first thing on our list for the day. To our surprise, the area was again filled with hundreds of tourists, cameras in hand, trying to capture even a glimpse of this tradition. Sometimes I wonder if we are so focused on capturing moments with our devices that we forget to capture moments with our own eyes.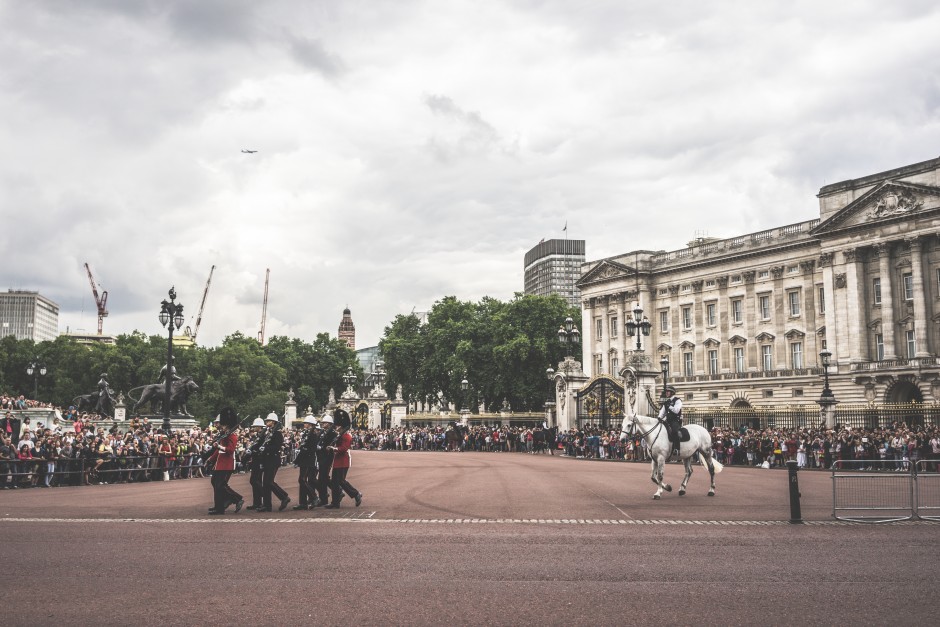 After seeing the guards and drum line march in and out of the gates, and not much more from where we were standing, we decided to go to our last museum. The Natural History museum was recommended to us by the Australian couple we met on our first day in London. They had told us that even the architecture of the building would make a visit worthwhile- and they were right. Every last detail of the museum's design had been thought of. Beautifully decorated arches lined the halls that led to each exhibit. Truly awe-inspiring. We spent the bulk of our time within the Dinosaur exhibit, gawking at the enormity of these pre-historic creatures.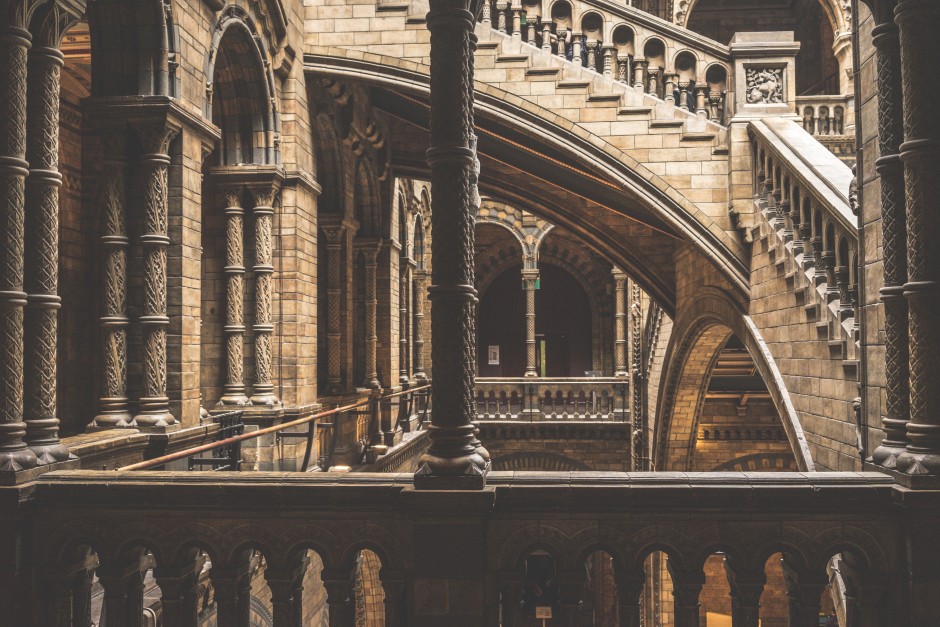 From here, we headed to another iconic destination, Platform 9 3/4 at King's Cross. Harry Potter was nowhere in sight, but this gateway into a mysterious world remained. We opted out of the long tourist line to interact with the exhibit and hurried home to meet up with Phillip, Ben's German roommate who would later take us to a German bar to watch the World Cup semi-finals… Germany vs Brazil. All I have to say is "Super Deutschland, Super Deutschland!"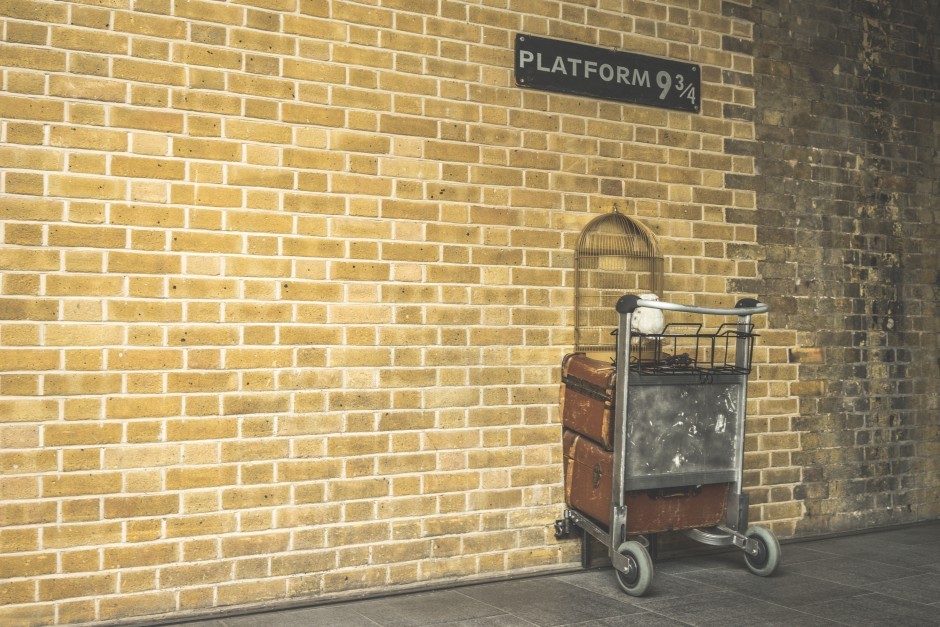 Day 4
Back on the saddle. For the first few days we explored the city on foot, on this day, we would ride. Our destination? Around.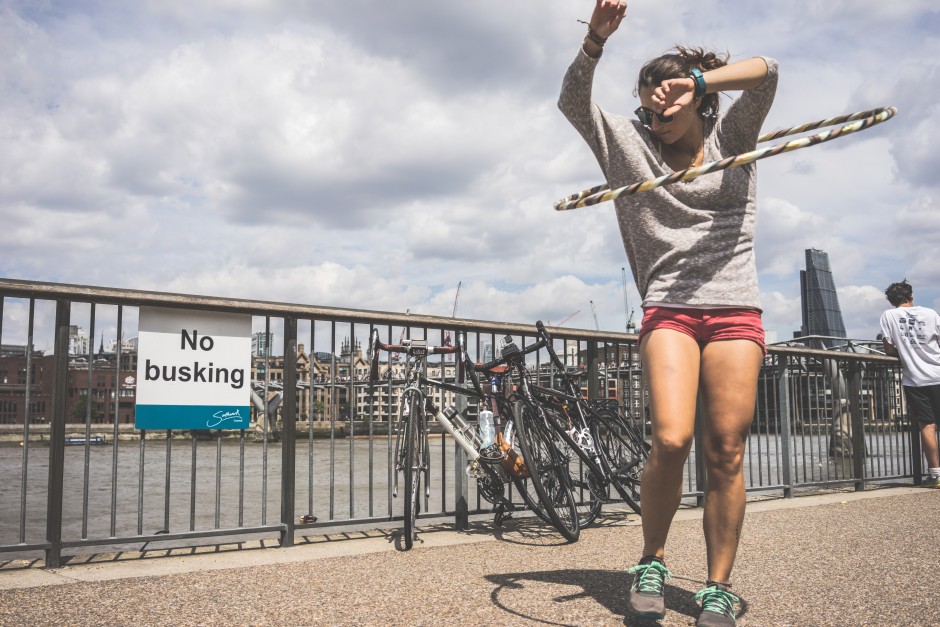 With a hula-hoop strapped to the back of my bicycle we went through the financial district, around the Thames River, past Shakespeare's Globe, and down through Borough Market. Eventually making our way to the Red Bull London office, we paid a quick visit to former colleagues and downed a couple cans of liquid gold. We then continued past Big Ben, Buckingham Palace, Hyde Park, and Regent Park before heading home to meet a friend for dinner.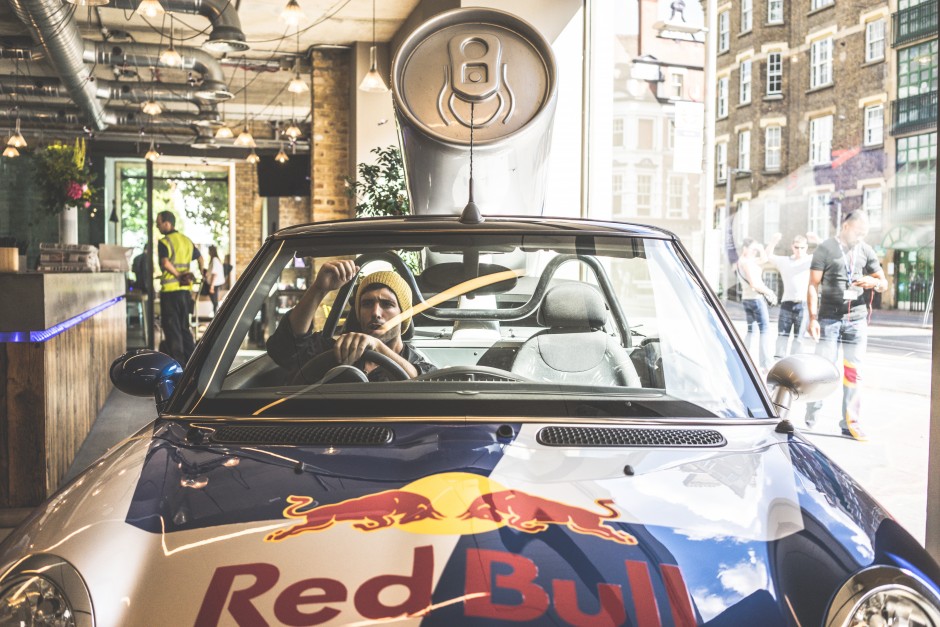 This was some of the scariest cycling we've done to date. On one hand, we're riding on the left side of the road… on the other, we're riding beside large double-decker buses who have the right of way.
Later at dinner we were introduced to two American girls whose main source of transportation within the city is their bicycle. They told us a few horror stories about cycling in the city. Stories of ever-increasing fatalities due to poor cycling conditions around the majority of the city. Conditions that are slowly, but surely changing. It may be a seemingly impossible task to transform the old, narrow streets of London into a cyclist's utopia, but apparently there's been a huge push for this during recent years.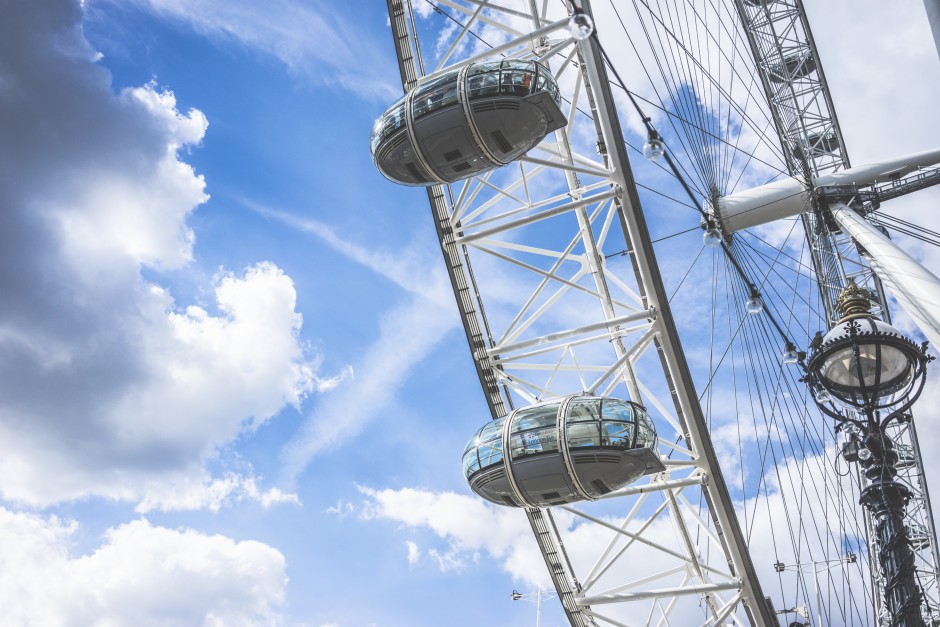 Fighting the initial feelings of doubt and fear, our journey on bicycles through the city was magnificent. Cycling allowed us to easily flow from one destination to another and stop wherever we saw fit – an excellent experience that we would recommend to any traveler visiting the city.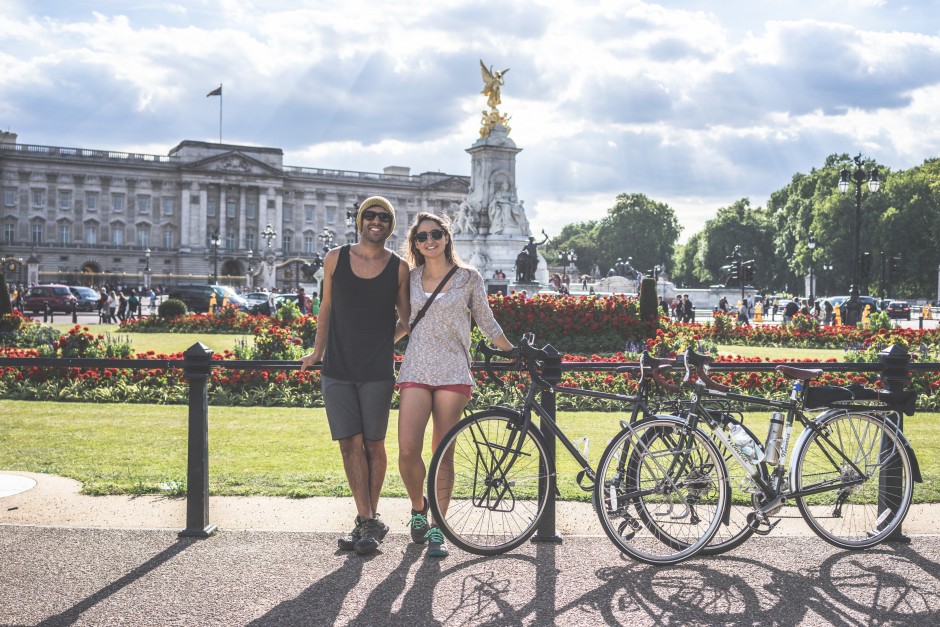 Day 5
We rest. A nice late sleep in. A home-cooked breakfast and fresh coffee. Jazz music.
We took this day to catch up on writing and photo editing, spending most of the day relaxing indoors.
As the sun began to set on our coffee shop day, we were off to bangers and mash, the final goal of our London visit. We had waited all week in anticipation for this meal. Accompanied by Ben and his beautiful girl, Carlotta, we eagerly sped to the Marquis Cornwallis in Bloomsbury for this traditional English meal. Bangers & mash, fish & chips, pork belly, and even white-bait (sardines). All incredibly delicious! As our journey evolves, we know that these culinary experiences will continue to play a very fun and important role in our global excursion.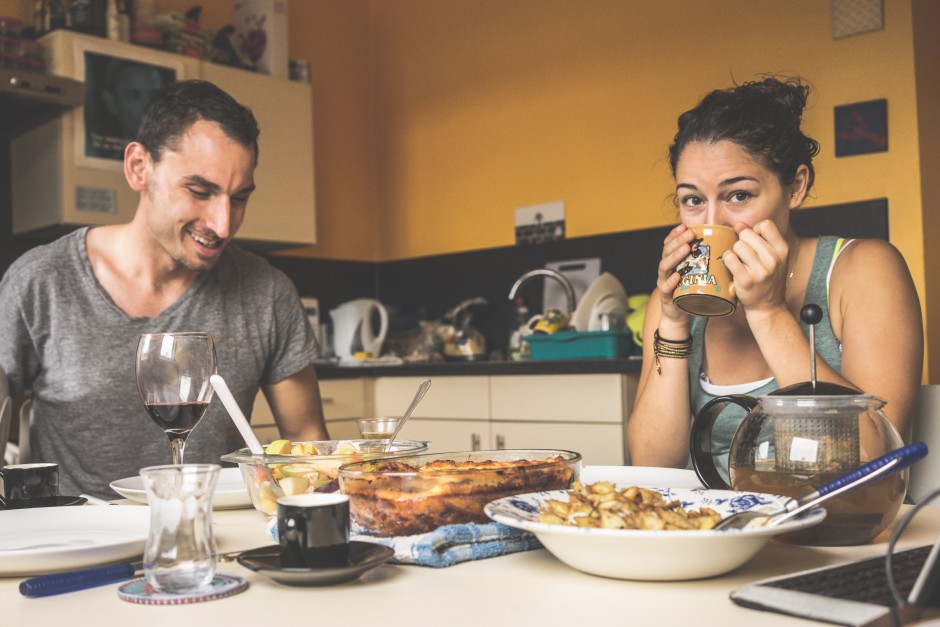 As the night came to a close, our friend Kelly (who connected us with Ben) was in town for work and came to meet us for one last pint of Cider before we wandered off to the next city. It was a bitter-sweet night. We have made such wonderful friends here and have enjoyed our stay in London, but it's time for the next leg of our journey… Paris here we come!
Click here for more photos from our time in London.